I made a promise to myself when I arrived at the park Saturday morning. I was going to look at the good things and be thankful for being there. I wouldn't dwell on anything that was upsetting or wrong with the park.
In this report you will find nothing that needs to be fixed, nothing you may have never seen before, but things that are amazing about Disneyland thought my eyes.
So it all began about 9am Saturday morning when the shuttle dropped my friend and I off from the airport. We had no adgenda since I had to leave early to go see Wicked.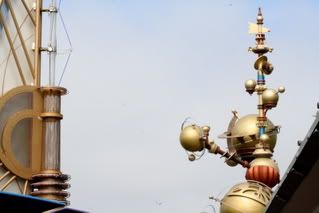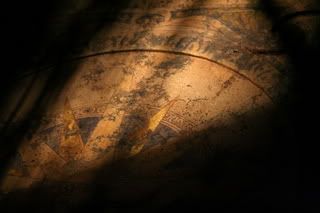 According to my pictures (I have forgotten any order to these days) We went through Fantasyland to Tomorrowland then over to Adventureland for some Temple of Doom searching. We didn't have a driver and ended up nearly getting lost in the depths, but we made it out.
Next time I'm taking a different trip.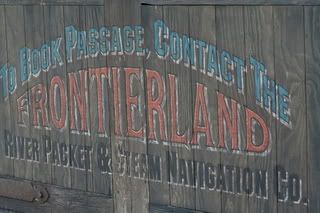 Looks promising. Both above and below.
Work continues on the island.
I took this picture - well because I could.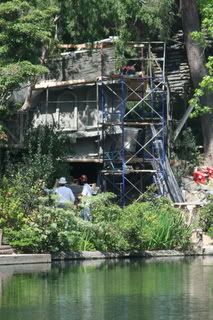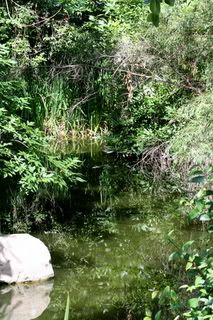 The Sword in the Stone ceremony is always exciting. Merlin never fails to make me laugh and the expression on the kids face when the sword lifts is priceless - even if you have no idea who the kid is.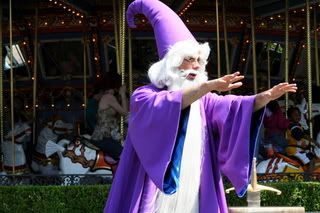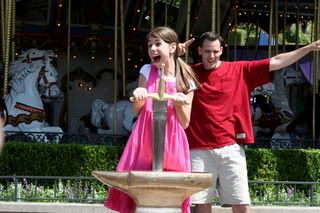 As we turned to head down Main Street we passed the wishing well and Pinocchio, Chip and Dale, Goofy and Donald went by. You can't help but wave and grin as they skip past.
Wait - that means the Castle show is about to start!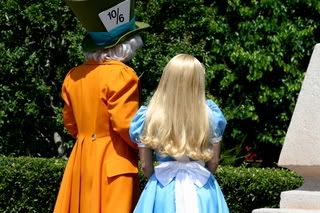 They look like they are contemplating the purpose of the Dream Swans.
Or maybe adoring the ducklings.
At this point I looked at the time. 11:32 ! I'm late! I was supposed to meet the Wolf Pack at the drop off point at 11:30. Starting down Main Street for my locker I pulled out my phone to call Wolfy to reasure her I was on my way only to discover they had just left. Saved.
Skipped the locker and headed for the Drop off point.
I had never met the Wolf Pack. It was a huge leap of faith for them to offer me a ride - for that I thank you most sincerly. Your family is so wonderful.
So we went off to Hollywood. Can you believe I had never been?
- Look still Disney related.
Poor thing is all dirty.
Then, shinning in the distance was the Marquee for Wicked! Under it's protection from the sun stood a group of cheerful Micechatters, and the offering of hugs.
The theatre was beautiful. But I didn't take any pictures inside since you aren't supposed to.
It wasn't my first time to see Wicked, but it was a first for this cast. And they were amazing.
And at this point the pictures for the day end. And here I must give huge thanks to Wolfy and family, Princess Buttercup and Family, NeverNeverLand and Hector. Sorry I wasn't better company - but you all were awesome.
And see I was so much better the next day!
- To be continued.