The Disney Gallery will be expanding its "Inspired by Disneyland" exhibit this summer with "Disneyland: Through the Eyes of An Imagineer." New works by Disney Imagineers will be added to the current exhibit, and an artist signing will take place June 2.
Event:
Art of Disney Product Release & Signing
Special Guests:
(See Below)
Event Date:
Saturday, June 2, 2007
Event Time:
9:00 AM - 11:00 AM and 1:30 PM - 3:30 PM
Event Location:
The Disney Gallery, New Orleans Square, Disneyland park
Event Information:
Up a gracefully curving staircase, high above the exuberant crowds lays an oasis of tranquility and elegance where the finest Disney artwork may be studied and purchased. This beautiful space was once planned to be Walt Disney's personal apartment where he could relax and entertain his own invited Guests. Suberly transformed into a gallery loft nearly 20 years ago this lovely setting has played host to many Disney Legends and Disneyland celebrations of the highest order. Now we are pleased to present a new exhibit, titled "Inspired by Disneyland" showcasing the talents of current Disney Artists, Animators and Walt Disney Imagineers from across the company and beyond.
Join us for a special appearance and signing by our Walt Disney Imagineers and Disney Artists as we celebrate the release of their latest masterpieces.
Meet & Greet and Signing Opportunity:
The following Walt Disney Imagineers & Disney Artists will be on hand for a special appearance and signing (please note the designated signing times):
9:00 AM - 11:00 AM
- Jim Crouch
- Larry Nikolai
- Jimmy Pickering
- George Scribner
1:30 PM - 3:30 PM
- Brian Crosby
- Jody Daily
- Kevin Kidney
- Maggie Parr
- Joe Yakovetic
Please note, Artists will only sign their respective pieces. Merchandise available while supplies last. We ask that only TWO (2) items be signed per Artist, per Guest. We ask that you bring no personal items to be signed. Special Guest appearance and signing is subject to space and time availability and is not guaranteed.
... Here's a look at the new pieces that will be available.
BRIAN CROSBY
Since working at Imagineering, Brian has worked in a number of areas including presentation creation, concept design, and model painting. Announced projects include Finding Nemo Submarine Voyage and Halloweentime (2006) for the Disneyland Resort and It's a Small World for Hong Kong Disneyland. Many of his other projects are still unannounced at this time.
"Hook's New Frontier"
"Scary Adventure"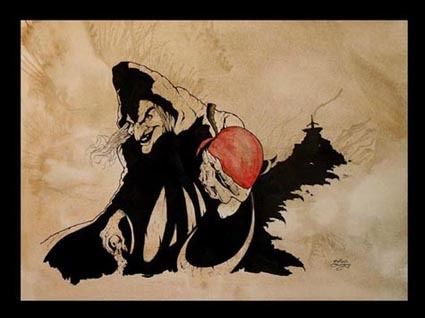 JIM CROUCH
A gifted artist, Jim's work is evident throughout the park, including the paintings of infamous Pirates along the attractions interior queue walls. Jim also makes a cameo appearance as one of the doomed bridegrooms in the Haunted Mansion's Attic Scene!
"Jungle Cruise"
"Haunted Mansion"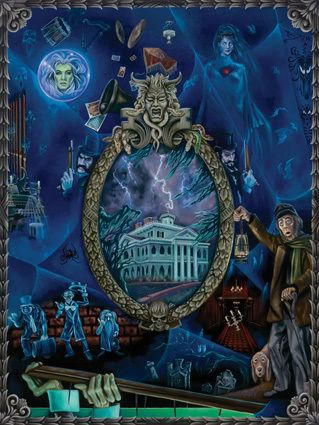 LARRY NIKOLAI
"Belle, Book and Candle"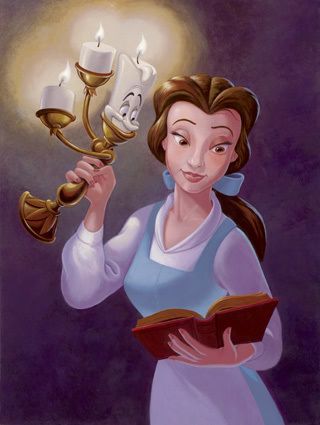 Briar Rose Triptych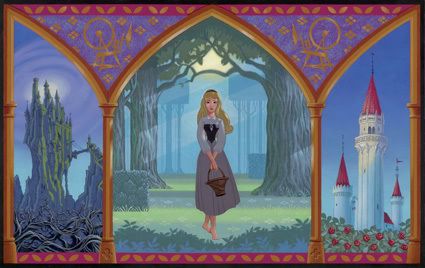 MAGGIE PARR
Maggie has created murals and portraits for many locations, including the Hotel Miracosta in Tokyo DisneySea, Fantasyland at Hong Kong Disneyland, World of Disney Stores in California, Florida and New York and has also had the opportunity to work on Disney characters for theme parks, stores, gifts, graphics, textiles and more.
"Partners In A Dream"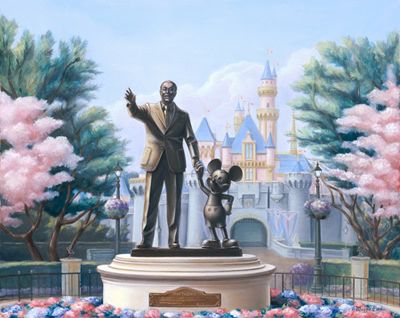 "Duck With a Pearl Earring"
"Goofy Cavalier"
JIMMY PICKERING
Upon graduation, he began an interesting career working for such companies as Walt Disney Imagineering, Hallmark Cards Inc. and Universal Studios to name a few.
After using his talents to create stories though attractions, environments and images, it seemed a natural step for him to venture out and start telling stories of his own.
"Big Bertha"
"Flower Children"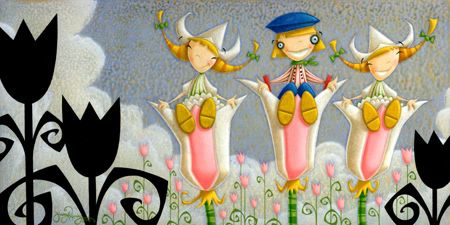 "It's A Sea Serpent"
"Haunted Mansion"
"Madame Leota"
GEORGE SCRIBNER
George was hired at Walt Disney Studios as an animator on The Black Cauldron in 1983. After animating on various projects for a few years George directed Oliver and Company, a full length animated feature that was released in 1988, and later became a concept and story artist on projects including The Lion King, Fantasia 2000 and Dinosaur.
George currently works at Walt Disney Imagineering where he directs animated projects for Disney theme parks, including Mickey's Philharmagic, a 10 minute 3-D film that is currently at Walt Disney World and Hong Kong Disneyland.
"Headed Home"
"Jazz Trio"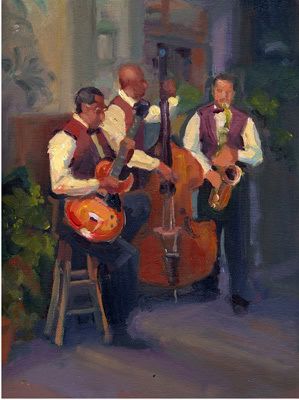 Personally, I REALLY like Jimmy Pickering's pieces. His Haunted Mansion piece is beyond awesome.