An article from

Disney Insider about Finding Nemo: Submarine Voyage

!
Dive Into Disneyland's Newest Attraction
Behind a wall of secrecy at Disneyland Park, tantalizing sounds have emerged for months now to tease Disney fans. There's something big going on in the old lagoon where the Submarine Voyage once embarked for undersea adventure. Something amazing. Something ... wet.
Avid fans will be nodding their heads right about now -- yes, we're talking about the Finding Nemo Submarine Voyage attraction, which has long been in the works. Now, with opening day only weeks away, we've coaxed our friends at Walt Disney Imagineering to give us a peek at what lies ahead under the waves. Kevin Rafferty told us exactly what we'll see -- plus how they created some of those amazing effects!
Kevin explains that as we board the subs, "We're visiting this undersea exploration company -- the Nautical Exploration and Marine Observation institute. Put those letters together and it spells Nemo! Guests go along for the ride as this institute explores an underwater volcano." ...
...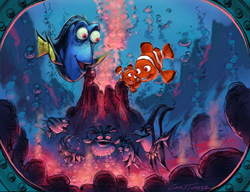 And a trip to Mount Wannahockaloogie is indeed in the cards -- but on the way Guests will encounter Marlin and Dory, ride the East Australian Current, meet a couple of sharks face to face, survive a mine explosion that plunges them to the depths of the sea, traverse a hazardous school of jellyfish, and even be ejected from the spout of a whale before they return safely to shore.
It sounds like quite a thrill ride, but Kevin stresses that the Finding Nemo Submarine Voyage is not a rough or scary experience -- you'll feel the sub rock a bit when the mine detonates, but that's about as wild as things will get. The focus is on fun and exploring the wonder of Nemo's underwater world, and even the youngest Guests should feel right at home.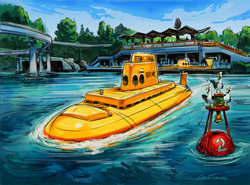 "We were very careful that nobody would really be scared -- the characters are having a good time, and Nemo is being happy-go-lucky, and everything's OK," Kevin explains. He feels the attraction's greatest achievement is not thrills and chills, but "The integration between the characters you know and love from the film with the world we've created underwater. It's very magical," he continues. It wasn't easy to create a story Guests could experience onboard their submarines that would be true to Disney/Pixar's film "Finding Nemo," and also a rich storytelling experience in its own right. "I was a little bit worried about that," he confesses, "but it came together and it's really beautiful."
Another challenge the Imagineers faced was making the experience compelling for Guests in every part of the slow-moving subs. "If you consider each of the submarines as a moving theater, Guests are traveling through each of the scenes," he explains. "We had a story we wanted to immerse them in, but the front of the submarine will be in and out of the scene before the tail end goes through it. So it was a challenge to create each scene so that every Guest on board has equal show value. Our solution is that if you are sitting in the front end of the sub and you enter a scene with Marlin and Dory looking for Nemo, by the time the tail end of the sub comes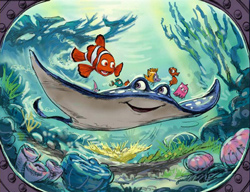 up you have received all kinds of cues about what's happening. When you're in the tail end, you'll see the scene differently than you would if you were sitting in the front. If you sit in a different part of the sub next time, you might see a little gag or a little moment that you didn't get to see before. You're going to get a little different show depending on where you sit in the sub." For that reason, he strongly recommends planning at least two voyages, to make sure you catch the show from every perspective.
The Imagineers had a powerful new tool at their disposal to help them meet these challenges -- a computer program that let them create a virtual version of the attraction that they could "ride" on their computer screens. They were able to see exactly what the experience would look like from each seat on board the sub, from start to finish, before they'd built a thing in the real world. Tinkering was easy.
Another innovation developed for this attraction is a much more concrete one. Kevin explains the dilemma the Imagineers faced: "We wanted beautiful, brilliant colors for our undersea world. The sun has an adverse effect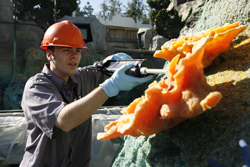 on paint -- it tends to fade it through the water. Also, paint colors never seem brilliant enough underwater. So Imagineering developed a new technology, basically painting with glass. There were several tons of recycled glass applied to the undersea environment. The results maintain the colors we wanted to portray, and because it's colored glass it will never fade in the sun."
The subs will be leaving dry dock June 11 -- and getting them this far has taken about three years. That might seem like a long time to throw your heart into one project, but Kevin claims "You get so involved in design and development that those three years just flew by. This is the only place in the world where you'll be able to see this attraction. There was a lot to learn, and the next thing you know, three years have gone by and it's almost opening day!"
We can hardly wait.
Discuss!
P.S. Sorry! I didn't see the other thread on this!