Whew I finally made it back to the DLR after almost two months! That's by far the longest drought since I got my PAP. Anyway, my gf and I originally planned this weekend to attend the Pirates Premiere but due to a major family event we had to skip Saturday and instead hit the parks on Friday and Sunday. On to the report which could also be titled TR of a Million Blurry Photos...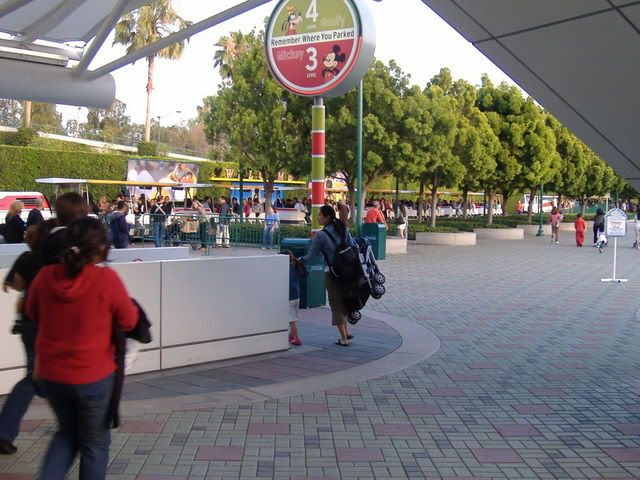 Its amazing how short the lines are at the tram when you get there at 7pm... BTW props to the lady in the middle who actually folded her stroller before taking it up the escalator. Usually the poor kid gets propped up in the stroller and I start getting ready to watch the Twilight Zone Escalator of Terror.
We booked it through TL since I still haven't seen this with the walls down! I love the sign lit up too. It makes the rocks around the queue seem even more underwatery. We lucked out and not only were the waterfalls running Friday night but the audio was also turned on for the seagulls! The "Mine"s are actually pretty muted and the speakers are spread out all along the Matterhorn side of the lagoon so you really can't hear them much unless you're right against the fence and watching them. Nowhere near as annoying as everyone feared.
Then we made a quick run on the Matterhorn and meandered over the New Orleans Square...
Where they were calibrating the screen using an awesome screen test they made just for the movie. It had a squid (or the Kraken) in the background with a bunch of piratey writing. You kinda had to see it to appreciate it.
BTW on the way through Frontierland I heard a familiar tune coming from the Shooting Gallery and couldn't place it but I knew it was very un-Disney. Suddenly it hit me! They were playing the theme to to the classic politically correct film Blazing Saddles sung by Frankie Lane!
After a quick run on Pirates we headed for the hills to rest up for Goofypiratesgirl's brother's Confirmation on Saturday.
Sunday morning around 10am. Actually the earliest I've gotten to the DLR in a while and the lines for both parks aaalmost touched in the entrance plaza/esplanade/whatever.
Apparently word got out about the soft opening for the Mad Hatter. I wonder if the people at the end of the line know what they're in line for.
I've almost convinced myself that the mouse planted these bushes juuust right so that you have to get as far into TL as possible before you can see how the Standby and Fastpass times are for Space Mountain. Bravo if they really did that on purpose.
Return times weren't too bad for SM so I followed Mike Modano on his offseason vacation and grabbed a couple Fastpasses.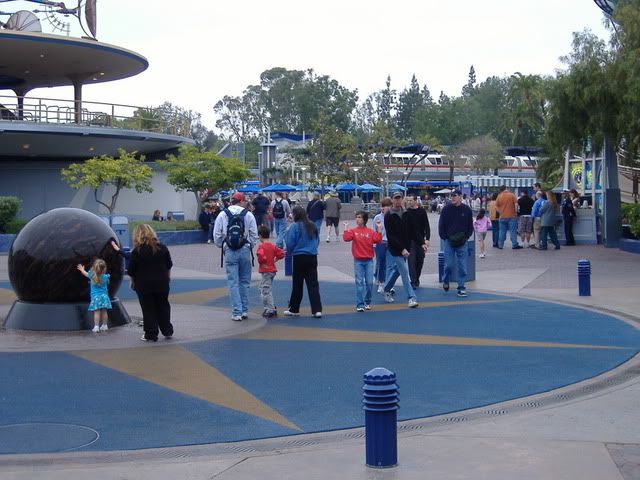 Then it was over to Stop #2 on my routine visit!
Wouldn't the big granite ball be way more entertaining if they incorporated a little bit of Indy with it?
I not-so-stealthily captured a picture of a Nemo CM while I approached my soon-to-be favorite ride.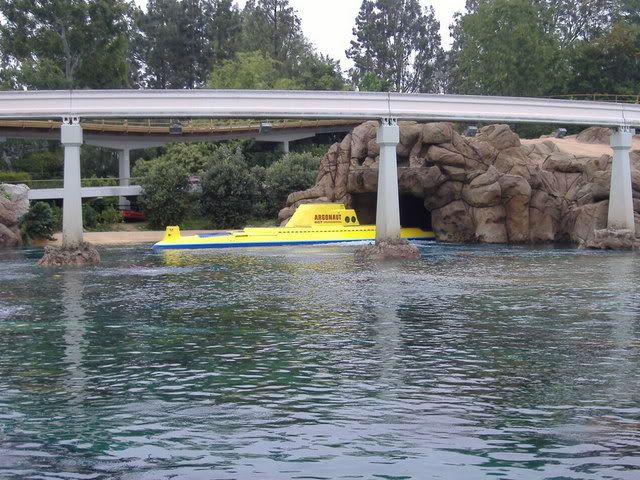 No waterfalls today but the subs were out in force.
They were actually running groups of three subs through the lagoon. The first one (Nautilus I think) had already gone in the tunnel.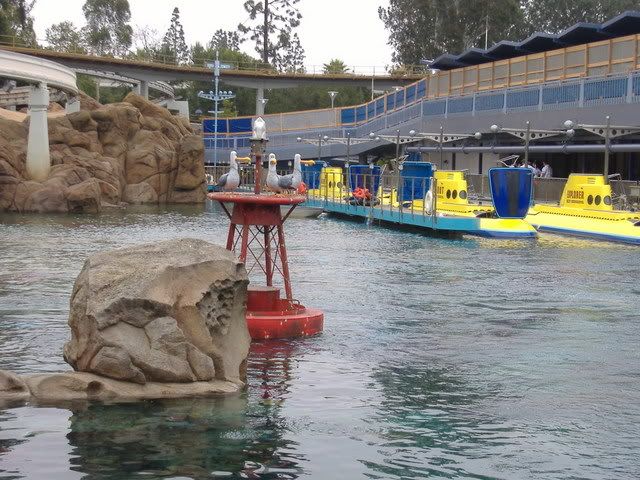 Somebody hit the Mute button on the seagulls today too. Further proof that the good stuff only happens on weekdays.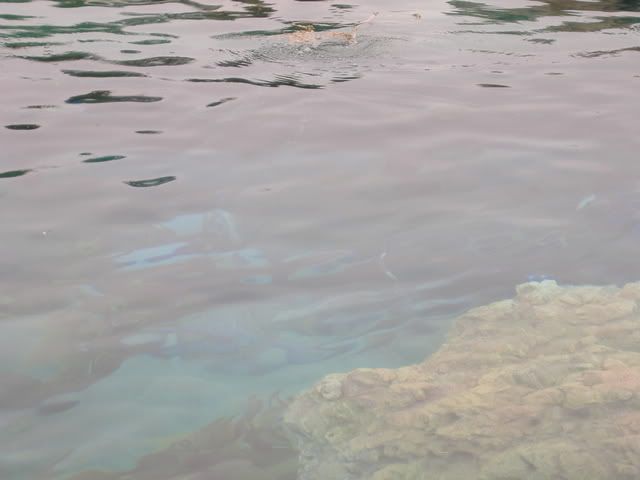 If you close one eye, tilt your head, and do the hokey pokey you can see an AA diver here. (I believe the hokey pokey really is what its all about.)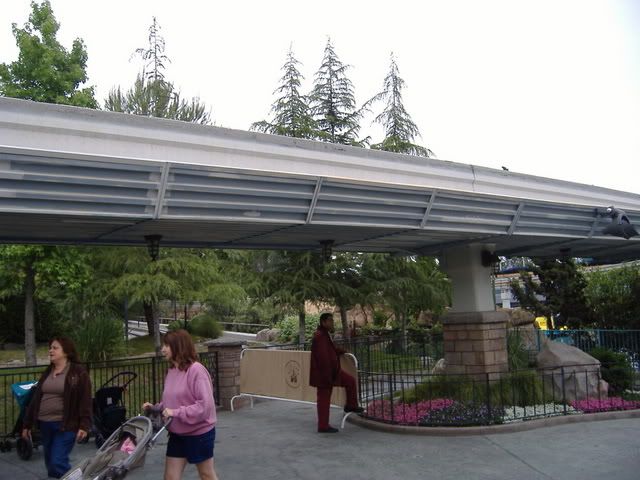 A few things going on here:
#1 Still an icky paint job in the works. Why can they repaint a turnstile booth almost overnight but it takes an bazillion years to finish one stupid awning?
#2 I'm assuming the massive area they've blocked off is below the source of Monorail Purple's boo-boo.
#3 There were CMs posted here ALL DAY apparently to keep guests out of an area that's barely 10 feet by 15 feet. The barricade barely fit! Your admission money at work.
Speaking of boo-boos, the Matterhorn's vastly underrated queue has one too. This needs to be watched as seriously as the Alice in Wonderland window frame. I predict it'll be fixed in July. Any takers?
Zoomed across the hub only to hear someone say, "Look its Mulan!" I'll admit I laughed out loud.
Prince Valiant visiting the park. Must have been on a Single Rider trip.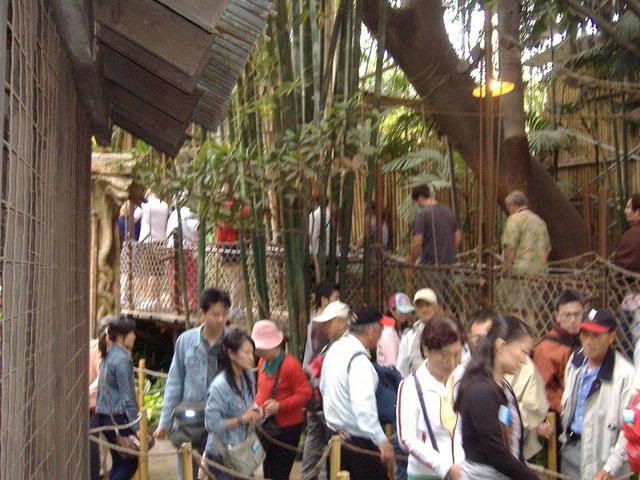 Made it over to Indy. It had a posted 30 minute wait and it definitely felt like 30 minutes. Now that the bridge is done and they're using the Standby side of it, I wonder when they're going to turn FP back on? Or ARE they going to turn it back on?? hmmm?
Bonus points for bluriness (the camera focused on the building on the extreme left) and also catching a pic in which NOONE looks excited for the ride. Especially the people on the bridge. They look like they just found out this is the line for Pooh!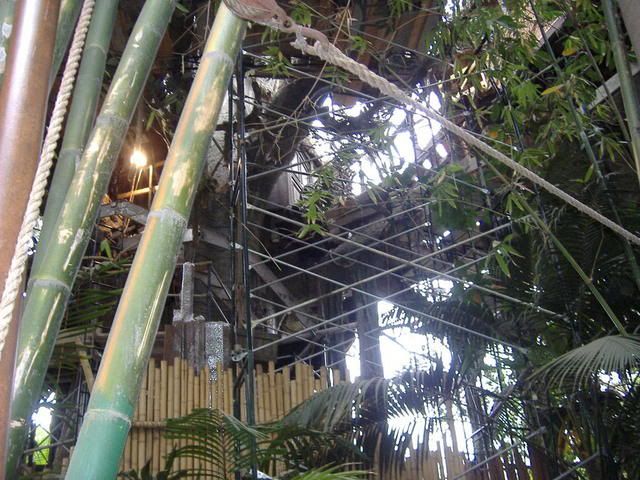 Noticed how much scaffolding is up in the treehouse. From my eyewitness account I can tell you that its going to be a looong time before this reopens. There were still lots of raw materials stacked up and parts of the tree were cut out to the metal frame. Also I've hardly ever seen anyone working on it so its obviously not at the same priority as Splash Mountain was or Pirates Lair and the Mark Twain are right now.
After a usual quality ride on Indy we had enough time for a quick snack before the 12:20pm Aladdin show. Tollhouse cookie and Coke! Breakfast of MC Champions!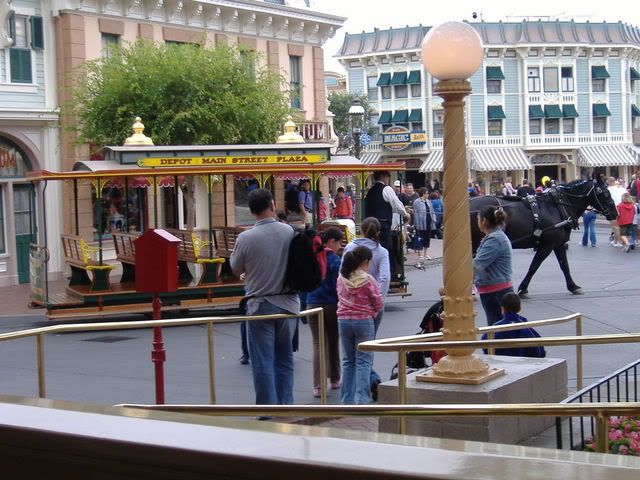 While enjoying my cookie and coke I observed a funny thing. First this feller came on stage...
Then this guy rolled out right behind him...
Then she drove out right behind him...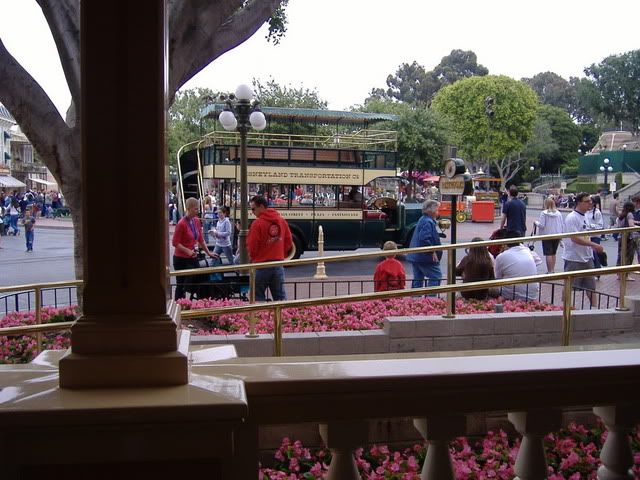 Then he came out right after her! Must've been a shift change or something. I was almost expecting the old Carnation truck or the Nemo bus to come out next.
I think since the 50th ended the train station's been under tarps more than its been open! Anyway it actually sounded like they were working on the railroad so I guess something must be going on up there.
This older lady was so excited about the fact that her hat matched Mary Poppins' hat that she went into an amazing break dancing routine! I was so blown away that I couldn't take pics of course...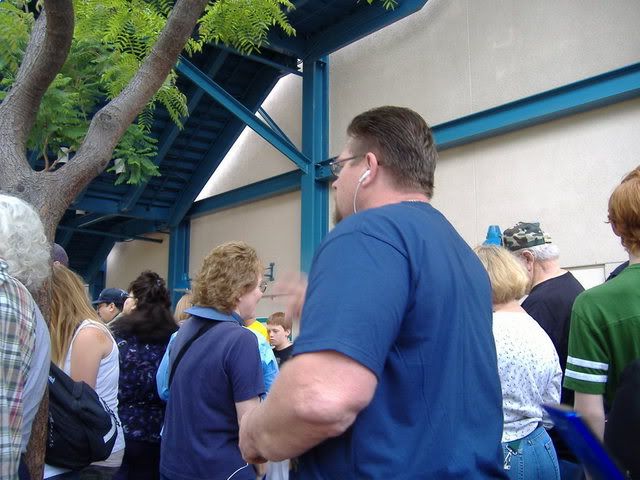 This guy was Exhibit A of why sometimes standing in line can be the highlight of your day. We were in line for Aladdin (sorry that's why we missed the meet) and first we noticed his interesting arms. Then he fired up his iPod... He was movin and groovin to his tunes so much that he actually created a perimeter around him. There was tapping of toes, shaking of arms, drumming of air, and even a poor tree was beaten. We actually had to look away to avoid laughing (or worse, unconsciously dancing along with him) and shared a few awkward looks with other guests who were gawking. No matter what he was listening to you've gotta admire his enthusiasm. Note the different camera angle as I was trying to be as discreet as possible.
AWWWWW So cute. I'm getting pretty decent at taking pictures of us.
QUICK ALADDIN REVIEW:
Had the usual classic Jafar and Iago which more than made up for the rather new genie. He was funny and used some of the common jokes but also added a few jokes pointed at the Latino crowd. They were funny at first but he kind of turned into a one-trick genie. Aladdin was his usual indifferent self and Jasmine was a good singer but this one really didn't look the part. I never could quite put my finger on it. Regardless of the cast changes though for a show that performs a bazillion times a month its remarkably consistent. The only thing I have a problem with is the little miniature they zoom up a string at the beginning of A Whole New World. I laugh out loud every time because its so cheesy how it bounces along the string. Seems like they could do better even with a projection. Back to our regularly scheduled trip report...
They moved the Drawn to the Magic show back out to the street apparently in an effort to draw people into the Animation building. Its a decent show but I kind of liked it better in its little amphitheater. The front of the Animation building just needs to be rebuilt to make it more inviting to people who have no clue what cool stuff is inside. I suppose that kind of thing could be said about most of DCA though...
Decided to check out Screamin so on the way I noticed the nice progress on Midway Mania. Plus the waves were actually sort of working. I saw a couple people get splashed while their coaster counted down to take off.
The crane was reeeally obvious. I love how they go through so much trouble to hide the Mark Twain at DL but at DCA nobody thinks twice about a big bright yellow crane. I guess that shows how desperate they are for any new construction.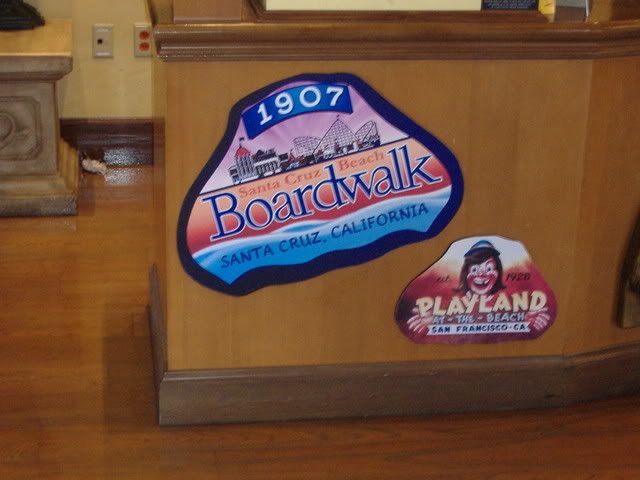 Saw this in a shop. The Santa Cruz Boardwalk is still around and its awesome! I've been there a lot in the last several years. Its kind of the DL of the Monterey/Santa Cruz area. Its old big coaster will shake the hair off your head.
Had a decent ride on Screamin despite its queue. As far as I could tell the music behaved itself pretty well too. Then we headed along the waterfront and went through this gem of an area. I swear the bathroom at my old college apartment was more inviting than this little circle of imprisoned doom.
Passed by the most promising yet completely unused area of DCA...
(why is there NO earthquake attraction in the park?!?! When the best quake you get in a California-themed park is when the bugs in the bench violate you in Its Tough to Be a Bug you've got BIG problems!)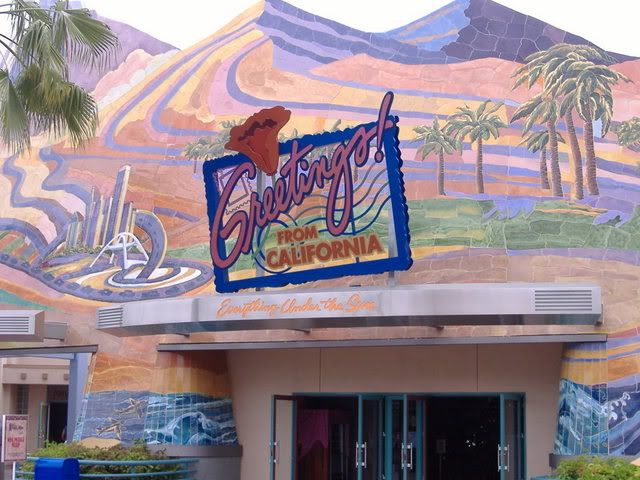 The sign reads, "Greetings From California! Everything Under the Sun Except For Fun"
For the second trip in a row the survey takers actively avoided me! Luckily I wasn't wearing anything with Micechat on it so they didn't have to light themselves on fire again.
Yummy theming... OH wait they've got Craftsman-style lights on the building so its all good. That distracts me from the huge blue plane that's apparently crashed into the decent-looking restrooms.
Whew made it back to DL before I had to punch any babies (Dane Cook rocks). BTW what happened to the tasty 75 degree weather we were supposed to have?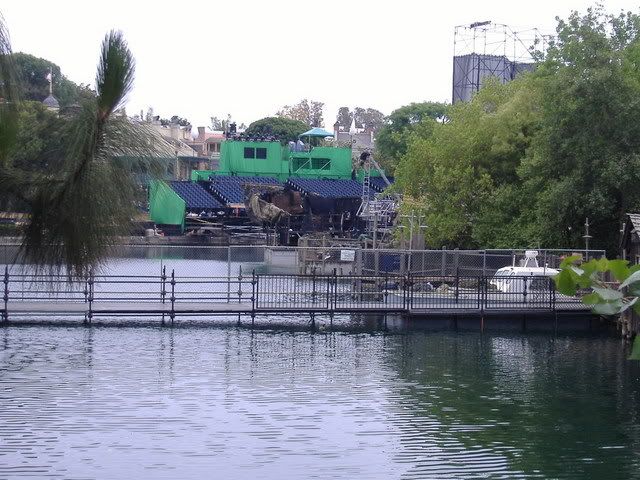 Some hyperactive workers had already taken down one entire section of seating from the premiere. There was a red section to the left of the green one.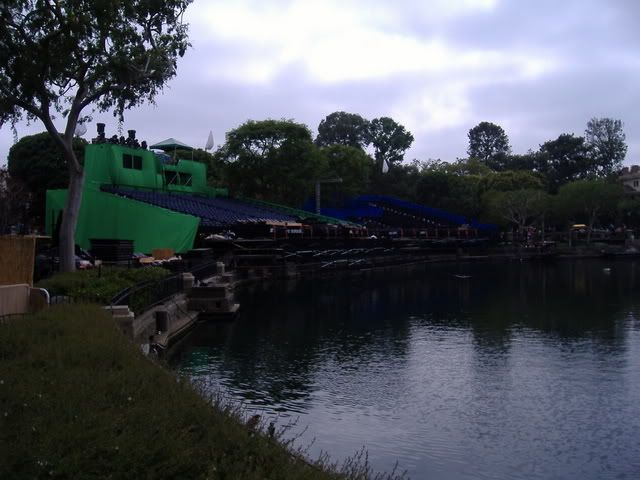 All the seats over the water had also been removed.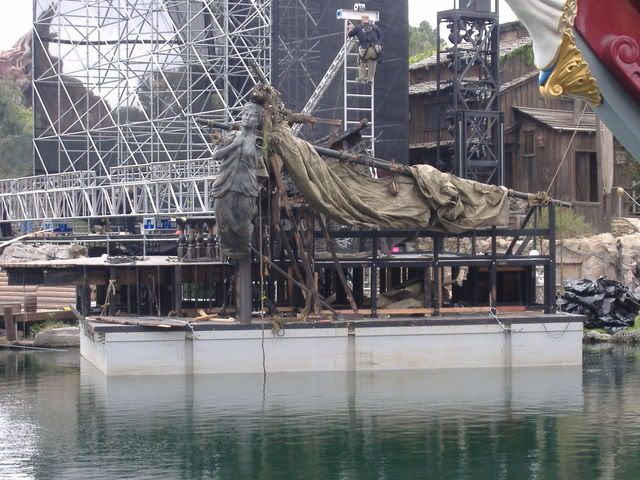 Most of the decorations were also stripped off already. Heck they even took this poor lady's arm.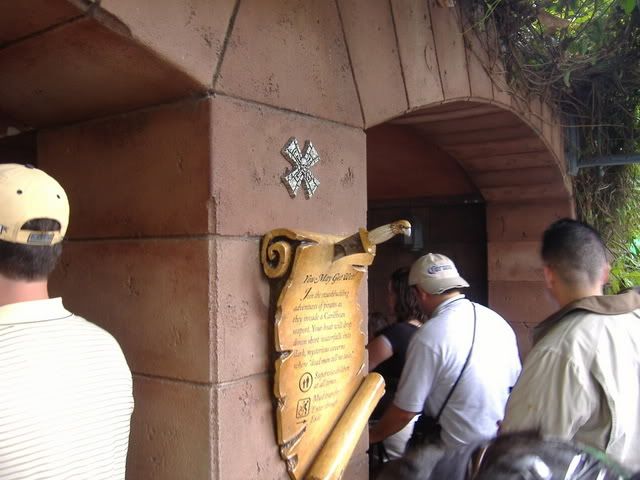 Squeezed in a run on Pirates before we had to head back to Lompoc. Isn't this silver X new? Maybe something for that video game you can download at the ride?
Overall a good weekend and the crowds weren't nearly as bad as I was afraid they'd be.
THE END!