It's not cogent to the naked eye. Even so, the Disneyland Resort is gradually growing in terms of it's land mass - growing humongous, nevertheless. We're talking growth to the tune of 460 acres. Down Harbor Blvd. lies a chunk of this land - an 88-acre plot that Disney has loudly hinted will be the site of theme park three.
Disney definitely has BIG plans to make DLR as comperable to Walt Disney World as possible. WDW generates 80% of the company's investment profits. This is for a large part due to it being an international tourist destination, not heavily dependent on locals and/or AP's. One can see why the company is committed to upgrade the Disneyland Resort on a grand scale.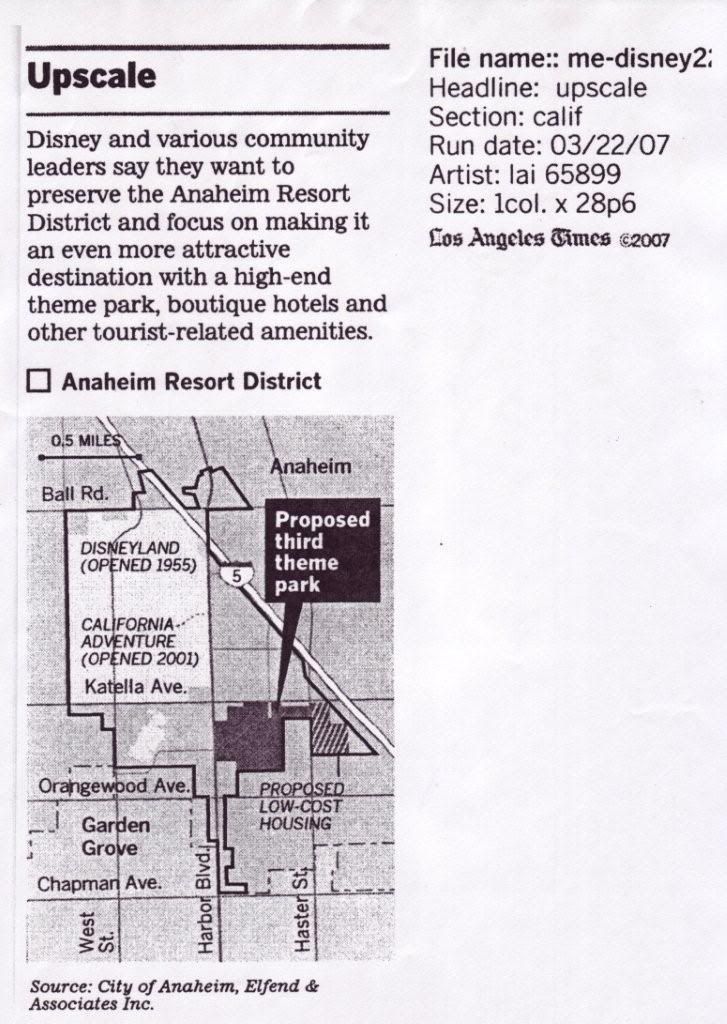 On the proposed 88-acre third theme park site, Disney will, in all likelyhood, also build a high-end boutique hotel and an emense new parking structure. As indicated before. DLR has plenty of other land that the general public doesn't know anything about - and it will continue to purchase more. By the time that it's over (and according to rumor), Disney will have amassed the land to also build a waterpark (possibly a 6-acre lake like Eisner had wanted), a second shopping district, and perhaps additional boutique hotels. The resort will also expand it's existing hotels.
Prior to building theme park three, Disney still plans to further expand the attractions at both DCA and Disneyland. The company also intends to create time share vaction units - hence the emphases it is placing on hotel expansion. It will also add more births to it's new Disney Cruise Line ships on the West Coast.
In spite of all that is going on, I feel that Disney is compelled to announce it's plans to build a third theme park at some point this year. To myself, the most exciting elements of the
West Coast expansion possibilities are the third gate, the water park, and Disney cruise ships that travel South of the U.S. (perhaps as far as South America), and North as far as Alaska. No telling where else they will "set sai for adventure."
A poll will soon be up. In the meantime, please feel free to dicuss your thoughts and opinions.