WELCOME TO DISNEYLAND!
The refurbishment signs haven't been used the past couple times I've been to the parks. I wonder why.
PIRATE'S LAIR ON TOM SAWYER ISLAND
Everybody knows Pirate's Lair is now open. Plenty of people have posted photos, but I figured I'd share a couple as well. All in all, I'm very impressed with the additions to Tom Sawyer Island. Despite the mis-theming issues, the Pirate additions were done very well. Dead Man's Grotto is particularly impressive, and Smuggler's Cove's new interactive elements are a vast improvement over the essential nothingness that was there before.
Most of these Pirate's Lair photos are available in larger sizes on my Flickr page. Just click on the image
The Audio-Animatronic prisoner in the far end of the cave is the most impressive addition in the entire Island. Unfortunately, I think a lot of people miss out on fully experiencing the show here. The prisoner is constantly mumbling in his dark cell... I don't know if he's sound-activated, or completely random, but he'll come to life in brief intervals, sometimes he pleads for freedom, other times he assumes you've come to join him in his prison. Sometimes, if you're lucky, he'll come to life rambling off menacing warnings of cursed treasure - and as his ominous warnings of the curse are heard, light from the full moon outside his tiny cell window can be seen, and he turns into his cursed, un-dead skeletal self. It's really quite an impressive effect, and the audio-animatronic itself is one of the best I've ever seen. When I first saw it, I wondered if it was a live performer back there - and I've heard a couple people question if he's real or not.
Bravo, Imagineers!
The bone cage from
Dead Man's Chest
in Smuggler's Cove/Pirate's Den is pretty cool, too.
The old Mine Train:
And the old Keel Boat: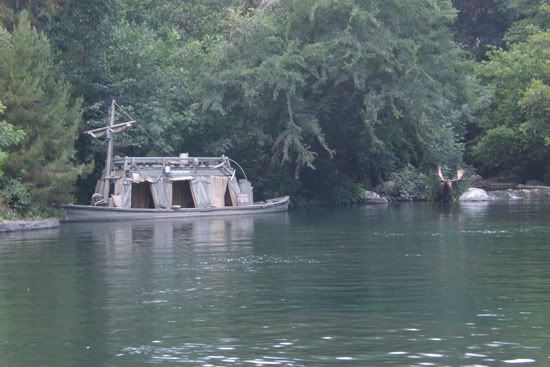 The Shipwreck is pretty cool, too. It seems like there should be more too it, and I suspect that there eventually will be.. but its a neat little area. Davy Jones' foreboding whisperings are great - and the ghostly sounds of a creaking ship are an excellent touch. The lighting in here, is just as good as in Dead Man's Grotto - it's really quite impressive.
Unfortunately, the Island is having some issues - the capstan wheel in Smuggler's Cove has been cause of frequent problems. Another MiceChatter reported it missing a couple days ago, and yesterday, it was missing once again.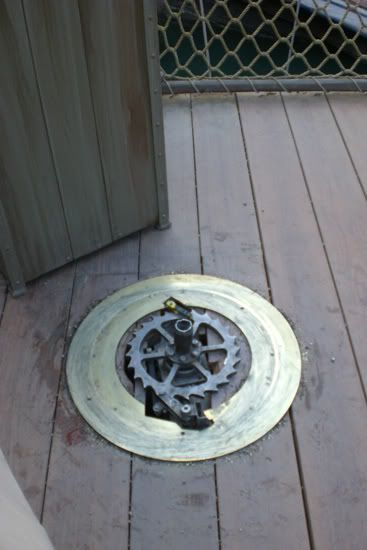 Old Fort Wilderness is getting ready to be torn down... They've removed the little graveyard that used to be behind the Fort. One can only hope that they've removed it so it wouldn't get damaged during demolition and that it will be put back in place after the new stockade is built.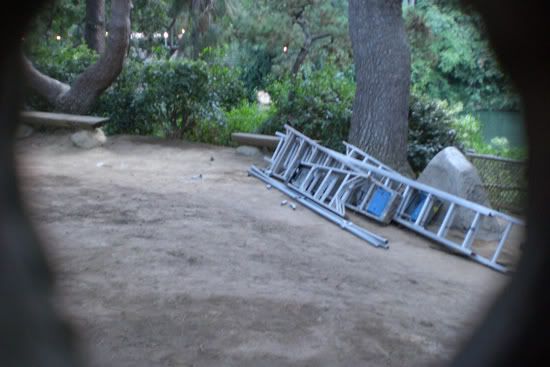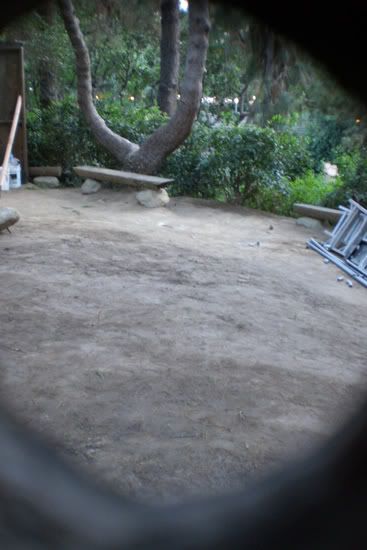 FINDING NEMO SUBMARINE VOYAGE
On Thursday, they were doing some work on one of the giant sea bass animatronics. Guess it wasn't working correctly?
A dinghy was out in the lagoon - probably to help with the fish: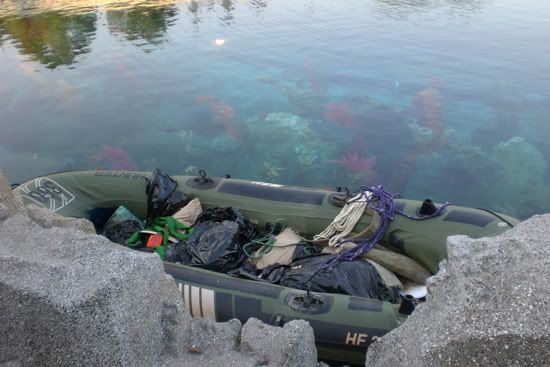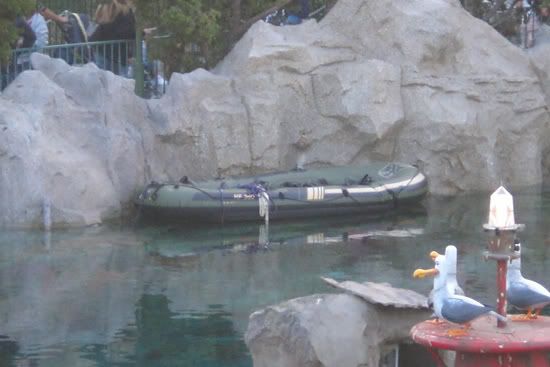 They were working on the fish on top of a Submarine, at the dock: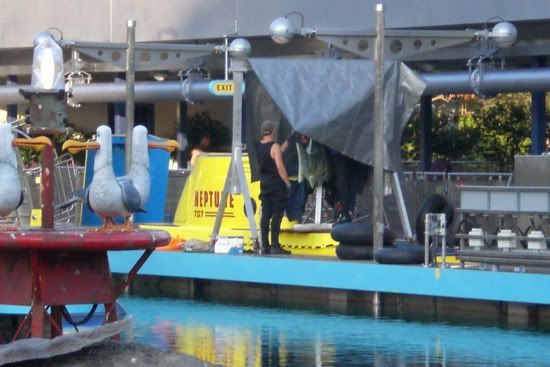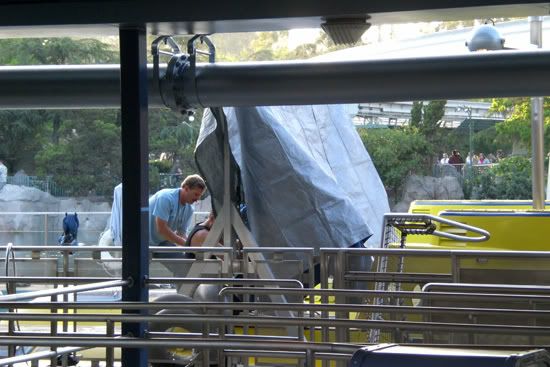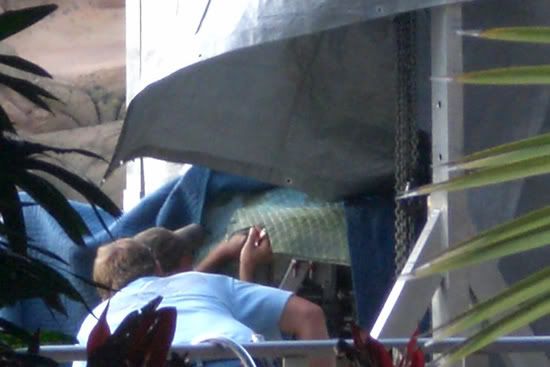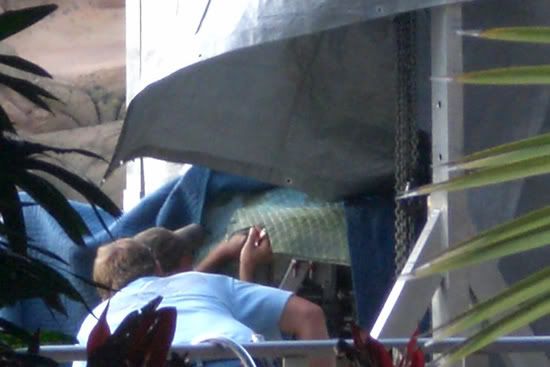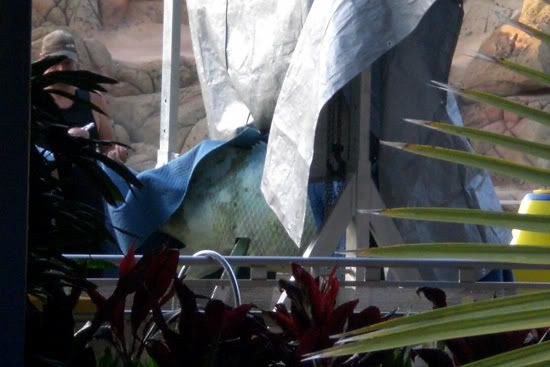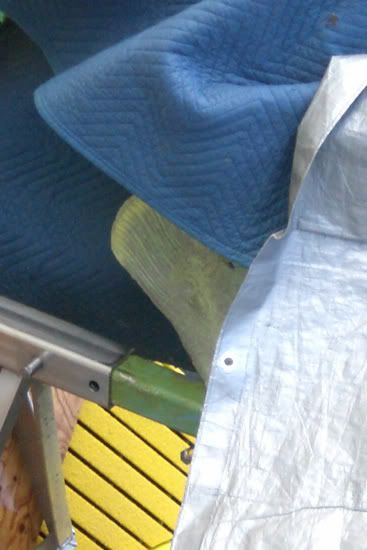 Looks like they were also doing some painting on the Sub hatches..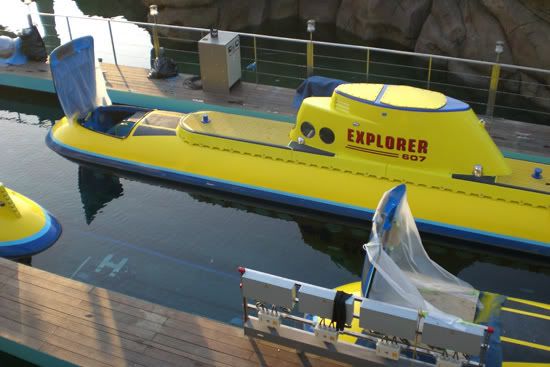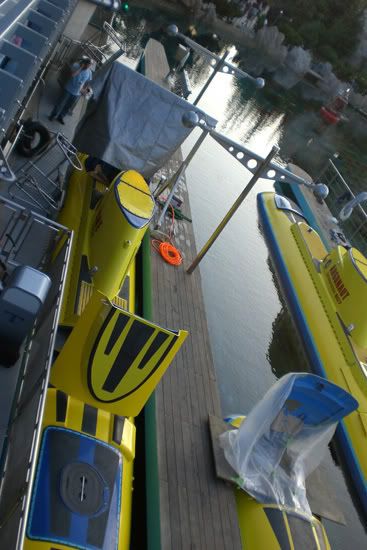 A look at one of the dock's control panels: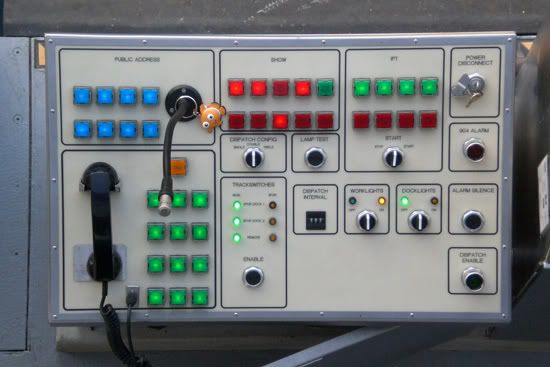 SCUBA gear was hanging out to dry on the dock railings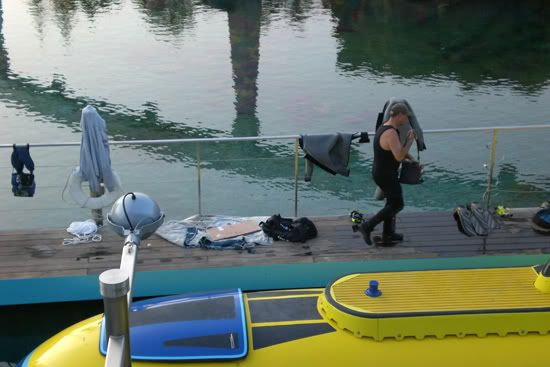 Markings on the dock to designate where to park the subs: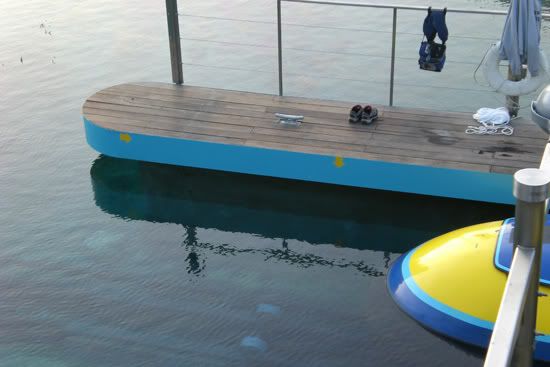 Then, yesterday was the first day of CM previews.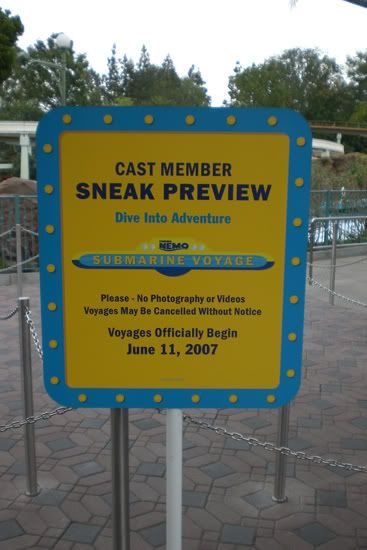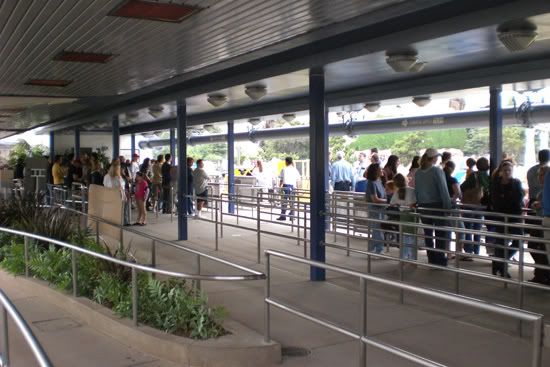 The huge water pipe got some last-minute theming the night before...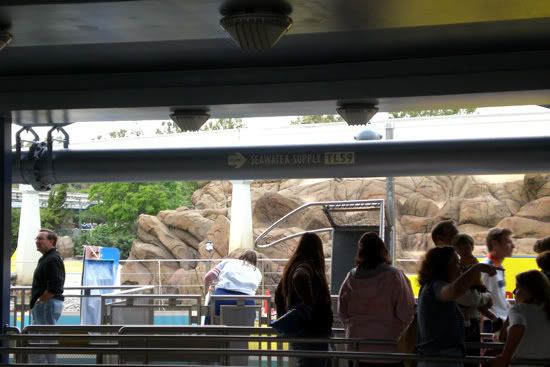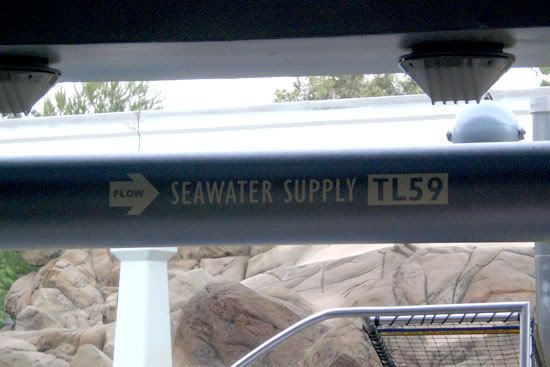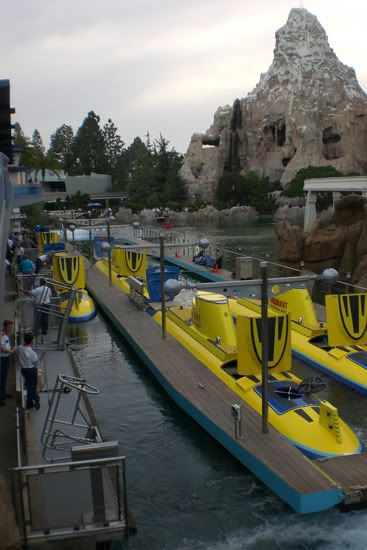 Some of the first guests: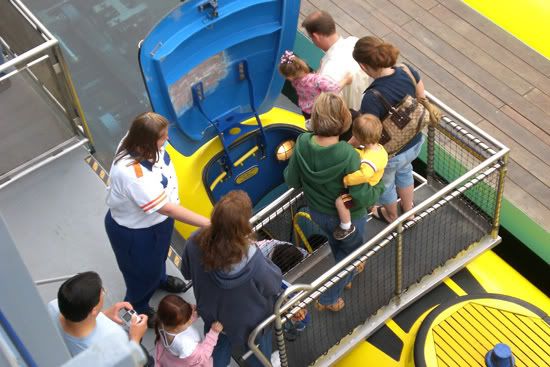 Walt Disney Imagineer Tony Baxter was out on the sub dock talking to CMs. He looked happy to be there and talking to the CMs, I can only imagine how proud he must be to be part of the team that brought back the subs.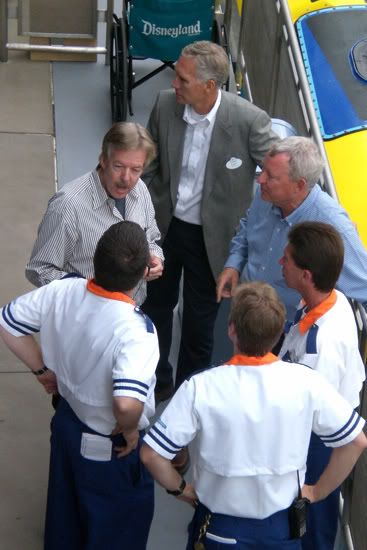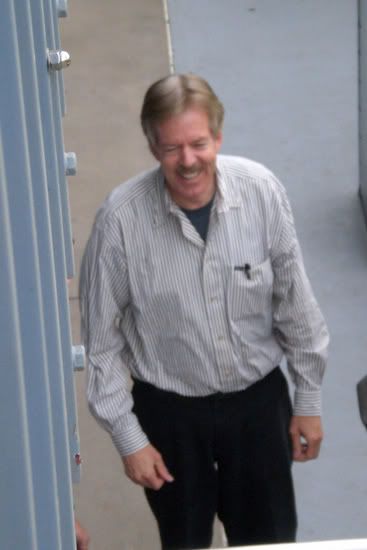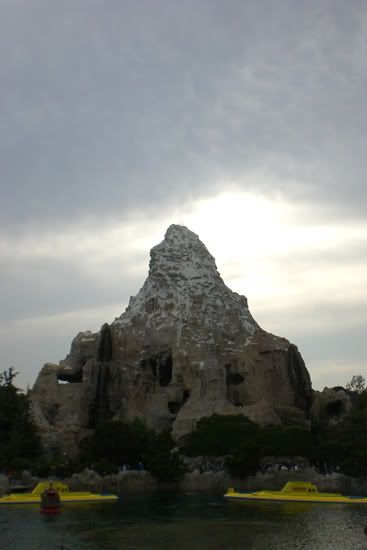 The awning over under the Monorail beam next to the Matterhorn is now a dark green color: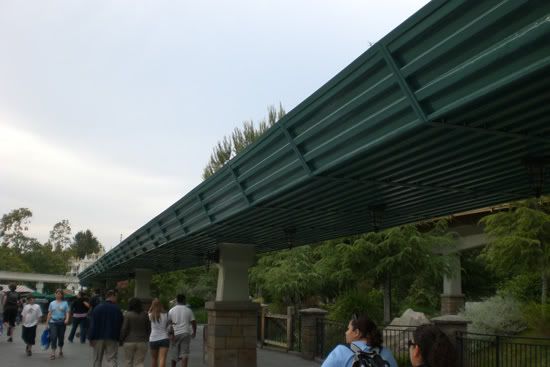 These next four shots are available in bigger sizes as well on my Flickr page. Just click the photos, if you're interested.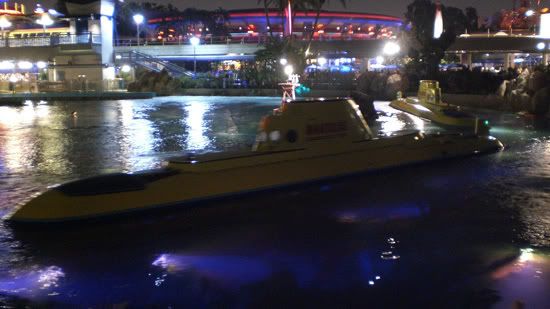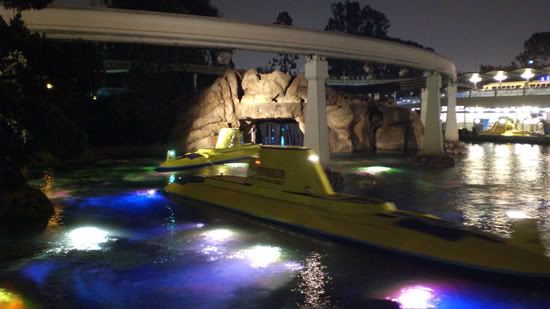 CHARACTER CLOSE-UP
Over in the Disney Animation pavillion at DCA, the Character Close-Up area features maquettes and models of characters from Disney-Pixar's
Ratatouille
and the 2008 film
Wall-E
. I'm not sure how long they've been on display, but I thought they were cool, and since I'm very excited for Ratatouille and intrigued by Wall-E, I thought I'd share some images of the displays:
These photos from Character Close-Up are all available in higher resolution at my Flickr page:
Wall-E has to be the coolest and cutest robot ever. But whats the deal with the shoe?
NEW MERCHANDISE
New Americana merchandise has hit store shelves for last weekend's Memorial Day holiday, and of course, for the Fourth of July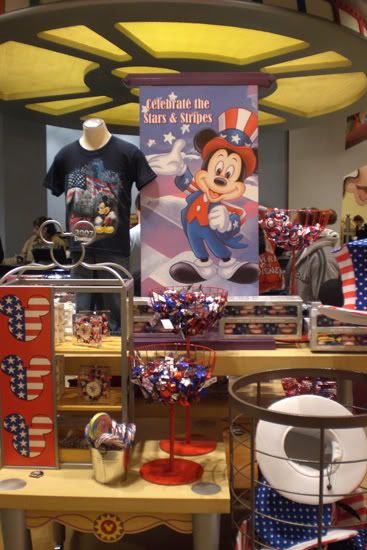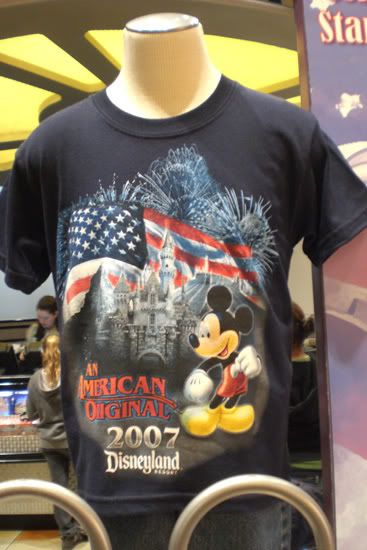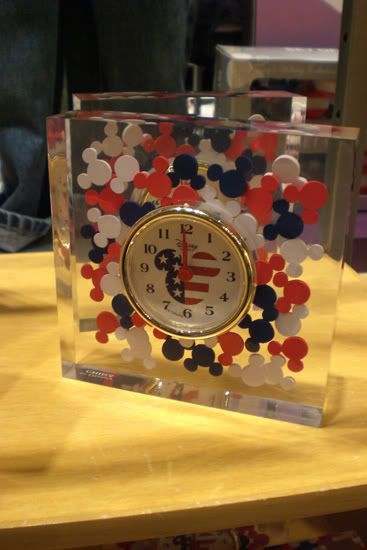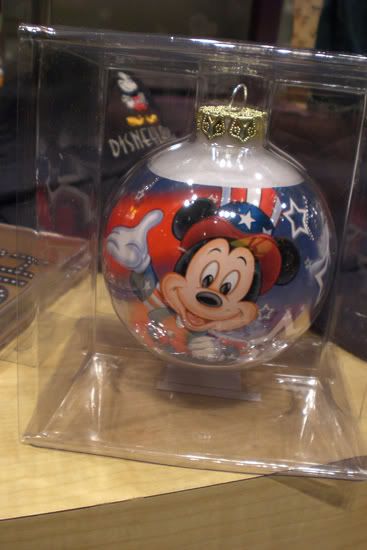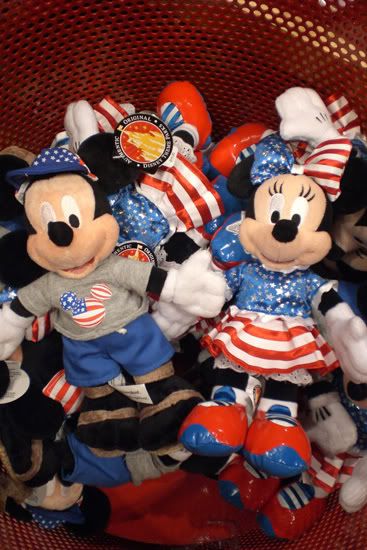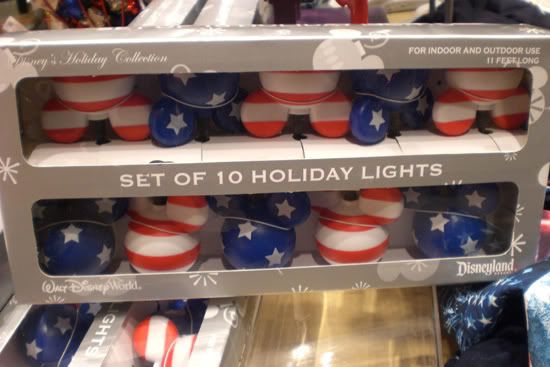 ...And finally....
My favorite new piece of merchandise -
A petite print of the new Finding Nemo Submarine Voyage attraction poster is now available at Disneyana. It's very cool! The matted print is $35. The original Submarine Voyage poster is still available as well (one of my favorite attraction posters).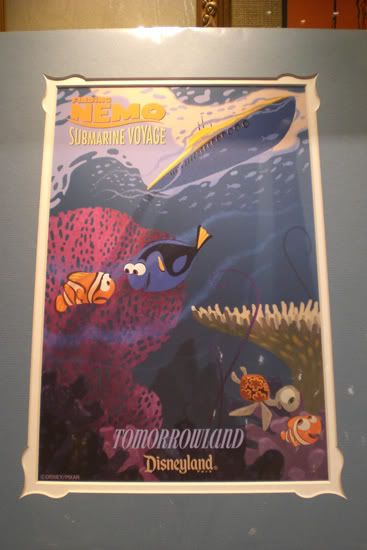 Side-by-Side comparison: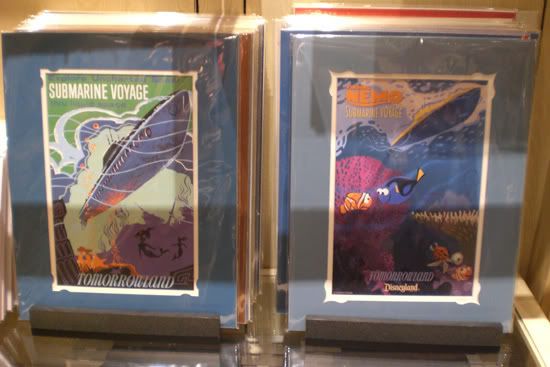 (Thanks to 2DieFR for the heads up about this!
)
...Alright! That's all. Hope you enjoyed the photos!