...Another update.
WELCOME TO DISNEYLAND!
New AP poster ads touting Finding Nemo attractions at both parks are now up: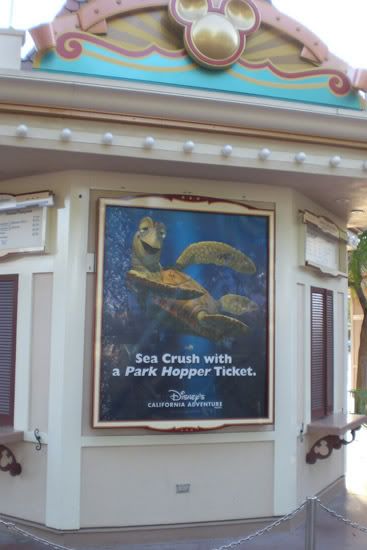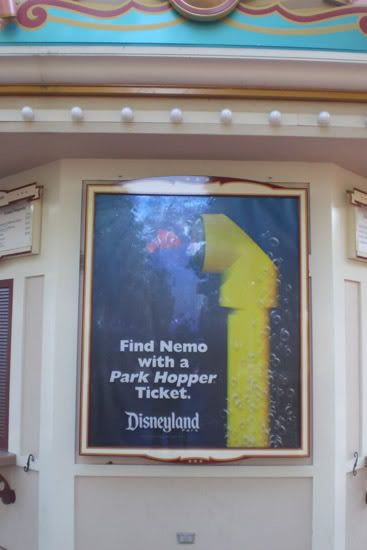 SEA PEEK - FINDING NEMO SOFT OPENS
The Finding Nemo Submarine Voyage hosted a special soft opening today. We decided to wait and ride it later in the evening to see if the queue went down, and also to see the lagoon portion of the ride at night. It turned out the idea was a bad idea though, as the attraction closed early and we weren't able to ride. Oh well. Anyway, various reports claim the standby time was only an hour long - not bad at all, however, it's no doubt the waittime will spike once the attraction officially opens June 11.
A nicely themed new Stroller Parking sign next to Autopia, in front of FNSV and the Monorail queue entrances: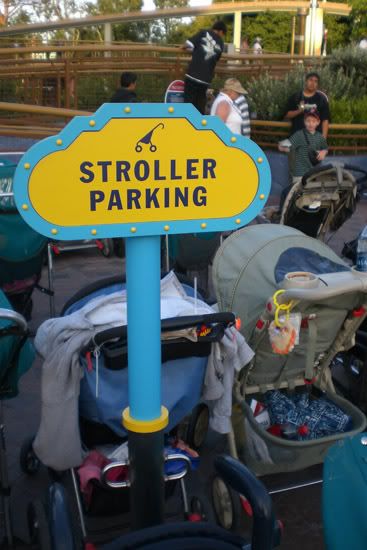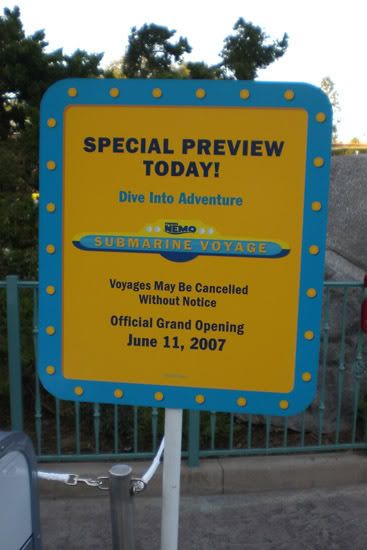 This area in the walkway between the Sub extended queue and the Matterhorn is a very bad area for strollers and wheelchair parking.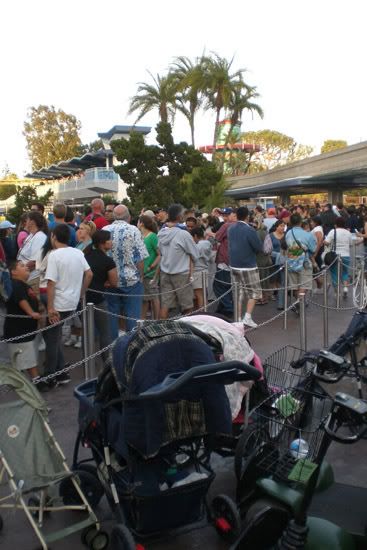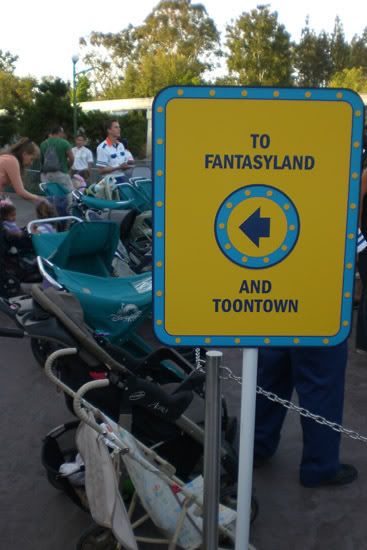 Spotlights facing the lagoon on the Peoplemover track
The new framed poster set is available at a variety of locations, including Tomorrowlanding, Disneyana, and the Disney Gallery. It's really quite nice. The framed poster set is priced at $225.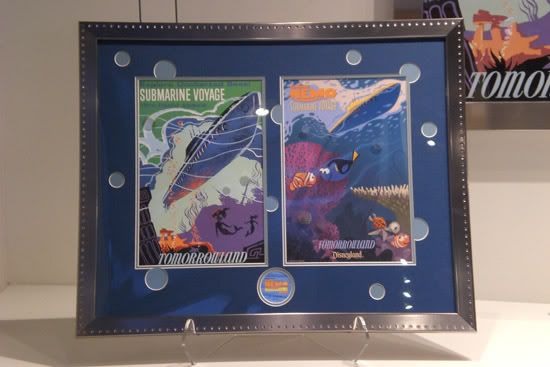 A pretty cool new R2-D2 toy that is voice-activated and responds to voice commands is available at Tomorrowlanding as well. It's around the size of a bigfig.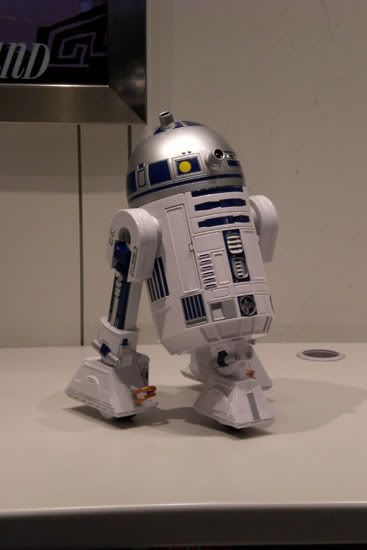 Across Tomorrowland, the Starcade is temporarily closed as it is being used as the media center for the Finding Nemo Submarine Voyage press event on Monday.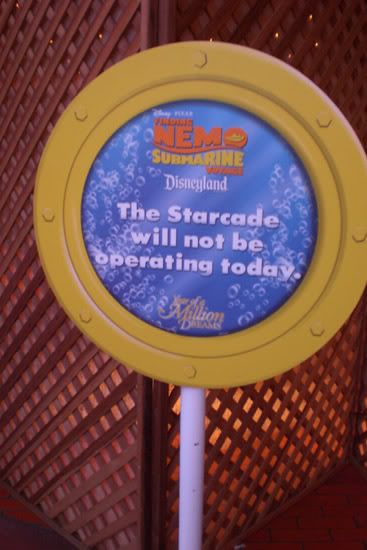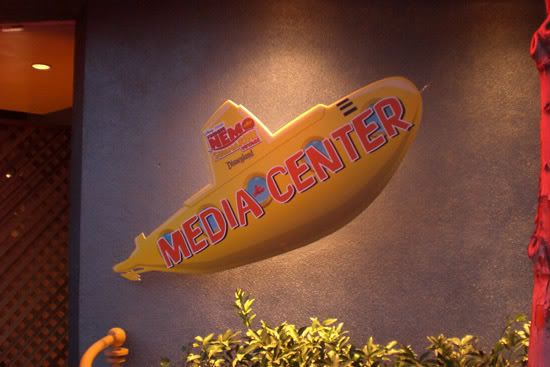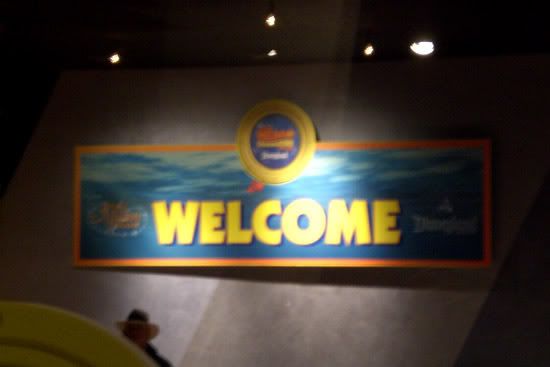 All of the arcade games have been cleared out and tables, a temporary stage, and other stuff has been set up. They're even using the second level of the Starcade, and the speedramps were working.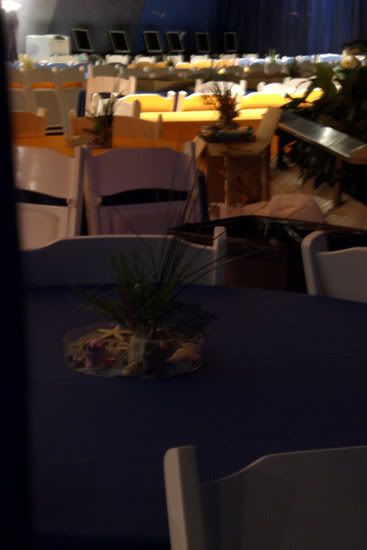 And there's a new Finding Nemo Submarine Voyage merch display in the Star Trader window. It's interesting though, that the Star Trader doesn't offer any Sub merch. It's all found at Tomorrowlanding... or oddly, at the Adventureland Bazaar: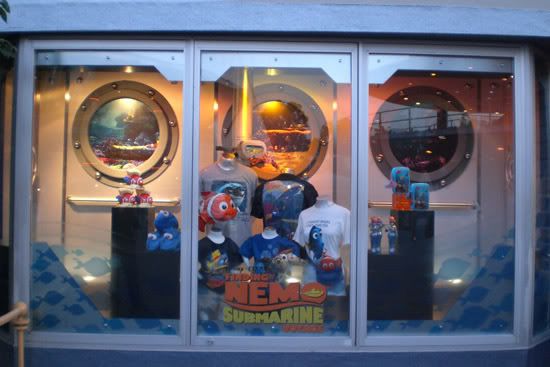 And a couple shots of and on the Subs (click these for bigger versions at my Flickr page!):
These three on-ride photos were taken on June 6:
INNOUPDATED:
FUTURISM DONE RIGHT (AND WRONG)
The Siemens corporation's new Project Tomorrow exhibit at Innoventions is pretty much done, but still not open to guests. A CM I asked said they encountered issues with part of it and are working on getting them fixed so they can open it. The exhibit looks pretty similar to
the same exhibit at the exit to Spaceship Earth at Epcot
.
Simply put, this exhibit is remarkably cool-looking. When I first saw it today without construction walls, I immediately thought that this is how Tomorrowland
should
look. This is futurism done right.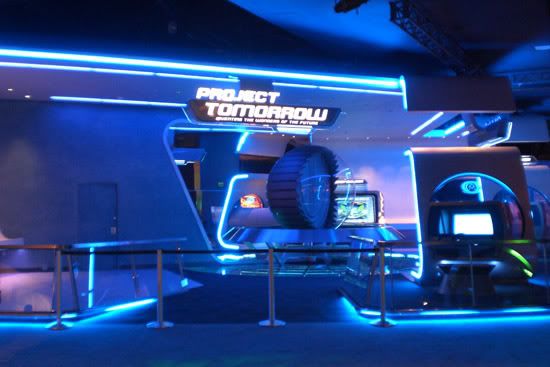 The sign reads:
COMING SOON! MEGACITIES!
Between now and 2030, an estimated 90% of global population growth will occur in cities, putting a huge strain on something we usually take for granted...power. In cities with tens of millions of residents, even a few hot summer days could mean a blackout!
Fortunately, Siemens is developing technologies to help ensure bright days ahead. Alternative energy sources, advanced electronic control systems for power routing, "smart" buildings, and newtworked sensor systems enabling utilities to "speak" to one another... those are just a few areas being explored today, so that we have the power we need tomorrow.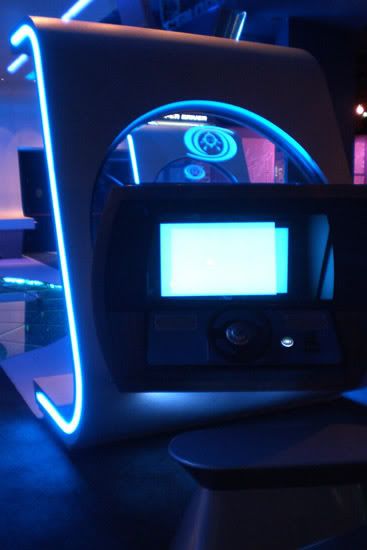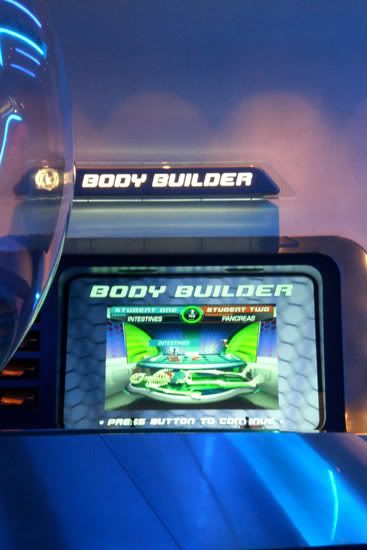 However, not everything new in Innoventions is a step forward for the deadweight attraction. Well, maybe its a half of a step forward.
An arcade of XBOX 360s have replaced the Disney Interactive gaming stations. The removal of the boring and uninteresting Disney Interactive gaming area is GOOD.... but while I applaud the updated and rather cool look of the XBOX 360 area, I wonder how these 2 year-old gaming consoles support the theme of Innoventions any more than the Disney Interactive area. Tom Morrow is misadvertising his land - these aren't exciting
or
new technology.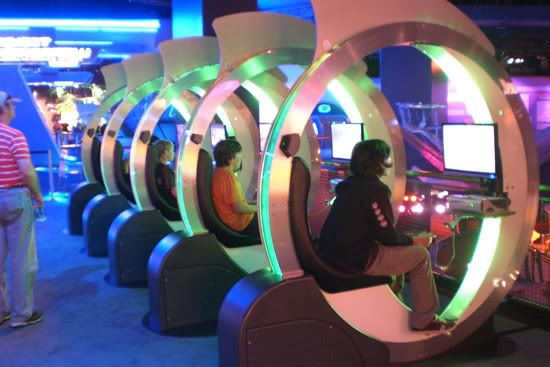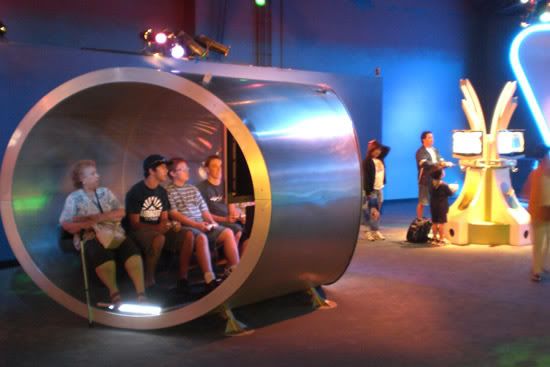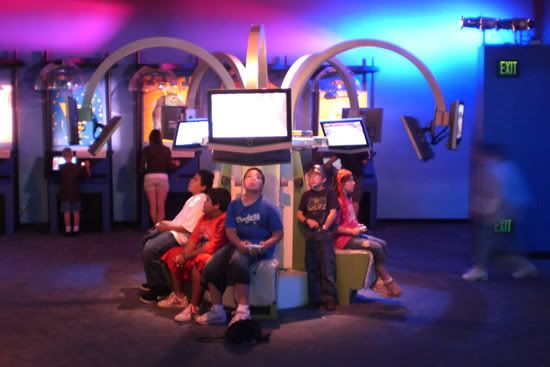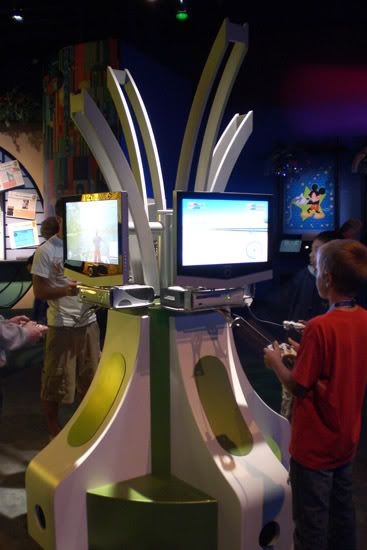 ...And this looked new as well. The Remixe Masters Lounge has been added next to the Virtual Resort area. I didn't try it out, but from what I saw you remix Disney Channel stars' music videos and whatnot. Meh.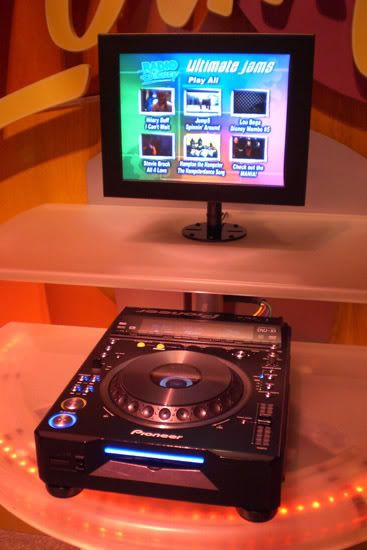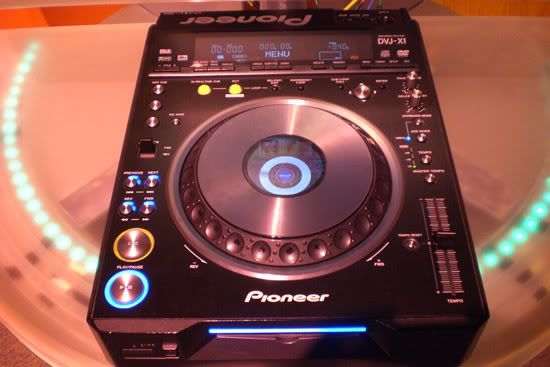 THIS & THAT
The VMK booth in Tomorrowland is now officially part of Yesterland.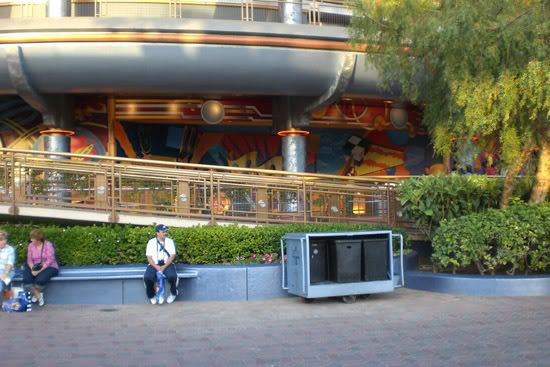 Ariels Grotto is now open again. The rockwork Ariel is on got repainted this strange barf pink color.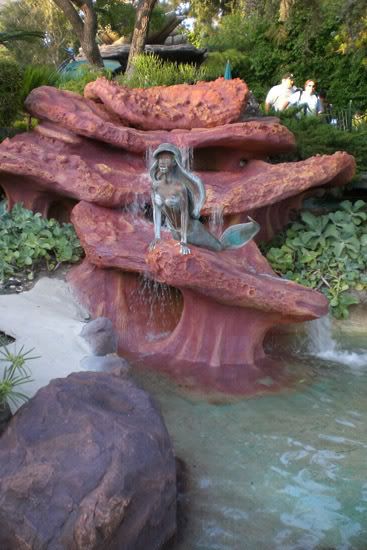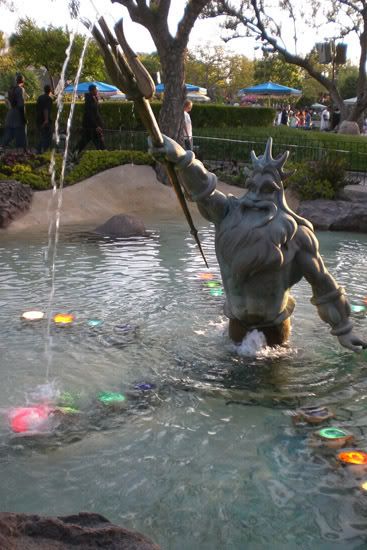 A couple King Arthur Carrousel night shots (click for larger images)
...And finally, the first new poster in the Main Street Station tunnels since Splash Mountain, the Finding Nemo Submarine Voyage attraction posters can now be found in BOTH tunnels. (First poster on your left in the left tunnel. And first poster on your right in the right tunnel.)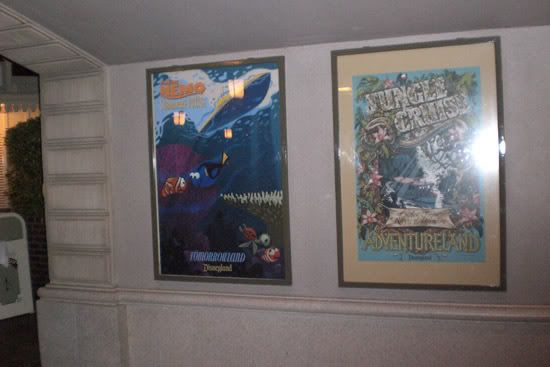 Thanks for looking