Taking a cue from Kevin Yee's 4/26 column,
AbandonedWorld
, I thought it would be interesting to look at the abandoned and empty attractions, restaurants, and other venues at the Disneyland Resort theme parks.
Like Mr. Yee's column, this thread isn't intended to be an overtly-critical jab at Disney. Likewise, I in no way hate Disney or Disneyland, and this thread isn't meant to say anything like that - but rather, bring to light the areas - some small, others quite large - in the parks that should be hosting guests in more productive means instead of sitting empty.
Alright, now... Let's take a look.
DISNEY'S CALIFORNIA ADVENTURE
We'll begin with Disney's California Adventure Park. Since the park's opening in 2001, DCA has had its fair share of attractions and restaurants that have been quietly shuttered with no replacement. Luckily restaurants like
Wolfgang Puck's Avalon Cove
and the
ABC Soap Opera Bistro
haven't been left as empty shells, and dining like
Ariel's Grotto
and attractions like
Playhouse Disney - Live on Stage!
have filled the venues.
Other areas haven't been so lucky, though.
Hollywood & Dine
Stage 12, or what was previously Hollywood & Dine sits in the far corner of the Hollywood Pictures backlot, near Monsters Inc. The building previously housed Hollywood & Dine, a restaurant that opened with the park serving Asian specialties, burgers, deli sandwiches, and pizza. After guest demand didn't meet the expectations, the establishment was shuttered. Instead of Imagineering a replacement, Disney instead constructed a brown wall in front of the building, planted some palm trees and called it good. Now Stage 12 is used for private parties, media receptions, and other private events. Most of the interior decor from Hollywood & Dine is still intact, but remains unseen by the general public. As for dining, if you want a quick bite from this corner of the park, you can get a snack from the Studio Catering Company truck that was added when the "Hollywood Studios" placemaking project rethemed this area of the Backlot. But don't get your hopes up - the catering truck is often closed as well.

Coca Cola Drive-In
This area used to feature a photo-op with an old 1950s sports car, and additional overflow seating for Hollywood & Dine. Now the Drive-In structure is used primarily for seating for the Studio Catering Company truck, if its open, or a resting place for tired parents as their children play on the nearby Monsters Inc photo-op. The 50s car photo-op which matched the theme of the structure, is no longer there.
Who Wants to be a Millionaire - Play It!
Stage 17 opened in September 2001 as
Who Wants to be a Millionaire - Play It!
. The attraction, based on the hit ABC primetime game show was a clone of an attraction that had debuted earlier that year at Disney-MGM Studios in Florida. The local crowds in Anaheim didn't really grow too fond of the attraction, and aside from a small cult following, it generally didn't garner much attendance. It was closed in 2004 and has since sat empty. When the new Monsters Inc attraction opened next door in early 2006, Stage 17 was used for a media and press reception. Online message board users reported that the sets from the Millionaire attraction had been gutted. Later, in September of 2006
Disney announced
that instead of a new attraction, the building was now available to rent for corporate meetings and other private functions.

Farmer's Expo
Up against a wall that separates Disney's California Adventure from the Timon Parking lot is a quaint, shaded area themed to a Farmer's Market Expo. But there isn't any fresh fruit or veggies to buy here... Disney previously used this shaded area as a small stage show area for children. Various mini-shows came and went, including the Ugly Bug Ball which was a feature of the area after the Bountiful Valley Farm was absorbed into "a bug's land." Yet, no stage remains today. Instead, just some leftover benches and tables that can be good for parents to rest their feet as their kids go play in the nearby water play area.
It is ironic, though, that the wall that this area is up against proudly proclaims: "Bountiful Valley Farm - Our Business is Growing." Seems like business is dead to me.

Sam Andreas Shakes
Perhaps the photos above don't illustrate this quite as well as I had intended. Sam Andreas Shakes is quite commonly closed. On the left, you can see a family walking up to purchase a delicious, frosty shake on a warm summer day. However, on the right, signs in the windows say "Sorry, farmhands, we're closed today." It's rare not to see that sign at Sam Andreas Shakes these days.
Lucky Fortune Cookery
Maybe people don't like puns with their food. A vast majority of dining establishments at DCA featured plays on words or puns, and many of them ended up closing a little after the park opened. The Lucky Fortune Cookery is no exception. The only time you'll see this place open now is during Disney's California Food and Wine Weekends when it is used as the Taste of California Marketplace, serving appetizer-sized portions of taste California-inspired dishes. And despite not having served any fortune cookies for years, all of the signage for the Cookery remains.

San Francisco facades
Briefly used as an arcade during the short-lived X-Games Xperience at DCA, the San Francisco facades are an oddly-placed row of facades that serve no purpose other than to make you wonder what their purpose is. The sad truth is that they have no purpose. No purpose whatsoever.
DISNEYLAND
Across the epslanade at Walt's original Magic Kingdom, there's no shortage of unused space.
PeopleMover and AstroJets
One of the greatest losses of the entire 1998 New Tomorrowland project was the PeopleMover track and the AstroJets. While the Rocket Rods may have been a decent attempt at an exciting replacement for the aging PeopleMover, the goals of the Imagineers were doomed with the paltry budget they had to work with. After the Rocket Rods closed in 2000, no replacement for the PeopleMover track has come. Instead of Tomorrow's Transporation Today, we get an empty track above our heads that has seen much better times. In the heart of Tomorrowland, the shell of the AstroJets still spins but it doesn't get to take any guests through a flight high above Tomorrowland. Instead, the rockets were replaced with the Observatron, a spinning kennetic sculpture of sattellites that serves absolutely no purpose other than to confuse guests every 30 minutes with its loud soundtrack and meaningless spinning.
Starcade Upper Level
Ignore the last remaining speedramps in Tomorrowland. That barricade is there to hide them. And that blue tarp covering that signage over the speedramps - ignore it too. Nothing is up there. The Starcade is hardly a Disney quality attraction to begin with. With its dated arcade games, the venue is ripe to be taken over by something more interesting. But if the arcade must stay, why not invest in some high-quality video games on both levels of the arcade? I mean, that X-Wing hanging above those speedramps should be getting some visibility!

Spirit of Refreshment
When the Moonliner returned to Tomorrowland in it's smaller size, it came not as a "weenie" for Tomorrowland, or as an icon for a grand new version of Mission to Mars, but instead, it was a over-the-top backing for a Coca Cola cart. But to be fair, this wasn't any Coca Cola cart - the
Hyper Cool
launch mechanism shot your Coke into the air, only to be caught by a quick-handed CM. It's just too bad that now you can't even get a Coke in this "futuristic" way anymore - the Spirit of Refreshment is rarely open for business.

Motorboat Cruise / Fantasia Gardens
The Motorboat has been closed ever since Mickey's Toon Town popped up behind Fantasyland. Unfortunately, most of the waterways of the Motorboat Cruise have now been filled in by dirt and will only be seen by guests if they have to be evacuated out of the the Finding Nemo Submarine Voyage showbuilding. The waterways of the Motorboat Cruise are forever lost - and now all we have left is an old dock where guests can sit and eat a turkey leg from a nearby outdoor vending cart.

Skyway to Tomorrowland
High atop a hill in a quiet corner of Fantasyland next to the Casey Jr Circus Train sits the Fantasyland Skyway station. The Skyway has been closed since 1994 but the old station just sits up there unused. Is there no way the structure could at least be converted into a unique sit-down dining location (somehow utilizing the nearby Village Haus kitchens), or at the very least a character meet-and-greet?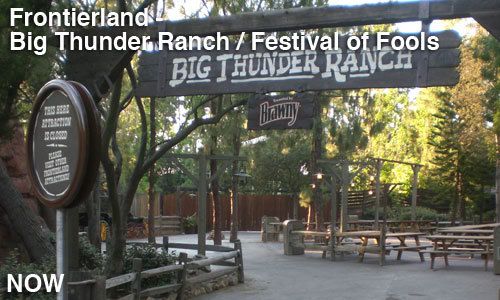 Big Thunder Ranch / Festival of Fools Arena
Aside from the petting zoo portion, much of Big Thunder Ranch sits unused today. Big Thunder BBQ no longer serves tasty barbeque dinners, and the huge Festival Arena no longer hosts the Hunchback of Notre Dame. Instead, Big Thunder Ranch is primarily used for seasonal events now like Santa's Reindeer Round-Up at Christmas and Woody's Halloween Roun-Up in the fall. And the Festival Arena joins Hollywood & Dine and Stage 17 at DCA as being another venue used only for private events at the Disneyland Resort.
PROGRESSLAND
But, while there's a lot of unused space at Disneyland, there is some progress.
Submarine Voyage
After sitting empty for 9 years, guests can once again board a Submarine and travel through liquid space.

Tom Sawyer Island
The new theme is a matter of dispute amongst Disney fans, but there's no doubt that the Pirate's Lair on Tom Sawyer Island additions are far superior to what was previously on the Island. So Injun Joe got kicked out - at least Davy Jones brought some amazing new lighting and some cool new special effects. Wat better than what was there before. It's a shame about the Fort, though.
MalibuRitos / Toy Story Mania!
And after being a large chunk of dead space on Paradise Pier at DCA, the long-closed MalibuRitos is now officially history along with Strips, Dips, and Chips and is now part of the upcoming Toy Story Mania! attraction.
...So what do you think? How can Disney better use these empty spaces for better guest enjoyment, increased capacity, and overall park improvements?