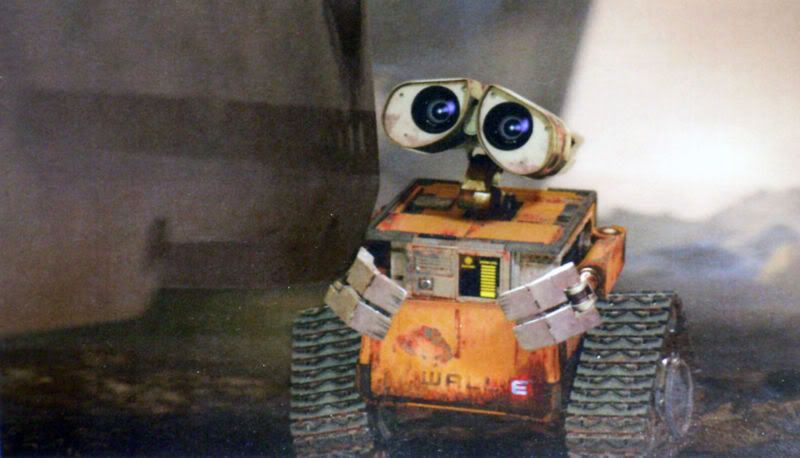 According to a couple of different sites, an e-ticket attraction based on the Pixar film, Wall-E, is in it's blue-sky stage of development. It is rumored for the Innoventions building. If this crystalizes, the experince will take place on the upper level. The lower level is already contracted out to Microsoft and it's House of the Future. Construction would begin in late 2008 /early 2009 and end by late 2010 / early 2011.
As discussed in a post from last week, Wall-E will be the next Pixar film, following the release of Ratatouille. Wall-E is the name of a little sanitary control robot that was built for the purpose of cleaning up toxic waste on a long abandoned planet Earth. The movie takes place in the year 2070.
He spends each day cosolidating trash into cubes, alone. His name stands for Waste Allocations Land Lifters - Earth class. The movie crosses several genras as a satirical romantic sci-fi. The release date will be on June 27, 2008.
Here are subtitles from the trailer/teaser - "After 700 years of doing what he was built to do, he'll discover what he was meant for." The idea for the film was created in a brainstorming session back in 1994 between John Lasseter, Andrew Stanton, Pete Doctor, and the late Joe Ranft.
The Director of Finding Nemo, Andrew Stanton, holds the distinguished position of being the director/writor of this film. John Lasseter is the executive producer. Stanton deserves to be in the limelight, and somehow I feel that Lasseter is seeing to it that this happens. Here's what John's perspective is with respect to the film, as given in a presentation to Disney corporte investors:
"Wall-E is the story about the last robot on Earth. ...his programming was to help clean up. You see, it's set way in the future. Through... rampant, unchecked consumerism, the Earth was covered with trash. And to clean up, everyone had to leave Earth and set in place millions of these little robots that went around to clean up trash and to make earth habitable again. Well, the cleanup program failed with the exception of this one little robut and he's left on Earth doing his duty all alone. But it's not a story about sciece fiction. It's a love story, because, you see, Wall-E falls in love with [Eve], a robut from a probe that comes down to check on Earth, and she's left there to check on and see how things are going and he absolutely falls in love with her."
Hope that you enjoy the trailer, split into two edited versions. Director/writer Andrew Stanton shares his comments during the first.
[youtube]http://www.youtube.com/watch?v=9jyf3N_Tn18[/youtube]
[youtube]http://www.youtube.com/watch?v=tBUJWKV1jlk[/youtube]
Feel free to post your comments regarding the Wall-E attraction rumor for Innoventions, and the movie itself.