I don't know where to begin with this day. I suppose, for the sake of chronology, I should start with the beginning, but I feel like you'd miss something. I'll do my best to fill in any of those gaps that I myself might create. ...and I apologize in advance for misspelling anyone's MC names, I cease to think of y'all as strictly online people I know.
It all started at the La Brea Bakery Cafe, when three of our reservation for 15 showed up at our reserved time of 8:30AM. The unsure hostess seated us at our long table, and we said we'd wait for the rest of our party to arrive before ordering anything more than drinks. Shortly after we were seated, Brad Chowen arrived.
Brad and Dana. You can figure out who is who here.

"If you don't want to be in the picture, stick your hand out," I said, shortly after Alphabassetgirl arrived. She obliged.
After all of 5 minutes of awkward silence, we all started talking about topics I can't even really remember. But we talked....until I noticed WeWants and my friend Dana laughing hysterically at seemingly nothing. It turns out there was a man sitting at the table behind us talking loudly to about four small children (and I'm talking 5 and 6 year olds) about his adventures in the Amazon.
"...and you know what it was? It was a monkey. A
howler
monkey. And I don't even know what a howler monkey
is
," the man claimed.
"...okay then."--WeWants

Soon after, BassBone and Dana's friend Sara joined our little party, which was actually right after the waiter rudely asked if he could split our tables up. (We only actually ended up with a party of seven.) After eating our meals, we found it was time to enter DCA and begin our trek to 13 rides on Tower before the park closed at 9:00PM.
The new cloud lettering overlay. I like it.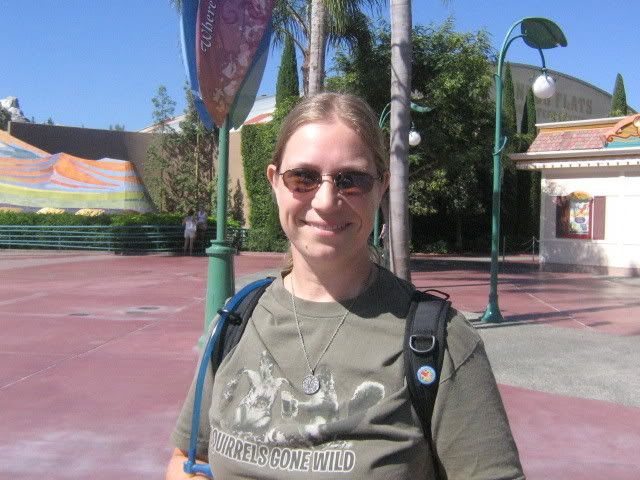 The lovely Alphabassetgirl


It be BassBone!!


Shortly after entering the park. Those Photopass people always try and get pictures of us...but I'm turning the tables!!! Hahahahahahahahaaa!!!!

We arrive at the entrance to Hollywood right as the rope was being dropped, so after a quick bathroom break we headed over to Tower.
It begins!!!

The line was in the extended queue, but moving fast. 13 minutes usually means 'walk right into the lobby' but that was basically what happened anyway. Some random shots in line...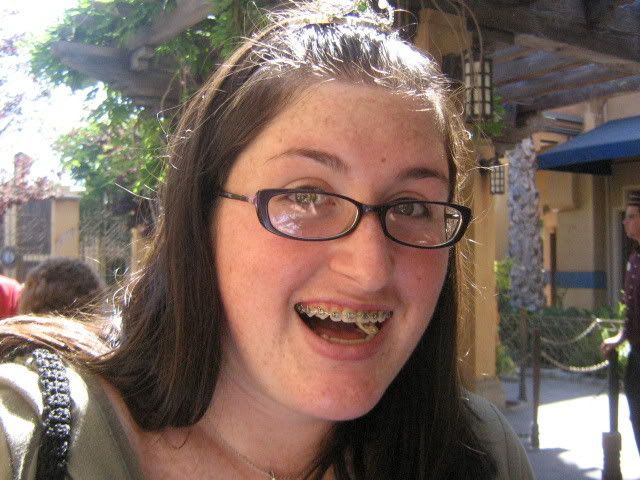 WeWants


Sara and Dana

The line went by quickly and we soon had one ride down off our list.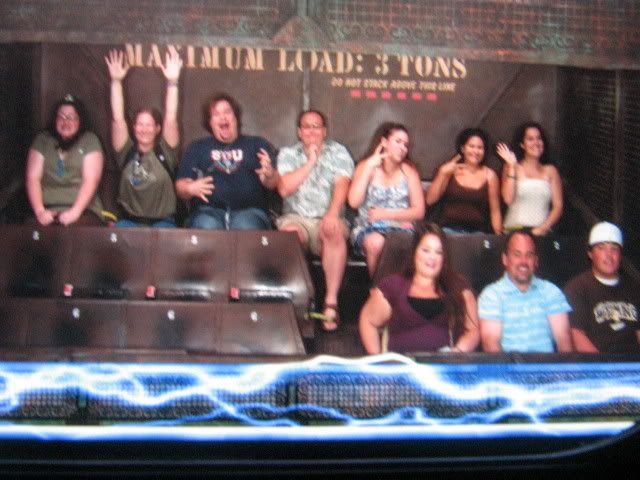 The 13 group in the back row.

This post is long enough, so....more in un momento.