This is my "first" official meet, second meet to me exact. The first time, I chickened out and bailed. This time, I had no choose, lol!! Around 11:50, I arrived at The hub, where I saw a small group forming. I stayed in the shadows to see who would be coming.. BPF soon caught me and dragged me over to the group!!
That is where I was caught by Princess Buttercup, she looks different as a blonde, I didn't recognize her, hahaha!! She invited me over for a picture, but I refused, just strange hands touching me made me uneasy
, but Pezz Lightyear volunteered, maybe next time.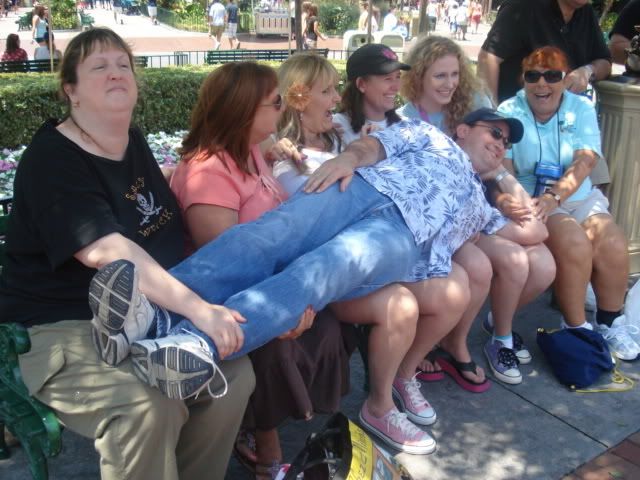 The large group started to split up and I was dragged along with Princess buttercup, BPF, Bill, and other to the White Water for lunch. After lunch, we started to head towards the Haunted Mansion to visit Pirate Munkee, but we were told he was off, so we all went to GRR!!!
While in line waiting for GRR, Princess Buttercup wanted to check everybody's pockets. lol!! Why?? I do not know, hahaha!!
When we got off, we headed towards TOT. On the way to TOT, in Hollywood Pictures Backlot, Pezz Lightyear made some "Mouse Ears!"
You got business in the back!!!
And party in the front, lol!!
The line for TOT was 30 minutes long. so we didn't ride it. JudiMouse suggested we try to CRAM ourselves into a phone booth, but that ain't gonna happen!!!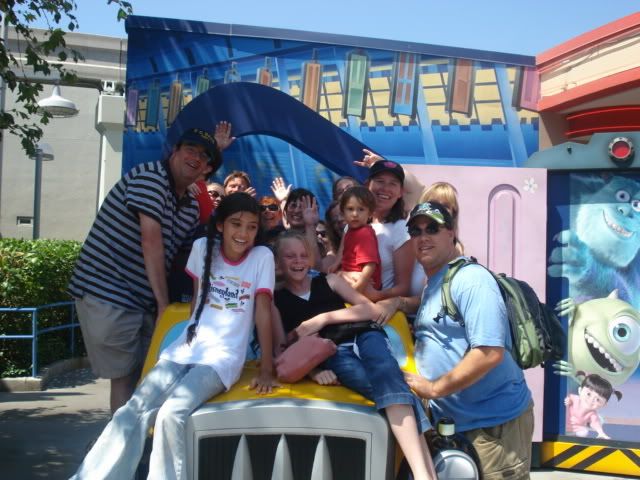 But, we did the next bext thing, cram ourselves in a little taxi, hahaha!!
Afterwards, we went on Monsters Inc, then headed towards TOT with a 20 minute wait.
When we got off, we headed towards Monsters Inc to meet up again with BPF and bill who ditched us after we rode GRR.
We waited.......
and waited........
And waited some more.
Until FINALLY!!!!!!!
With the WHOLE group together, we made our way into DL. Our large group which started off as 27 soon dropped to 22. Our fisrt stiop was Space Mountain for those who had gotten Space Mountain earlier in the day.
We then made our way to Pirates.
The a trip to the disney Gallery was next.
I soon got "lost" from my Mice Chat friends and headed towards Pooh for that is where I heard they were going next, but no luck!! I sono meet them at the exit of Mansion, where the group which was 22 dropped drasticalyl to 10 to have lunch at the Cafe Orleans.
There, I met Hollywood1939 who just had brunch in Club 33. He let me try on his Club 33 Mouse Ears, hehehe!!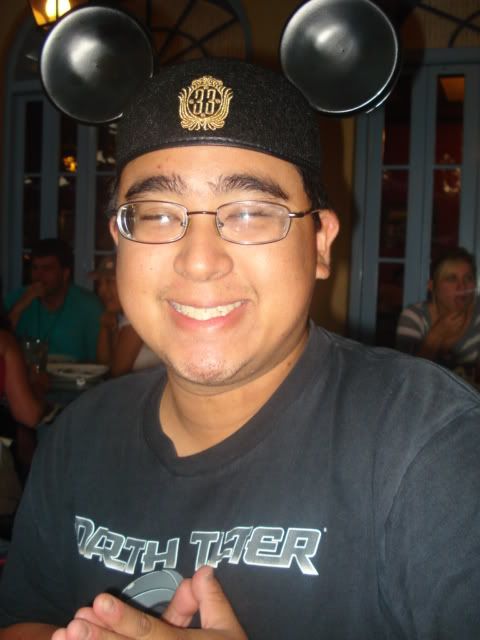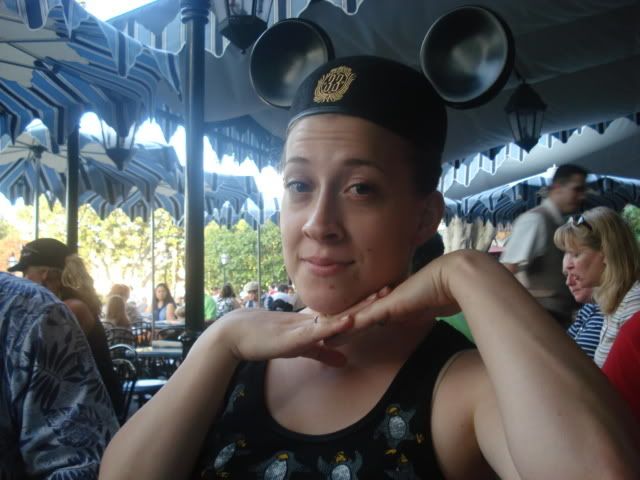 Gwen in Hollywood1939's Mouse Ears
After dinner, we met up again with BPF and Bill again in front of the Jungle Cruise with a short wait of 5 minutes.
*Due to technical difficulties, I do know know what happened in between*
It was dark and we were in Fantasyland and rode Storybook Land Canals where our large group of 15 got split up. I rode with BPF, her mom, Gwen, her Hubby, and others whose name I forgot at the moment with our storyteller Peter, on his boat, the Peter Pan. When we got off, we went on the Casey Jr. Circus Train.
Before the fireworks, we got on the Tea Cups.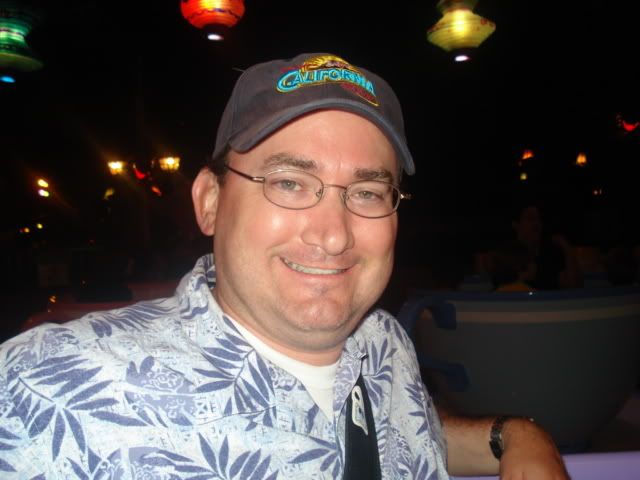 By this time, it was Ffirworks time and headed towards It's A Small World to watch it from there.
I caught a picture of Gwen and her husband dancing, awwwwwww!!
After fireworks, we cut through Fantasyland on the way to Big Thunder Mountain Railroad, but changed out minds for it would cut too close to the start off Fantasmic!
So, with my "special connections", I hooked up my Mice Chatter Friends to a special viewing spot, heh heh heh!!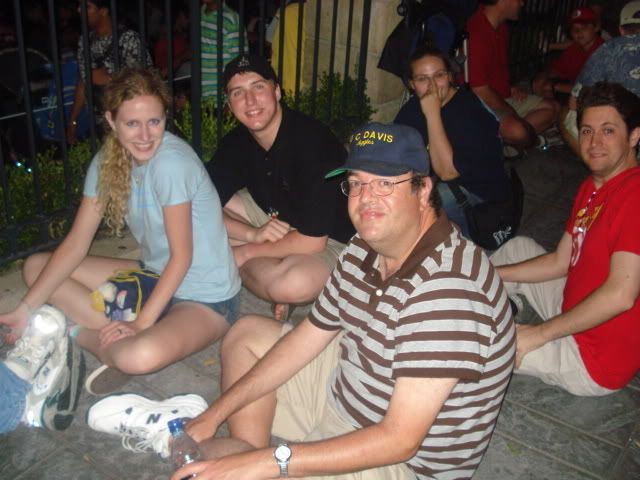 After Fantasmic!, we went made our way to Indy and got on with a 15 minute wait. When we were done with Indy, i decide to play a prank on Pezz Lightyear, BPF, Bill, and other by jumping from a ledge and scaring them, hahaha!!
Mr. Toads' was next. The line was short, not bad! Took this before we went inside Mr. Toads':
BPF on top of a trash can!
After Toad's, we decided to go on Nemo and it would be the last ride of the night. The line was short, just past the lagoon, a 45 minute wait.
When we were about to board:
IS THE SUBMARINE WEARING A HAT??!?!?!?!?! LOL
By the time we got off, it was 30 minute past park closing and headed for the tram!
My last shot of the night: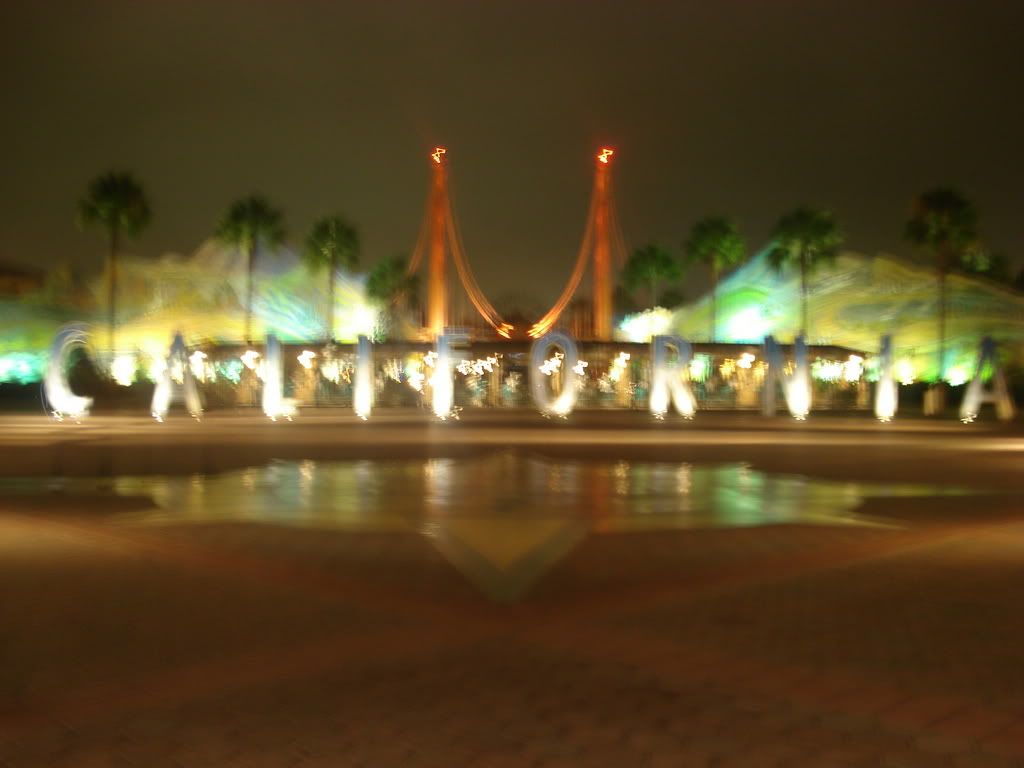 THE END!!
I would like to thank Princess Buttercup for dragging me into the group kicking and screaming, hahaha!! LOL. Over all, I had a good time and will be back next week. Now, I know people, hahaha!!