Hello all,
As some of us on here now know (thanks to those who have supplied us with photos and info. on them) the entrance tunnels at Disneyland have a new poster regarding the
Remember...Dreams Come True Fireworks Spectacular
.
Recently, I sent a complimentary letter off to Disneyland regarding this new poster addition.
This is what I wrote....
______________________
Disneyland Resort
Attn: Guest Communications
P.O. Box 3232
Anaheim, CA 92803-3232
Dear Disneyland Resort,
My name is Joseph Nielsen. I am writing in regards to the recent addition of the Remember…Dreams Come True Fireworks Spectacular poster that was recently added to the entrance tunnels for Disneyland. This new poster is extremely beautiful and captures the magic that Disneyland strives for each and every day. It is wonderful to know great pieces of art, such as Remember…Dreams Come True, are getting their rightful and deserved recognition. Wonderful job, Disney!
I do hope that someday Disneyland's "sister park," Disney's California Adventure, will be getting its own collection of attraction and entertainment posters. Such posters would be a great addition to California Adventure, as well as giving it a touch of Disney magic!
Again, thank you Disney for adding this wonderful piece of art.
Sincerely,
Joseph T. Nielsen
______________________
Here is the response letter I just received today in the mail...
______________________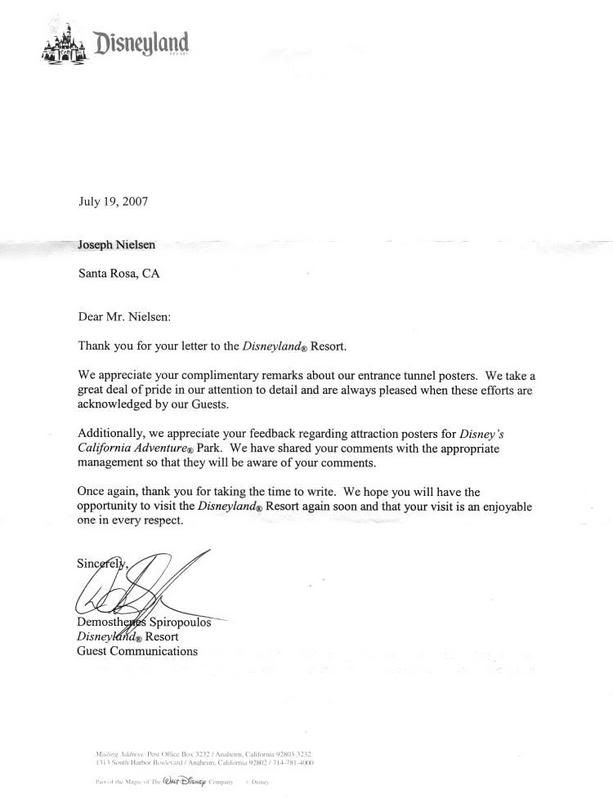 ______________________
Just thought everybody would wanna read it.
Take care,
Joe