Stardate: July 22, 2007
This morning I was so excited about the noon meet that I woke up early then my intended time. I woke up at 9:00 A.M instead of 10:00 A.M that I set my alarm to. I woke up got ready, had breakfast and packed a lunch.
I arrived at the park around 10:00 A.M. I decided to rent a locker to store my lunch for later. I went inside the park and went through Tomorrowland towards the subs. It wasn't that bad, just half way around the Matterhorn. I was in fantasyland when I saw this: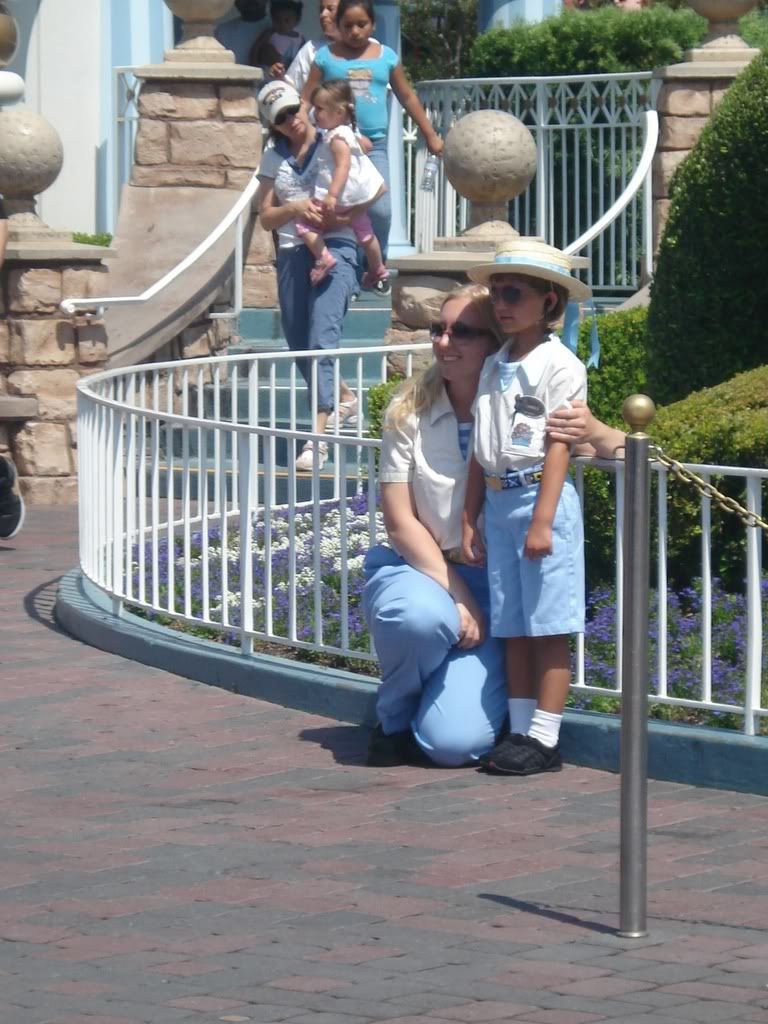 It was a young girl about 6 - 7 years old dressed as a full costumed Small World CM. It was funny and adorable!!
After I took a few snap shots, I made my way down Matterhorn Way towards in front of the castle where the Disneyland Band was playing, followed by Walt's Opening Day Speech.
Goofy, Max, and Pinochioo in the fire truck.
I made my way through Frontierland and laught the ending of the Laughingstock Company and went in the directions towards Pirates, up the ramp into Adventureland. I checked out Tarzan's Treehouse to see the improvements.
After that, I exited the park to fetch my water bottle and headed back into the park towards the Hub. it was around 11:30 when I got there and just waited. There I saw JudiMouse and othres. So, I waited in the shadows for a familiar face to show up.
This is PB's fault, without her, there would be no one to drag me inside the group kicking and screaming, lol!!
Soon, I noticed familiar faces, Disney1978 and SuperStacie, and decided to join the group.
So, we waited.........
.............. and waited...............
................... and waiting some more..............
................ still waiting............
And Snow_White_Raven arrived.
SuperStacie LIKE A PUMA!!!!
Snow_White_Raven getting attacked for reading Harry Potter during the meet!!
SuperStacie And Yoda
I was re - introduced to Dusty, Fishbulb, and TheRockr.
When everything was all settled. we went for lunch to White Waters Snacks................. AGAIN?!?!?!
I snuck off to grab my lunch from the lockers took it to the picnic area to eat my lunch.
When i was done, I dropped my stuff in my locker and made my weay to White Waters Snacks to meet up with the group.
SuperStacie playing with the young Pezzlings:
After lunch, entered into DCA
We decided to go on GRR, but first we need to drop by the lockers to store our stuff.
Snow_White_Raven trys to CRAM her big backback in a small locker!!
SUCCESS!!!
Then the MCers waited in line for GRR. We got to the merge point when we saw:
Pezz Lightyear and his young Pezzlings!!
They quickey decided to join the rest of the MCers.
When we got off, we exited DCA nad headed into Disneyland to get on Pirates. While in line:
We gave each other high fives!!
When we got off the ride, we made a pit stop to the bathrooms, while others stopped by the Mint Julep Bar.
TheRockr and his Mint Julep
When we gathered everybody, we went inside the Haunted Mansion. Everything was a blurr after we got off. Half our group split up and by the time i was in Adventureland, it was Me, Disney1978, and half of the Wolfy Pack left. We were all confused to what was going on, hahaha!! So we all went on the Jungle Cruise. It was just me and Disney1978 when the Wolfy pack decided to disembark. So, me and disney1978 went off to DCA to try and track down SuperStacie. After numerous tries, we tracked them down at the Cove Bar to grab a bite to eat.
later, I found myself in wanting to go to the bacthroom so I headed to the one next to California Screamin'. When i was completely evacuated, I decided to do Single Rider on California Screamin'. There, Snow_White_Raven, SuperStacie and other decided to join me.
When I got off:
After that, we headed back towards the Cove Bar where we met with PirateMunkee and his wife, Hollywood1939, and others.
When, we finally left the Cove bar, it was around 8:00 P.M and headed towards Soarin for we had a first timer who NEVER rode it, so we decided to give him the special treatment. We rode the first row of Bravo.
Since we had 15 minutes to spare, we went on TOT for the last ride of the DCA night. We almost had the elevator to ourselves.
When we left DCA, it was 5 after, just about to catch the ending of the ELP. Upon exit of DCA, I saw many people gathered in the Esplanade for the fireworks as we made our way into Disneyland.
On the way, I saw this and had to take a picture of it:
I thought it was kind of funny.
Upon entering Disneyland, the fireworks just started so the group of us, led by PirateMunkee, went straight to It's A Small World to punish Sam? I don't know why, hahaha!!
The fireworks was just ending when we got on. When we got off, we regrouped with SuperStacie, Disney1978, and others and made our way down Big Thunder Mountain Trail. We all went on Big Thunder Mountain Railroad and in the last seven rows with the eleven of us.
When we got off, Sam wanted to go smoke and SuperStacie and disney1978 went with them to watch Fantasmic!, which was about to begin while the others want to go on Jungle Cruise. I then decied I was going to join Sam, SueprStacie, and disney1978 to watch Fantasmic! from the smoking section and meet with them later. So, I headed towards the smoking section just across from the haunted mansion to watch Fantasmic! During the show, Jack joined us as we were singing and dancing along with Fantasmic! After the show ended, we all regrouped and went on Pooh for reasons unknown. After the ride, we made a trip to the candy shop to buy some candy and play with Pooh!
later on, we passed by Splash Mountain and Jack and Sam wanted to go on it, but the rest of us didn't so we waited for them. When they got off, we made our way to the Haunted Mansion again for the last ride of the night. PM creeped me out a little about about haunted stories of the Haunted Mansion. After the ride, we headed towards Main Street and went home. I lost my group, so just picked up my stuff from the lockers and left.
So, that's the end of my trip. I had a blast!! Too bad PM and Coheteboy wasn't there. I would of had even more fun with them, hahaha!!
THE END!!