Hello all just got back to SF today at 7 AM. Pretty late TR because i went to Universal Studios on the 23rd, went to an outlet on the 24th, and stayed at the Morongo Hotel/Casino on the 25th. For now i will just bullet some highlights of the Disneyland trip, and maybe later i will post up some pics. Well, here are the highlights!
-
Desert Inn and Suites was a
very
convenient stay

-
Riding Space Mountain in the morning helps to wake you up and bring you into the reality of Disneyland
- Saw
Celestial Imperium
and his gf walking excitedly out of Space Mountain

-
On the 21st saw
NUMEROUS
Harry Potter readers throughout the Disneyland Resort. Most were on the last few pages. (NOTE: The book came out on that same day. I myself am VERY fond of the Harry potter series and picked mine up today but i definitely not read it in Disneyland, unless i was an AP holder)

-
Saw
Pirate Munkee
on shift in the Haunted Mansion Elevator. Great Job!SOrry i couldn't say hi!(Night of the 21st)

-
Witnessed a man angrily cursing at a CM who was trying to control the overflow during the fireworks. Told the CM don't worry about it and good job.

-
Sister and cousins were scarred for life when a
VERY GOOD
Haunted Mansion CM overheard my sister saying," SHe creeps me out."..Hearing this, the female CM pops out of nowhere on the side of their buggy and says" Goodbye" in a very frightening manner. She then walks past my buggy and smiles in a very evil way.
- Finally found a soundtrack with most of the Disneyland/ CA Adventure ride music
- Rode Nemo and it was worth the 120 minute wait during the hottest hours of the day.
- Sister and cousin stare in awe at the subs, when a Nemo CM moves his head ever so slightly in between theirs, and screams,"
MINE!
". Both jumped up, while the cm left laughing.
- Rode
EVERY
E Ticket aside from Roger Rabbit. Also rode Peter Pan and Teacups for the first time.
Anything and everything else escapes my mind at this moment, but i will post them as with pics probably tomorrow. Man do
I LOVE LA/ Anaheim!


PICTURES!!!!


Just chose some of my favorites.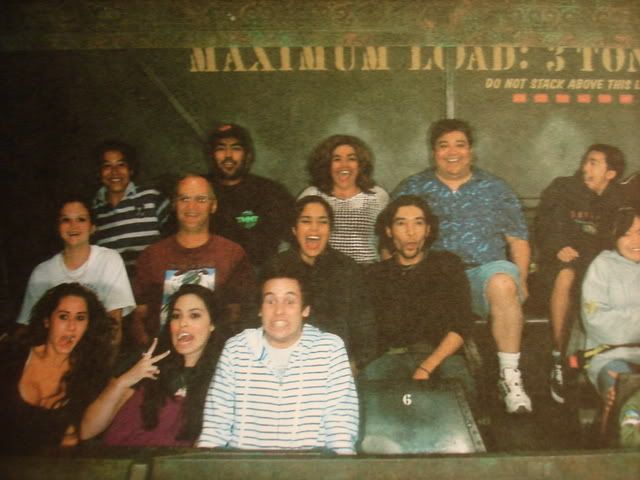 Love this ride with a passion.