I spent part of the day at Disneyland Tuesday.
Well, it was hot and crowded at Disneyland. I hung around and mainly shot pictures - lots of characters out on Tuesday. By 11:00 IJA FP was issueing tickets for 5:00pm.
I abandoned DL and headed over to DCA for a bit. Hung around PP for a bit. Found Frozone and Mrs Incedible over in Hollywood.
Got the chance to meet up with justlittleoldme and we taped Aladdin. She was on the first floor to the right side. I was on the Mazzanine on the left side. I haven't viewed the tapes yet but hopefully I will be able to edit something really nice.
I grabbed a quick bite at Taste Pilots Grill and then caught the Electrical Parade. We left DCA and the fireworks were just starting. I caught the show from the Esplanade. I took some pictures from there trying the shots at a very slow shuter speed. Got a few intereting shots.
You can click on this sentenence to be taken to my photos.
Here are a few pictures for your entertainment...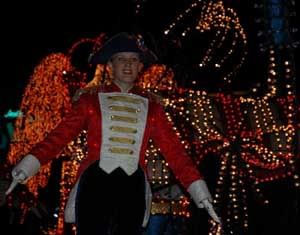 I hope you enjoy them!
RU