Well, I've been sort of out of the MiceChat loop these days, but I wanted to share my wonderful day at the Happiest Place On Earth! Let me preface by saying, we're from Utah, so trips to the park are a BIG DEAL! Plus it was my 3 month old niece's first time to Disneyland!
My hubby, Josh, and I came out to California to visit my brother, his wife and their baby girl Eden. They're living in LA for the summer for my brother's job. While we were visiting we decided to do one day in Disneyland!
We arrived at the parking structure and parked in Chip 'n Dale!
Not a great picture, but I've seen this in all y'alls trip reports so many times, I was excited to see it for myself!
We hopped on the first tram that pulled up and we were off!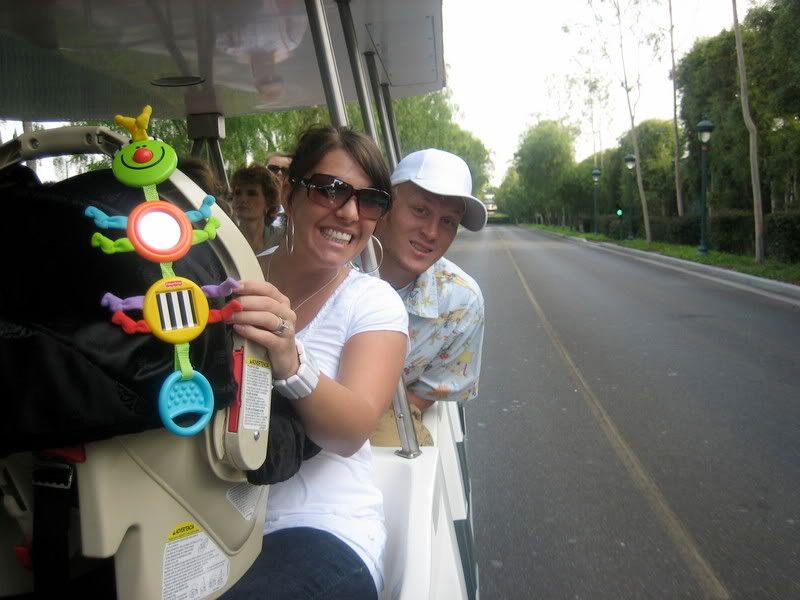 This is my cute brother, his wife and their baby on their first tram ride!
Walking under this sign gets me EVERY TIME!!!
My husband and I had a VERY momentous occasion on this trip!!! OUR VERY FIRST . . .
ANNUAL PASSPORTS!!!!!!
(that's me)
(that's my handsome hubby!)
We are so psyched!!! The feeling that we can just drive out on a whim and visit our very favorite place whenever we want is AMAZING!!! I'm so happy to be an AP holder!!!!
We walked down main street, soaking it all in! Then we took the classic castle pics!
I'll just show you the two best ones!!
The line for the subs was already 2 hours and the park had just opened. So we decided to pass! Eden's very first ride ever was Buzz Lightyear's Astro Blasters!
I swear my blaster gun was shooting crazy! I did HORRIBLE!!!
After Buzz we walked through the castle into Fantasyland! I love this statue!
(I know, we're cheesy!!)
Then we rode the carousel! I got to ride JINGLES!! YAY!!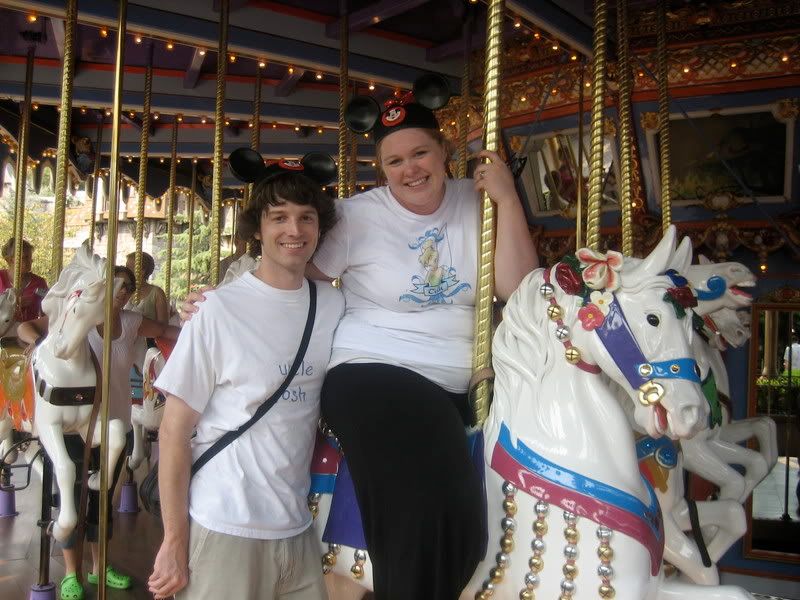 I should mention that my brother and his baby girl had on matching Mickey Hawaiian print. They got a LOT of attention It was adorable.
After a ride on Dumbo we met some friends on the Big Thunder Trail!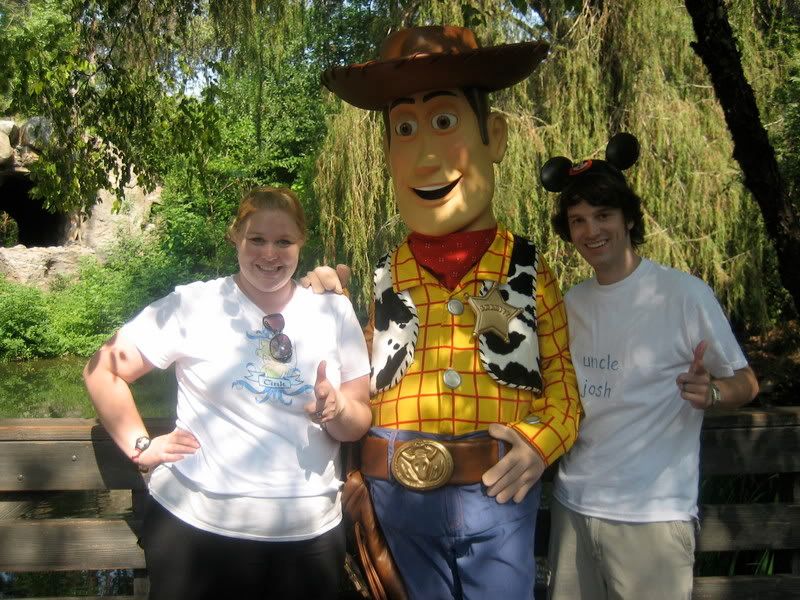 Then we took a ride on priates (my hubby's favorite) and then we walked down to covet at Club 33. A group of people went in when we got there. We were so jealous!!!!
Off to the mad hatter to get my niece her very first ears. Actually, it was my sister in laws AND my nieces first ears! While there we always try on all the crazy hats. Who buys this hat?? HONESTLY?! I mean, its cute, but SILLY!!!!!!!
First EARS!!!!
After a delicious pasta lunch at the Pizza Port and a ride on Space Mountain (yay for the baby swap pass!) it was time for the parade!! We saw the cute baby ducklings while we waited. They were RIGHT behind our bench in the grass!
The Ratatouille (wow, is that even close to being spelled right??) pre-parade was cute I guess. I still haven't seen the movie yet.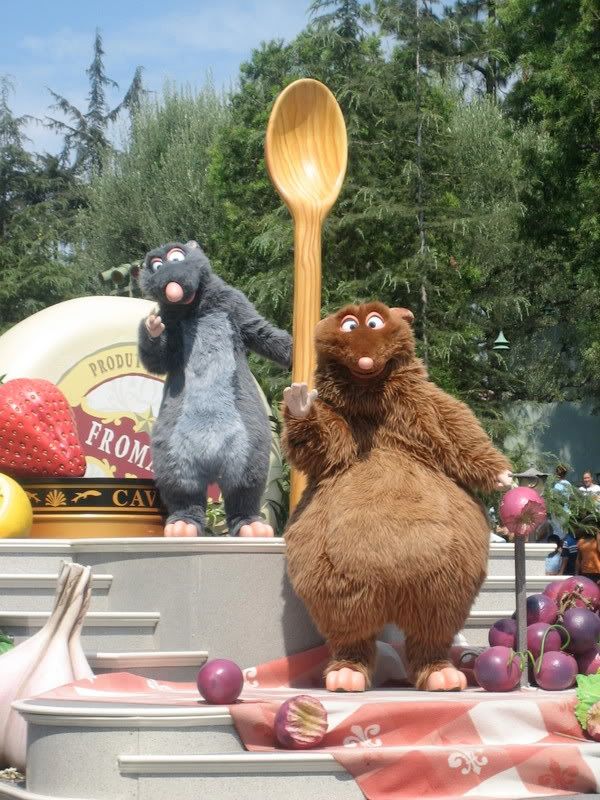 I love the Parade of Dreams! Every time they play Walt's Opening Day Speech clip I get choked up!!
I hope this doesn't offend anyone, but usually Peter Pan is a little goofy looking. This Peter was actually really good looking. (sorry the pic is blurry!!!)
Poor Alice got her ribbon stick stuck in her dress.
She was so cute about it! After she finally got it untangled she said "We have to be careful about those things, don't we!!??". It was funny.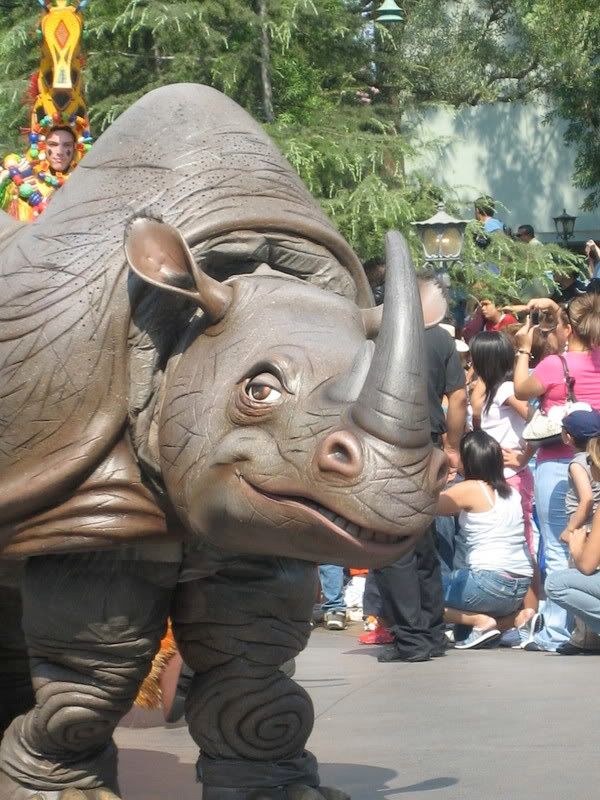 After the parade it was time to meet Ariel. She is my sister in laws all time favorite and she REALLY wanted baby Eden to meet her. Ariel took lots of time with each child. I was so impressed with how she spoke with each little one.
Here she comes!
Eden cooed and laughed and made little spit bubbles when Ariel spoke to her. Ariel kept saying "Are you fishy?" and Eden would laugh and laugh. It was such a sweet moment. One of those awesome Disneyland moments I want to always remember.
After Ariel we rode a few more rides including the Tiki Room (complete with Dole Whip Floats!). Then we visited the Disney Gallery for the last time. It was sad. I walked through thinking about Walt and how he might have lived here if he would have lived longer and wishing the gallery could stay. I fell in love with all the artwork of Jimmy Pickering. I wish I could paint like that. And I wish I could have all of his Disneyland pieces. They are AWESOME!
After the Gallery we used our fast passes for Splash! Josh and I didn't get too wet, but we swapped the baby and Marci and Christian came back and Marci was SOAKED! Poor girl!! haha
She doesn't look too sad about it, does she!?
The sun started to set and it was time for some dinner! After we ate we got seats for fireworks. I LOVE the fireworks. I listen to the soundtrack on my ipod at work A LOT so seeing them again for the first time in over a year was so exciting! (The fireworks we saw on our last trip were the Believe in Holiday Magic ones). I REALLY loved it!
We were able to go straight from the fireworks to AWESOME seats right on the Rivers of America for FANTASMIC. Fantasmic is probably my very favorite thing at Disneyland. Marci had never seen it and it didn't not disappoint. She loved it too! The baby had fallen asleep long before the fireworks and she slept like a champ the entire rest of the night!!
After Fantasmic it was time to brave the Subs line. It was down to just over an hour. The CMs told us that was pretty much the best we'd get so we decided to go for it! I was SOOOO glad we did. It was so much fun! I love Nemo!!! And being on the subs again was a real trip!
After the subs the park was clearing out. My hubby snapped this awesome pic!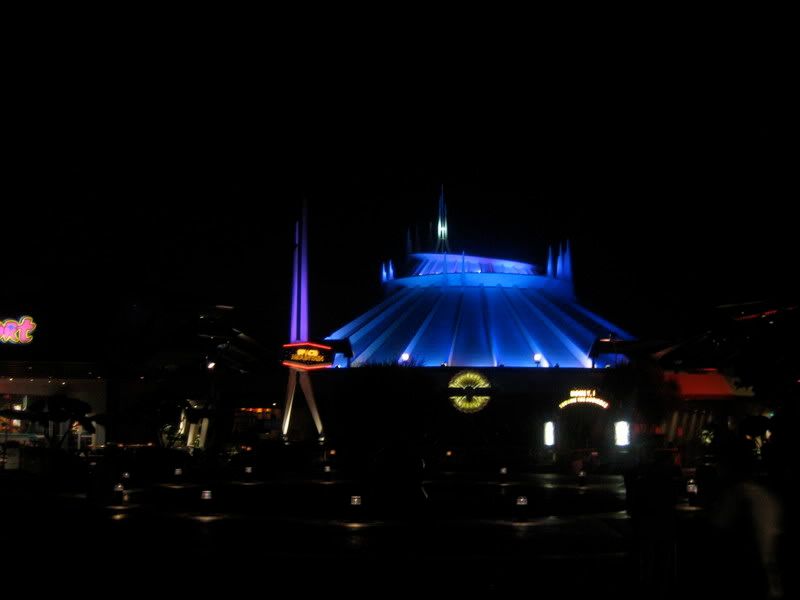 By this time we'd been in the park for almost 17 hours!!! Our feet were throbbing our backs ached but we were all smiling. It was an amazing day! There's no place I'd rather be than Disneyland!!
thanks for readin!
THE END!!