Last week was my very FIRST trip to Disneyland! As a frequent WDW visitor (and AP holder ), this was very exciting for me - and let me just say, I loved it! Now on to the Trip Report!

7/28/07-8/4/07

Day 1

After a 5 hr. flight to LAX, we waited ( about 45 min.! ) for Disney's Magical Express, to take us to the Disneyland Hotel.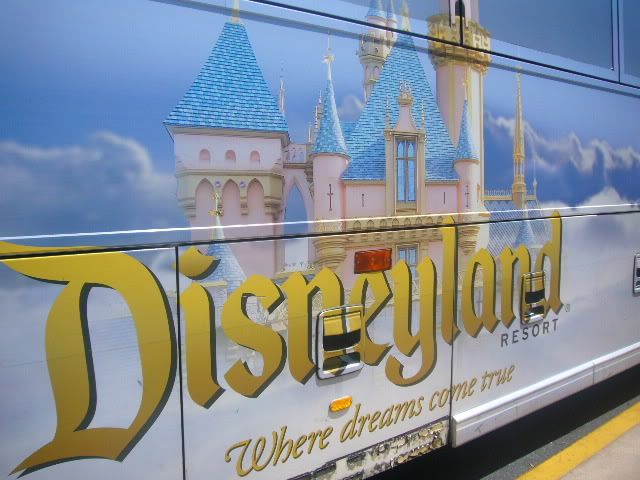 Disney's Magical Express!

Arriving at the Disneyland Hotel: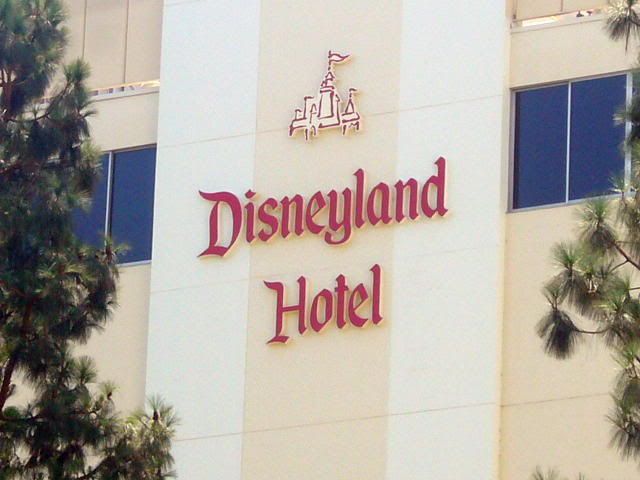 I already felt like I was at home!



Beautiful mural immediately inside the lobby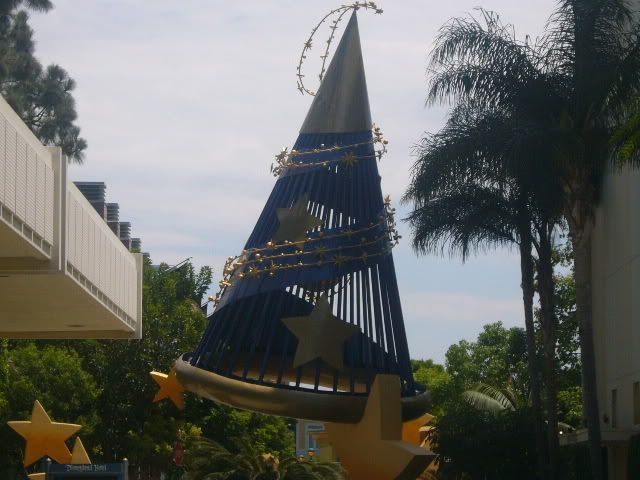 Sorcerer Hat right next to our building!

Upon arrival, we checked in, and met a VERY nice CM named Debbie who was extremely helpful and kind, and got us a 9th Floor Concierge Level room without paying Concierge price ( we did not get concierge service ).
The view from our room was absolutely wonderful! We could very clearly see DCA, and parts of DL as well as the DTD area.


Matterhorn and part of DTD



DCA - Cali Screamin', Maliboomer, Sun Wheel, Orange Stinger, etc.


Hotel: 10/10

After getting to our room and dropping off our luggage, we headed off to the parks! With an 8 day hopper in hand, my mother, grandmother and myself scooted off to Disneyland! We hopped on the monorail, ( which we found to our surprise, tilts as it rounds corners ) and it was a short 2 minute trip to DL, and were dropped off in Tomorrowland. Seeing the subs was great, and just seeing the whole atmosphere was wonderful. We ate at Redd Rocket's Pizza Port. Food wasn't great, but wasn't horrible either.
Food: 6/10
Our first ride was Alice in Wonderland - (7/10) - and then the Storybookland Boats - (5/10) - I found the boat very uncomfortable, and felt like it was going to topple over at any moment. It was really "OK" for me, not really worth a second time unless you're just walking around with nothing to do.


Blurry pic of Storybookland plants - sorry!


Lighthouse in front of Storybookland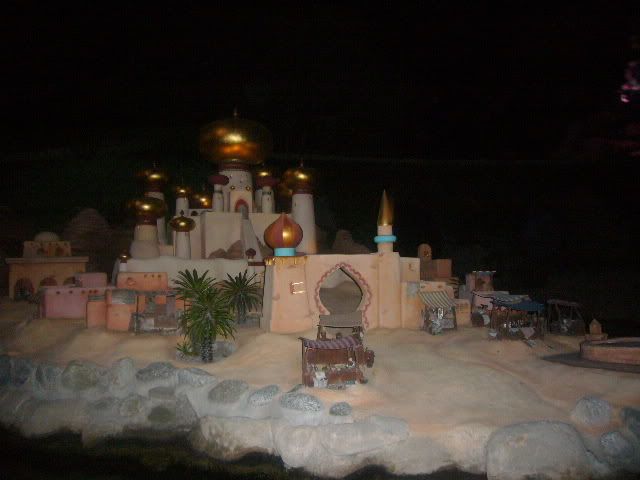 Aladdin's Palace

We wandered around a little more, and then we saw it. Sleeping Beauty's Castle. We came up from behind the castle and at night, so it had the lights shining on it. The first thing I noticed ( other than size difference between WDW and DL of course ) was how beautiful it looked! And how inviting and warm it seemed!
~Now I must tell you about a pretty funny incident. Upon seeing the castle for the first time, I told my mom, "There it is! Sleeping Beauty's Castle!" and she says, "No it's not. That's too small - how can that be it?" I kept insisting, but she refused to believe me. She walked up to a CM and said, "This is probably going to sound extremely stupid, but is that Sleeping Beauty's Castle?" The CM replied, "Yes ma'am, it is.". When she turned around, he gave that "I can't believe I just heard that" look, and walked away. I was embarrassed to admit I knew her at that moment.. :shy:



Castle: 11/10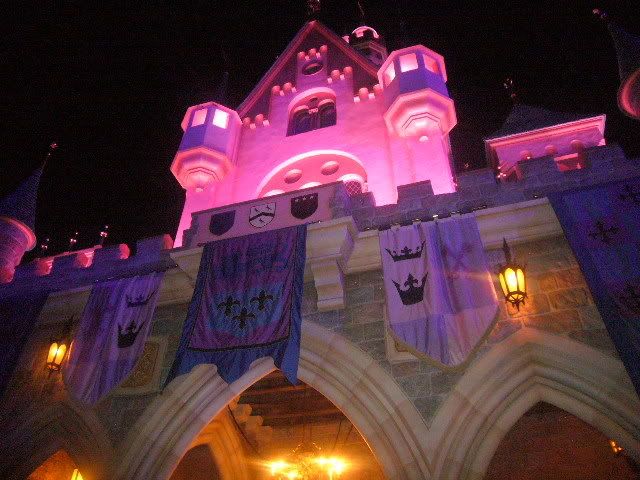 First photo of Sleeping Beauty's Castle!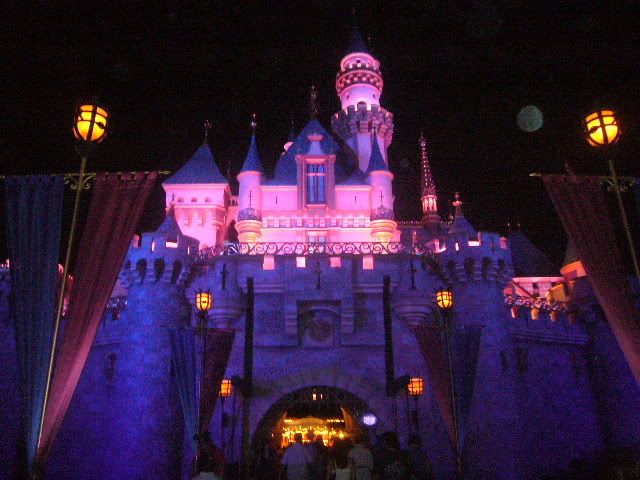 View from the front ( where my mom agreed it looked like the castle )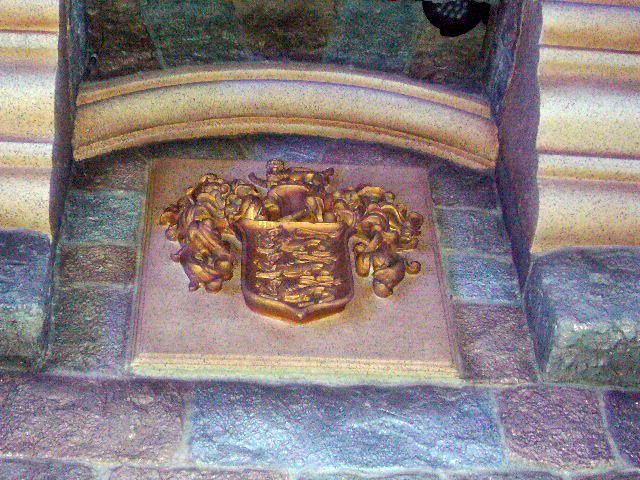 Disney Crest on Castle

After wandering Main Street ( which is much smaller in comparison to WDW's - in terms of building height ), we decided to call it a night and head back to the hotel for the next day.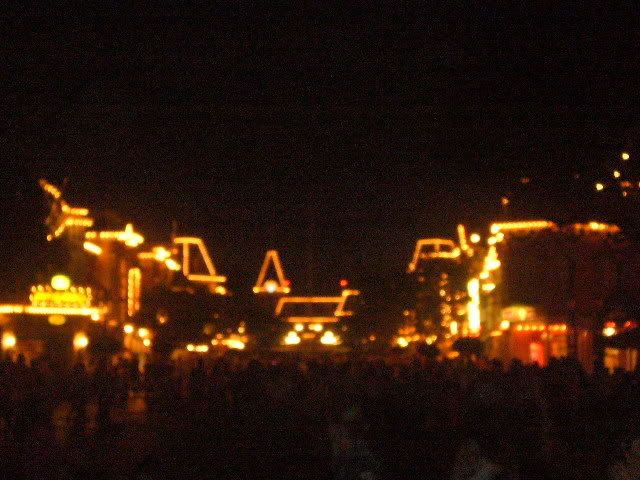 Blurry pic of Main Street - sorry!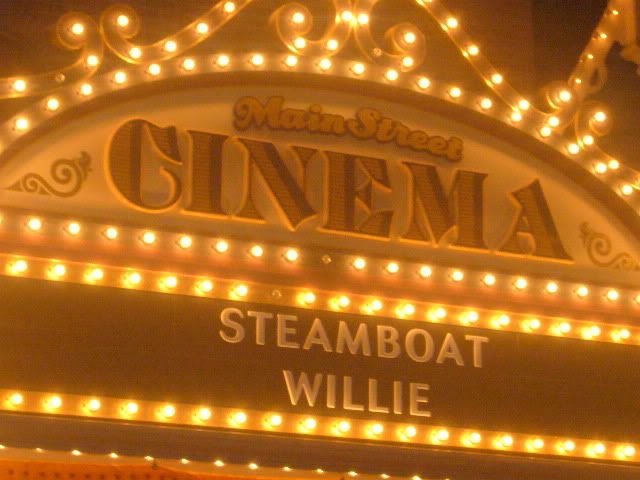 Steamboat Willie's always a popular show at the Main Street Cinema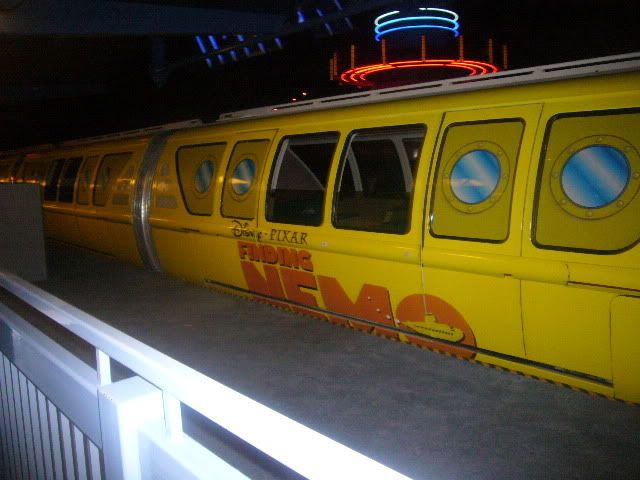 Finding Nemo on the monorail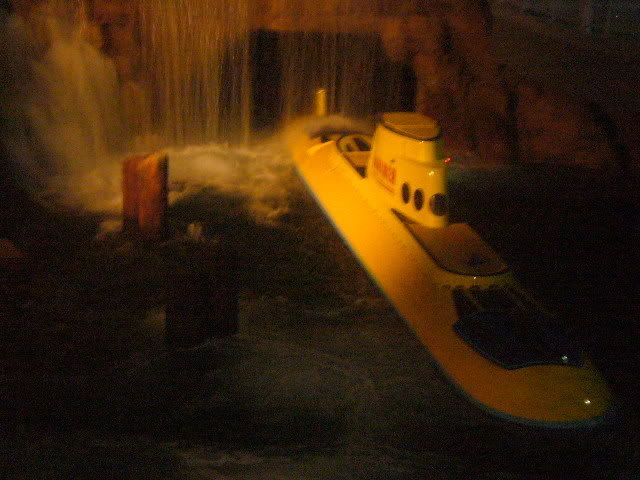 The Subs are back!
~~~~~~~~~~~~~~~~~~~~~~~~~~~~~~~~~~~~~~~~~~~~~~~~~~ ~~~~~~~~~~~~~~~~~~~~~~

Day 2 found us at DCA. We entered through the Grand Californian side entrance, ( which has a beautiful hotel lobby! ) - which gave us an immediate beautiful view of Grizzly Peak and Grizzly River Run!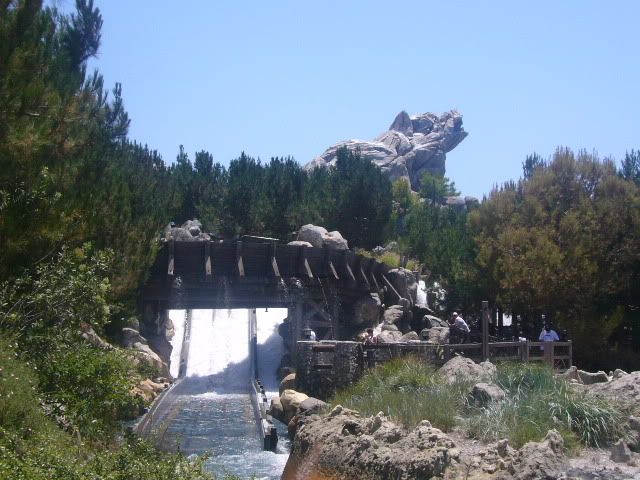 Grizzly River Run



Grizzly Peak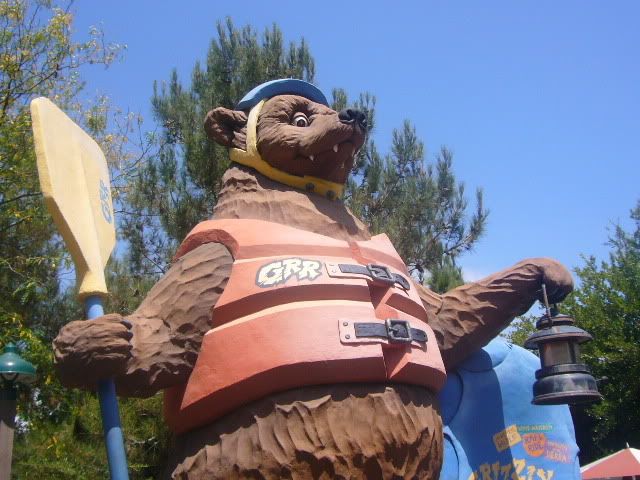 Don't forget you're life jacket!

After picking up FP for Soarin', we ate lunch at Pilot's Taste somethin' or other... which got a (5/10). The food wasn't very great for us, and my mom thought the burger made her a bit sick... - Soarin' got an (8/10) - my mom got extremely dizzy, which she normally wouldn't on Florida's - she said that the video seemed to run more quickly and was a bit choppier than what she's used to. ( Mind you, my mom is very motion-sickness prone - which is probably another warning we ignored before entering - I can handle anything and everything, while she can't )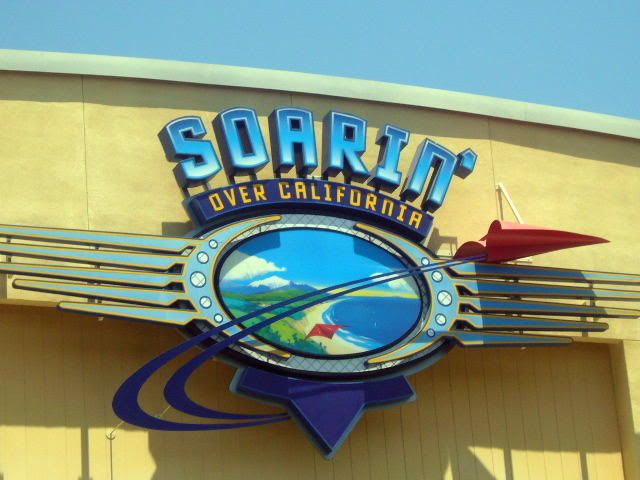 Soarin' to tower - we're ready for take-off ( and barf - bags )

After this, we headed off towards Paradise Pier ( entering from the Orange Stinger (9/10) side ) - I really enjoyed the Orange Stinger, which can be proven from this photo: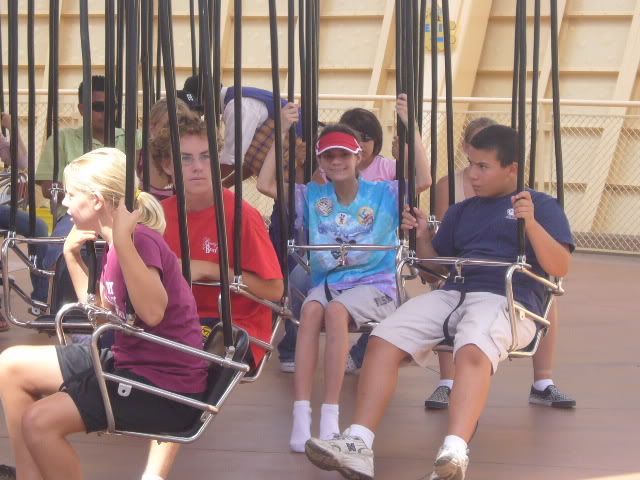 I'm the one in the blue tee and smiling :cwink:

Then I rode the MaliBoomer (10/10), which was frighteningly wonderful - my heart was beating rapidly seconds before the launch, yet I was completely excited to be riding!
The second I got off, I got right back on! Single Rider Line, and NO ONE in front of me!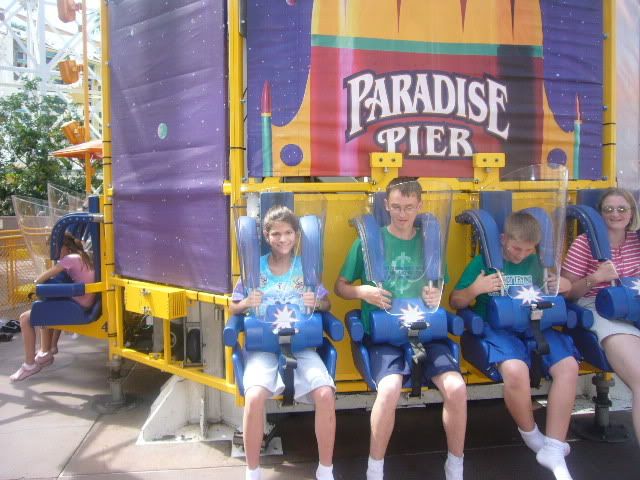 This ride's a blast!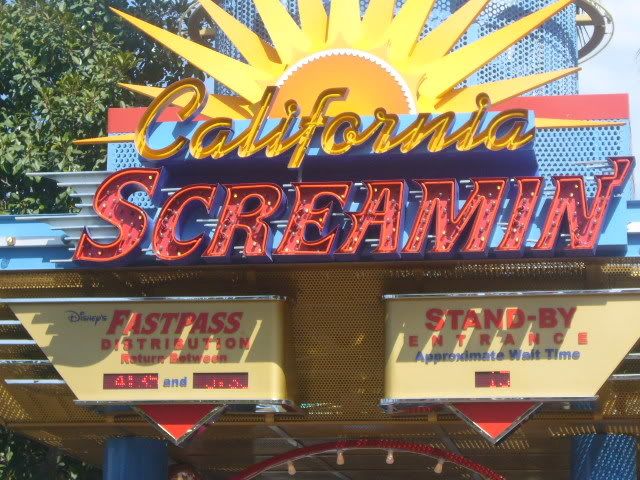 California Screamin' - on such a summer's day!

Next my mom and I did Stand-By on Cali Screamin' (10/10), which I thought was completely spectacular from start to finish - my mom? "It was.... OK". In case you can't see from the picture, it was a 15 minute wait, but probably shorter.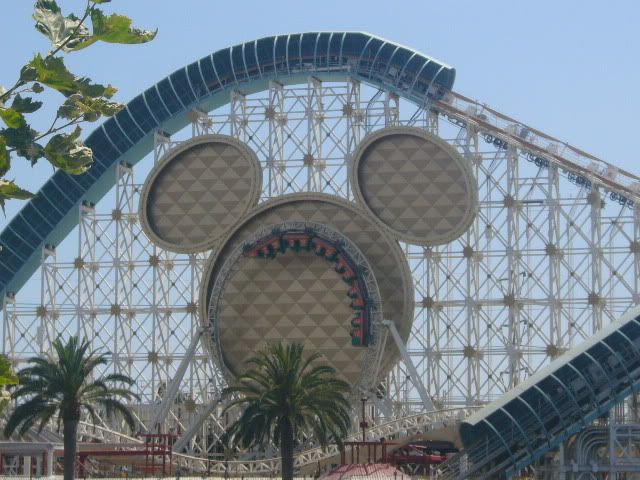 This ride really threw me for a loop!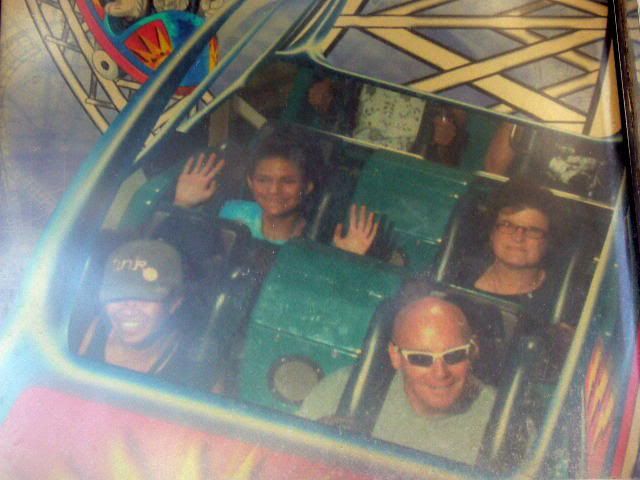 Me and my mom ( next to me ) - she loved it! Honest....

After this we headed back around Paradise Pier and caught Block Party Bash (9/10) ( whose pictures came out terribly - sorry! ), and headed over to the Animation Academy to draw ( or attempt ) Minnie Mouse. Quite frankly, my future is not in the arts. We then went off into the Hollywood area of the park, which was very very similar to the look of MGM-Studios, and rode Monster's Inc. Mike and Sulley to the Rescue! (9/10), and the Tower of Terror!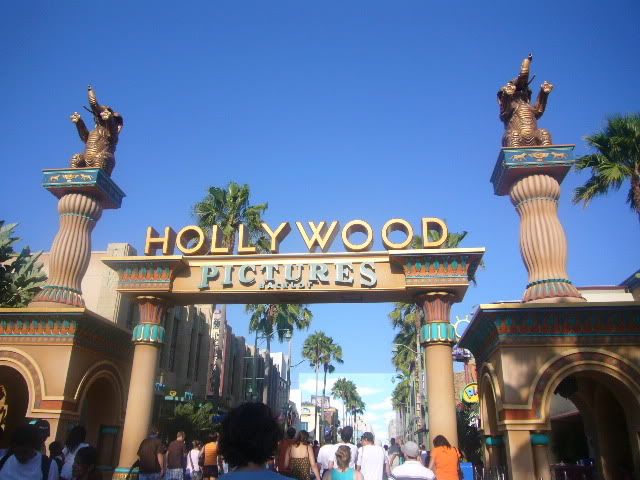 Hollywood and Disney all in one place!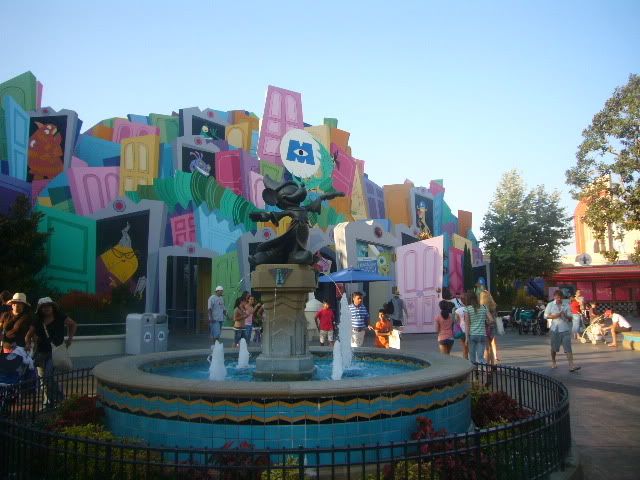 I loved the look and theming of the Monster's Inc. area!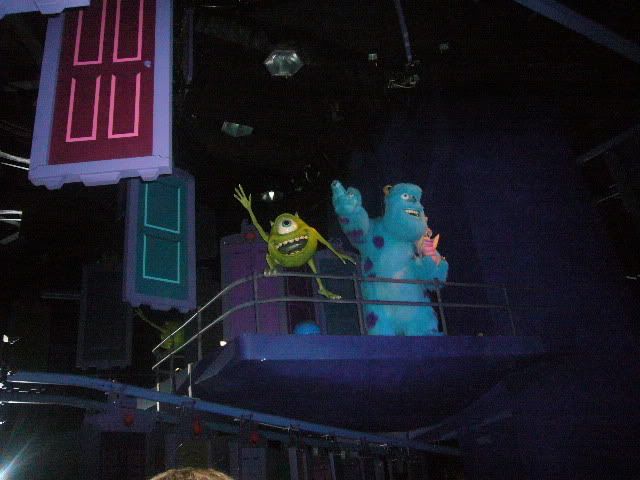 We probably weren't supposed to take flash pictures... but who listens to those warnings anyways? :cwink: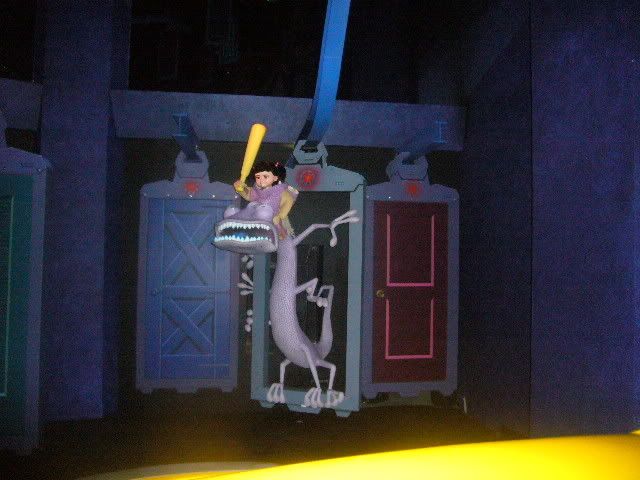 You tell him, Boo!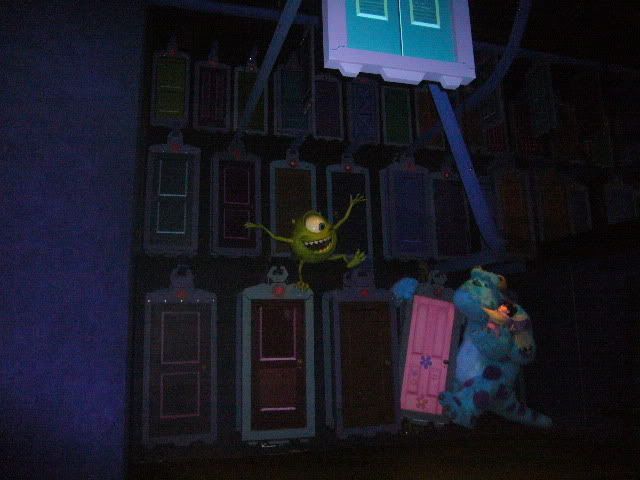 Yay! They found Boo's door!

~Cue Tower of Terror music~

After this, we did Stand-By for the Tower of Terror (10/10)- I don't care which coast you're on, this ride rocks.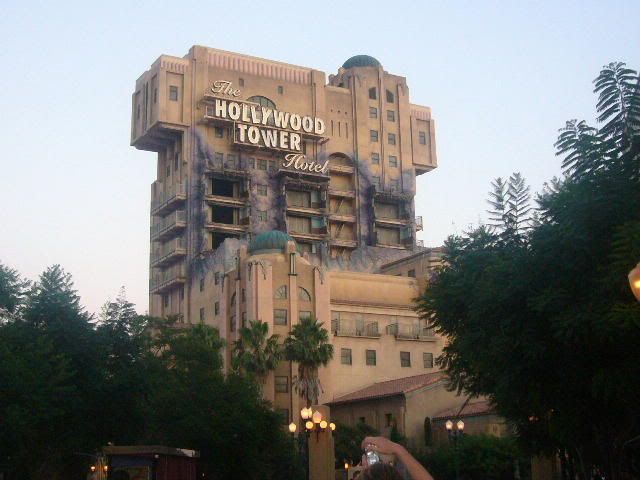 evil tower u r doomed.....

But of course, some stupid idiots next to us HAD to flip off the camera during the picture, so......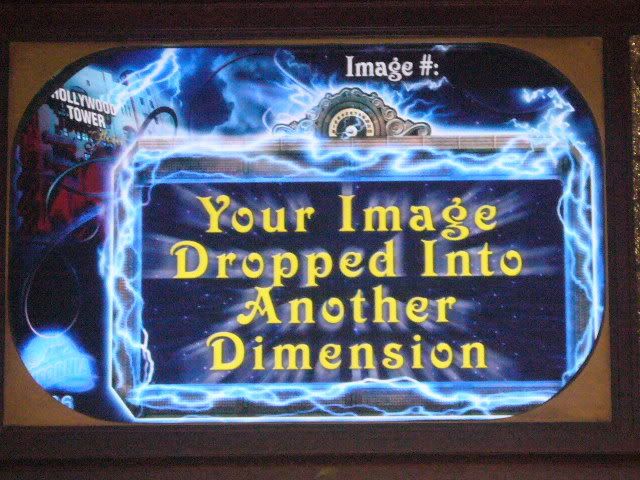 It was our first ride too! I could have just choked them..

Soon after, we hit Bug Land and Heimlich's Chew Chew Train (7/10) and Tuck and Roll's somethin' or other.... (7/10).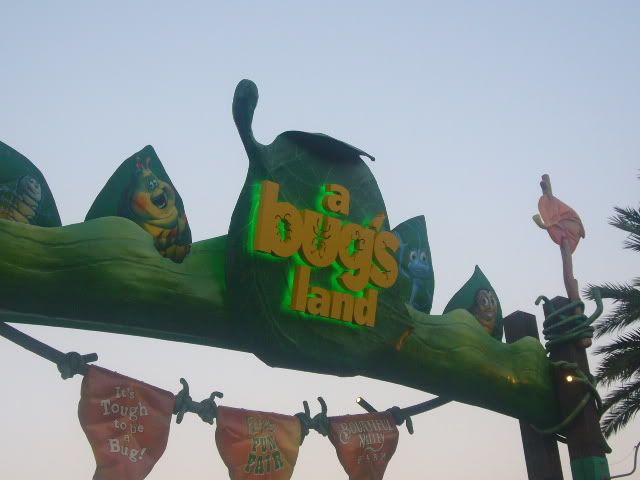 It started to get darker about an hour or so after this, and it was getting close to park closing (9:00 p.m.), so as they were starting to clear out the park, we made our quick get-a-way and left the park and called it a night.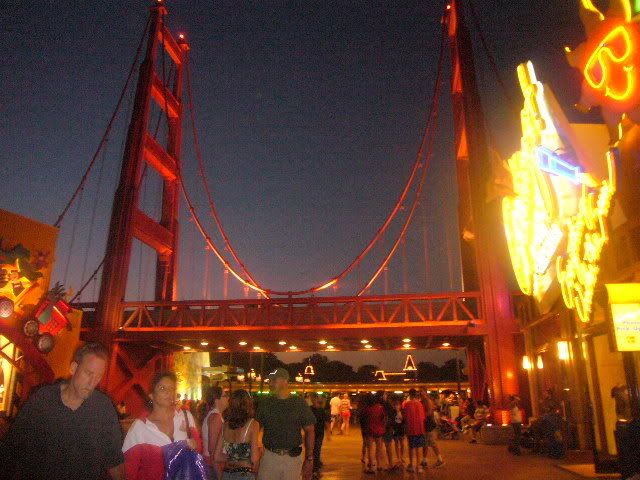 I love their re-creation of the Golden Gate Bridge! - and notice underneath the bridge, you can see Disneyland's train station!



But how could I leave without taking a picture next to the first letter in my name?!
( - By the way, that guitar purse of mine got MANY compliments on this coast as
well as mine - I got many "Where did you get that?" comments! ) I can't remember
how many times I said "the shop outside of Rockin' Roller Coaster in MGM, in Orlando"!
)

~~~~~~~~~~~~~~~~~~~~~~~~~~~~~~~~~~~~~~~~~~~~~~~~~~ ~~~~~~~~~~~~~~~~~~~~~~


Day 3 - More Details Coming Soon!