RedWood Creek Challenge Trail
I was thinking about the Redwood Creek trails. As a parent it was one of the best places to go. Unleash the kids and let them burn off all that energy. At the time there were bridges everywhere, rock climbing, slides, zip line... this place was basically an oversized neighborhood park playground. I'm not sure how much of that is still operational. I hear conflicting stories about the slides, zip lines, and rock climbing being closed. Then I thought about the "theme" of the place... Disney really passed up an amazing opportunity when they designed that place.
The old growth forests of Northern California have 2 of the largest tree species in the world; Sequoias and Redwoods. Among those giants, stands General Sherman, and General Grant. General Sherman is considered the largest living organism in the world. General Grant is "The Nation's Christmas Tree". For those who have been to Sequoia National Park, it is an experience unlike any other. Thinking about that I realized how Disney skimped on their Redwood Challenge. My thought would be to theme it as one of the old groves. Giant Trees, think something like Swiss at DL but have 5, 6, 7 of them connected by bridges. I realize building a full size Sequoia would be impossible, but well themed scale models... that would be magical. I never understood their choice of entrance. The entrance seemed like a bit of a letdown. Considering the size of the Sequoias, and the multiple examples of fallen ones that were tunneled through. Wouldn't a giant fallen Sequoia, with a tunnel, make more sense and completely enhance the theme. It would act as a barrier making this part it's own little world, a mini berm in a sense.
This tree has inspired thousands of people including the late Charles E. Lee of Sanger, California. In 1924 he visited what was then General Grant National Park, and found himself standing by the Grant Tree with a little girl. As they admired the huge tree, the girl exclaimed, "what a wonderful Christmas tree it would be!" The idea stayed with Mr. Lee, and in 1925 he organized the first Christmas program, held at the Grant Tree at noon on Christmas Day. Mr. Lee, then secretary of the Sanger Chamber of Commerce, and Mr. R.J. Senior, president of the Chamber, conceived the idea of an annual ceremony. Mr. Lee wrote to President Calvin Coolidge, who designated the General Grant as the Nation's Christmas Tree on April 28, 1926.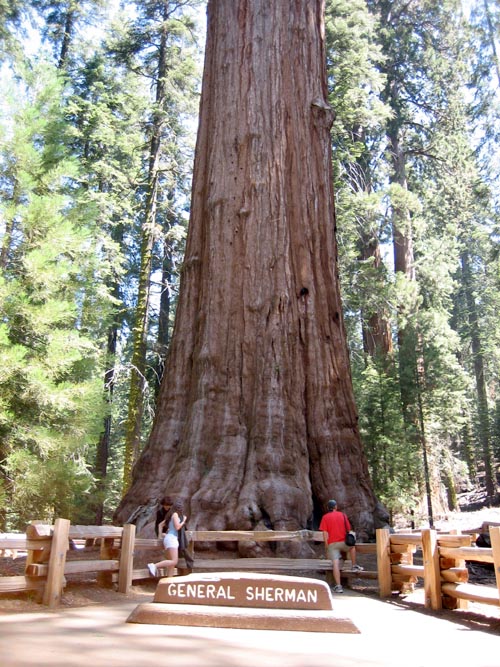 The General Sherman tree is the largest tree (by volume) in the world. It can be found in Sequoia National Park. The General Sherman tree isn't the oldest in the park, however it is the largest. There is no other living thing in the world that is larger in volume then this tree.
Each year it adds enough wood to itself to make a tree one foot in diameter and more than 100 feet tall.

General Sherman, considered the world's largest living organism
Estimated Age: 2150 years
Height 274.9ft or 83.8m
Circumference at Ground 102.6ft or 31.1m
Maximum Diameter at Base 36.5ft or 11.1m
Diameter of Largest Branch 6.8ft or 2.1m
Height of First Large Branch above the Base 130.0ft or 39.6m
Average Crown Spread 106.5ft or 32.5m


I also think the addition of Tharp's Log would be the perfect compliment. Tharp built a cabin within part of a fallen Sequoia. He was a friend of Muir, arguably one of the most important naturalists in U.S. History, and considered the first European to see King's Canyon and it's giant grove. In an open area I also see the opportunity for bubbling springs and small geysers, just one more thing for the kids to enjoy. I do enjoy the giant cross section, and some of the stuff in the ranger station.
Tharp's Log... used part of a fallen Sequoia to make his home, John Muir also stayed here!
The "Wawona Tunnel Tree." Mariposa Grove, 1888.
Fell over during a snowstorm in 1969, I believe this is the one Disney used for it's tunnel.
Imagine having something like this as your entrance, with the sign carved into the top of the log!
Grizzly River Run
Here is my problem with Grizzly. BTM is not shaped like a Giant Lightning Bolt, Splash isn't shaped like a giant wave, Matterhorn doesn't even resemble the Yeti, so why does Grizzly have to look like a bear? California's state flag has a bear... ok... doesn't mean we need to make a mountain that looks like one. If you use that argument we should have done Mt Rushmore with the Disney 5, because that would have been just as cheesy and just as pointless. So... wish they could somehow fix that, but they won't so moving on. Grizzly is completely void of life. Some mentioned putting AA's on it, I agree. I think they should look at the old postcards of Mine Train... make that... make it a forest full of life. I like the old mining mill equipment but add some life, we know DCA is rotting away we don't need to see rust as the theme for Grizzly! I'm also wondering why they went so rustic with the theme then they toss in these modern kayaks? Hello miners, canoes, rafts... I don't remember seeing any of them with bright yellow paddles and purple padded vests!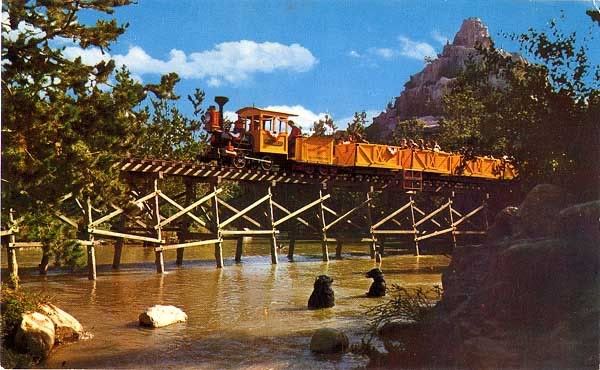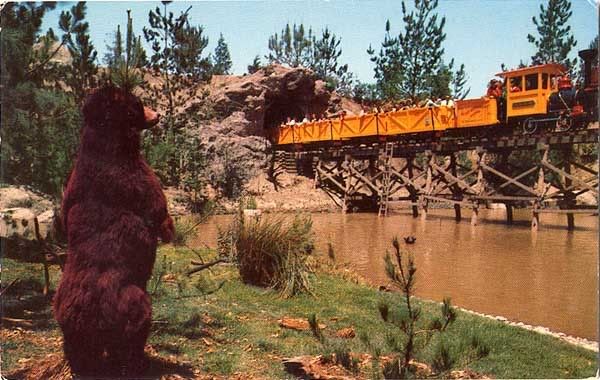 How about bears... do you think we can put some bears on the giant mountain that looks like a bear and is named after a bear, possibly a Grizzly? Hopefully that wouldn't break the theme or anything, it's not Pixar so it might!
Someone else mentioned the Big red touring cars. I know they have them at Glacier National Park, and I believe Yellowstone, Mammoth, and Yosemite probably had something similar but can't confirm it at this time. Either way, having one or two of those parked in front of the entrance to Grizzly would make more sense and add some theme. I'd toss the giant wooden bear and definitely ditch the neon rafting gear.
Again this is Glacier Park but I also found similar touring cars other parks
Touring Car for Yellowstone.
As for Yosemite, check out this link
http://www.nationalparkreservations....ite_modelt.htm
Overall I don't think that making a park out of California was necessarily a bad idea. I think it can be done. Everyone is hoping Pixar will save the day, but Pixar IMO just makes it worse. With Pixar they are basically saying "PLEEEEASEEE COME HERE!... we don't care about theme anymore!"
Also please note these are not my vacation photos, I borrowed a lot from the internet and verified all facts on multiple sites prior to posting.