After about a month since my last update, I'm back with some photos of what's going on around the Resort... From Fort Wilderness, to the Disneyland Hotel - I've got a little bit of everything. Enjoy.
WELCOME TO DISNEYLAND!
New park maps have been rolled out...
Disneyland's is still touting Nemo, but with the periscope publicity image instead of the Sub publicity image. And DCA's maps are touting the revised High School Musical show.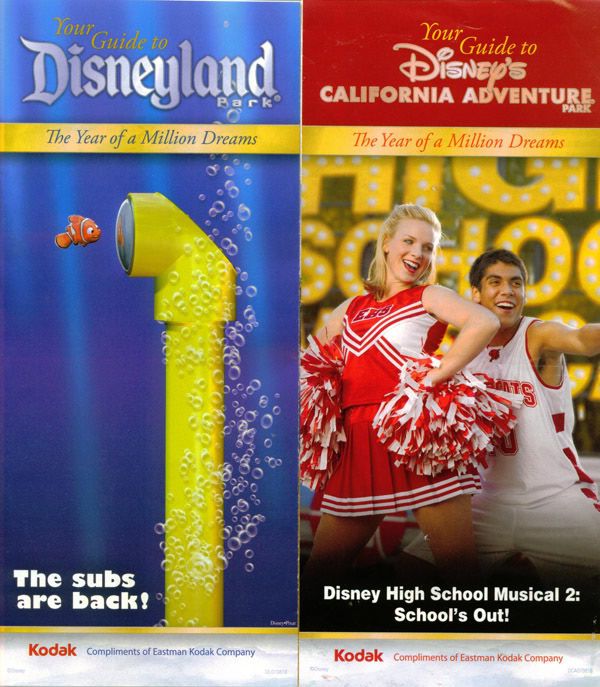 The inside flap has been changed to reflect the "new" High School Musical 2 show, and a little blurb for Disney's HalloweenTime has been added. And inside the Disneyland map, the Disney Gallery has finally been removed from the New Orleans Square attractions list.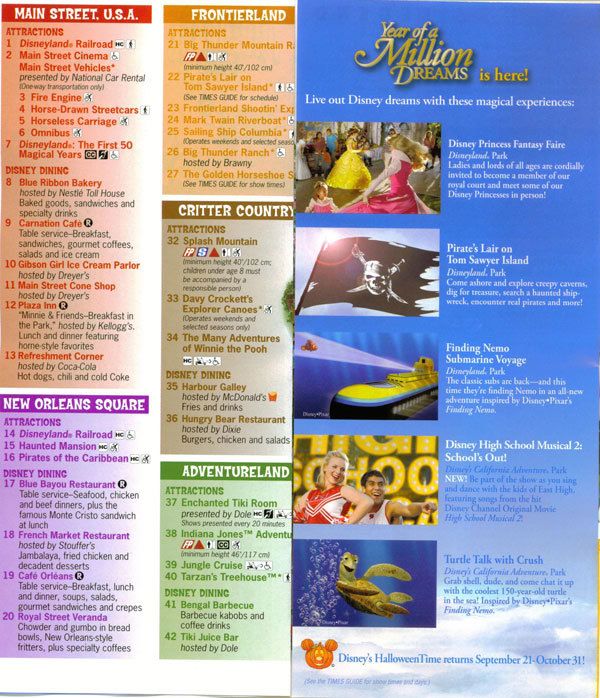 FORT WILDERNESS
I heard from a fellow MiceChatter heading off to college tomorrow (good luck!
), that the former site of Fort Wilderness had some intriguing new structures going up. It looks like they're starting to re-build the Fort towers, beginning with steel frames. So, while we may not get a realistic Fort, we might still get a Fort.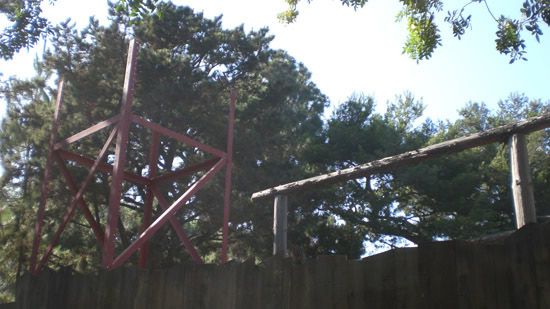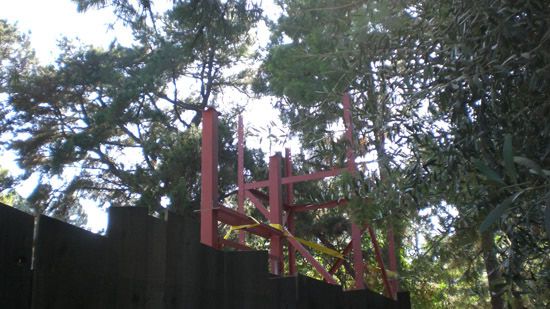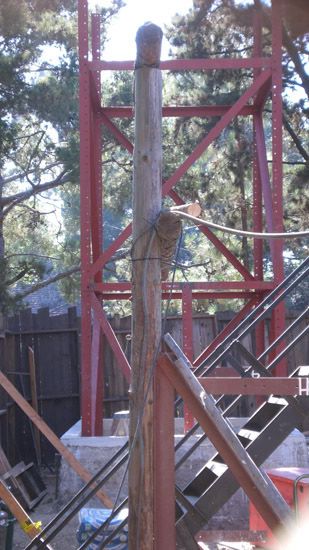 While on the Island, we decided to wander around. They've brought over some ODV and plopped it down a few steps from the entrance of Dead Man's Grotto.
Over in Smuggler's Cove, one of the Bilge Pumps is down.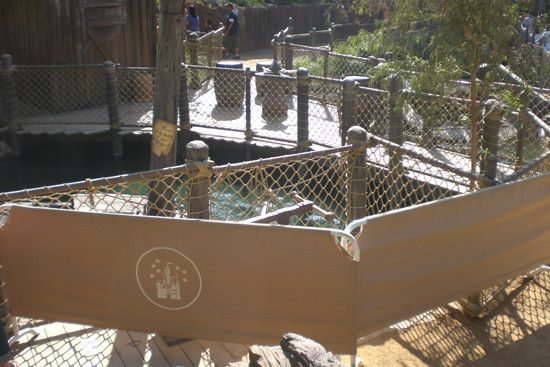 FILMING AT THE DISNEY GALLERY
A quick look at the elevator construction area: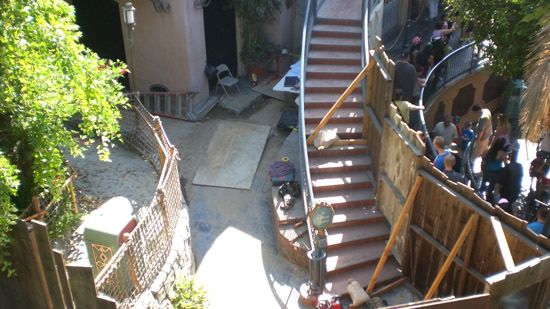 Set-up for filming at the Disney Gallery took place all day. The would-be kids' room in the Royal Suite (Cast Member-only area when open as the Disney Gallery) was used as a costuming room of sorts.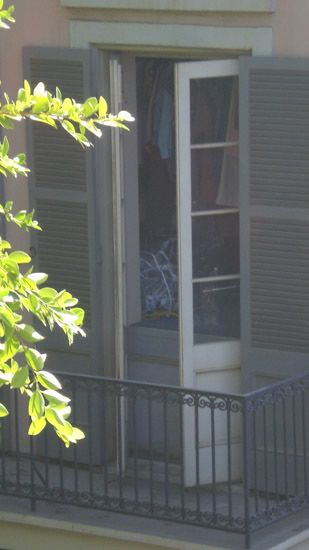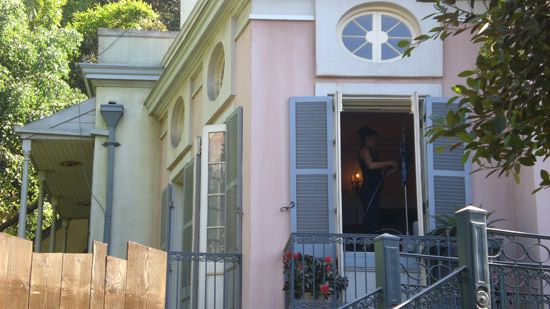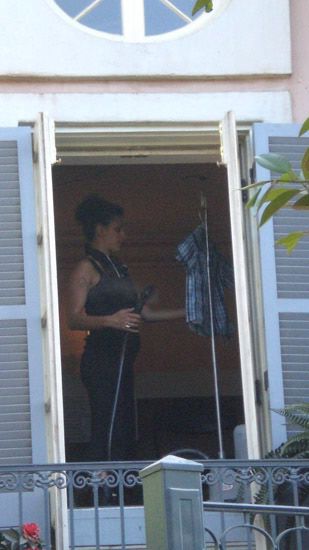 Props and equipment were taken up via the Gallery staircases....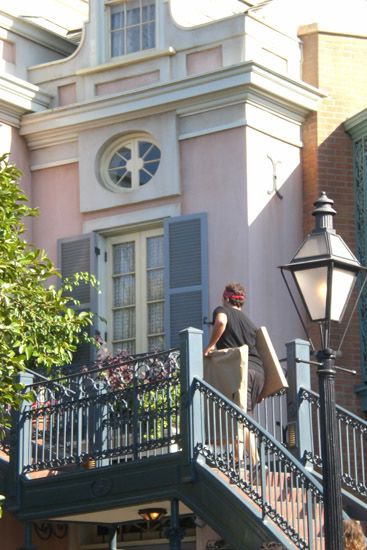 ...and via Royal Suite stairs in the courtyard between the Port Royal and Pieces of Eight shops.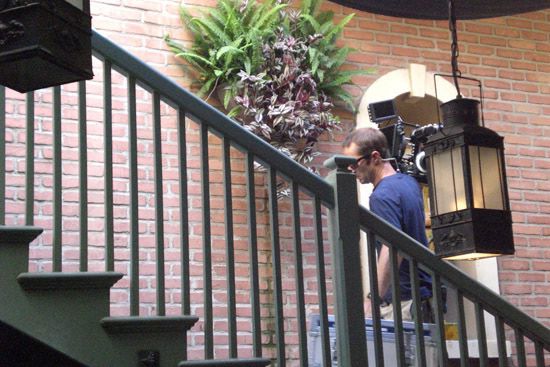 A cart with equipment was parked next to the courtyard entrance...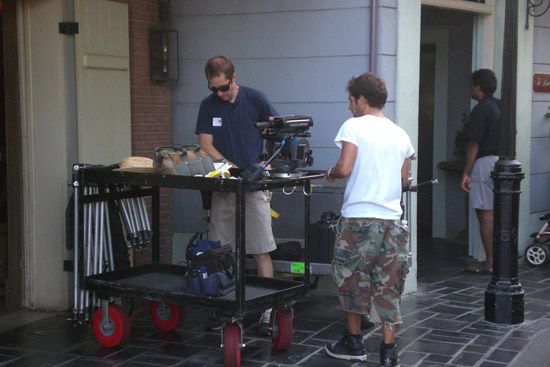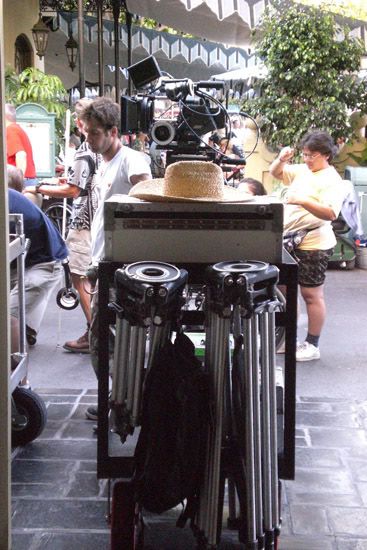 A clipboard with production schedule was laying on top the cart: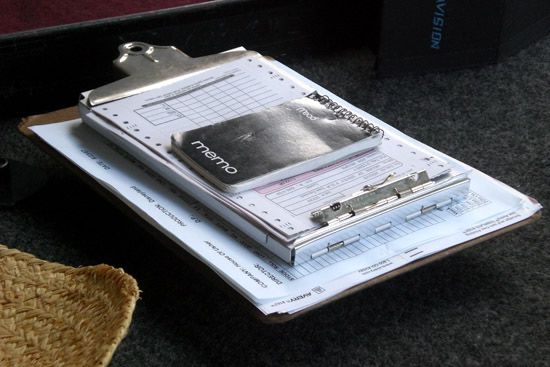 ...A closer look at the clipboard contents:
It reads:
Co. Sub. by: HOUUS
Job #: U330
Bill to: HOUSE OF USHER FILM
Pict. Title: DISNEY
Director: JON MOORE
D.P.: B. GALVIN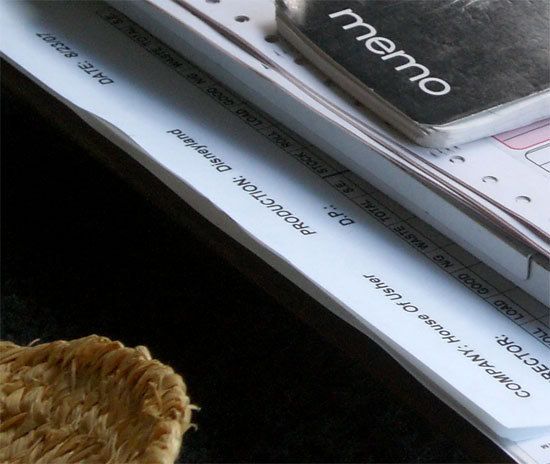 COMPANY: House of Usher
PRODUCTION: Disneyland
DATE: 8/23/07
House of Usher Films is more or less a commercial production company. They've filmed commercials for Apple, Burger King, Volkswagen, and Visa, to name a few. You can check out some of their work here:
http://www.usherfilms.com/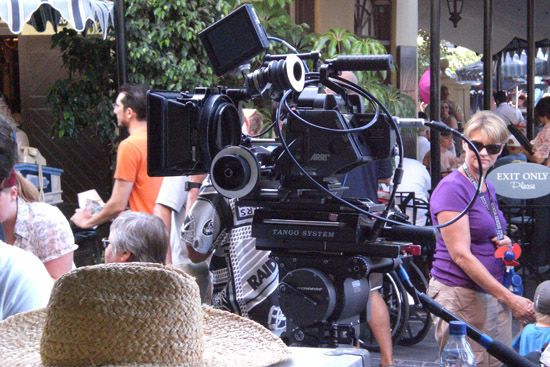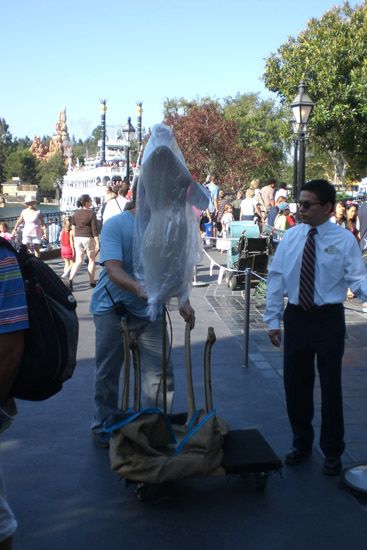 ...A closer look at the balcony shows that a tea set prop is up there for the commercial. (Note that in this picture, the plexiglass coverings for the wrought-iron Disney brothers initials is still attached.)
...Having left Disneyland for a while to get pictures elsewhere of other things, we came back around 8:30 to find that a green screen had been erected and lights were on and film was rolling.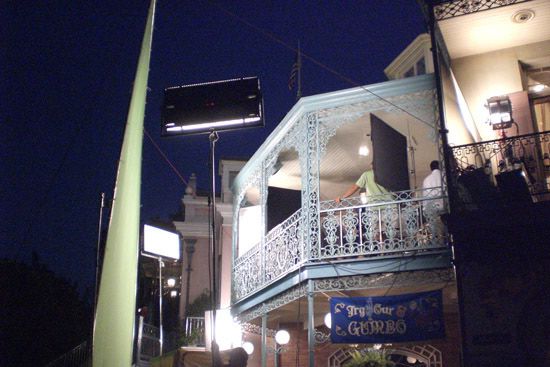 The plexiglass covering the wrought-iron initials was removed for filming.
Anyway, my guess is that its a promo piece for the second (or is it third) re-launch of the Year of a Million Dreams, touting the upcoming Royal Giveaway Suite. At one point they had a family up there, posing for the cameras in a very YOAMD kind of way. Hmm...
RIVERBELLE TERRACE GOES UNDER
The Riverbelle Terrace went down for an extended refurbishment recently. Construction walls have been put up all around the Restaurant's outdoor patio area, and windows into the restaurant have been completely covered up.
RIVER BELLE TERRACE
Attention Riverboat Gamblers,
Sea Captains, Gunslingers,
Pioneers & Other Travelers

The Grande Dame of Restaurants
River Belle Terrace

Will be temporarily closed
for improvements
until late fall

For a memorable meal,
please visit the French Market
or Cafe Orleans in New Orleans Square
or Rancho Del Zocalo in Frontierland.

Be sure to stop by once we reopen.
We'll have some truly special
cooking for you!
...Something special, eh?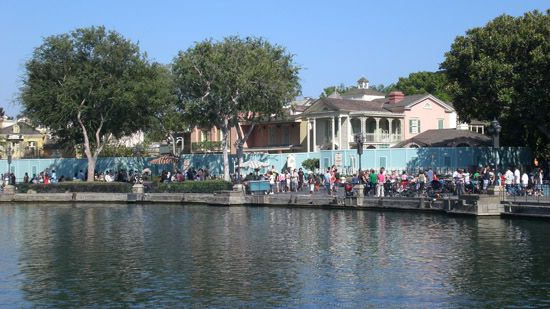 FANTASYLAND SHOP REFURB
This shop refurbishment sparked a lot of excitement on the boards earlier this week in the hopes that it may be for the rumored re-opening of the Sleeping Beauty Castle Walkthrough. It doesn't look like these refurb walls are for that, though (at least not yet), just for some re-shuffling and re-theming of some stores.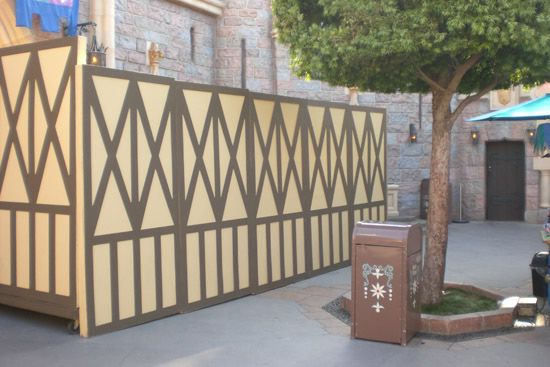 TOY STORY MANIA! AND
WONDERFUL WORLD OF COLOR
Over at DCA, construction presses on at Toy Story Mania! --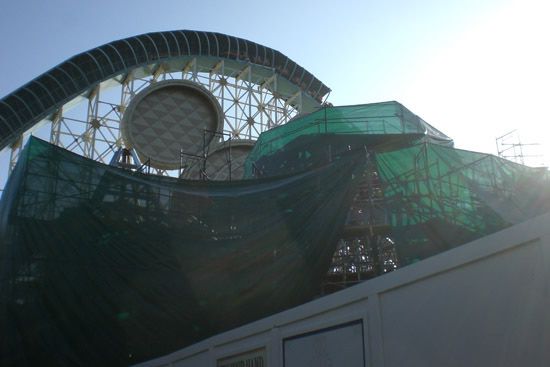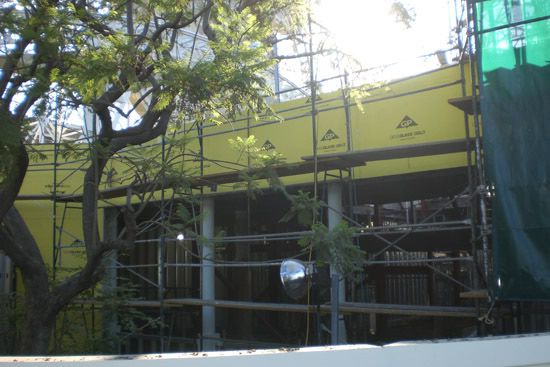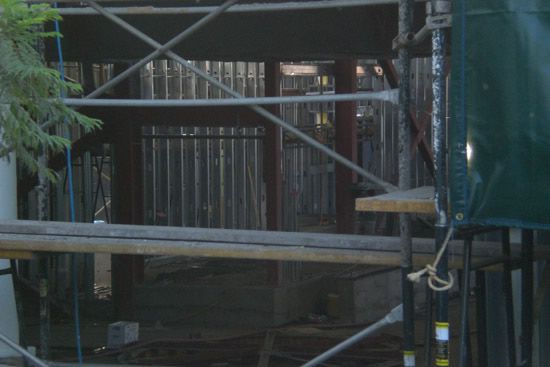 ..And the blue-covered barges are still out in Paradise Bay in preparation for the upcoming
Disney's Wonderful World of Color
night lagoon show: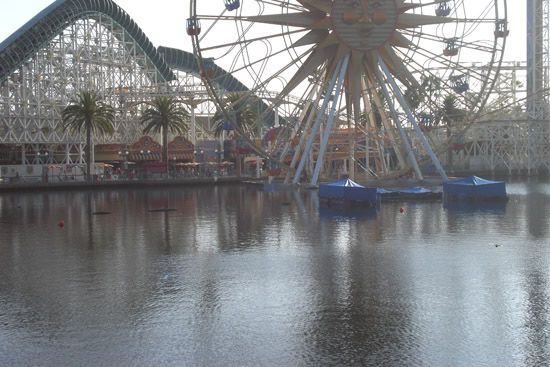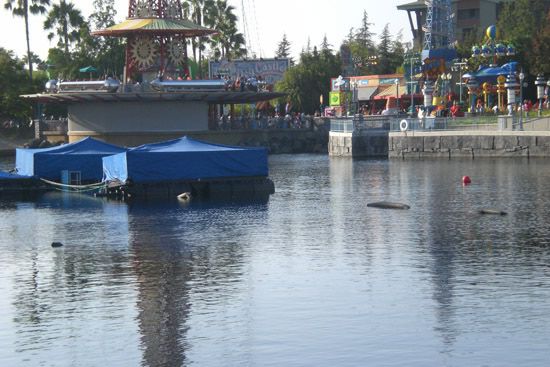 DISNEYLAND HOTEL
And finally, the Disneyland Hotel towers were recently re-named.
This Hotel area map hasn't been updated yet: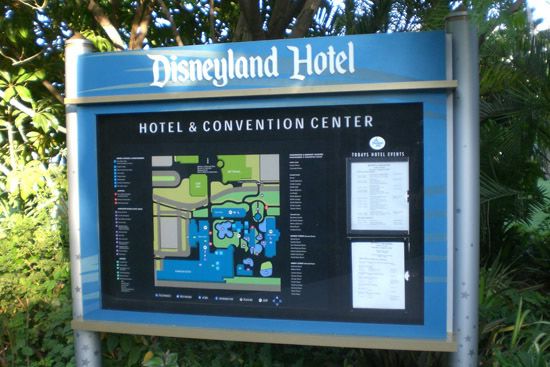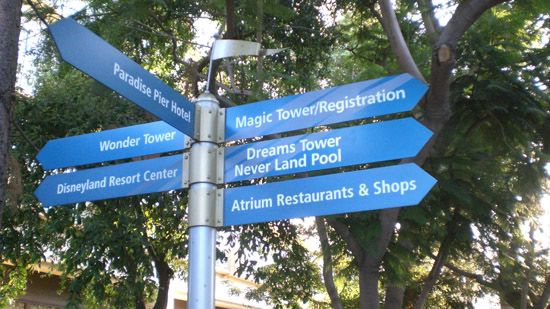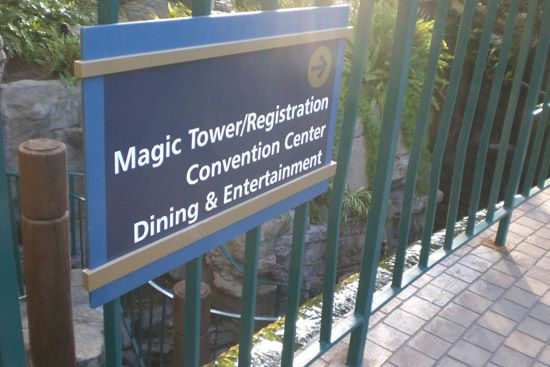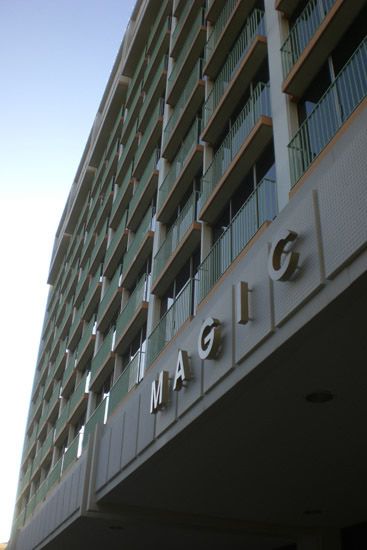 This directional sign, by the MAGIC tower has gotten updated, though...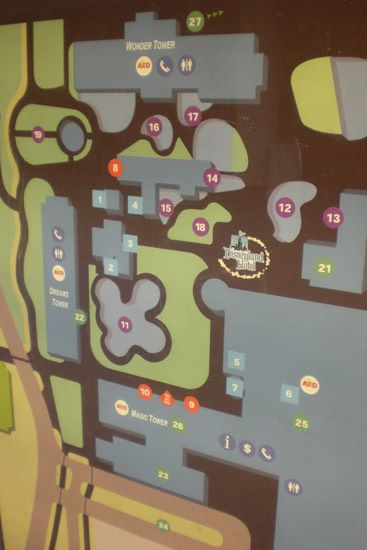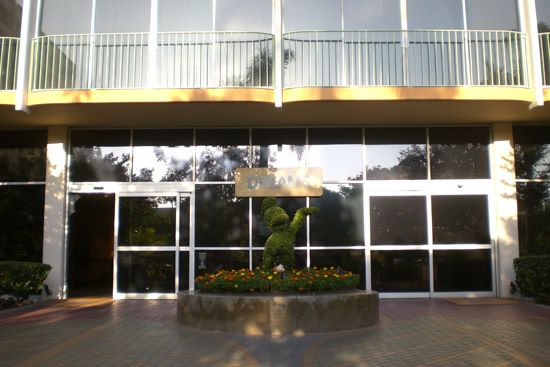 ...Alright. That's it for this update. Thanks for stopping by!