I'll keep the Trip Reports short and sweet. I didn't spend the whole day, just a couple of hours.
Day One - Thursday, August 23
I parked in the parking structure and took a picture where I parked:
IT'S GOOFY IN 4D!!!
On Thursday, 8/23, I met up with my friend Sparky86 at 5 PM to play in the park with her sister and nieces. I met them in front of GRR and it was a 40 min wait, but the girls insisted, so we went on it. After we got off, we headed to California Screamin' to air dry!! LOL
When we got off, the girls wanted to go again, so they did the Single Rider. While they went on it, we waited, and I decided to take some pictures of the posters of the construction of Toy Story Mania.
When the girls got off of California Screamin', we left DCA to meet up with my friend's sister. We entered into DL and figured what we want to eat. We decided to have a corndog from the Corn Dog Wagon.
After that, it was a trip to Space Mountain where it was me, my friend, and her two older nieces, who all had fastpasses, while my friend's sister stayed with the baby.
Soon, after we got off, my friend's sister decided to leave just leaving me and my friend. We decided to find a fireworks viewing at the hub around 9 PM. We ended up a good spot in front of the castle.
Right before the fireworks ended, we bailed to find a spot for Fantasmic! along the rivers in front of Pirates. When Fantasmic! ended, we went on Big Thunder with a 20 minute wait time. It was about 11:15 when we got off Big Thunder and we made our way down Big Thunder Mountain Trail into Fantasyland to try and ride the Matternhorn. The line was too long, so we went on Buzz again. I didn't do well on Buzz.
To end the day, we decided to take the monorail to DTD to avoid the high traffic on the parking lot trams.
Day Two - Sunday, August 26
So, I arrived about 11:00 to the Parking Structure. I got excellent parking near the front on the Goofy Level.
I arrived in DL and was in Town Square when I spotted my friend working at the Opera House. We talked a little bit before he had to go to lunch. When he left, I headed to Space Mountain to get a fast pass for 1:30. I headed towards Nemo to search for a CM friend of mine, but she wasn't there. I was walking down Matterhorn way towards Tomorrowland, but no luck. I ran into another CM friend of mine who is a character host.
It was about noon and time for the MC Noon Meet, so I headed towards the Hub. I stuck around until 12:30 when the group disbanded for lunch. I snuck away to Ariel's Grotto where I saw one of my friends from before. I decided to stick around to get my first pictures with a Disney princess, Ariel!! I WAS THE FIRST ONE!!! Hahaha!!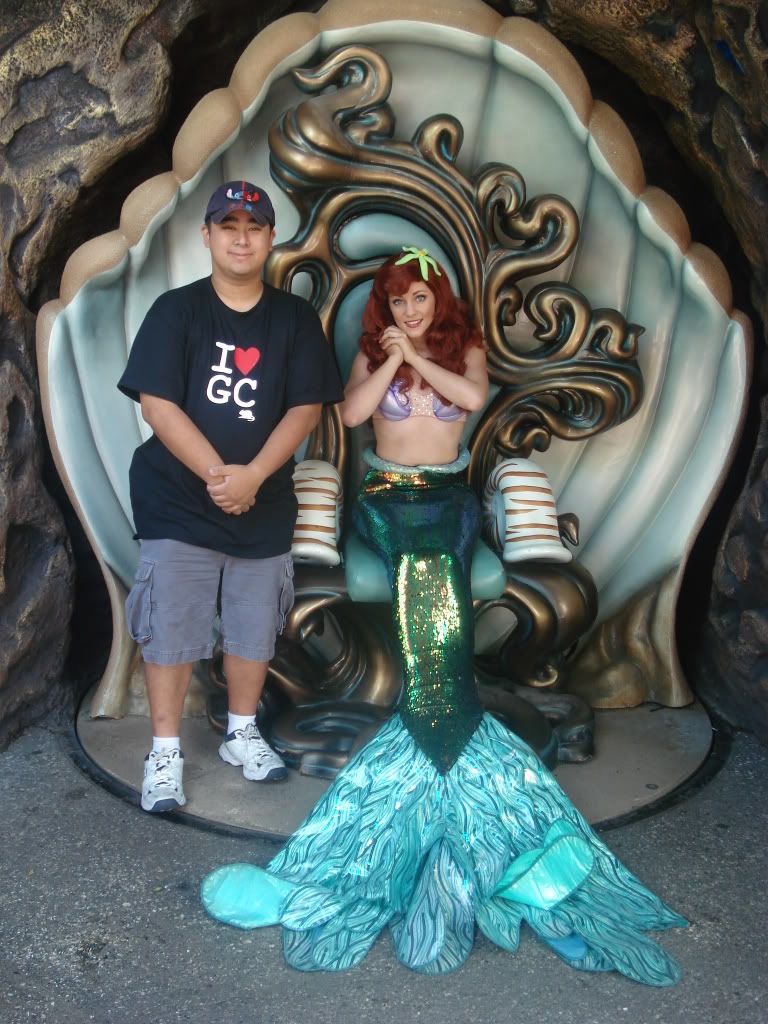 Thank you, Alex for your words of encouragement and to another poster whose name escapes me at the moment. I'm sorry!!
After my FIRST picture with a Disney Princess, I headed towards Space Mountain to use my fast pass.
After Space Mountain, I checked my show schedule to decide what to see. I decided on High School Musical 2, but that wasn't until 3:30 P.M, but Aladdin would start in 5 MINUTES!! So, I headed towards DCA to see the Aladdin show. I made it with just a couple of minutes to spare. It was a good show!! Lots of jokes from the Genie that I haven't heard before, like the one about Paris Hilton.
When the show ended, I head towards California Screamin. It was about a 10 minute wait. It was funny on the way there that several DCA Parade CM noticed my shirt which says, "I :love: GC!", which stands for "I Love Guest Control!" They asked where I got it, and I responded with "Mouse Trap!"
After I was done going on California Screamin', I made my way towards Sunshine Plaza to find a spot for High School Musical 2: School's Out. After that, I left!!
I'm sorry there weren't a lot of pictures because I wasn't there the whole day, only a couple of hours!!
THE END!!!