Once upon a time, there was a little 3-year-old girl who would watch Who Framed Roger Rabbit every single day because she loved Jessica Rabbit more than any other story character she knew of. She wished she had a doll of her celluloid idol, but they just didn't make them at the time. Seventeen years later, she finally managed to obtain one of the elusive and most coveted Jessica Rabbit dolls, and a lifelong dream was finally realized. And what better way to celebrate than . . .
Taking Jessica Rabbit To Disneyland!
Yep, that's right, folks. For every person who's ever wanted to go on a Disneyland ride with Jessica Rabbit, I now present this trip report! Now, some of you may find this hard to believe, but Jessica has a little trouble standing up on her own (gigglesnort). This is why I was her assistant for the day, and you'll notice my hands helping to hold her up in many of the pictures.
It was a beautiful temperate day on September the 6th, and there wasn't a crowd to be found at the resort when we arrived at about 4:30 in the afternoon. Jessica is overjoyed to be boarding the trams for her first visit to Disneyland ever!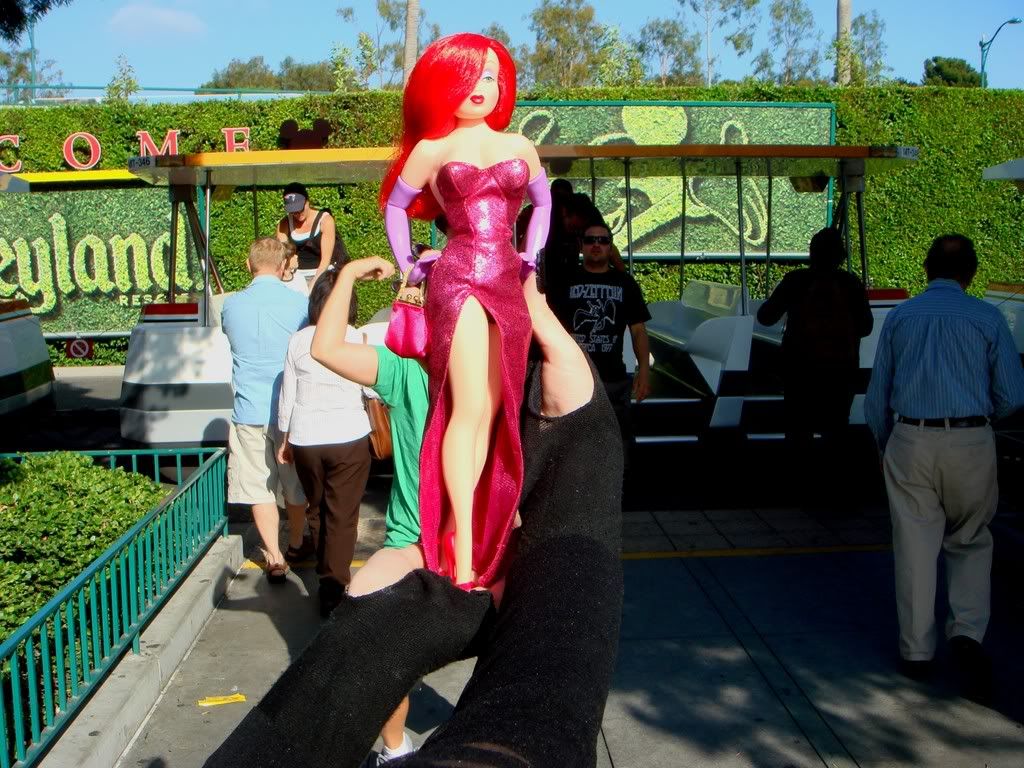 Security point! Time to get our bags checked. They didn't bother checking Jessica's purse, though. They know she's only drawn that way.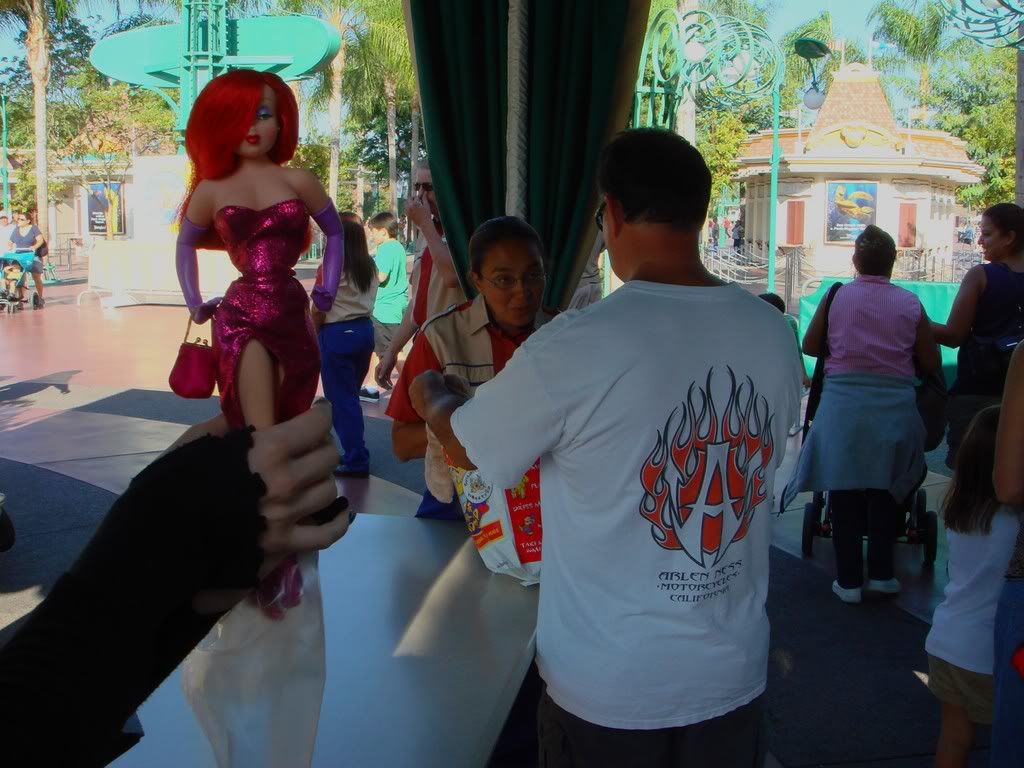 We're getting closer, Jessica!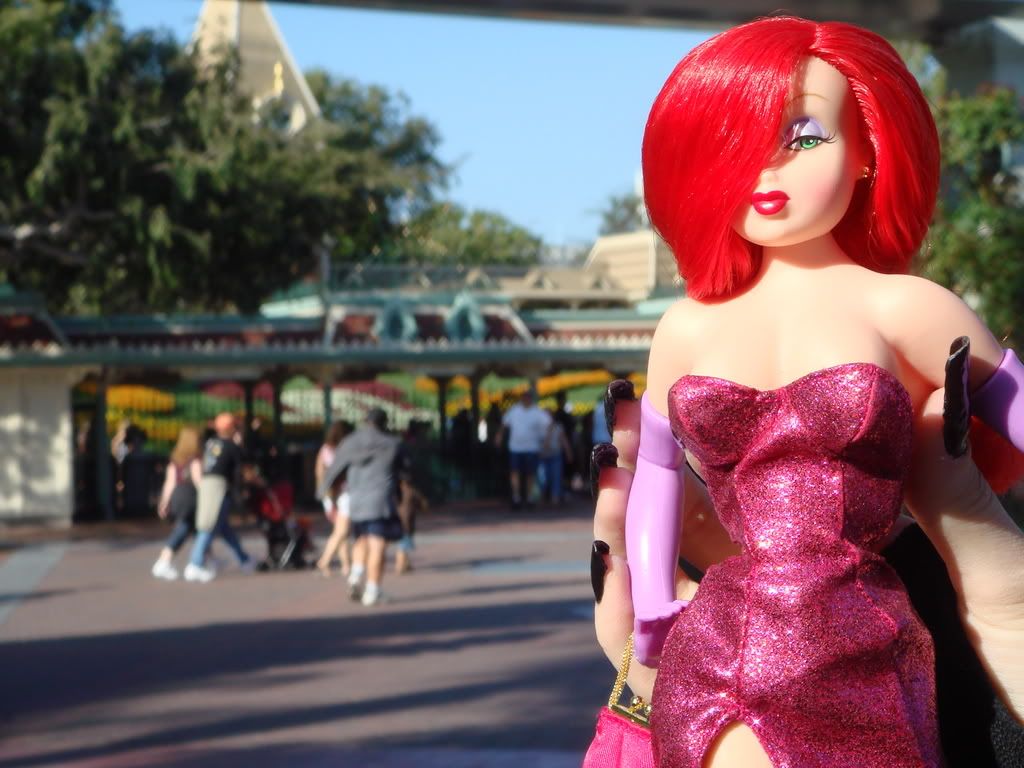 Time to whip out our AP's! I hope they don't stop us for looking too much like Disney characters again.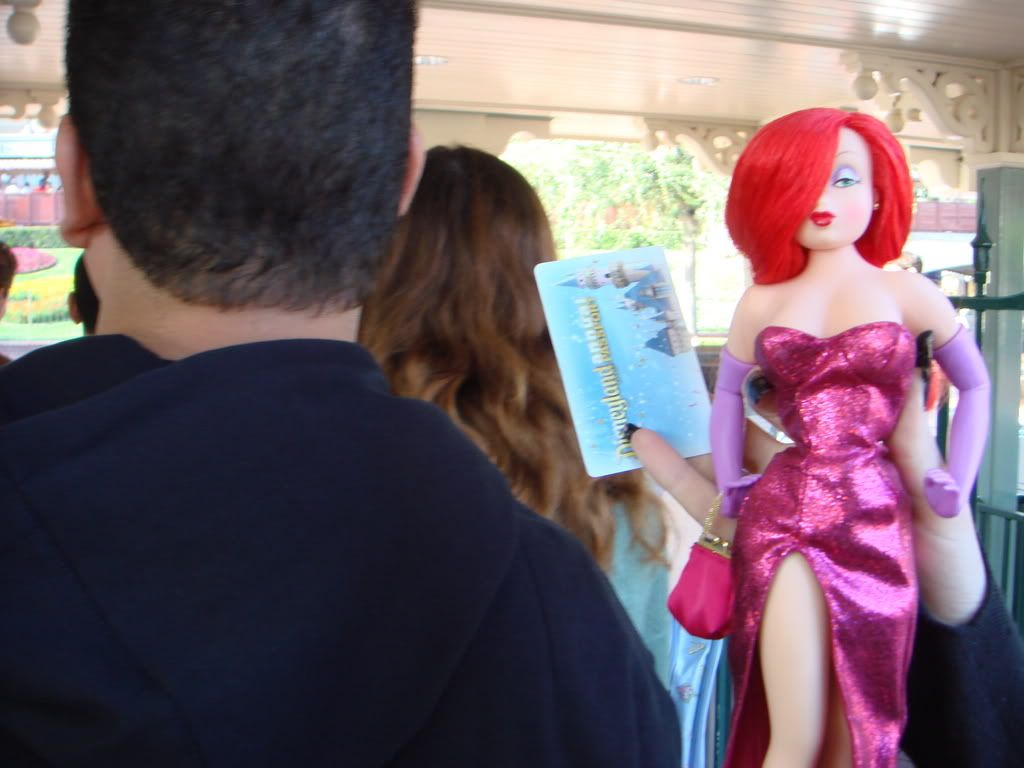 Jessica's first visit to Disneyland must first be commemorated by having a pic taken in front of the iconic Mickey flowers.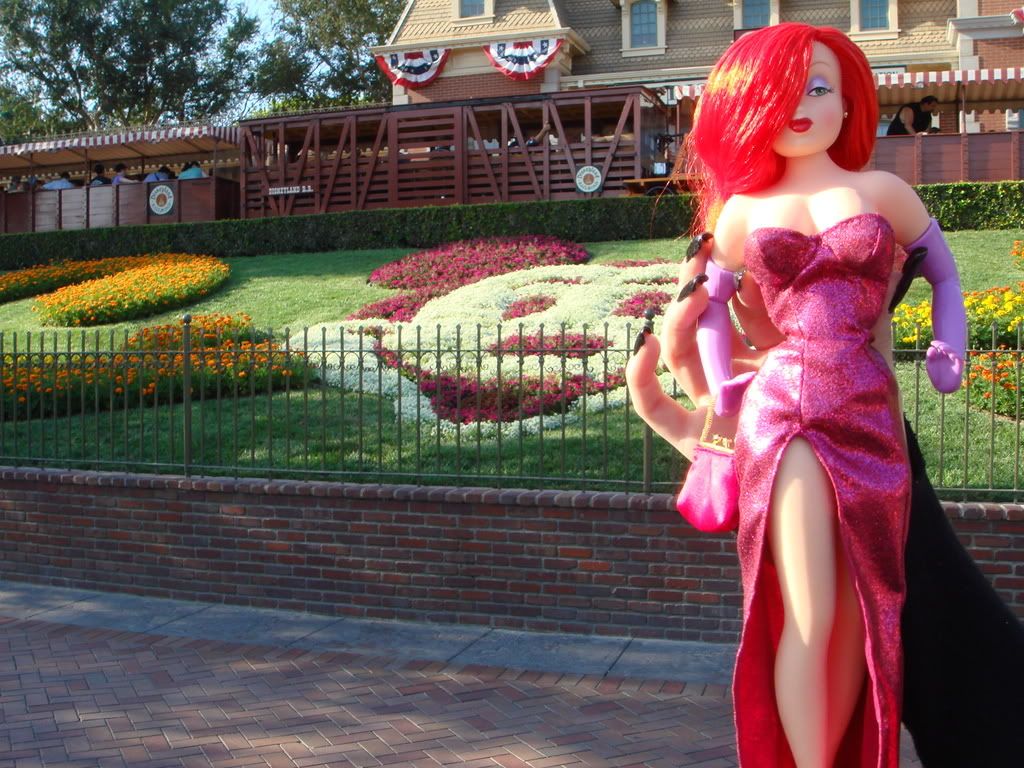 Jessica and her snooty-looking assistant pose together.
As we walked down Main Street, my Sleez-O-Meter went off and I was drawn toward the Main Street Cinema thanks to this poster:
Jessica: Is that a double-barrel shotgun coming outta yer shorts, Mickey, or are you just that damn happy to see me?
Me: Probably a little bit of both.
Moving on outta there in a hurry, we approached Sleeping Beauty's Castle for Jessica's first pics in front of the classic landmark.
From the bridge, Jessica spotted Snow White's Grotto. Wishing to make more wishes, Jessica desired that we take her over to the Wishing Well right quickly.
"I'm wishing
. . . that I don't fall in. Dark Lady, get me outta here! I'm starting to fall forward again!"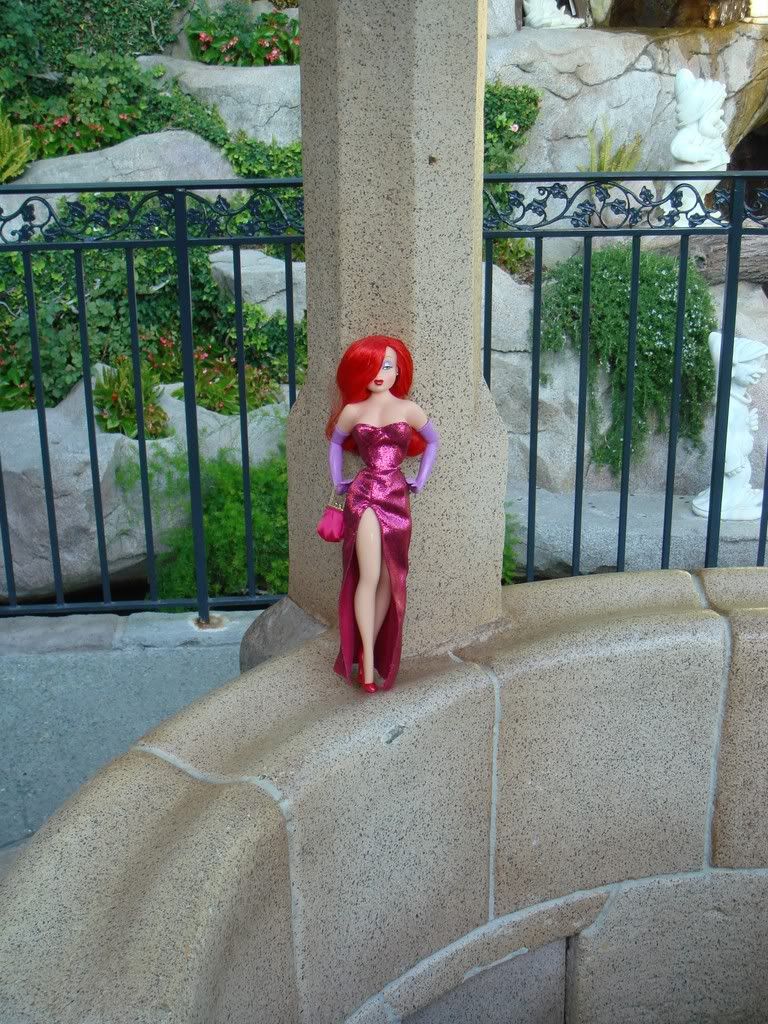 Moving on into the heart of Fantasyland, we discovered one of Jessica's old high school rivals happened to be in town.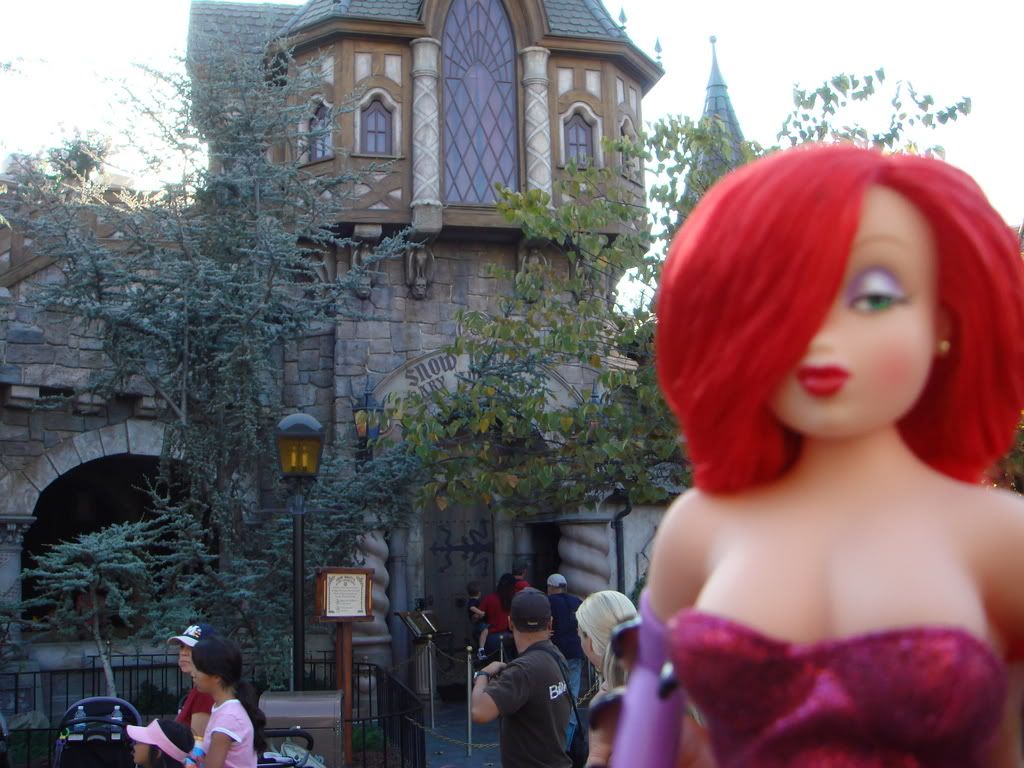 "Yo, Queen! Get out here when I'm callin' you!"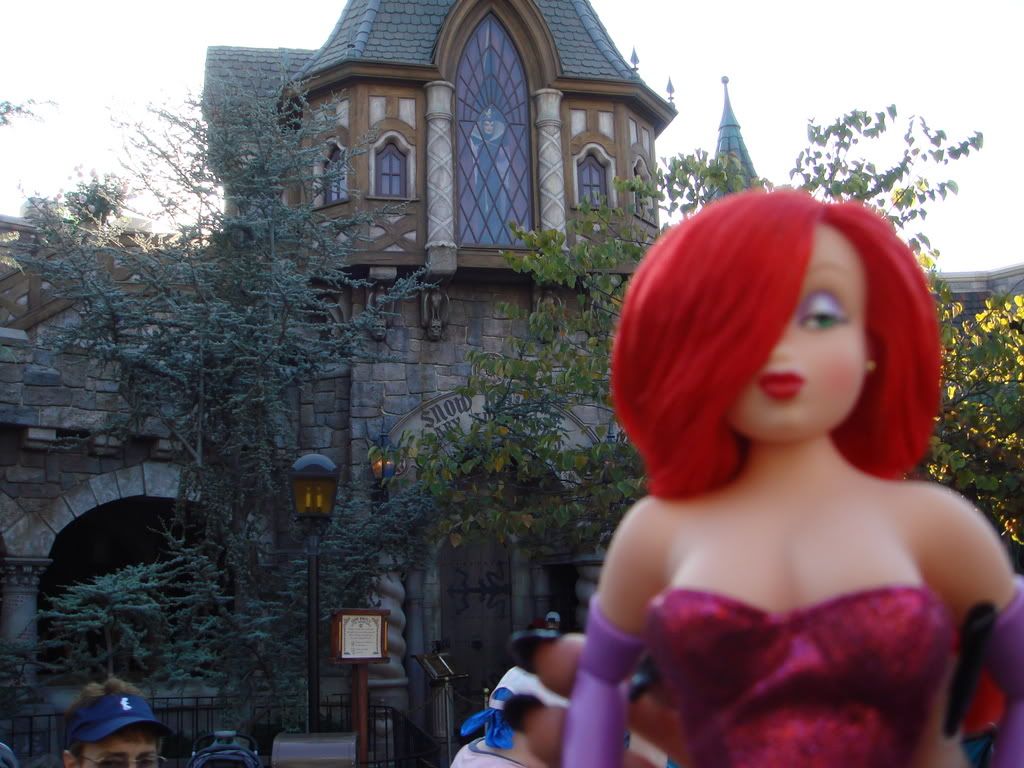 "Who's the fairest in the land NOW?!
Okay, let's get the hell outta here before she comes down."
After avoiding a near brush with disaster, Jessica decided she felt like having another near brush with disaster, so we decided to take up Mr. Toad's offer for one of his wild rides we kept hearing so much about.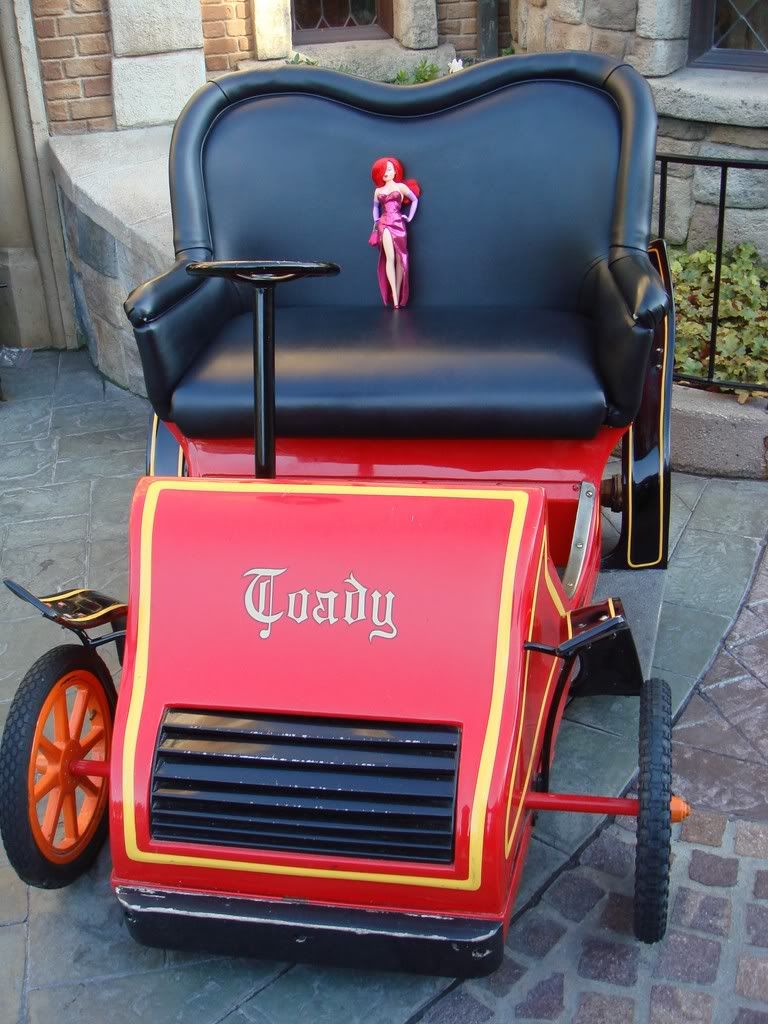 We all know exactly what Mr. Toad is thinking, so I won't even say it.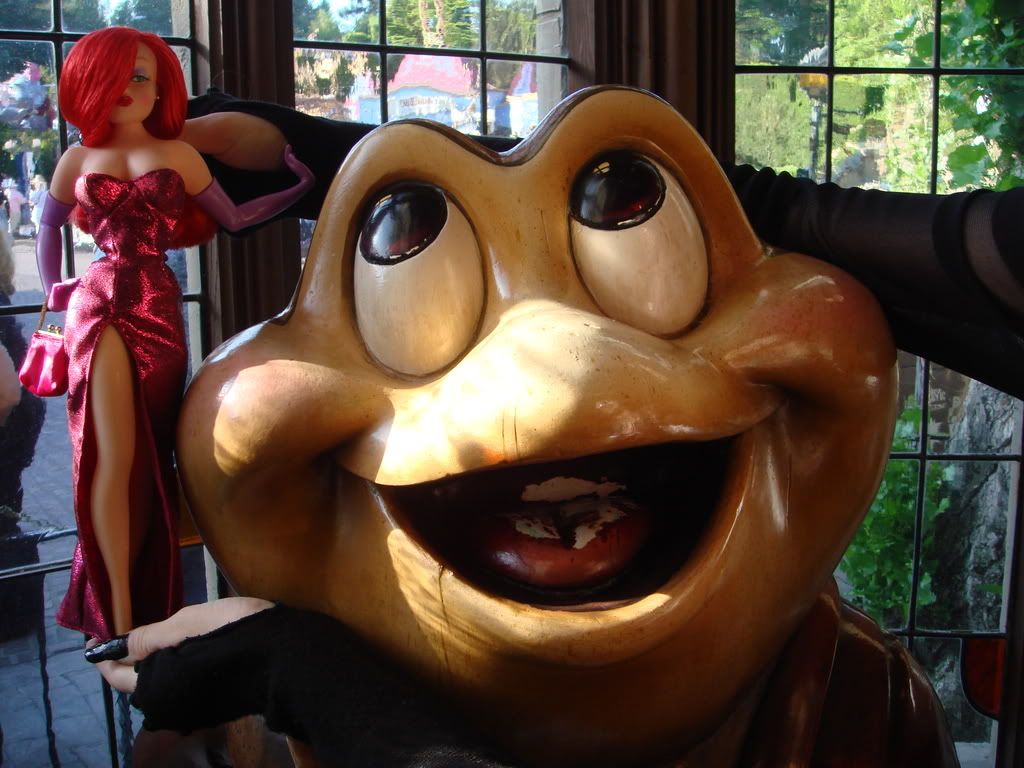 Oh no, it's those damn weasels again! Let's be gone before they bring out the dip!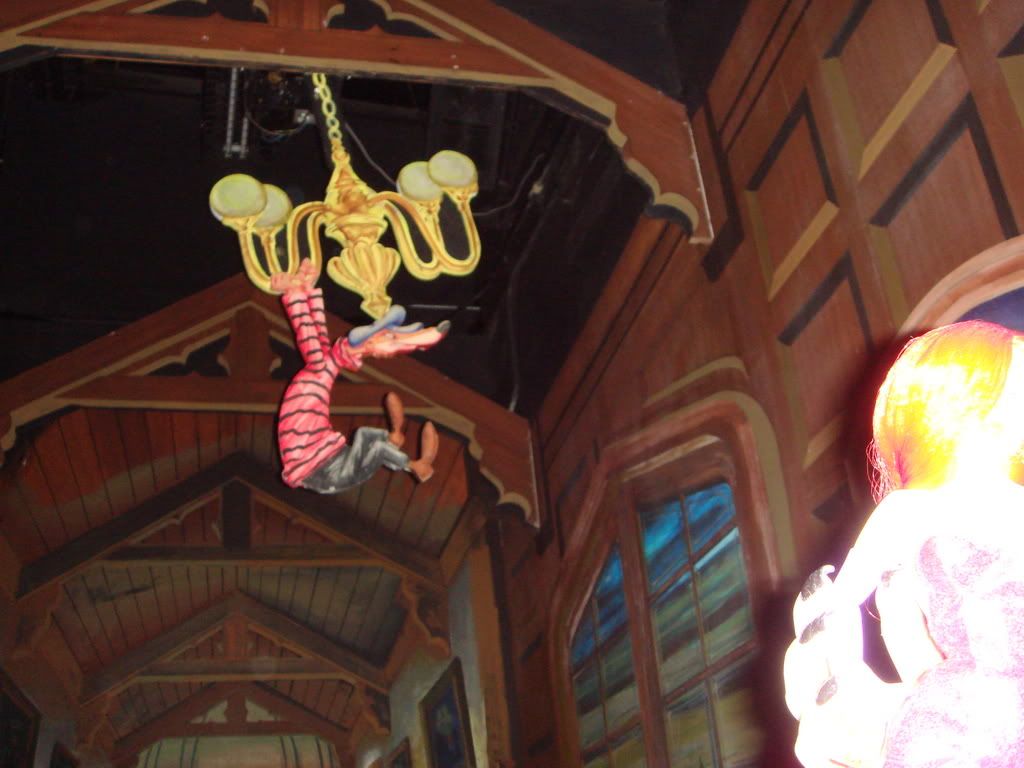 This next picture just came out so friggin' hilarious, I can't settle on one single caption for it. I should hold a contest for who can come up with the best caption for it.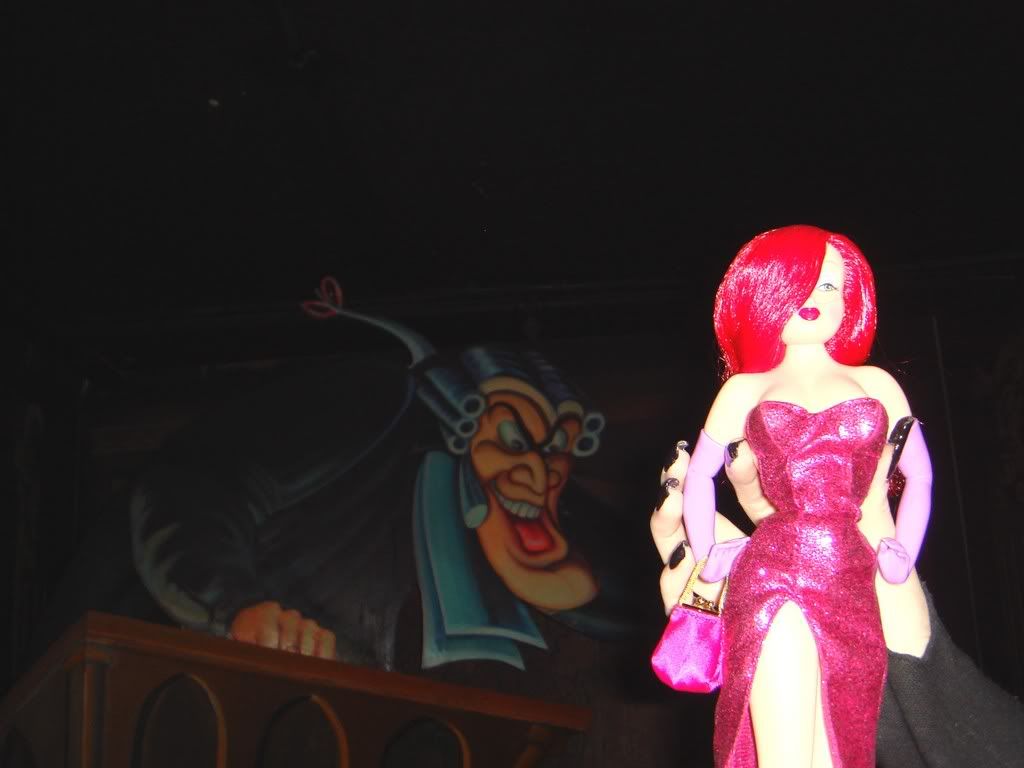 And Hell just got a little hotter . . .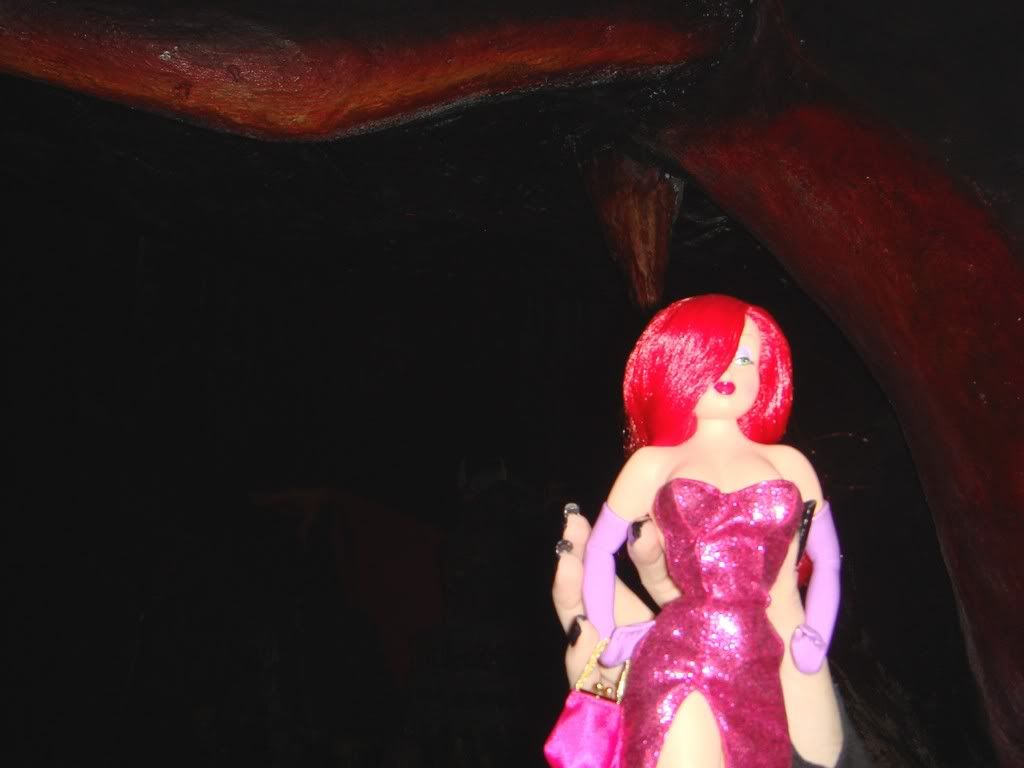 After escaping from the infernal realm of the damned for her first time, Jessica decided she wanted to take a ride on the prettiest horse in King Arthur's Carrousel:
Unfortunately, another little girl had been waiting to ride Jingles that day, so Jessica gave up her seat on the lead horse and took a ride on the noble steed with the black unicorn on its saddle instead. From there, we next went to taunt Monstro by using Jessica as whale-bait: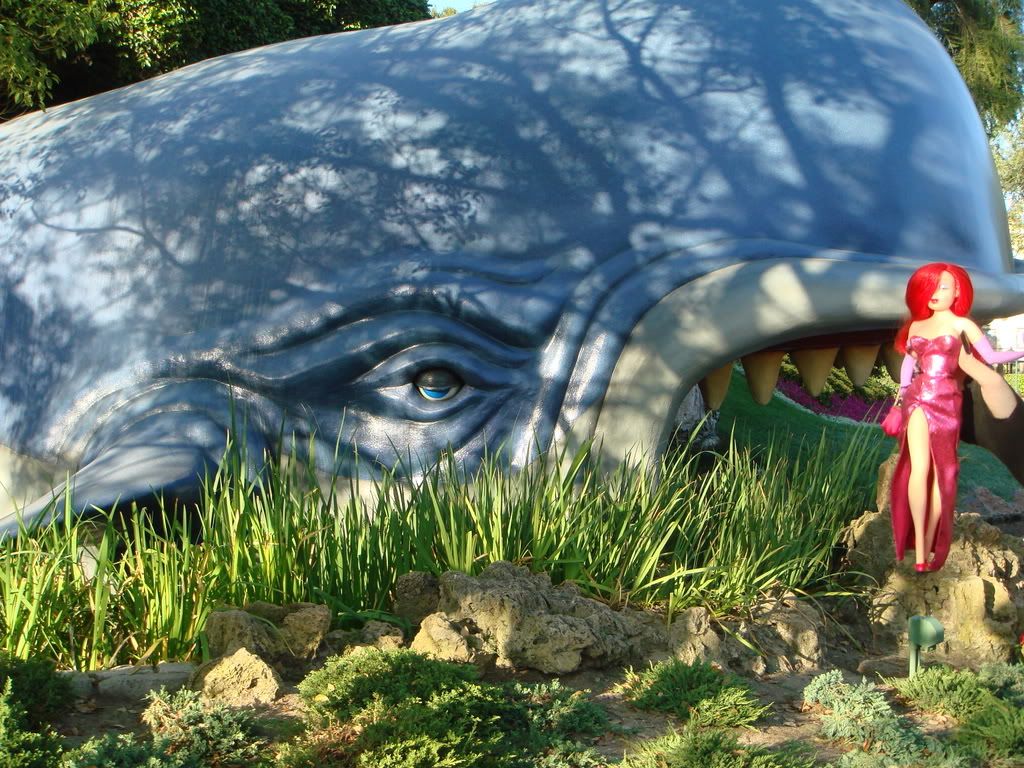 Me: "My, what a huge-size cup you have, Jessica!"
Jessica: Just shut up.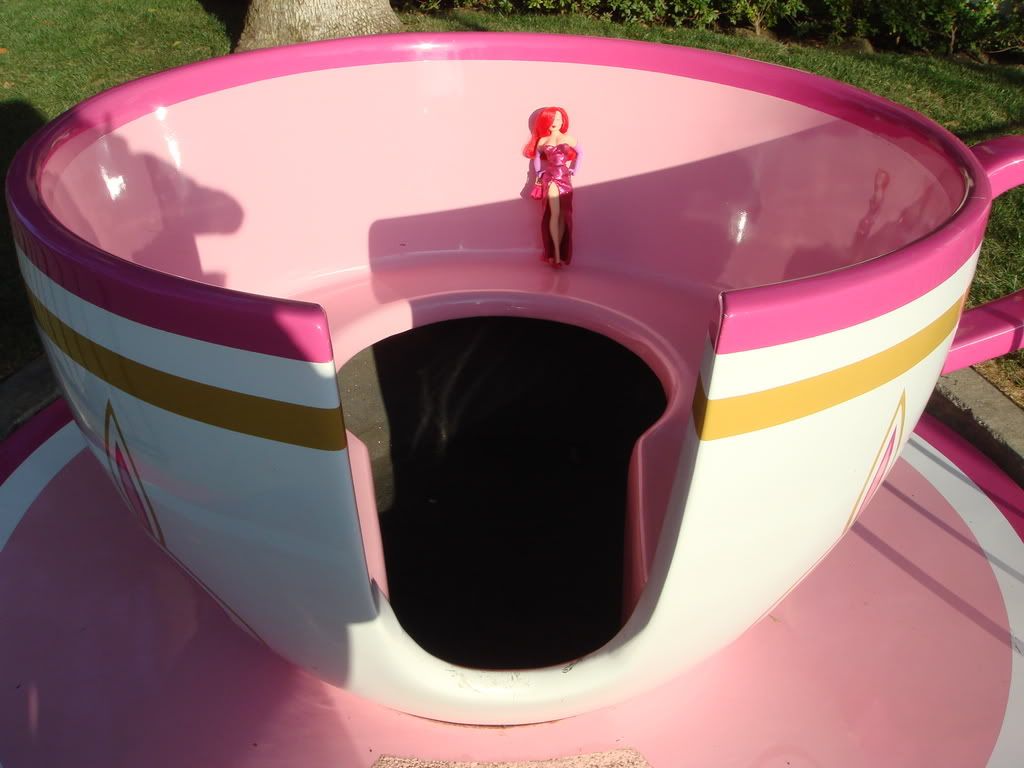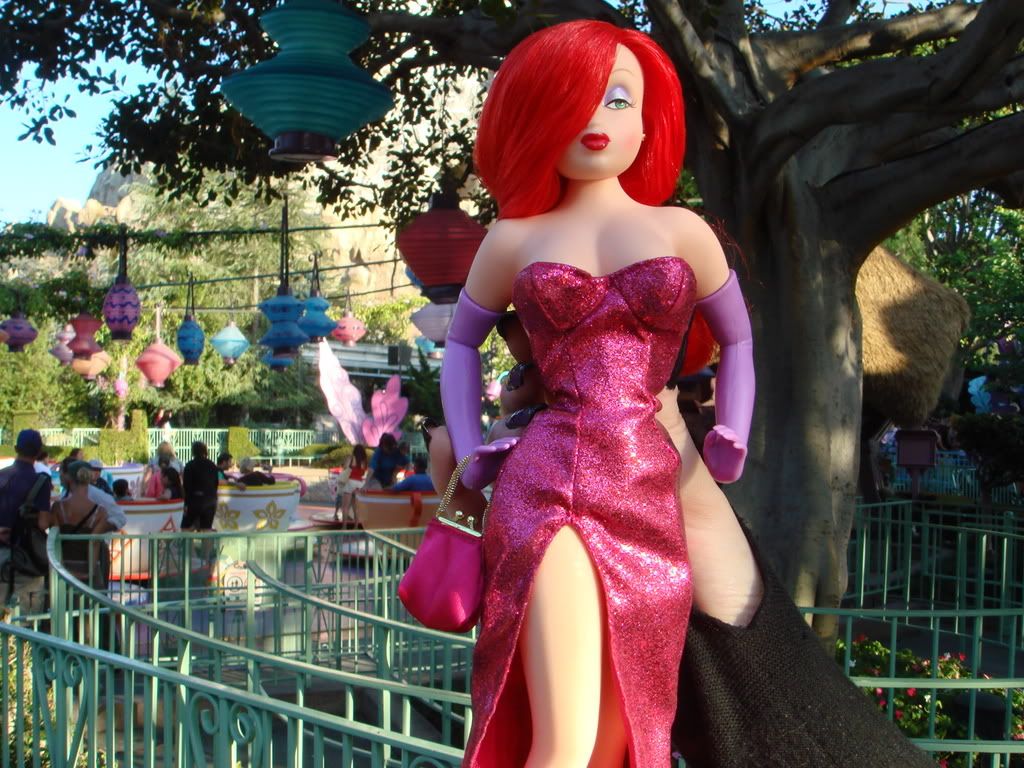 As we walked toward Toon Town, I felt my Sleez-O-Meter going off again, and we were inescapably pulled toward It's A Small World instead. Whatever was dragging us to it lay somewhere inside its showbuilding of horrors, and we would just have to face it before we could move on. On the way, we discovered it really is a small world after all, because look who we ran into while waiting in line!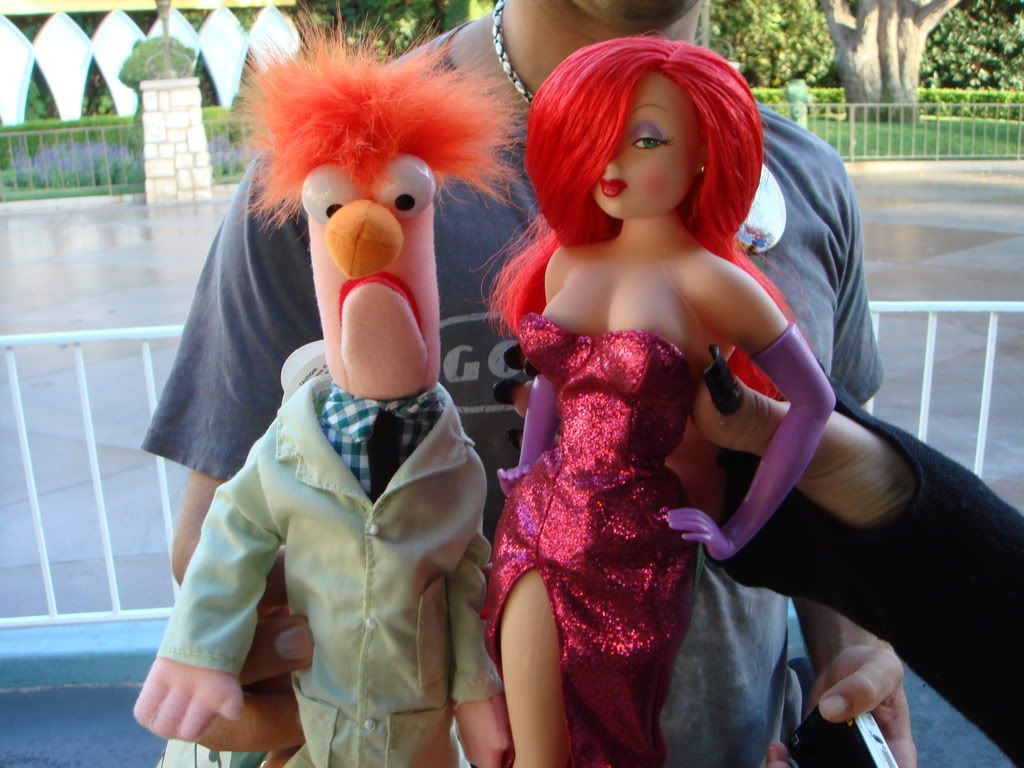 At the beginning of our journey into the darkness that lurks in the heart of Man, Jessica was attacked by a gondola-wielding monkey.
She was then forced to conquer the mighty Sea Snake.
This comically Canadian fellow thought he could impress Jessica with his rabbit-esque teeth.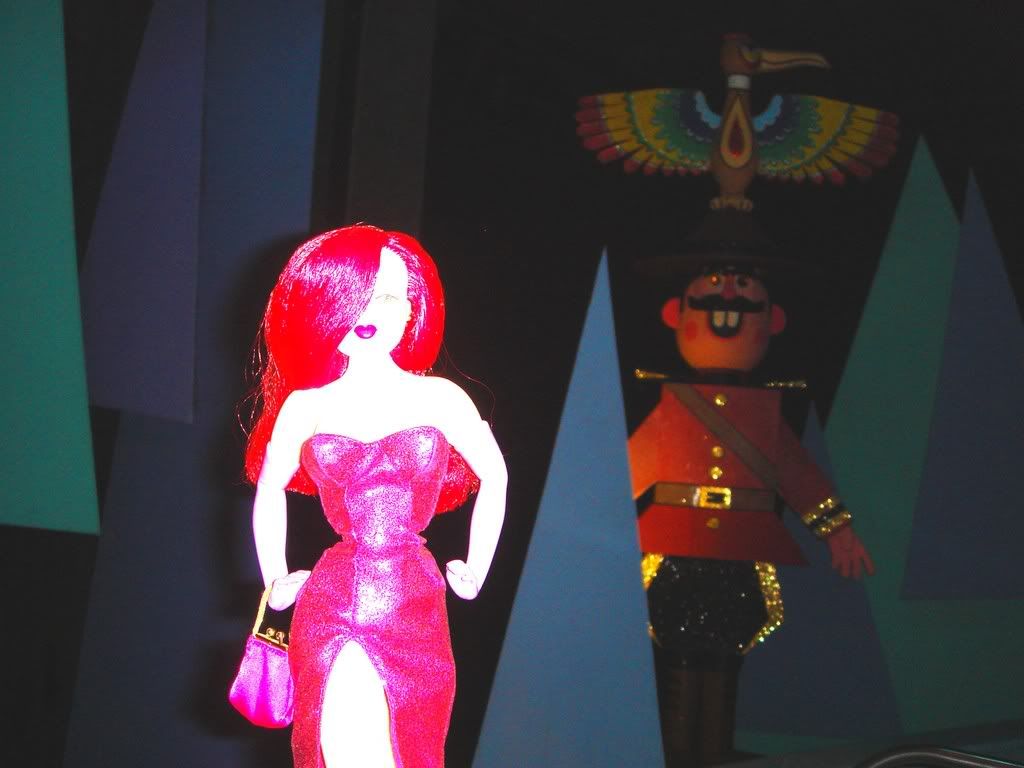 Midjourney, we encountered a troupe of wild bohemian revolutionary dancers. Could they be the source of the power that had drawn us here? In any event, they provided a fabulous background for yet another Jessica photo.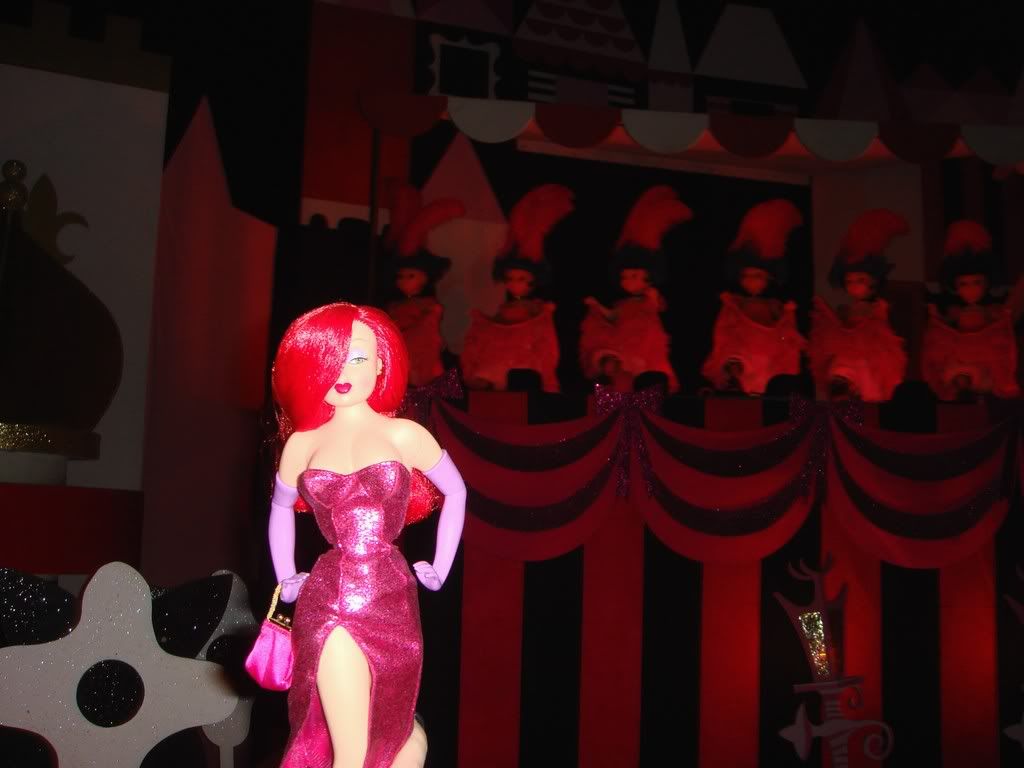 Then suddenly . . . there it was! WHY IS THAT BOY CHOKING THAT CHICKEN?!
Jessica: "And some people think I'm too r to be allowed in Disneyland."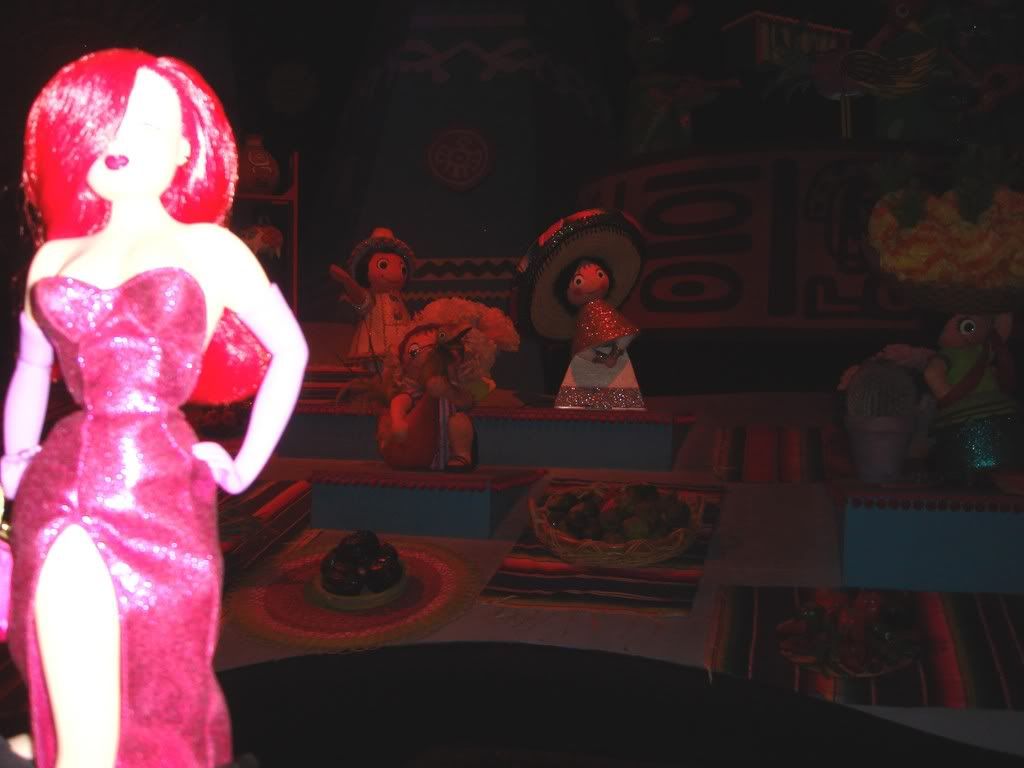 After our escape from the dark heart of Disneyland, it was time to visit what some say is the cancerous tumor hanging off the outside of its body. Jessica just calls the place home.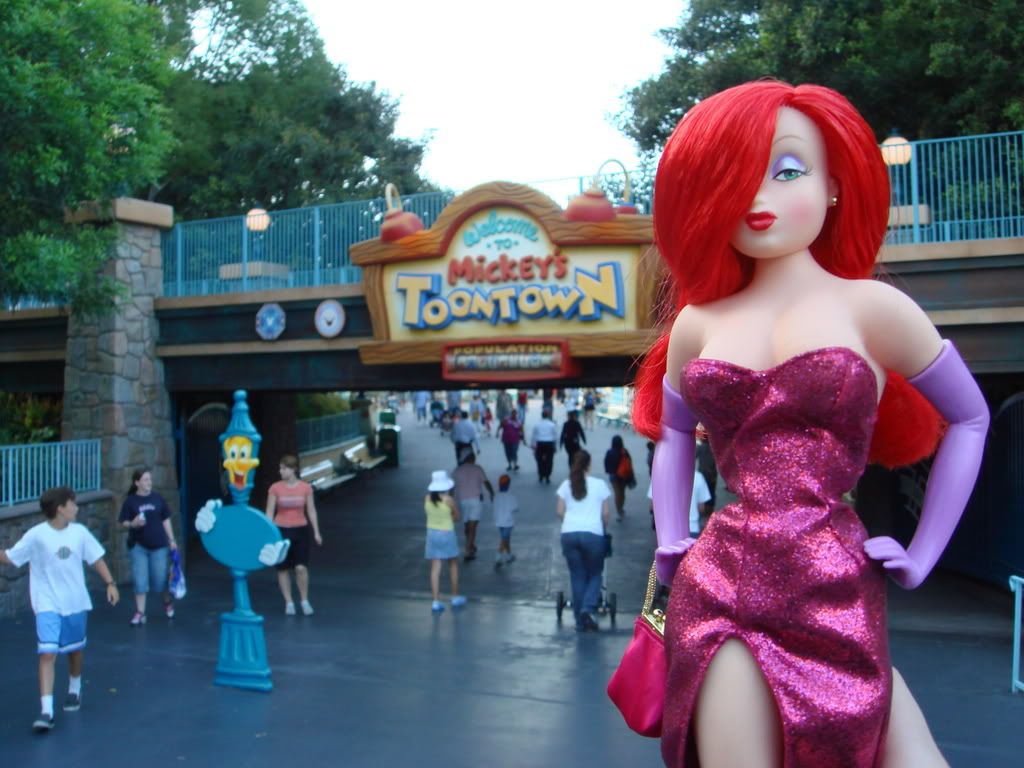 Jessica was overjoyed to be able to take a spin with her hunny-bunny.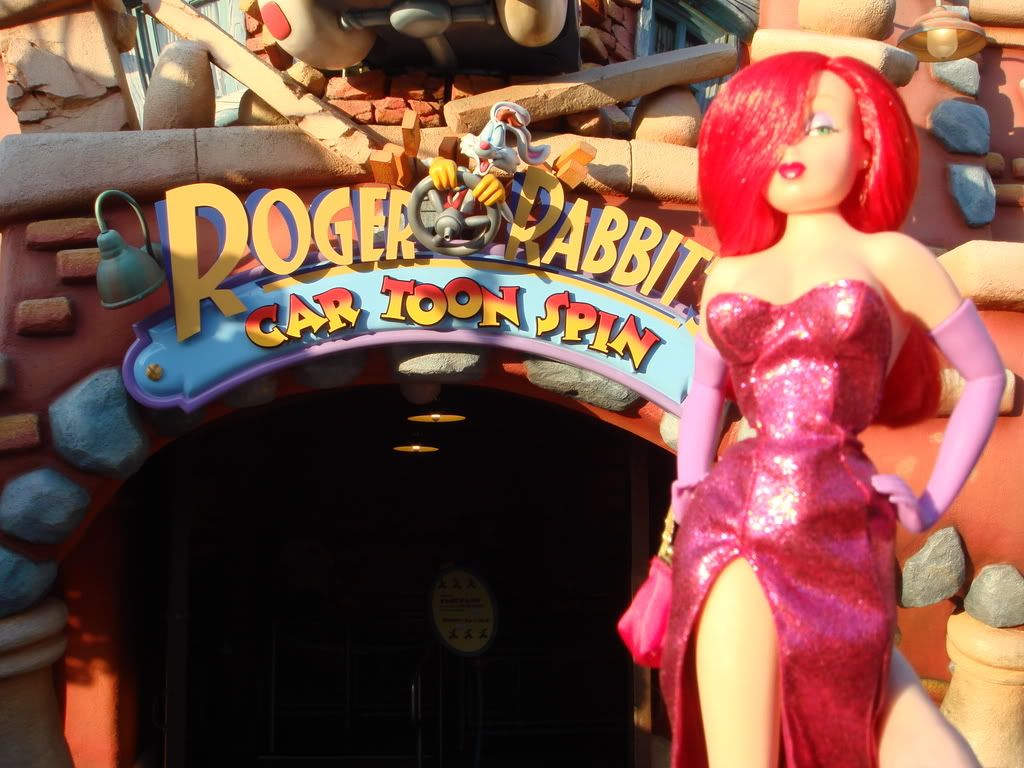 Ease up, big fella. "Walt sent me."
Who is that impostor?! How DARE someone pretend to be me?!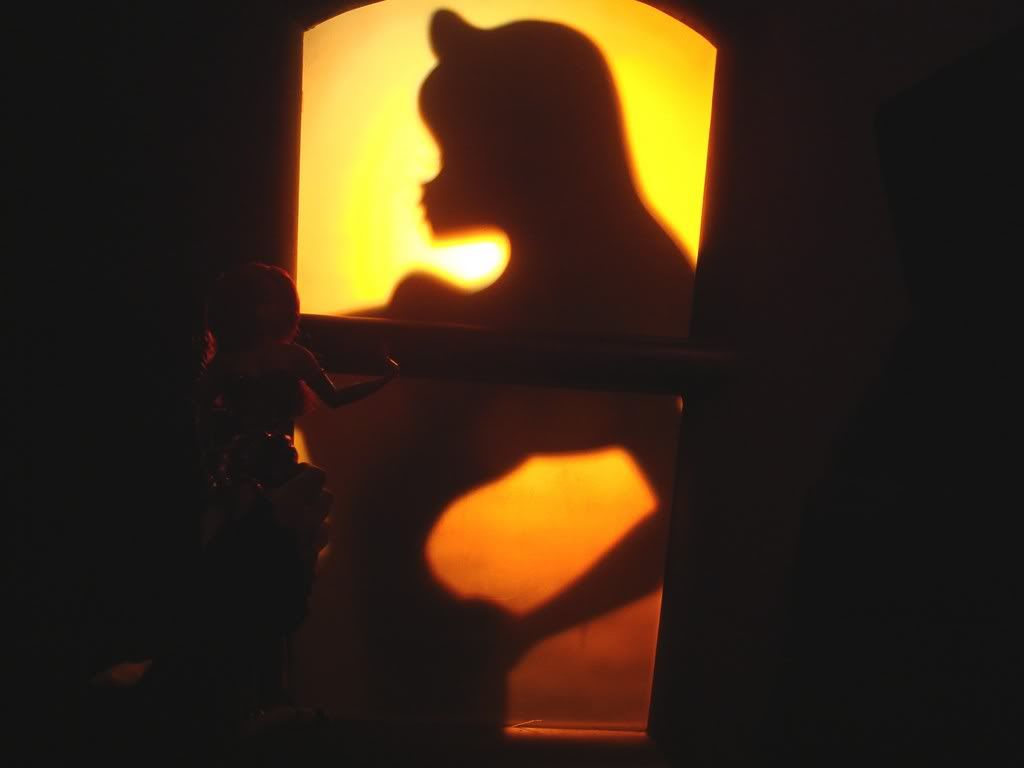 Jessica shows off her spot in the line-up at the Ink & Paint Club.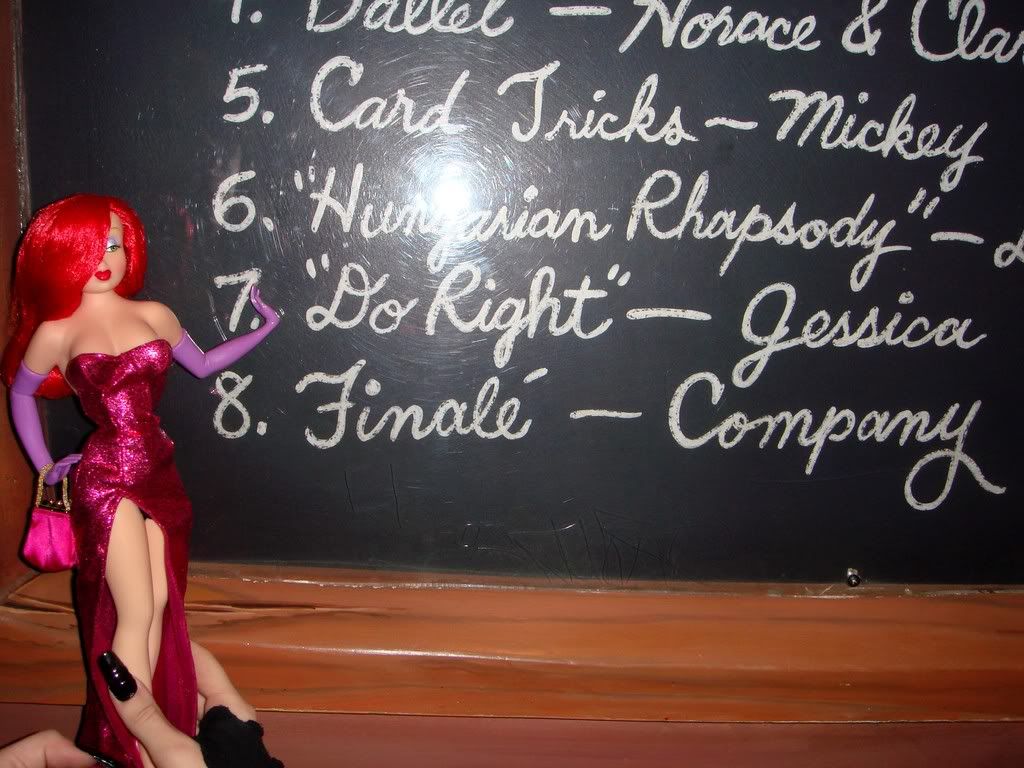 And then she goes and shows off some more.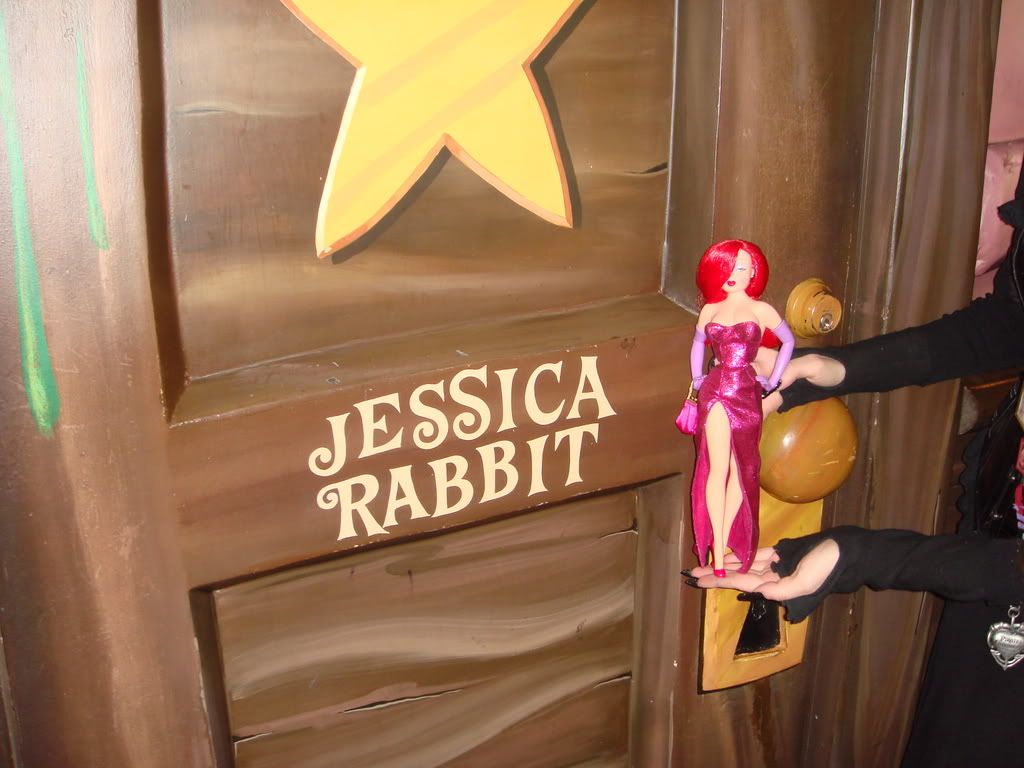 Jessica Rabbit: D
e
fying gravity since 1988.
And now we're actually on the ride! Wheeee!
Is this a boiler room or am I just feelin' a little hot?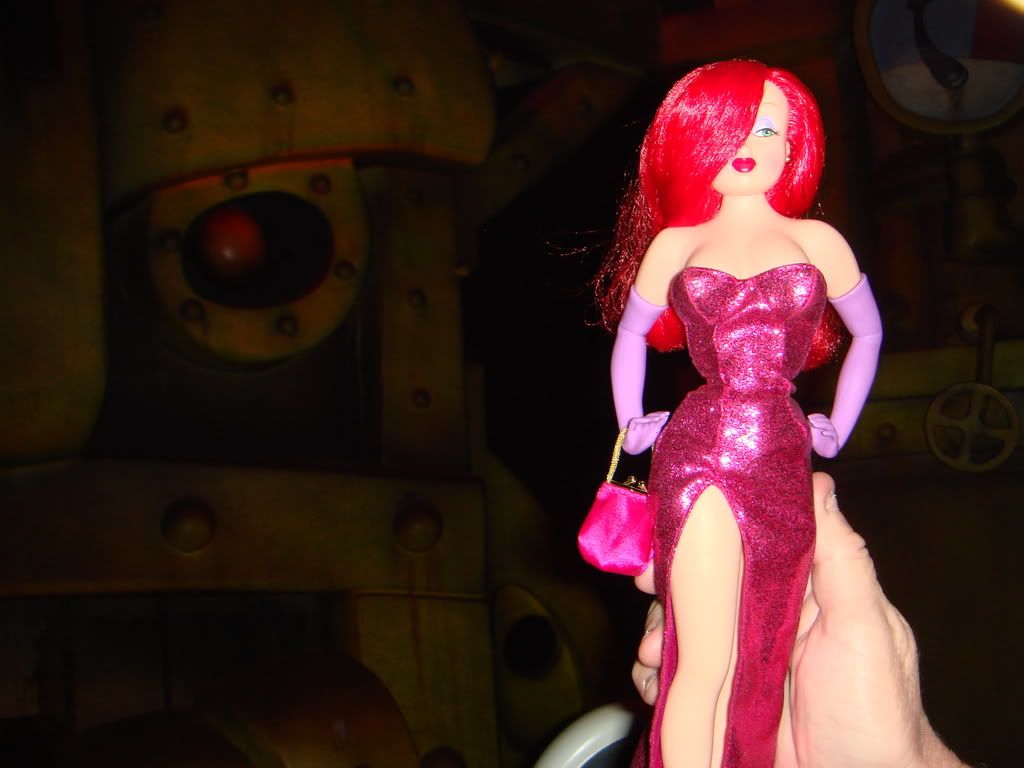 OH NO, INNUENDO OVERLOAD!!!
Systems back online!
Jessica doesn't like this new bondage look the weasels have imposed on her, and she's about to let them know how she feels about it.
Ooooohhhhhh, so
that's
where they keep the pink elephants when they're not using them in Fantasmic! Either that, or it's just that
THEY'RE EVERYWHERE!!!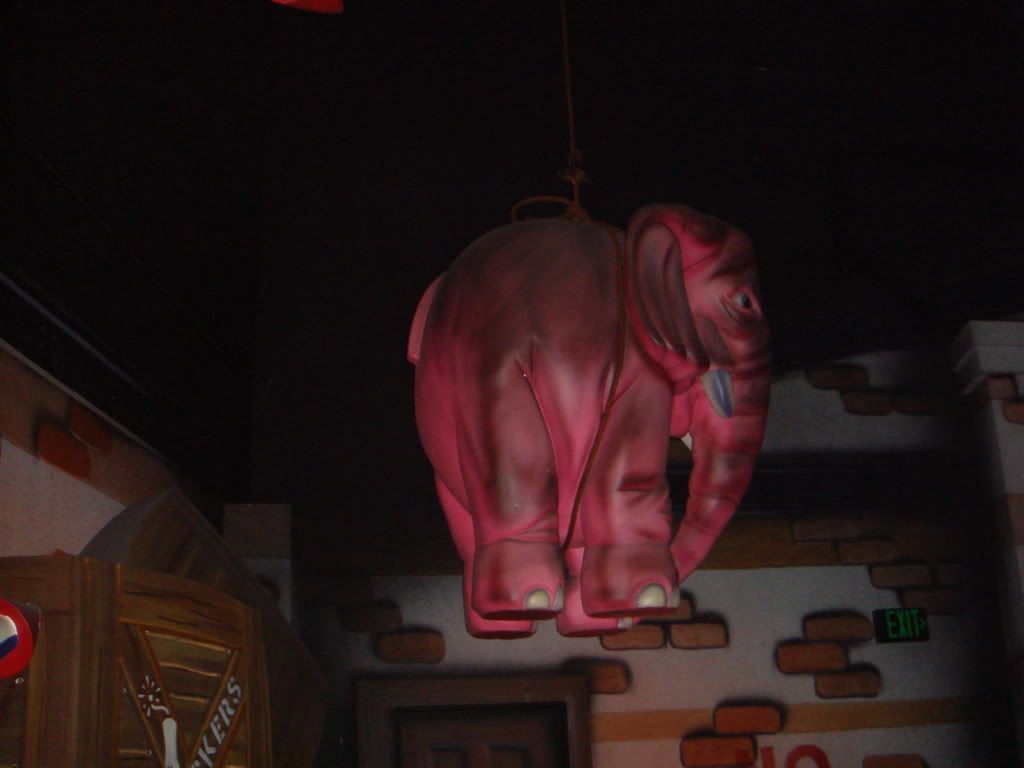 All right, that's it. We're outta here!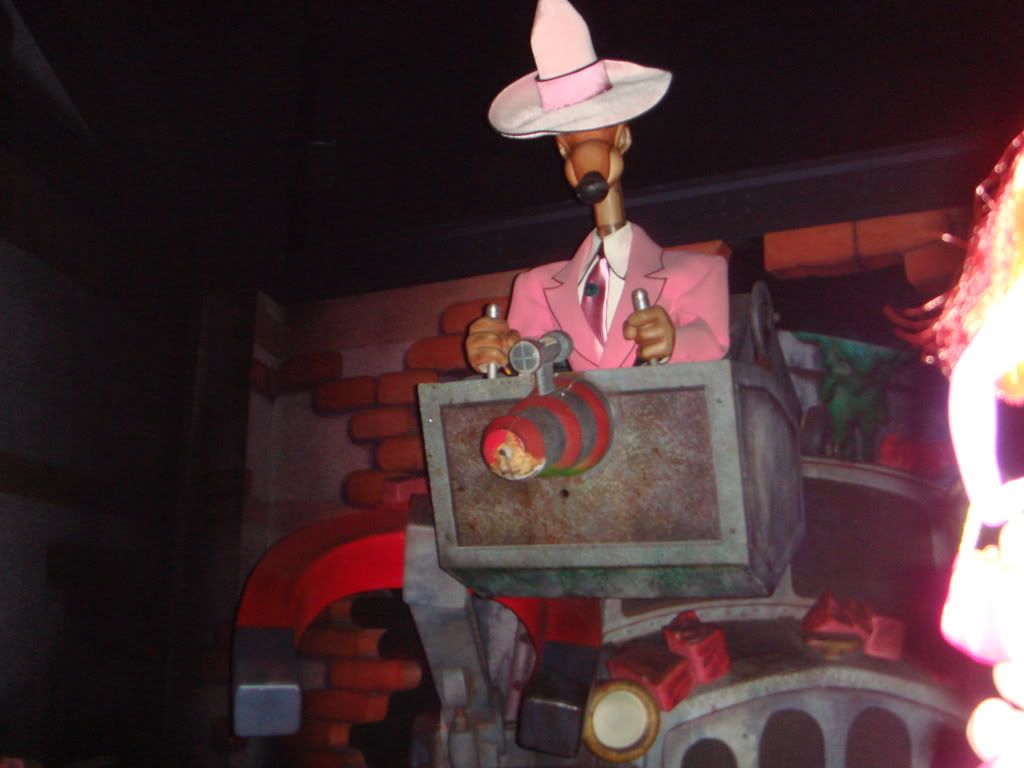 After leaving that silly pink-suited weasel behind, Jessica desired to check if she happened to be in her own apartment.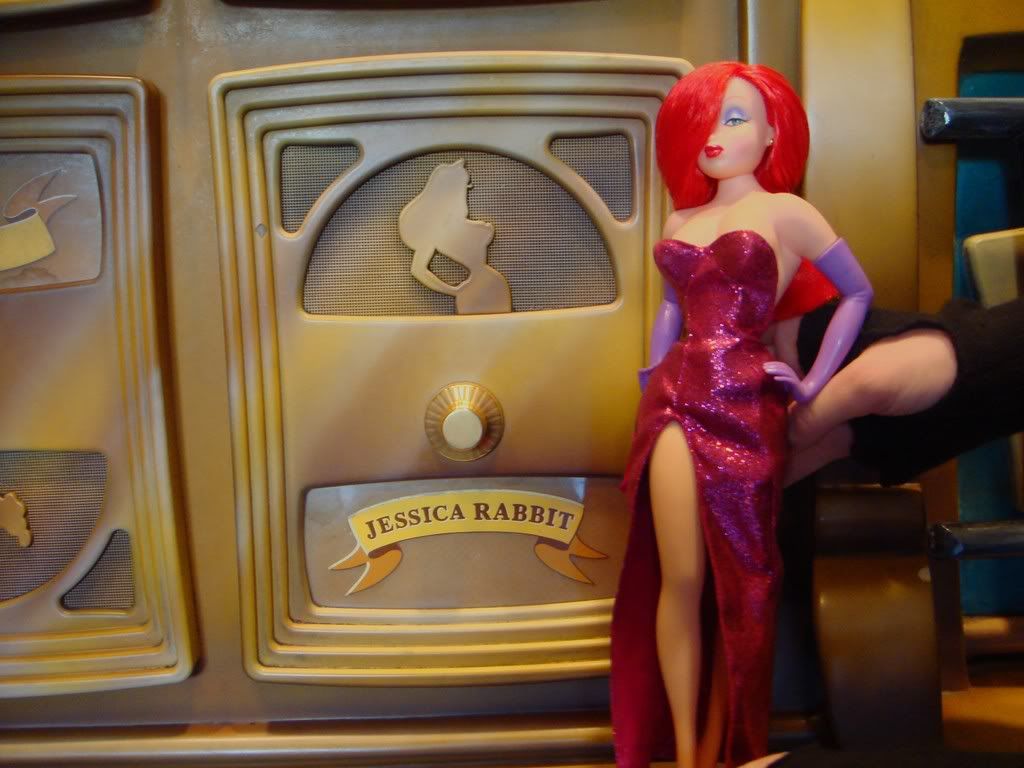 I wanted to go see Minnie's House, so that's where we all strutted fashionably to next. While there, Jessica discovered that Minnie appears to be a BIG admirer of her's.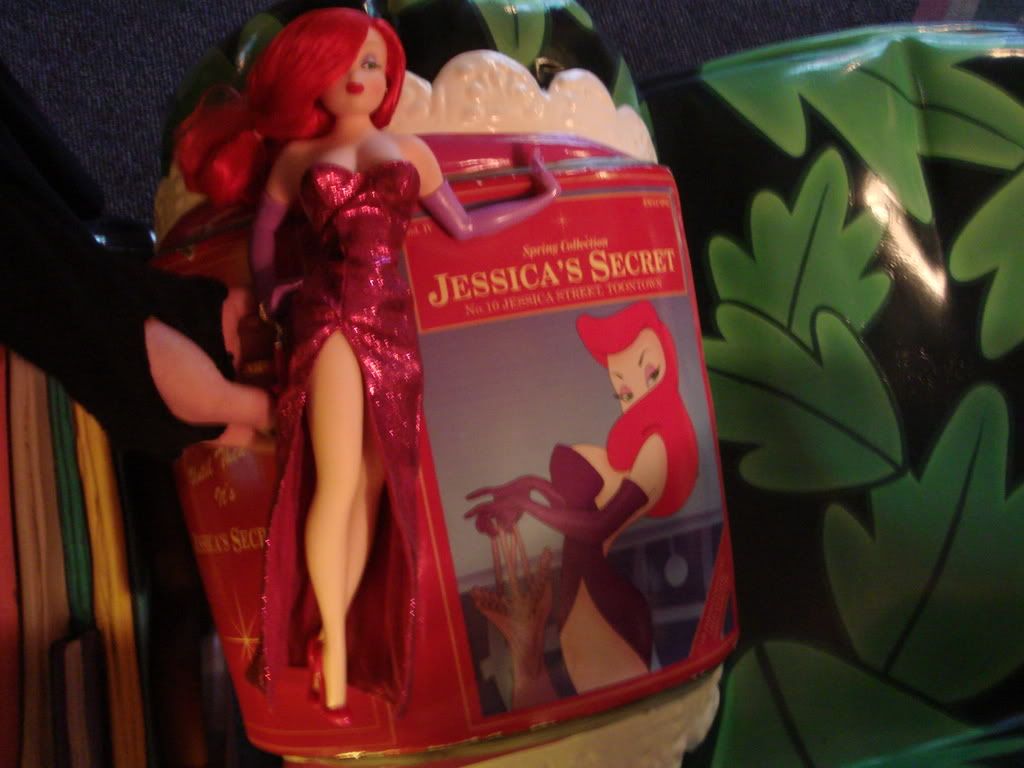 Well, since Minnie's such a big fan of mine, I'm sure she won't mind me using her bed for a few minutes. Being fabulous is just so exhausting.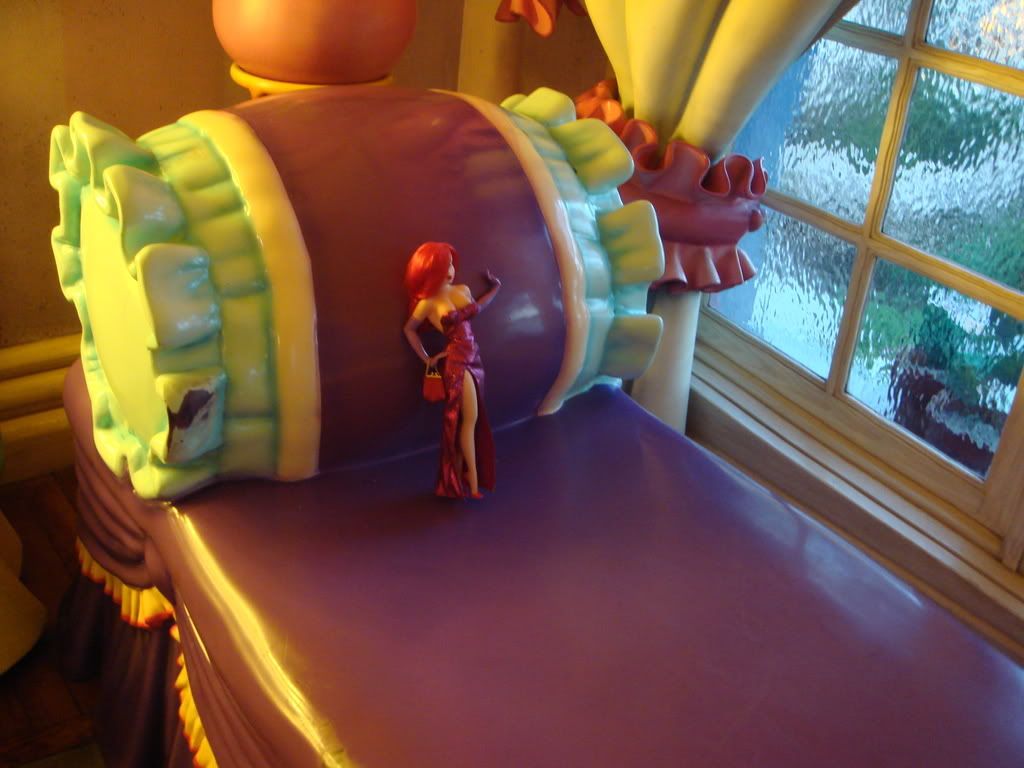 Jessica was unable to keep herself out of Minnie's cosmetics. That's what Minnie gets for leaving her house open for anyone to walk right through.
If you can't stand the heat, there's no need to get outta the kitchen. Just jump inside the refrigerator! Unfortunately for Minnie, Jessica only managed to overheat the fridge and ended up spoiling all her copious amounts of cheese.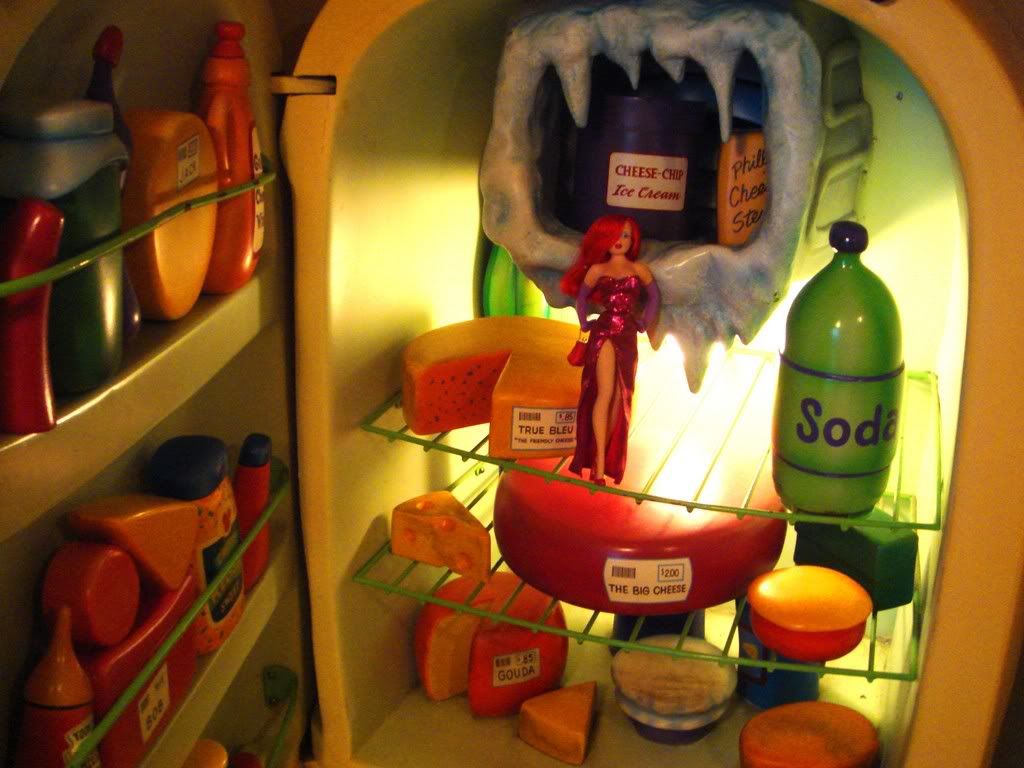 Next, Jessica and I decided to go make some sweet music at Mickey's place.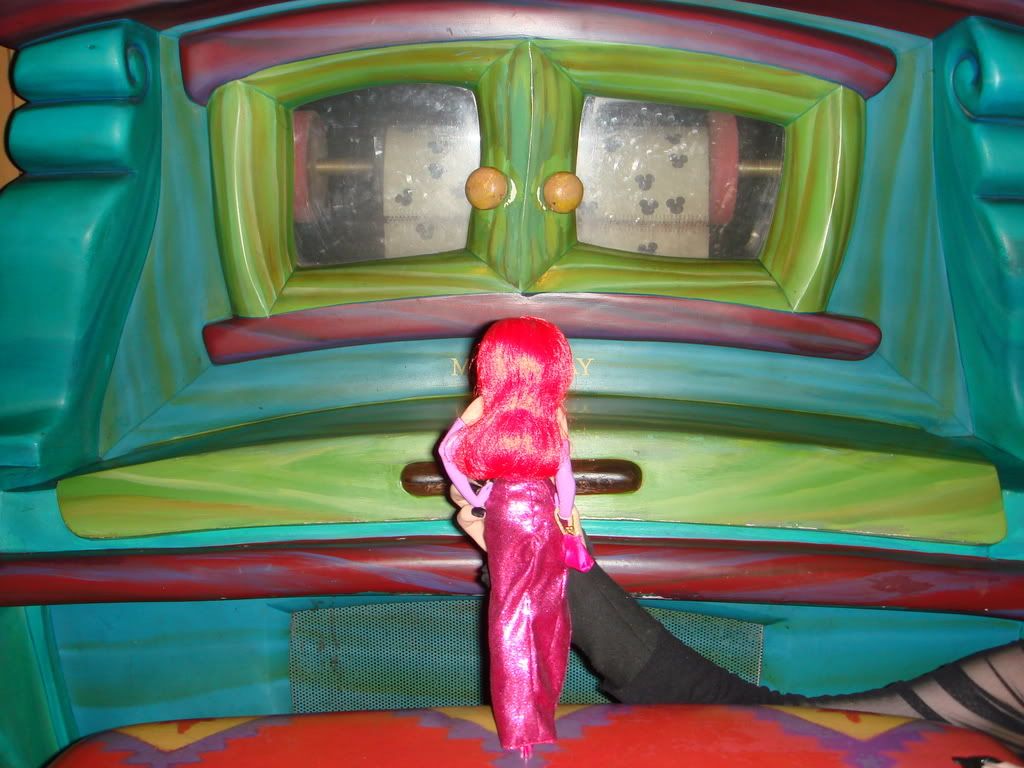 Oh goody, this'll make an excellent booby trap!
Mirror, mirror,
In the barn
Who in the land
Can resist my charm?
Okay, you know what, just tell me I'm the hottest and I'll leave already.
Jessica's desire to make sweet music is insatiable.
Move over, Jessica! I wanna try!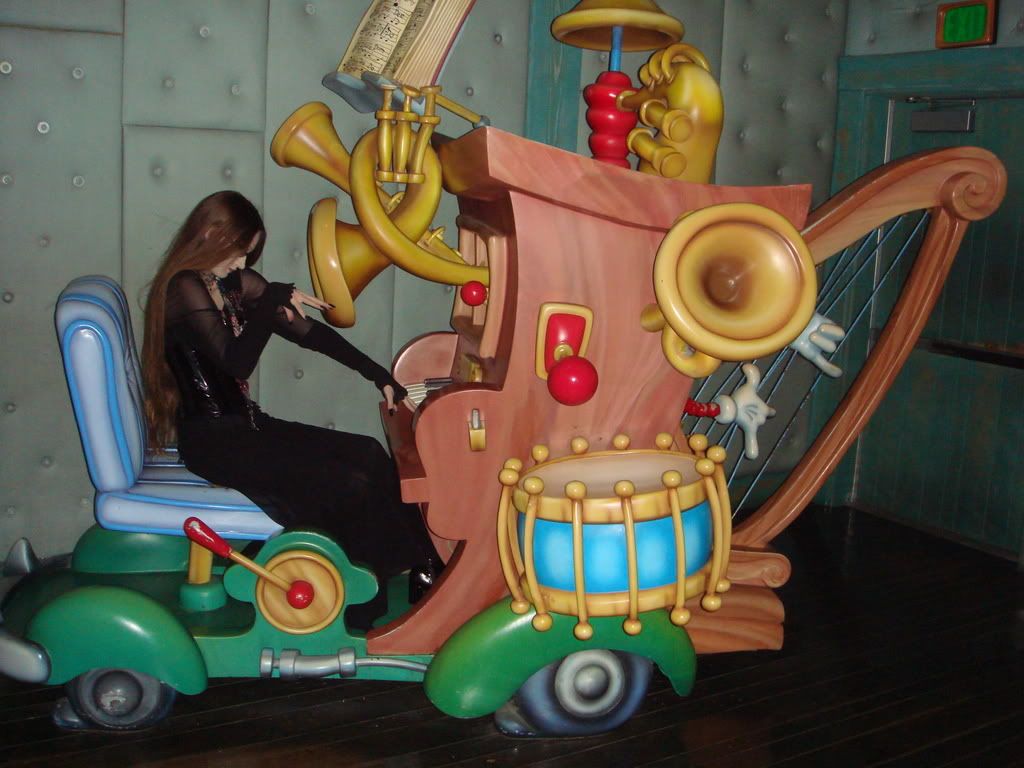 And since it was her first trip and all, Jessica simply HAD to meet Mickey.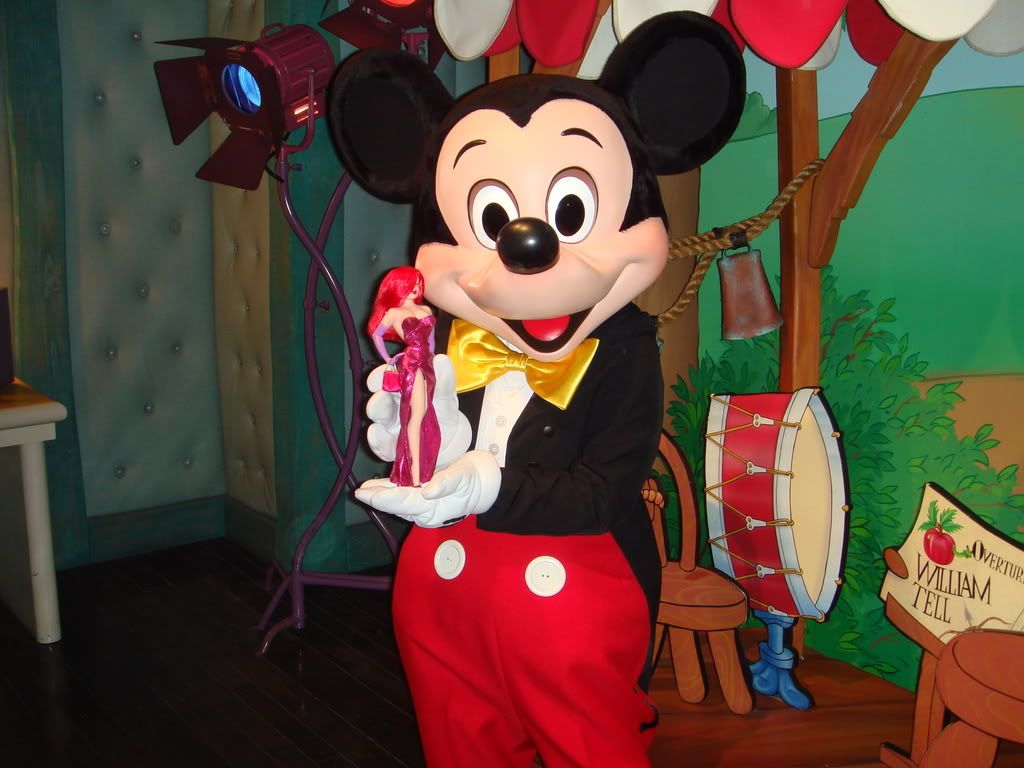 Hey, let's all go say hi to my great auntie Scarlet!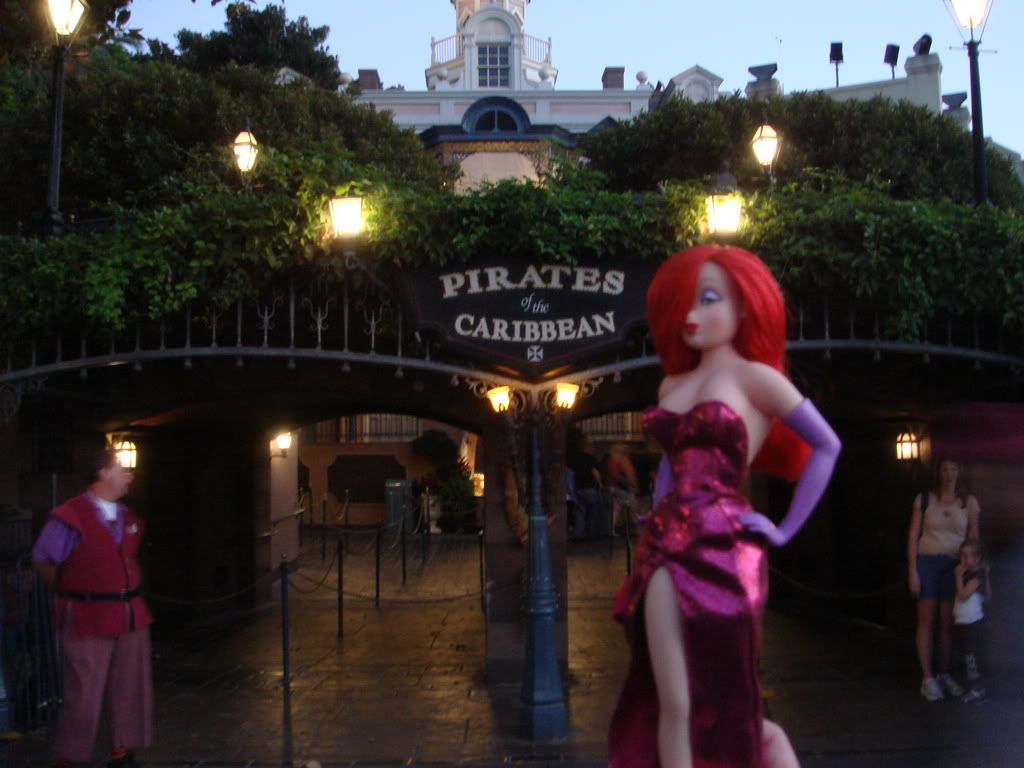 That's it, bring out the melted butter and the tongs.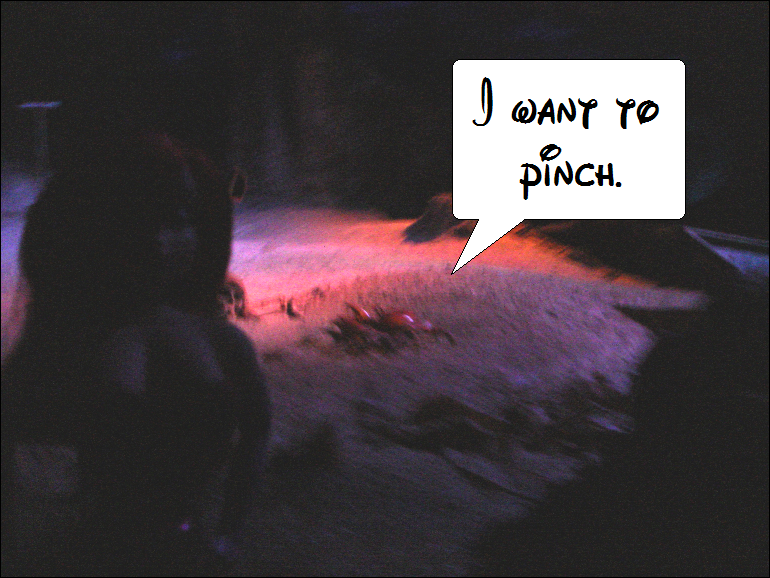 Ooooohhhhhh, so that's Auntie Scarlet.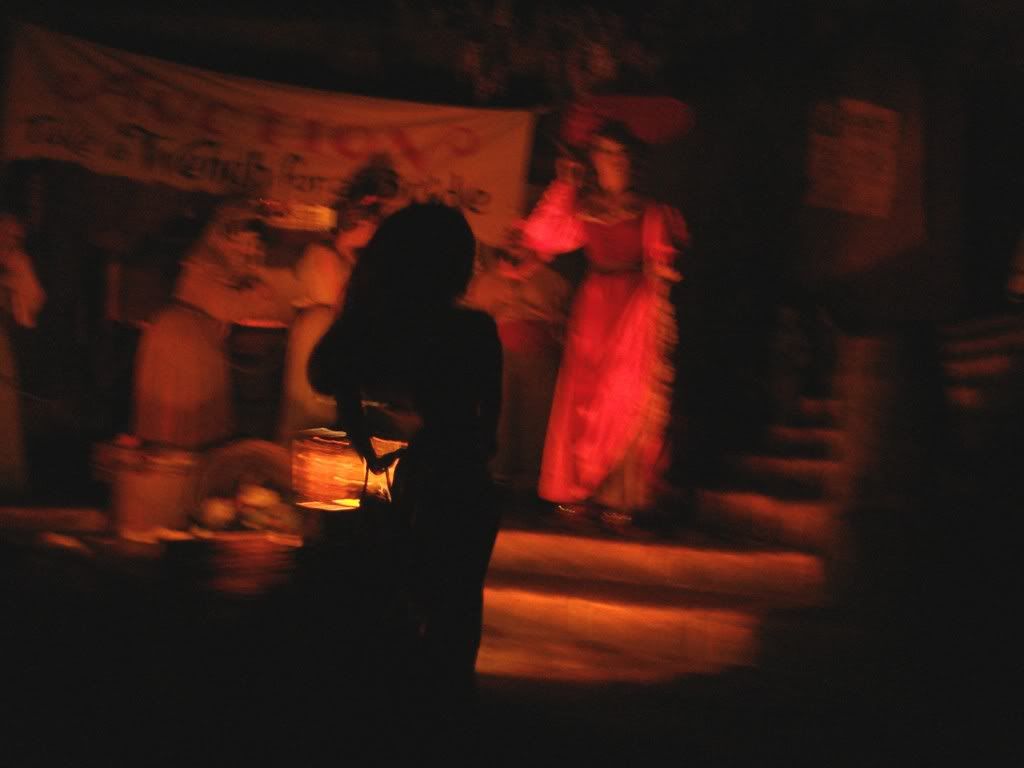 They're not bad . . . they're just painted on the wall that way.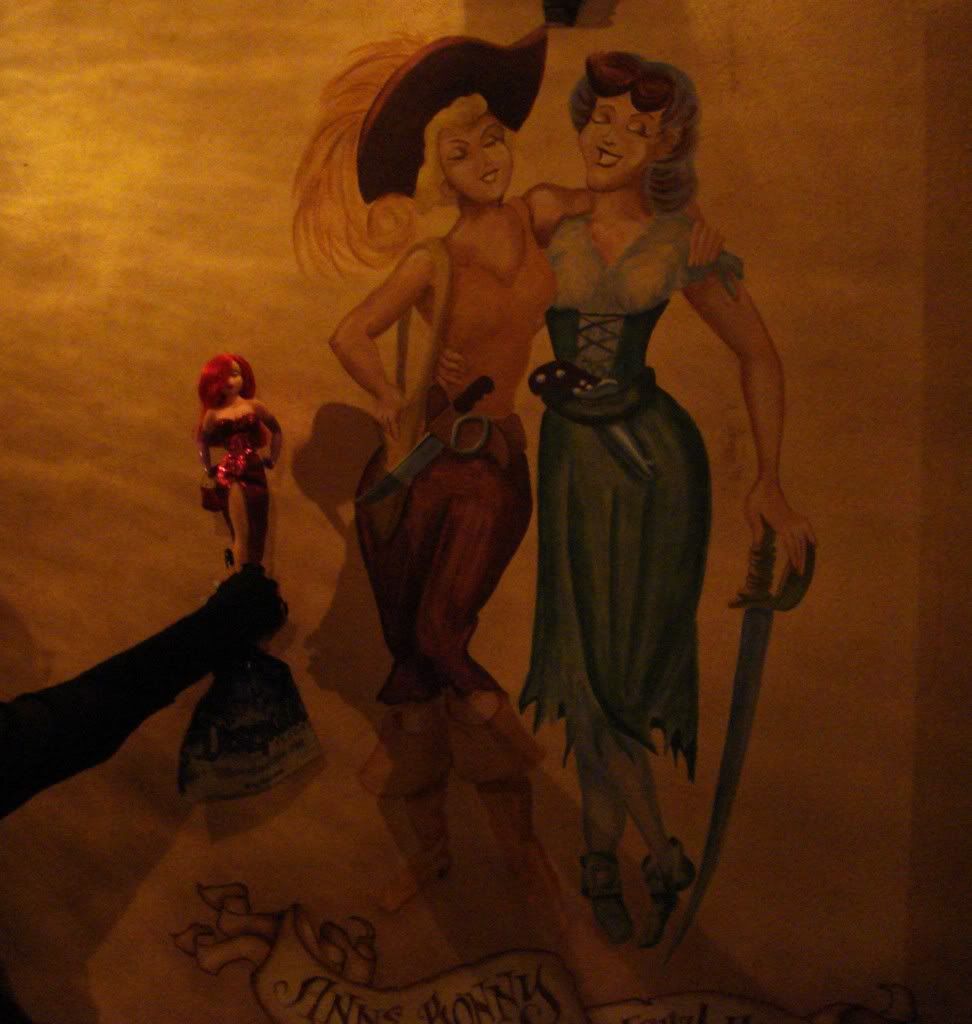 WHAT?!?! THAT'S IT, WE'RE GOING HOME.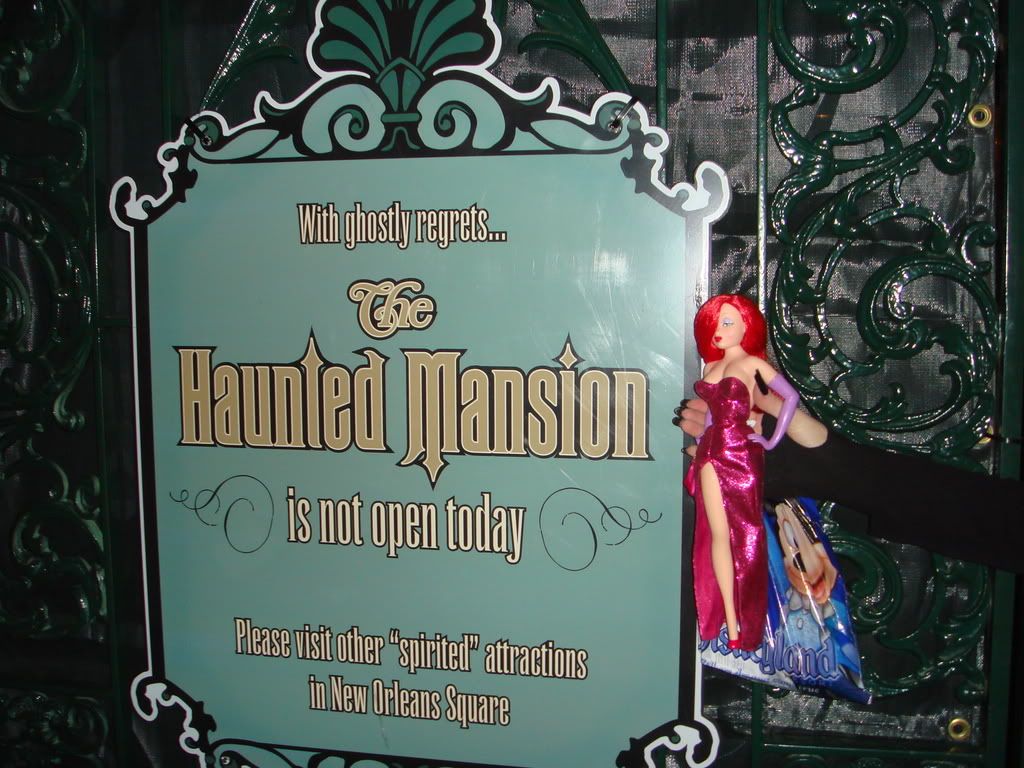 On our way home in a huff, Jessica spotted yet another demonstration of how fabulous she is.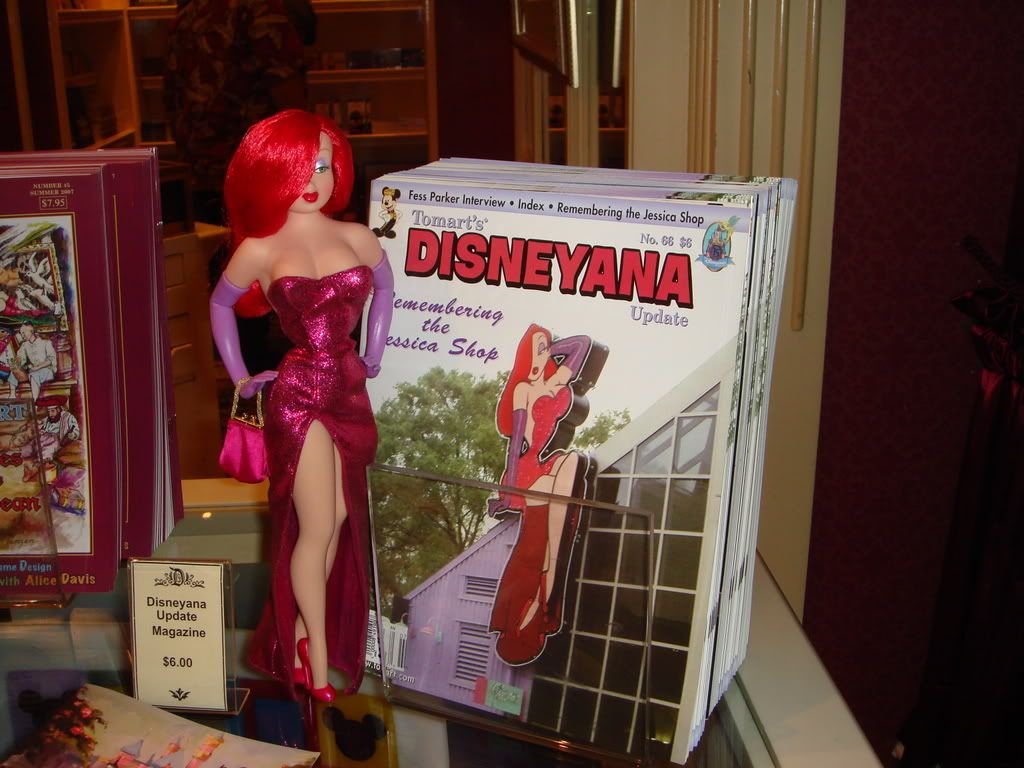 In the Disneyana store, Jessica checks out her own merchandise.
Hey mister, she's my sister.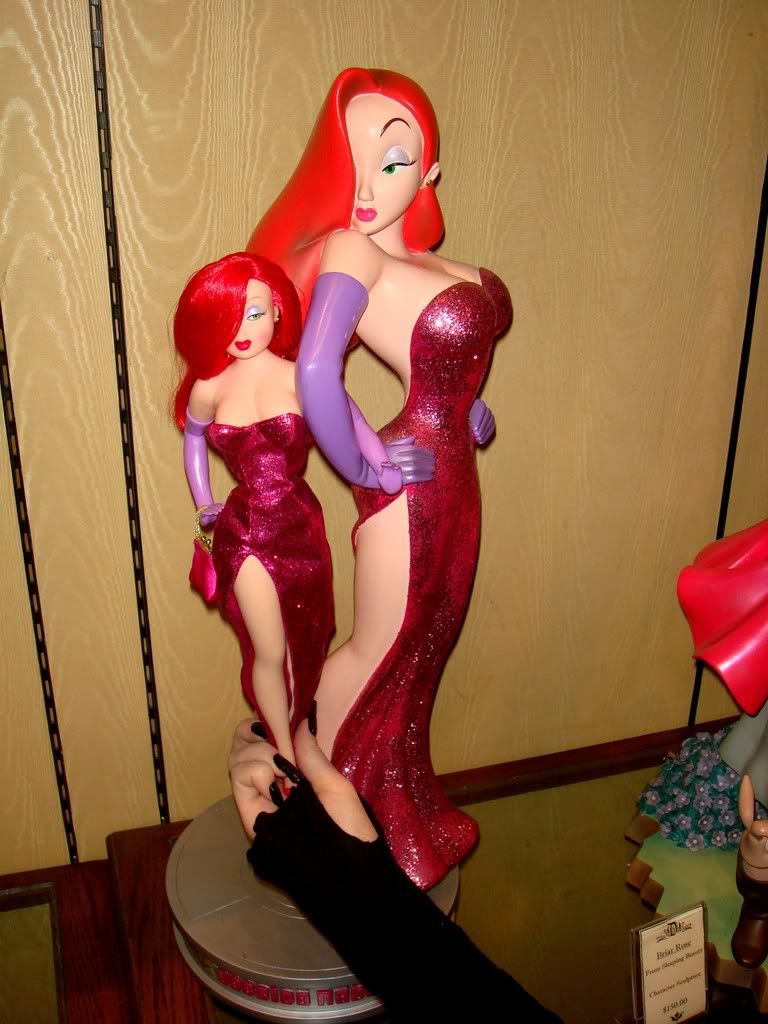 And that, my dears, is . . .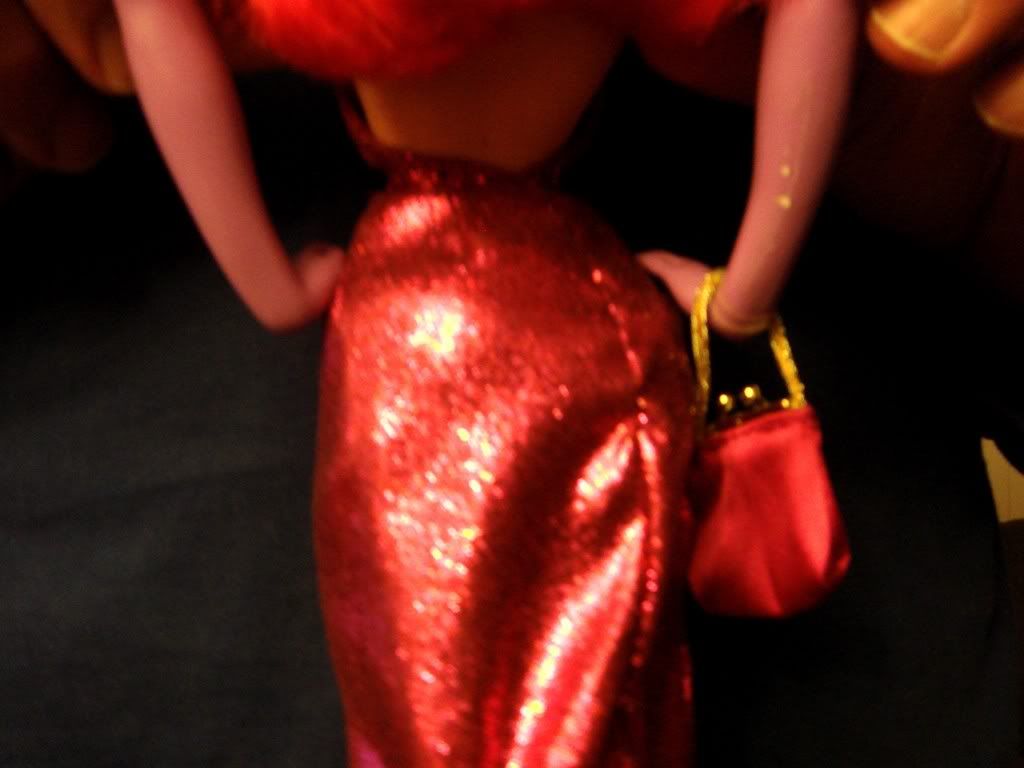 The Happy Ending!
We interrupt the happy ending of this trip report to bring you another deluge of nonsense.
You poor simple fools! Thinking you could go to Disneyland without me! ME! The Mistress of All Evil!
. . .
Dude, where are my clothes?
Special thanks go to my Mad Madame Momba for being our camera-lady! Love you, Momba!!! :love: :squeeze:
And to anyone who might have seen two insane women running around Disneyland with a Jessica Rabbit doll, now you know what it all was for.