Last month I attended an amazing
NFFC event
in Oakhurst California. It is a yearly event that benefits local charities and scholorships.
There were 8 Disney guests in attendance, Imagineering Ambassador Marty Sklar; Disney Legend Bob Gurr, designer of the Disney monorail, Autopia cars, Matterhorn bobsled, Main Street fire truck and other Disney attractions; Disney Historian Michael Broggie; Virginia Davis, first actress hired by Walt Disney and a star in "The Alice Comedies" of the 1920s; Ron Dias, Disney artist and illustrator; Jim Elliott, Walt Disney Imagineer production designer; Maggie Elliott, senior vice president of Walt Disney Imagineering; and Margaret Kerry, original model for Tinker Bell.
I went stag since Tigerlily was hosting my daughters wedding shower that night. I arrived for the dinner around 15 minutes early. I have found that getting there early assures that you not only get a good seat, but that you can get some stuff signed before the event get's going.
I walked in and saw Bob Gurr immediately, just getting ready to break out his nightly martini, which incidently, he does no matter where he is in the world.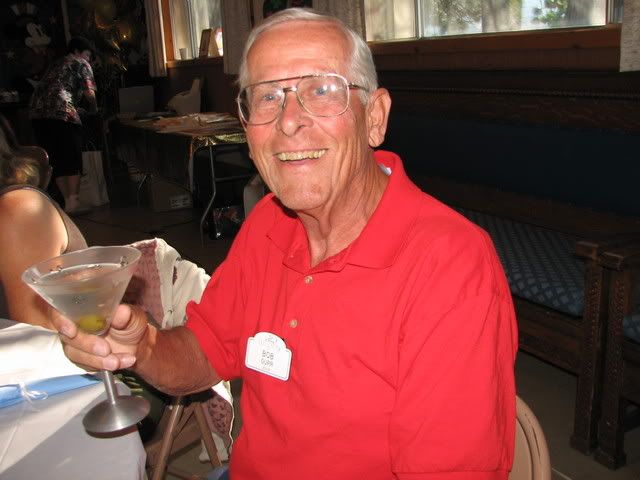 Will somebody please give this guy a Window on Main Street?
As Bob describes it, a martini is the dividing line between the work day and everything that follows it.
He was sitting at a table with David Oneal, the owner of
Extinct Attractions
, a club that sells DVD's of Disneyland thru the years.
I then noticed Marty Sklar walking near us, and asked him if he would mind taking a picture and signing a couple of things. He was very gracious and said that would be great.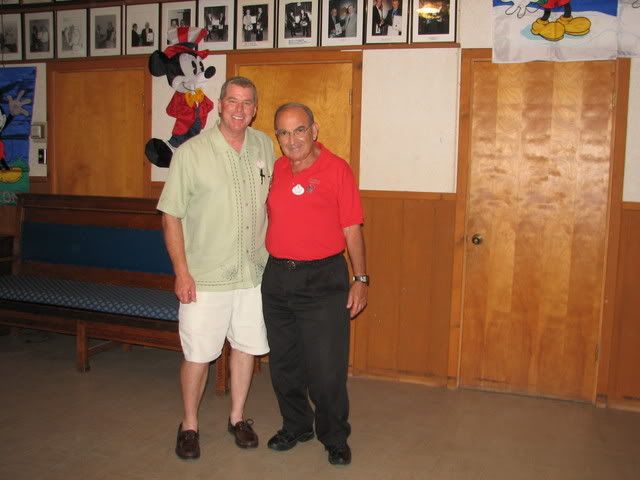 I asked Marty if he worked on the Carousel of Progress attraction, and he replied that he helped write the script. So I pulled out a lithograph set of the CoP that had already been signed by Bob Gurr, Sam McKim, Colin Cambell, John Hench, Harriet Burns, Richard Sherman and Blaine Gibson, and asked if he would please autograph the 4 Lithos of the 4 different scenes in CoP.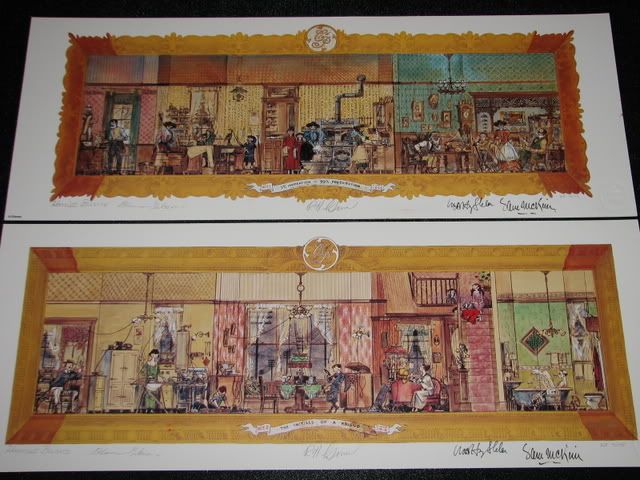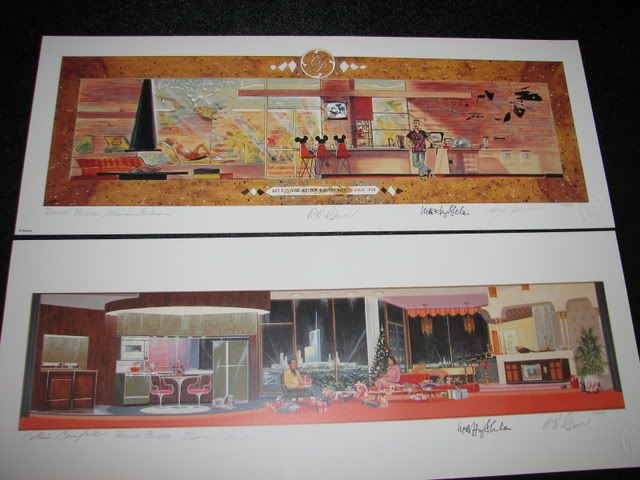 He then signed my first edition copy of the Disneyland news. Putting together this newspaper was Marty's first job as a Disney employee in 1955.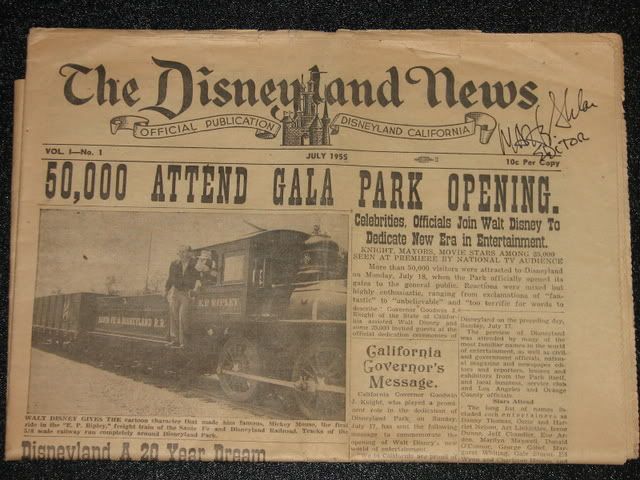 After that, I got my stuff and took it out to the car. I wanted to enjoy the rest of my evening without worrying about autographs.
When I returned, I was having a conversation with Bob Gurr when the dinner announcement came. I quickly realized that in my haste to get things signed, I forgot to get a seat.
I started looking around the room and realized that most of the seats were already taken. I mumbled something about not seeing an available seat and Mr. Bob Gurr suggested that David Oneal scoot over one seat and make room
for me!
Elated, you say? Yeah that would be a word for it!!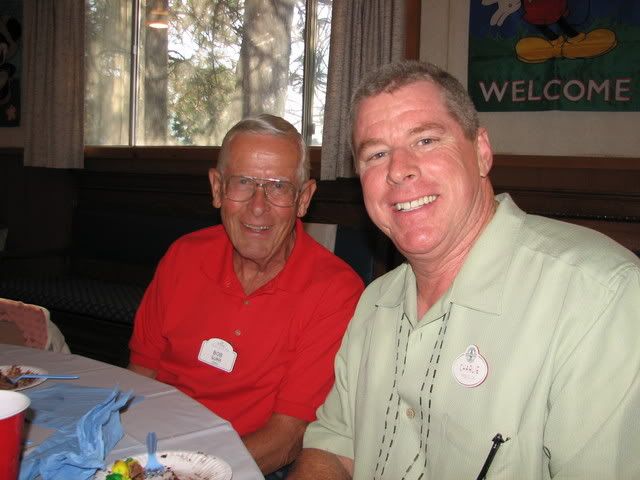 I was singing, literally,"I get to sit next to Bob Gurr, I get to sit next to Bob Gurr..." at which point he turned to me and said," Only if you don't
gush
, I won't have any gushing!" I immediately calmed down. I had no idea that he was such a humble guy! I guess you learn something new every day.
We were joined by some of Davids friends and a nice family from a small community in the Central Valley who showed up on a whim after reading about the event in the local rag, and whose daughter wanted to be a Disney artist when she grew up.
We enjoyed a great dinner of barbecued tri-tip and chicken, potato salad, corn-on-the-cob, green salad and some killer desserts.
Then the show started.
Bob Gurr was one of the first folks to speak along with Michael Broggie. They talked of how Michael, as son of Disney Legend Roger Broggie, was the "test pilot" for the first Autopia cars on the Disney studio backlot.
This is where Bob Gurr
reprimands
Michael Broggie for wrecking his Autopia cars during the test drives.
This was quickly followed by bringing all of the Disney guests up to the front for a photo op.
We were reminded that with 80 guests in attendance, that the guest/disney guest ratio was 10 to 1, which is amazing considering how many people attend other shows, especially in SoCal.
Then, Marty Sklar came up for his talk about his time with working with Walt Disney, Disneylands construction, and his long career at Walt Disney Imagineering.
He then showed a series of 3 videos that he helped make for Disney.
Please forgive the shaky nature of these videos. I had no idea that they would be showing these videos, otherwise I would have brought a tripod. Also, the sound is slightly off from the video, which makes watching them kind of like watching an old Godzilla movie.
The first one was about Walt Disney Imagineering (WDI). This video was produced to help people who are unfamiliar with The Walt Disney Company understand what WDI does.
The second video addresses the attention to detail that WDI gives to it's projects. This video was produced so that the people at Hong Kong Disneyland could get a better grasp of the "Disney Difference".
The last video, which was just recently done, is for Disney's new hires. It helps them to understand the rich history of the organization that they have just joined.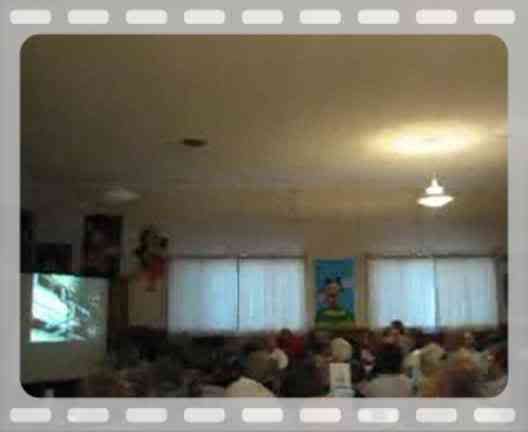 While all this was going on, all of the artistic types at my table began to doodle on the plastic tablecloth.
Bob Gurr began drawing a monorail...
..as David Oneal drew his own version of Disney characters...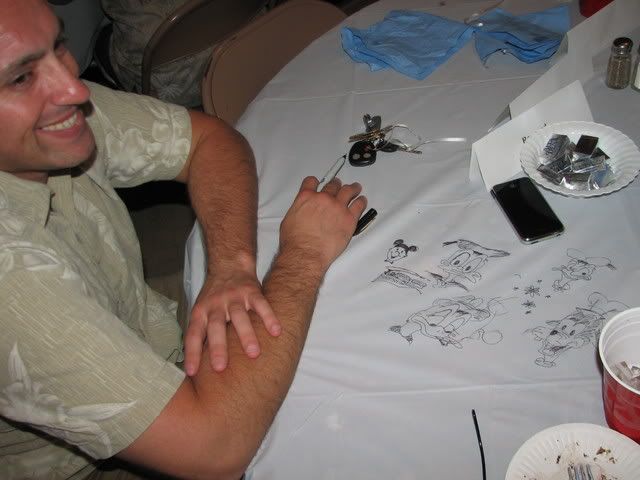 After finishing his Monorail, Bob then began drawing Buck Rogers spaceship, which was Bob's inspiration for the Monorail ...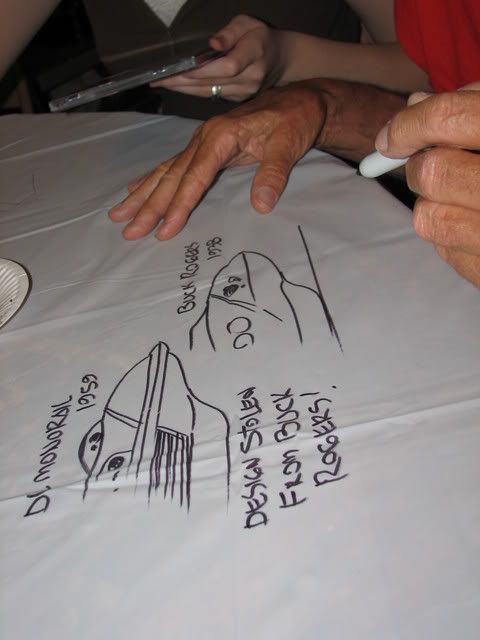 After Marty Sklar's presentation, they opened the floor for questions. As this was being done, Bob Gurr took the tablecloth off the table and took it to the NFFC chapter president who promptly declared an impromptu auction for original Bob Gurr artwork!
Okay... good thing I brought some cash.
The bidding started at $25 and as soon the bid went up I raised my hand to raise the bid again. Eventually I was asked if I was willing to pay
$100
for the tablecloth, to which I replied, "DUH!!"...
Okay, I didn't say duh, but I did say yes, and I got my tablecloth for $100.
I then asked Bob if he would sign it...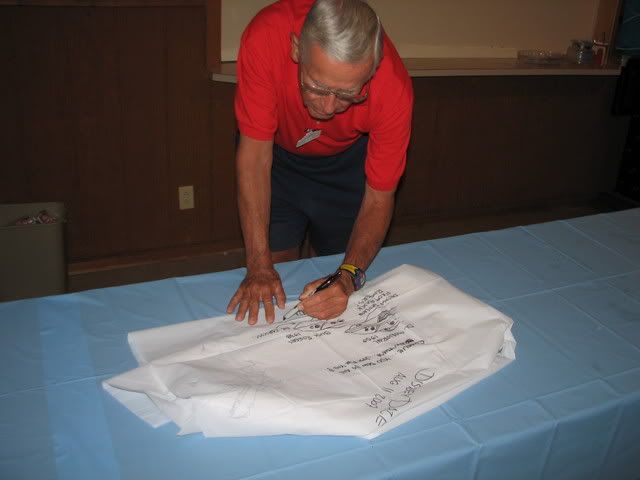 Later I purchased a new book that features Marty Sklar...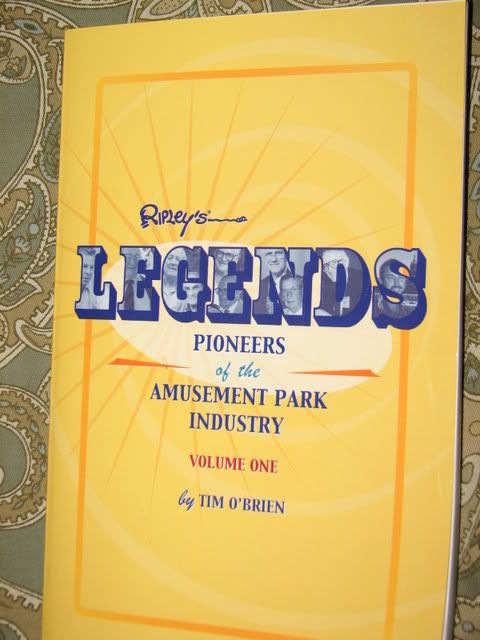 Which he signed...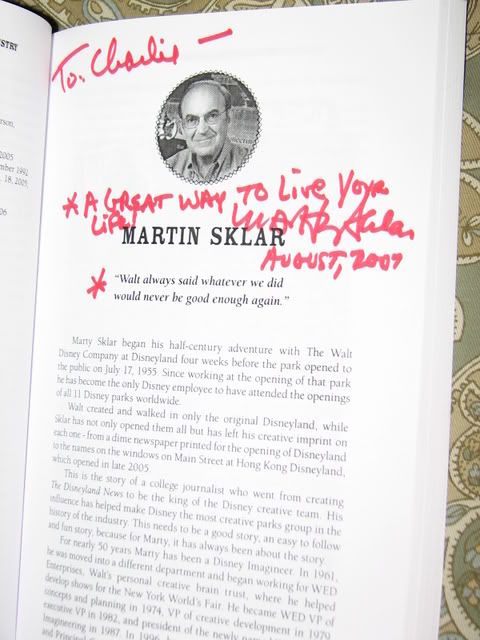 All in all, it was a most magical evening in Oakhurst California.