Since there were so many cool people having birthdays this weekend, and to get the memory of the super hot Labor Day weekend trip to DL out of our head, quiltmaker and I decided to take Adam to DLR this past weekend. We were especially excited because we figured that Adam would be tall enough to ride the Matterhorn and the Go-Coaster (the "fast" rides with the shortest height requirements).
We pulled into the parking structure around 8:35 and got a good spot in the Pinocchio section. We were wondering what time the park opened but by the time we waited for a tram, trammed, exited the tram, and made our way to the giant entry line the park was open so it didn't matter.
We headed straight to the Matterhorn to see if Adam was tall enough to ride. This has been our first event ritual for about 3 months now. Happily Adam was tall enough so we got into the line and didn't have to wait very long. We waved hi to the ClinkerBelles who were 3-4 cars ahead of us and strapped in.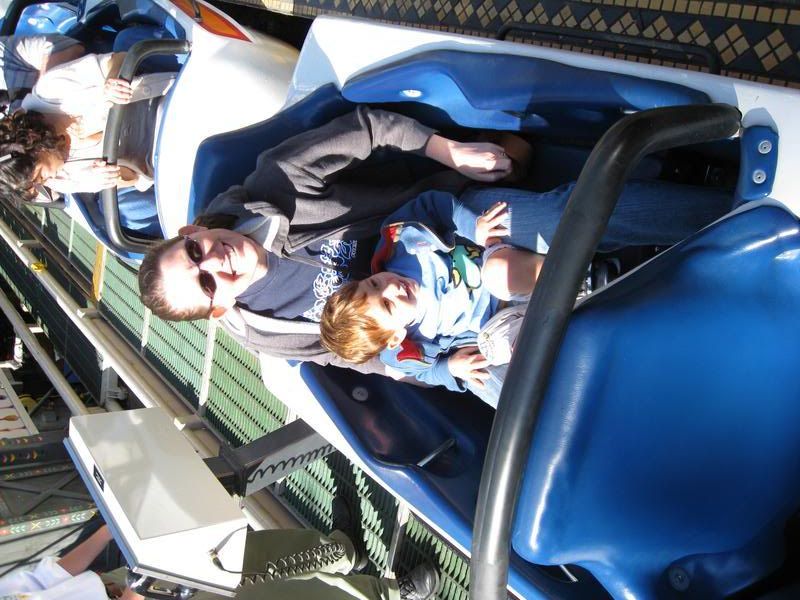 We weren't expecting any problems with Adam on the ride. He's only 2 1/2 but he's been a DL veteran since he was 10 days old. And we were right, no problems at all.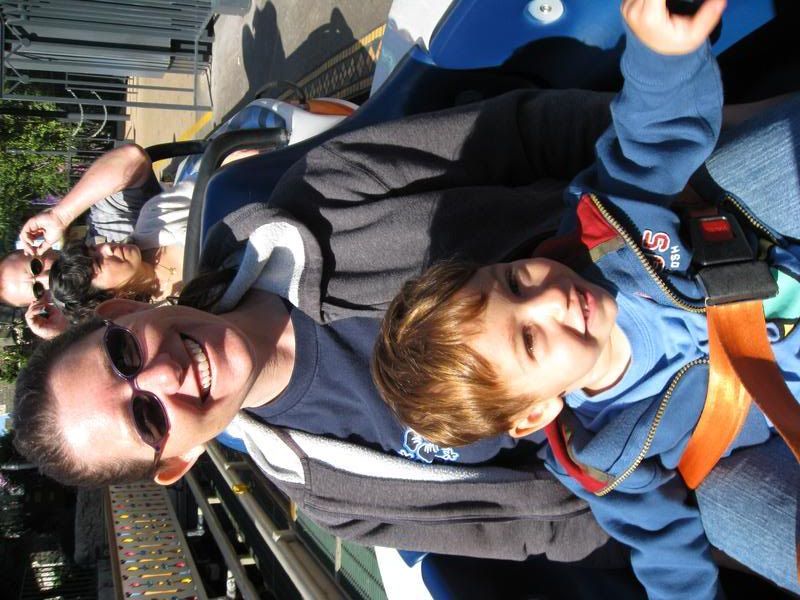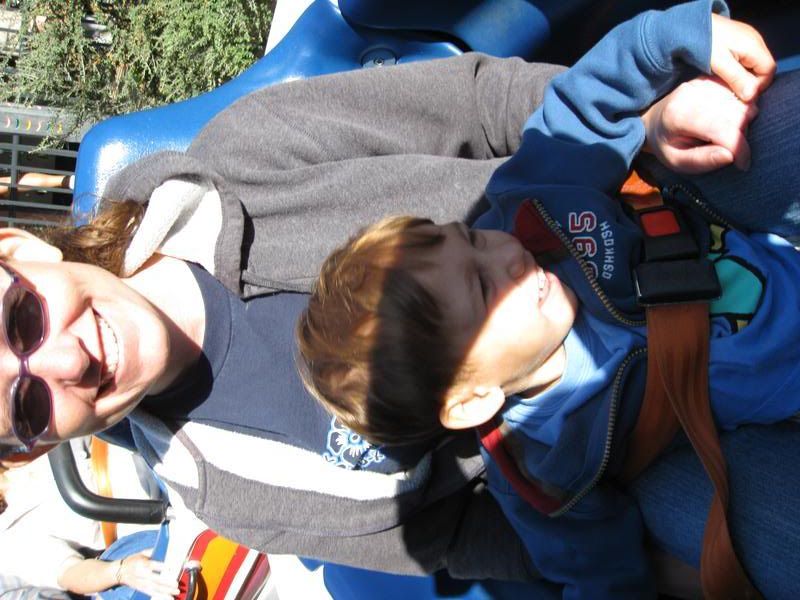 He just seemed a little diappointed when it was over.
After this we wandered over to TomorrowLand and went on Autopia then Buzz.
(Didn't feel like standing in line for the picture)
Then Adam and I went on the Astro Orbiter.
After the AO, we walked to ToonTown to get Adam on the Go-Coaster. Adam and Michelle are in the last car. (I was trying out the burst shot mode on the new camera for the last 4 pictures.)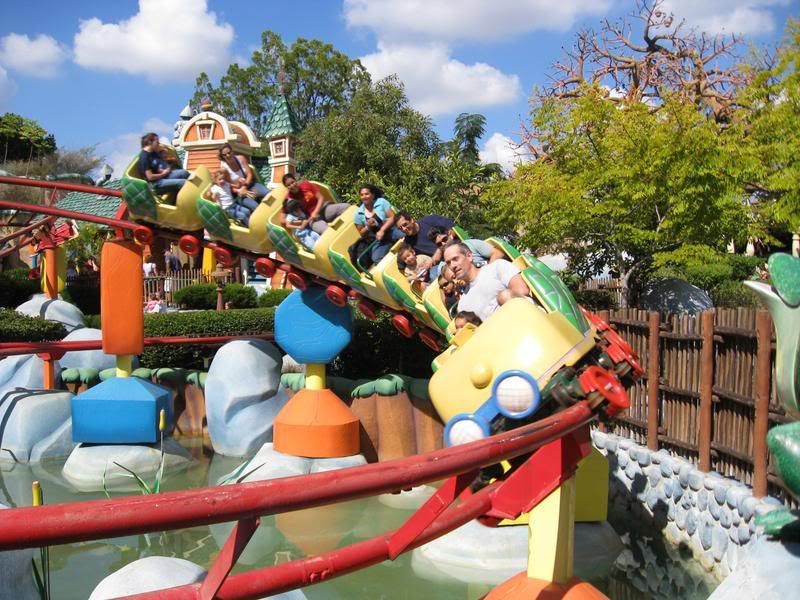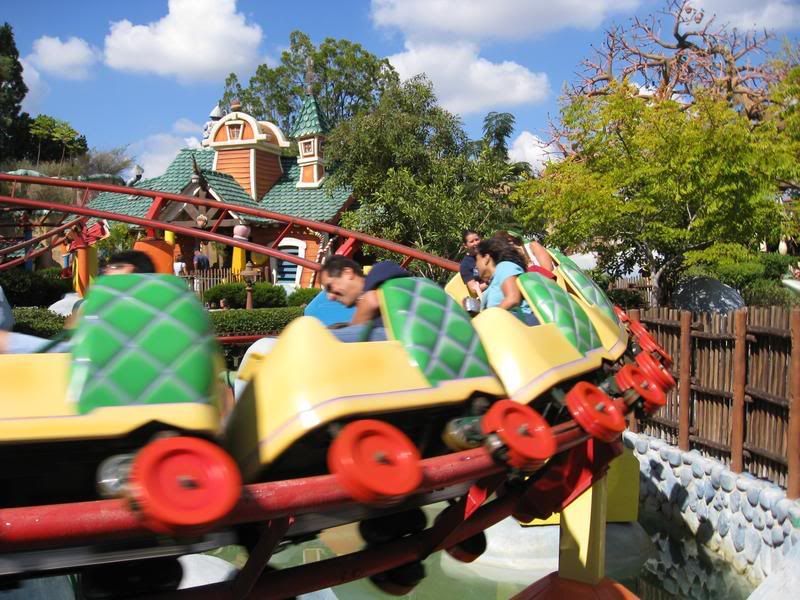 We went on Roger Rabbit then decided to take the train to NOS to ride Pirates and maybe Jungle Cruise. We had a
very special conducter
for our trip on the train.
The only thing in NOS we had time for was Pirates. By the time we got out of the ride it was time to hoof it over to the hub for the meet.
Sam, Wolfy, the backside of TikiRoomLiz, CoheteBoy, Mousercise, Aashee, Villains Fan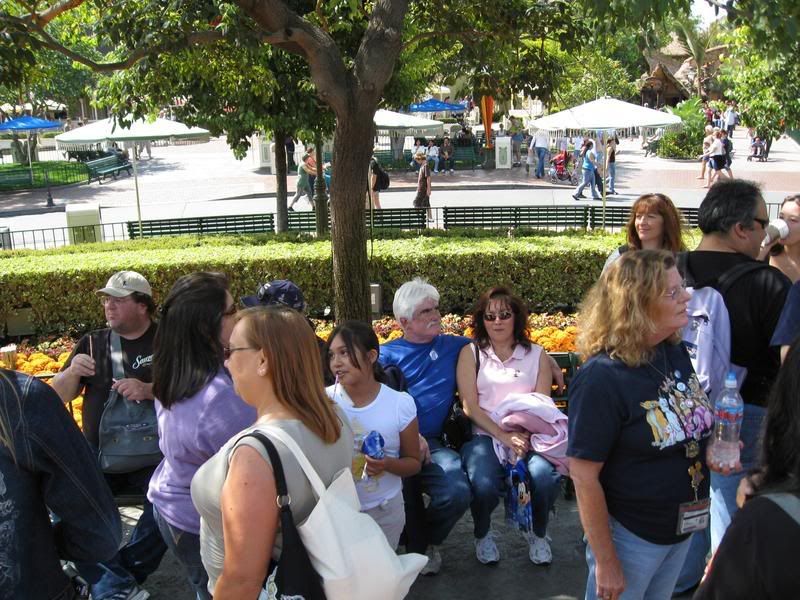 Sadako and Deogge's Mom admire someone's ring.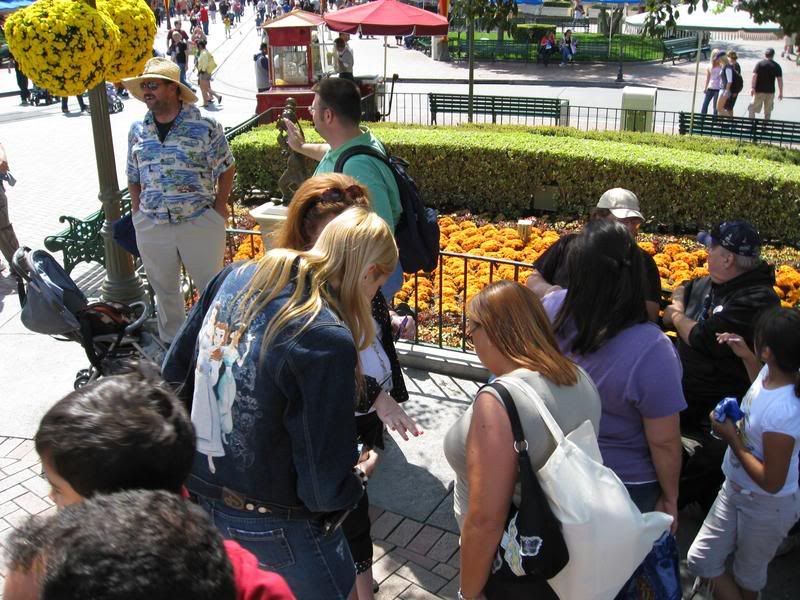 Rixter says something intriguing to MCow1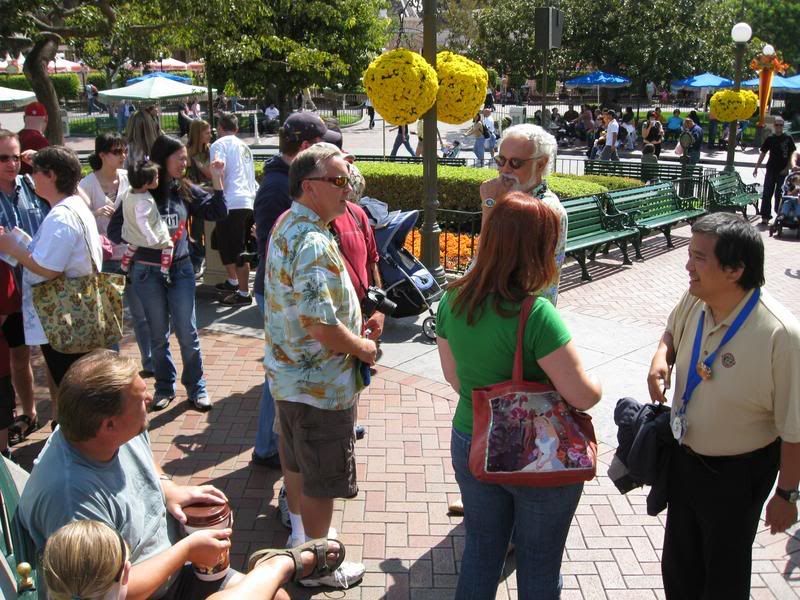 And then the hugging started.
Interlude.
Interlude, with the Wolf Pack.
PirateMunkee's birthday flag. Villains Fan and I had a debate about whether that was a monkey skull or just a regular skull. Verdict: Dunno?
Frogberto? and his son.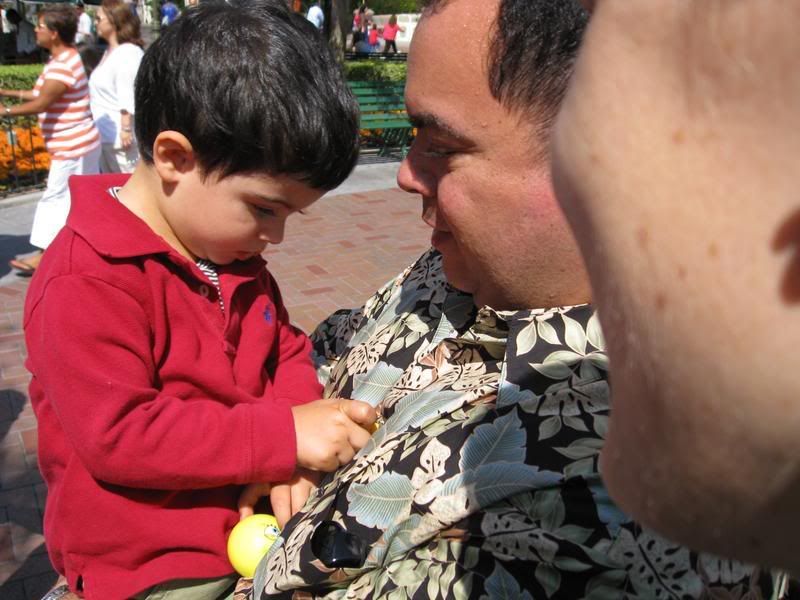 And back to the hugging.
Rixter and MickeyMax.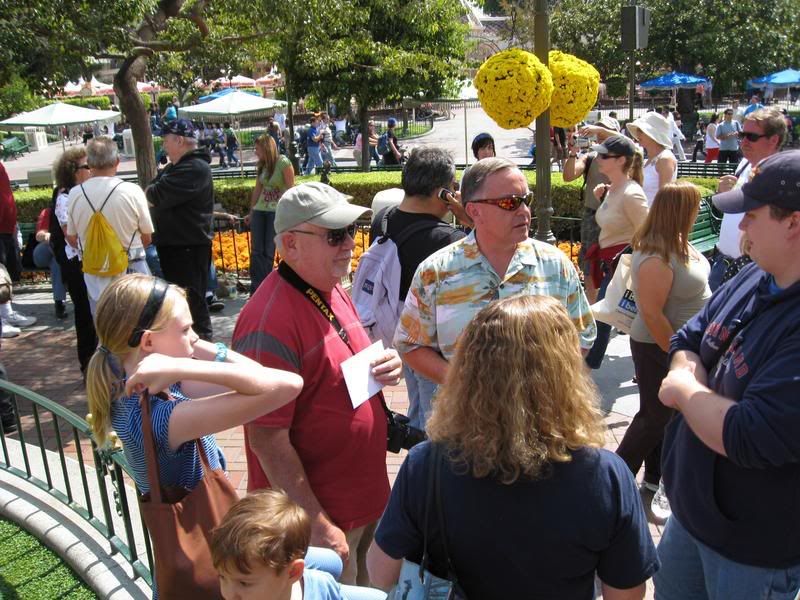 Adam gets in a snack before lunch.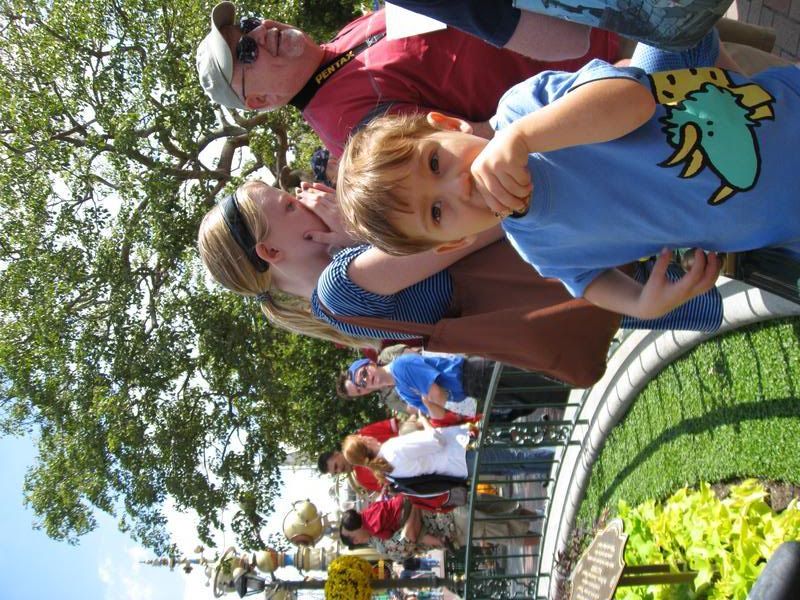 FishBulb explains to his family that, yes all these people are here for his birthday.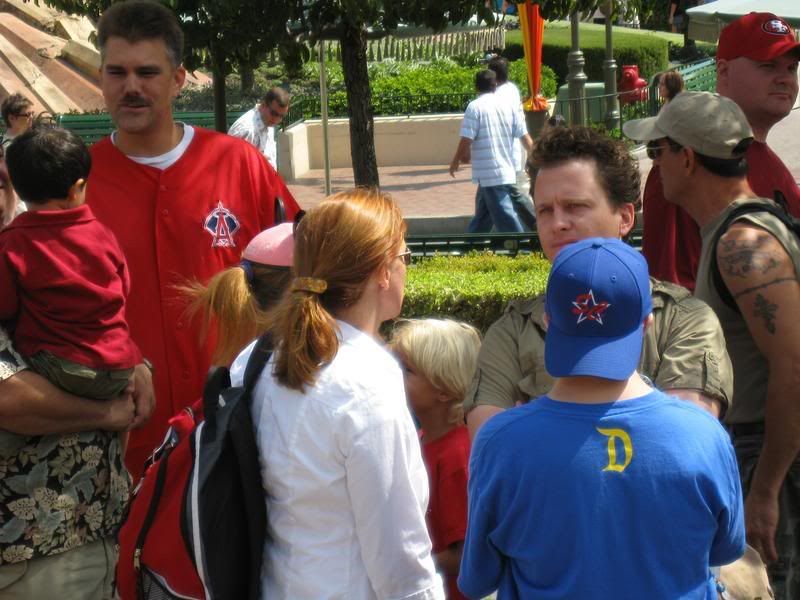 Someone made an executive decision to head to Rancho Del Zocalo for lunch. I suppose I could have taken pictures of the other table, but then I'd have had to get up or something.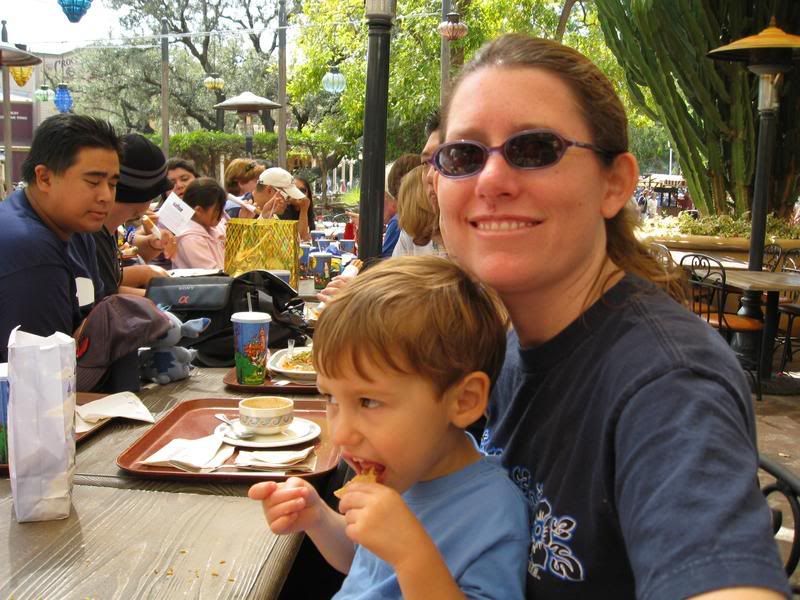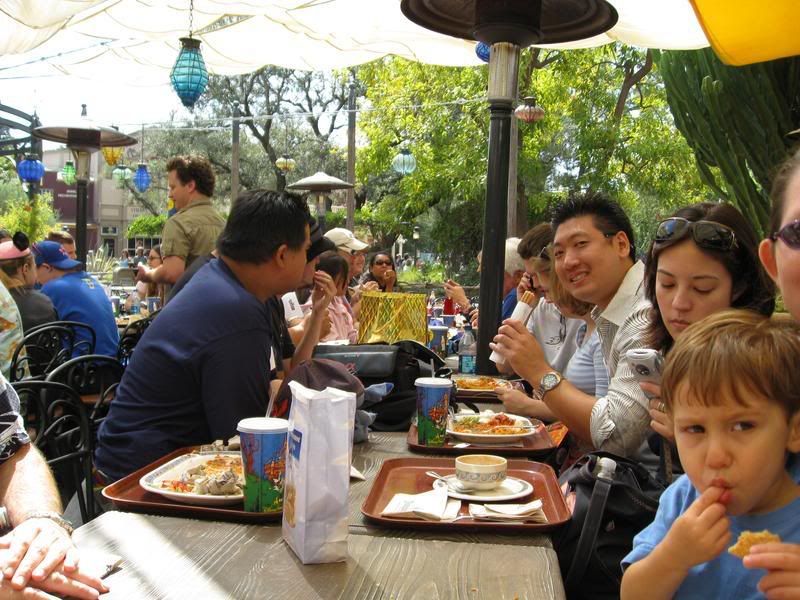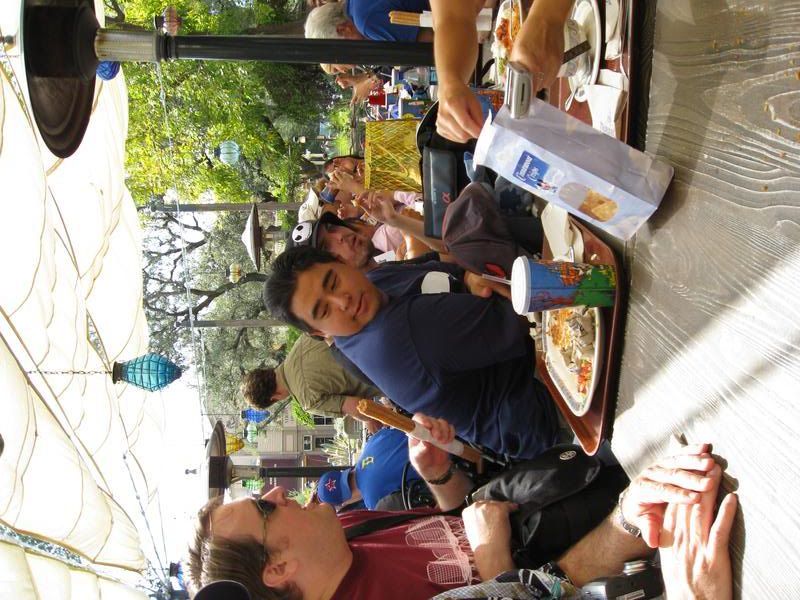 After lunch we went on Pirates.
And off of Pirates. After Pirates Adam developed a new liking for NeverNeverLand. Watch out YoYo, he like older girls.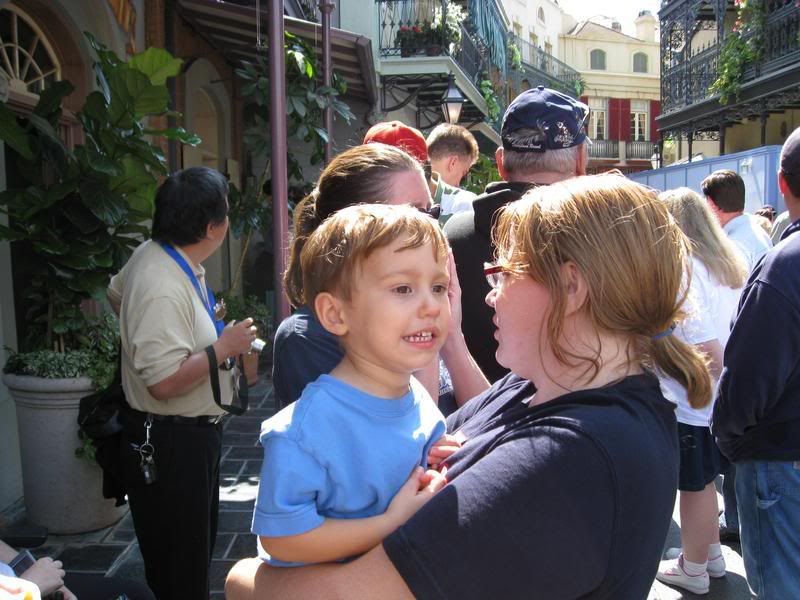 When we came out of Pirates I noticed that it was 5 minutes until 2. I thought the Single Riders Meet was at 2 so I mentioned this to NNL and we headed over to the Wishing Well. Sadly I was totally wrong (LB you can sig that if you want) and the meet wasn't supposed to start until 2:30. So we hung out and waited for a bit.
NNL, quiltmaker, HayleyB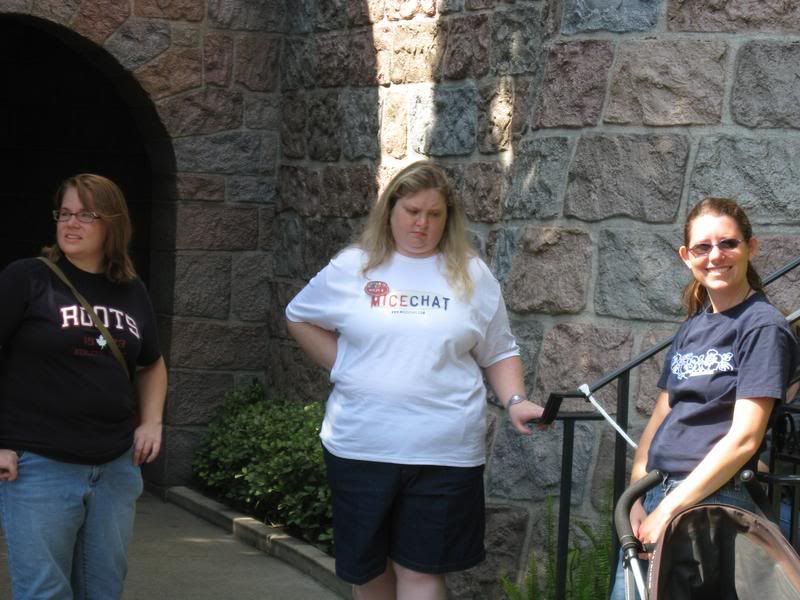 All StitchTT6 wants to do is get ready for the Def Leppard concert. All Adam wants to do is climb over her to get to the Cast Member door at the top of the steps.
Then the wait was over and we were off to DCA to check out the Candy Corn Acres decoprations.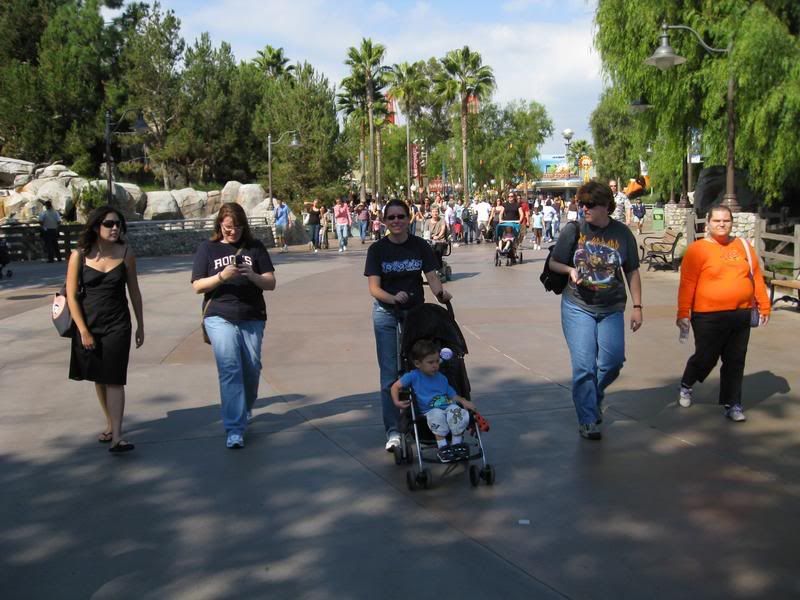 (This may be my favorite shot of the whole day. Make the appropriate Reservoir Dogs reference.)
We met up with the rest of the Single Riders and headed to Monsters Inc.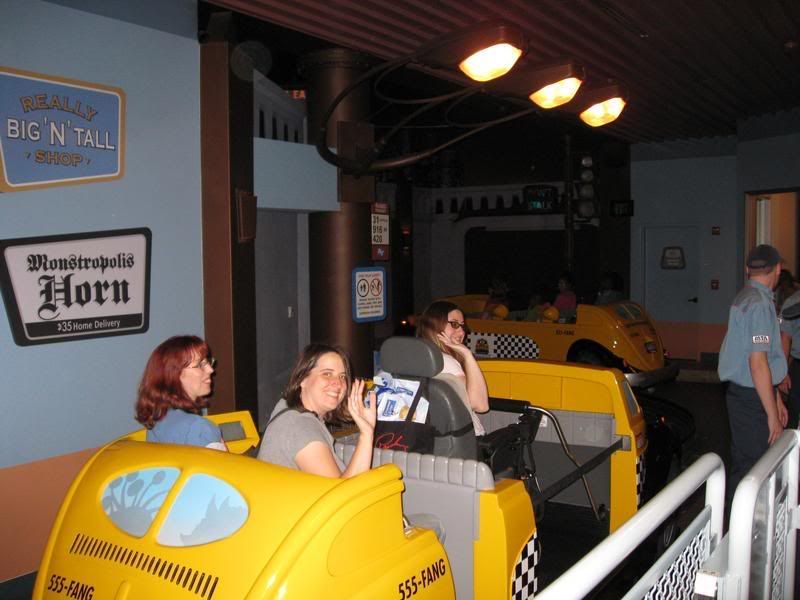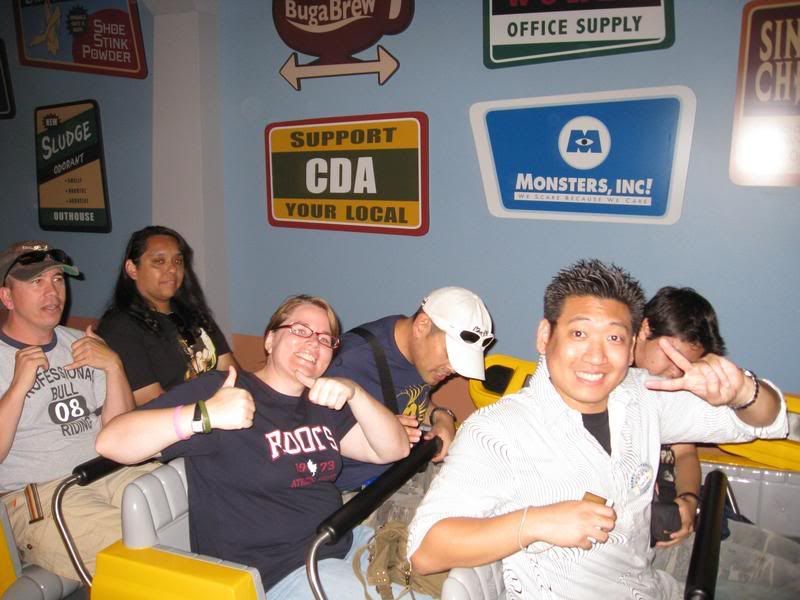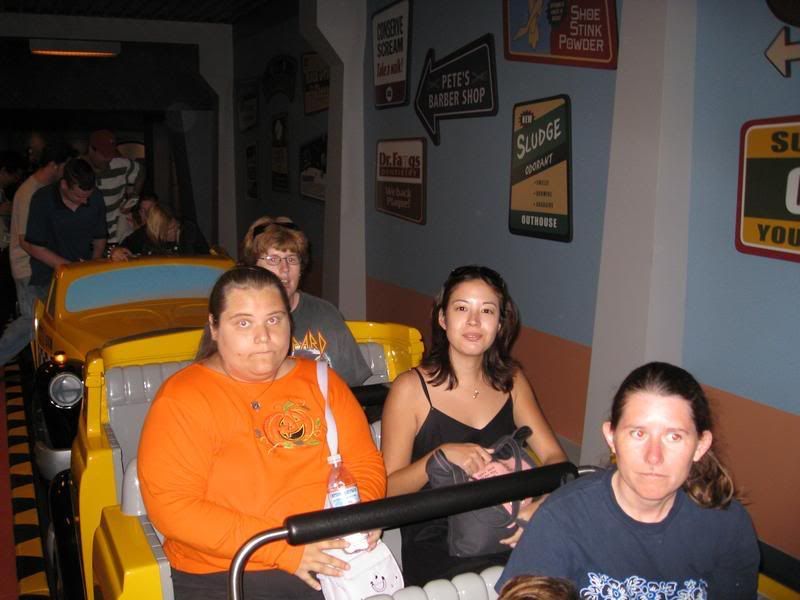 Then the herd headed to the Cove Bar. Which is where we said goodbye. We just can't hang for an hour or so at a bar with at 2 1/2 year old. But we're ditching him off with my sister for Gay Days weekend, so there will be plenty of watering time.
I'd like to take a minute to thank all the MiceChatters who let Adam grab, grope, smack, or hug them. He's really starting to open up with MiceChatters. He apparently believes that if Mom and Dad are standing in line with a bunch of people its okay for him to just walk up and demand to be picked up.
Thanks especially to NeverNeverLand, StitchTT6, and Mary Ann In Wonderland who he really took a liking to this weekend. Thanks everyone.
Oh, and happy birthday FishBulb, PirateMunkee, Princess626, CoheteBoy, and Doom BGI.