I was just looking at a framed set of 2 Disneyland Submarine Attraction posters that I recently purchased at Disneyland.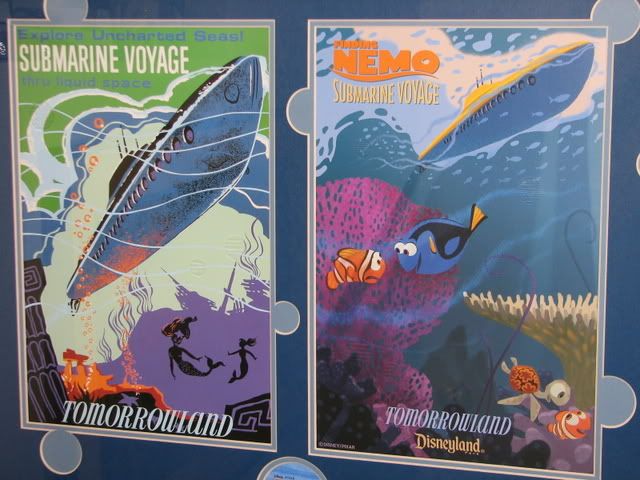 The
juxtaposition
of these 2 images got me thinking about the way that Disney now presents attractions to it's guests.
When Walt Disney was around, he believed in stimulating the imagination of his guests by immersing them in an environment that didn't necessarily tell them a story, but rather gave the tools to imagine a myriad of different ideas.
Conversely, the attractions
often
being offered these days use a storyline to stimulate the guest, so consequently most folks walk off an attraction with the same experience.
The original "Submarine Voyage" compared to the "Finding Nemo Submarine Voyage" is a good example of these two divergent views.
Of course, there are numerous exceptions to this... Disneyland opened with several dark rides where the story had already been told via the silver screen. So, Walt and the Imagineers decided to immerse their guests in the attraction by using sets that were supposed to make the guest believe that they, the guests, were playing the roles of Alice, Peter Pan, Snow White and Mr. Toad. Unfortunately, this approach didn't work so well, and when Fantasyland was rehabbed in 1983 these characters were added in.
When DCA opened in 2001, one of it's biggest hits was "Soarin' over California". The only story this ride used was to set the guest up with a short film in the queue, and then they were off, hang-gliding all over California. This attraction is quite successful with almost no story at all.
So what do think? Are you more partial to one method compared to the other? If so, why?
No wrong answers here folks... just different viewpoints! Have fun!!