So, yesterday, I decided to play starting at park opening. Stitch wanted to tag along in his Halloween costume. I got there 45 minutes and waited at the front entrance. About 10 til, they let us in. I went down
Main Street
got my place at the front rope.
At
10:00 A.M
, they opened the park and let us in!!
I made my way through the castle.
I went through Fantasyland and saw there was some filming going on.
So I went around it towards the
Matterhorn
. I hopped onto the
Matterhorn
.
Afterwards, it was off to
Space
Mountain
!! I grabbed a fastpass and ran into a CM frien of mine, we talked, he had to go due to a rotation. So, I went in the line. It was awfully quiet as I went through the queue which meant one thing................................ 101!!! Aaaaaahhhhhh........ nnnnnnnnooooooooooo!!!
I left. Went on Buzz!! Was the top scorer......... of that morning!!
I exited went across into Frontierland, saw the Dapper Dans riding around the Hub.
Made my way to Big Thunder.
"Never Mind"
"What's mind?"
"Doesn't matter"
"What's matter?"
"Never mind!"
Then made a trip to the
Tower
Of
Terror
Stitch got his own seat!
Then, I went inside the Animation building to the Characters Close Up.
Then, off to California Screamin I was headed towards. I past Golden Screams and what do I see??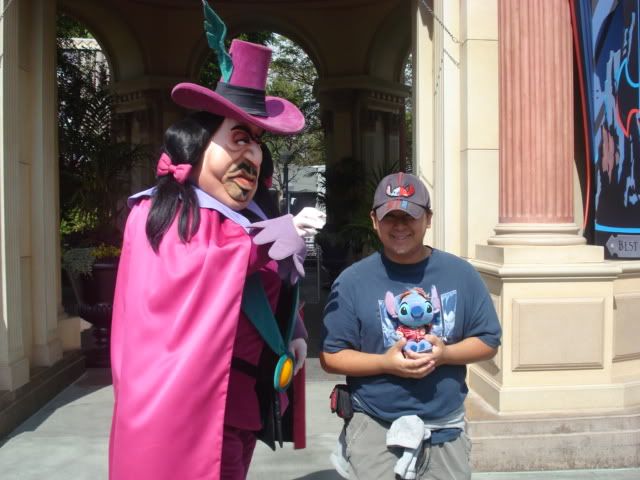 At one point, a little girl was holding the loot and I yelled, "You have the gold, now, run, RUN!!!" and the Sheriff was about to come after me, lol, :lol
After that, I made my way to California Screamin and when I got there it was …………………………. CODE 100………… NOOOOOO!!!
So, I left and decided to come back later.
On the way out, I saw something going on at Candy Corn Acres.
Soon, I caught a glimpse of Minnie and took a photo with her.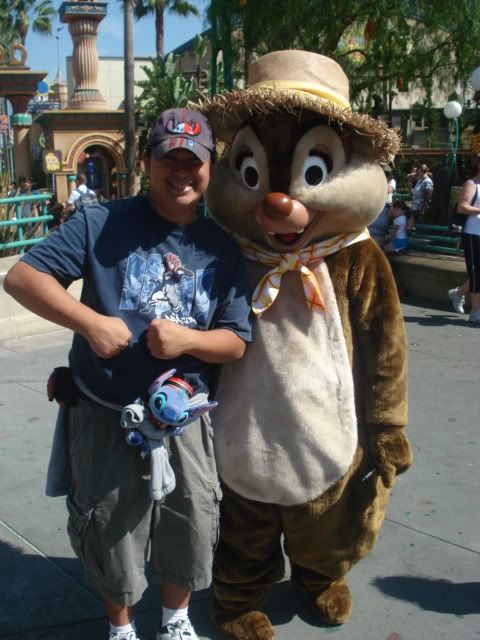 I exited DCA and entered DL. When I went in, I saw Mickey and Minnie were out in Halloween gear. So, I took a picture with them.
Then, it was off to Space Mountain to see if they went back up and they did!!
Upon my exit, I saw Mickey and Minnie in Tomorrowland, dancing!! So I took some pictures of them.
Next, I wanted to see if Screamin was open yet, so I went to HISTA to see if they call over and Screamin was open and it was!! So, I exited the park and made my way into DCA. When I got there, it was a 10 minute wait, so I jumped in the line. When I got off, I took a look at my picture, it was somehow too dark.
So, I exited DCA, once again to go back into DL. While waiting in line to go back in, I ran into a CM friend of mine, Bonnie. I waited in line with her to enter the park. So at that point, I tagged along with her and her sister for the rest of the day. Our first stop was to get a wheel chair for her sister.
Then, we headed to Adventureland and rode Indy.
I haven't noticed this before:
My CM friend Bonnie:
Waiting at Indy:
On Indy, Stitch had a friend riding with him:
The friend bailed:
My friend Bonnie, and her sister, Rebecca, when I hopped out of nowhere of the Indy exit, lol:
We exited Indy and made our way to Mansion. On the way, I saw that B – Tower was covered up. Probably some work done on it.
At Mansion:
Getting off o Mansion, I spied some activity on the Columbia. It had something to do with the Dream Squad and some other CMs.
Afterwards, we headed to Pooh Corner to get some candy!
We made out way through New Orleans Square and saw Remy and Emile, so I took a photo with them.
We all decided to ride Pirates so we proceeded through the exit. When we exited, Rebecca wanted to buy a Pirates hat, so we looked around. First it was Pieces of Eight and nothing. Then went to Le Bat On Rouge, and nothing. While waiting outside the door, I spied some guests waiting to go into Club 33.
After no success, we went to Rancho to grab a bite to eat. We tried our luck again by searching in the store in Frontierland. I excused my self to go to the restroom. On the way out of the store, I caught a glimpse of Aladdin and Jasmine. So, I went to the restroom, washed my hands, and waited in line to get my photo taken with them.
I met up with my friends later on. I told them that I was going to catch the parade and meet with them later.
In Fantasyland, I saw Monorail Red!
Stitch waiting for the parade:
The Ratatouille Pre Parade:
The Honorary Grand Marshall Pre – Parade:
Afterwards, I reunited with my group at Tomorrowland Terrace, where we all wanted to ride Space Mountain, so we headed towards the exit.
We got to go on it twice since one family took so long to get into the rocket and left at the very last minute preventing us to ride!!
By the time we got off, it was park closing, so we stopped by the castle to take some photos.
After that, security came by and waited for us to leave!
THE END!!!