Sunday morning I woke hubby up at the early morning hour of 6:30am (on his day to sleep in) so he could accompany me to the Gay Days Quest, and my first meet (he is such a trooper!). So hubby, myself and lurker Keystone pack up in the car for the 60 mile drive to the park.
We dropped off the kids at Grandmas house and made it to the structure at about 9am.
There were almost no lines at the gate (we arrived around 9:15am. We walked right up to an open turnstile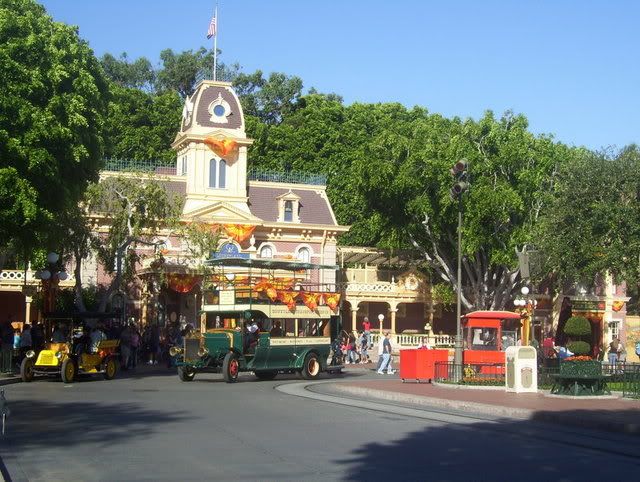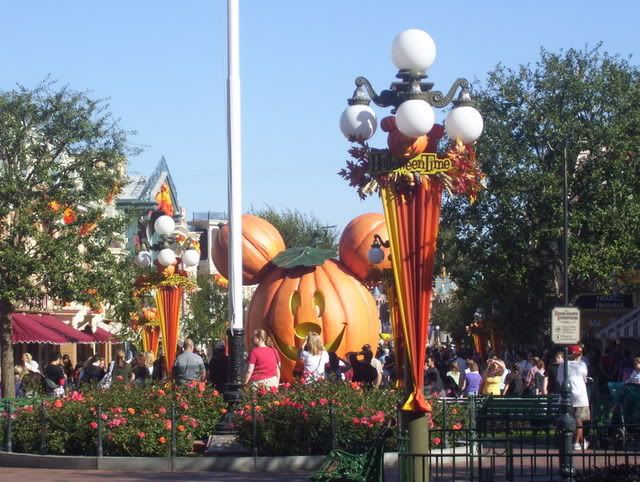 Mainstreet was manageable although it was a bit busy
We then made our way over to Buzz to grab Fastpasses which we knew we would need later for the Buzz quest meet.
I just liked this shot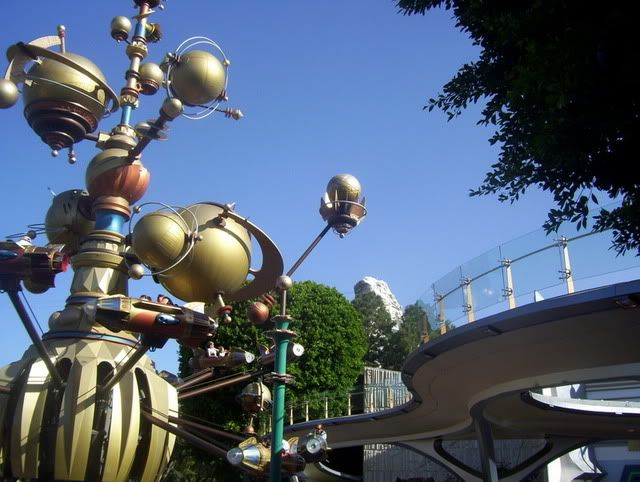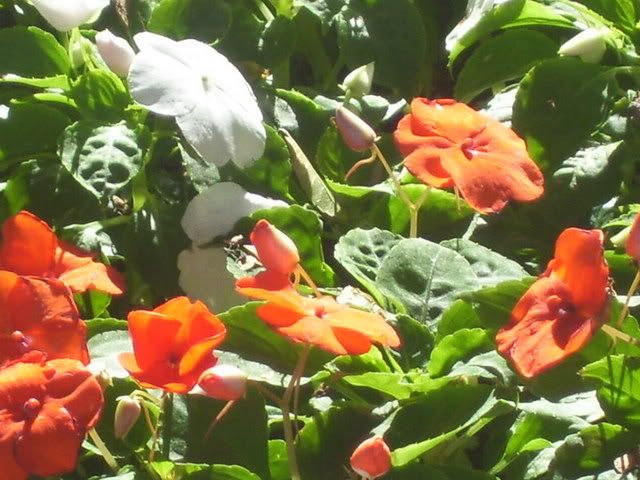 Big Thunder in the early morning
We decided to take a stroll in Zocalo Park since we had a bit of time. I really love these decorations!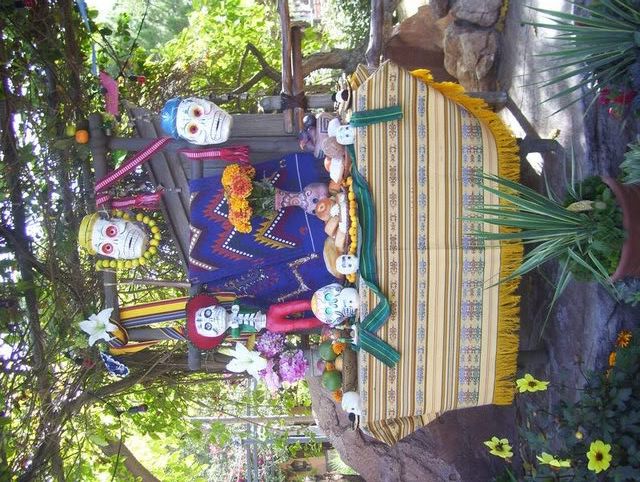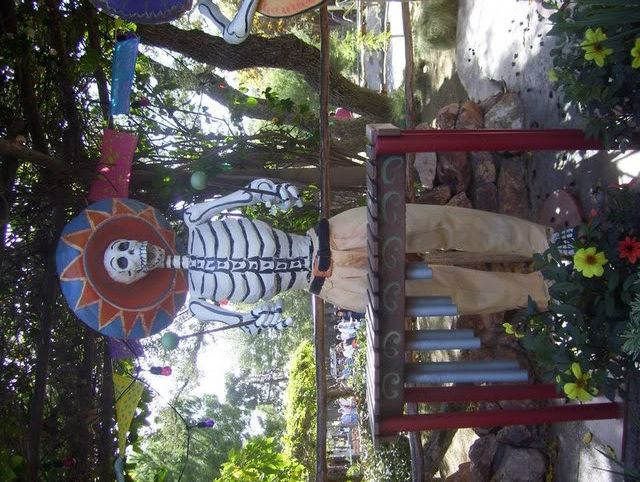 Around 10am we had made our way to Magnolia Gardens. I had never met anyone in person so it was a bit overwhelming, but thankfully Villains Fan approached us and made us feel completely welcome.
VF mentioned that Rixter had made name badges for everyone and so we went over and picked those up. Thanks again Rixter for those, it really helped me feel like part of the group from the get go.
The quest meet at Magnolia Gardens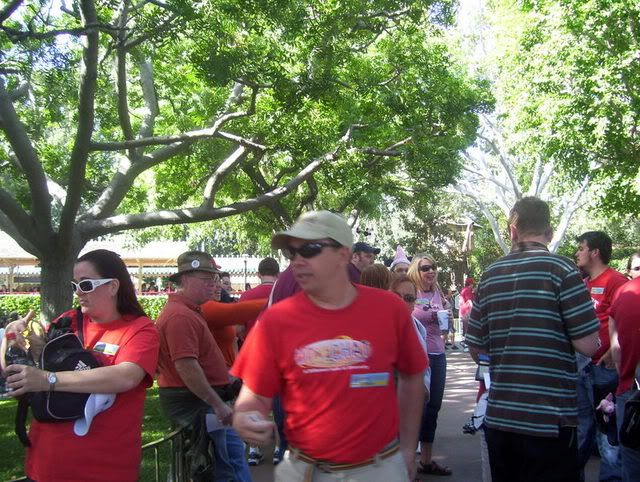 They handed out the quest packets and we began working through the questions. I have to admit some were pretty hard for a non-pro like myself. But thankfully Wofly and some other micechatters helped me fell comfortable and we started getting the hang of it.
We made our way to the HMH FP machines first as we wanted to make sure we rode it at some point in the day.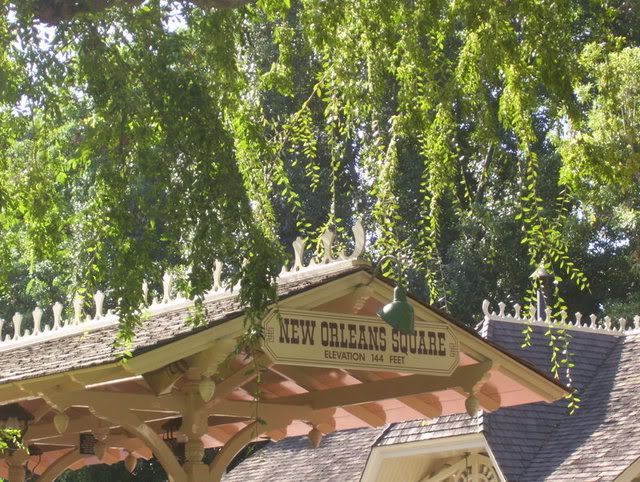 We all met up in the Court of Angels to walk to POTC together, and most appropriate Queenie came out to greet us: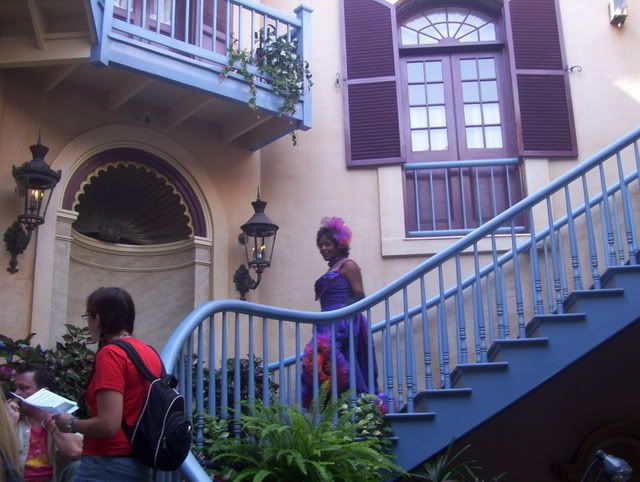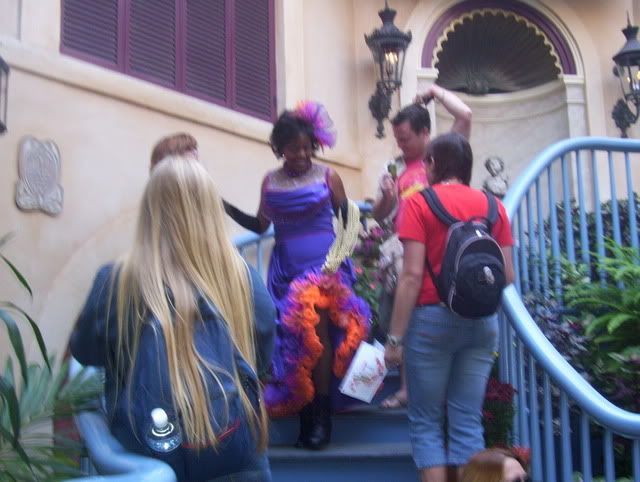 Queenie adorned some Micechatters with beads on her way out to NOS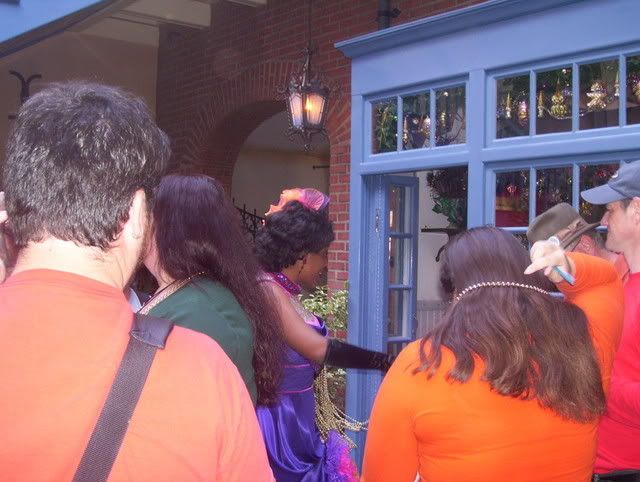 The group took the walk over to Pirates, and although I think we got separated in the walk over (my group along with Pengy got railroaded by a family with a couple strollers), we were all able to get back together in line.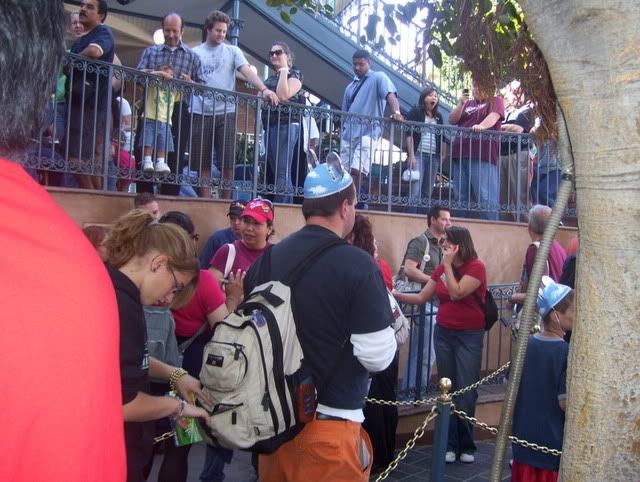 After pirates we milled around a bit until the noon meet.
We made it to hub, which although I had met some Micechatters at Magnolia Gardens earlier, this was my first official hub noon meet! It was definitely a bit overwhelming with so many people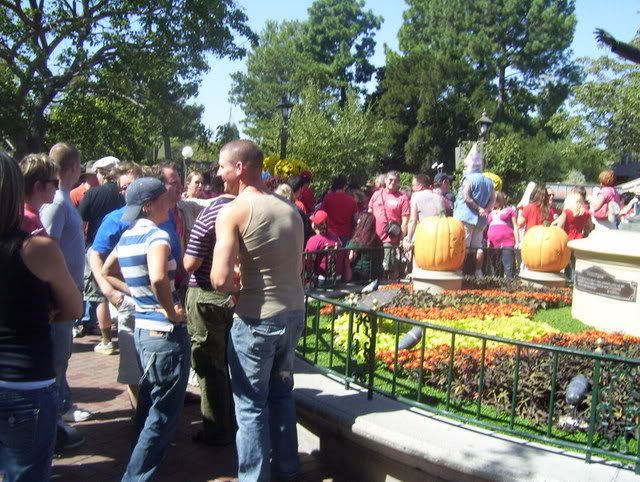 Dusty gave instructions on where to pick up the quest packet and about the group pic.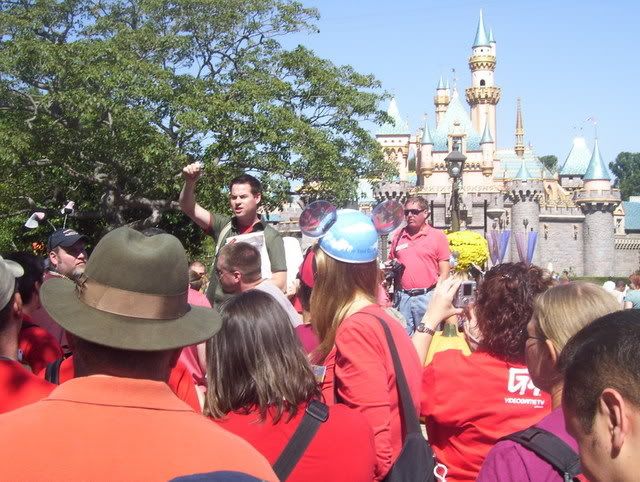 Who participated in the morning quest?
Here are a couple shots of the group pic at noon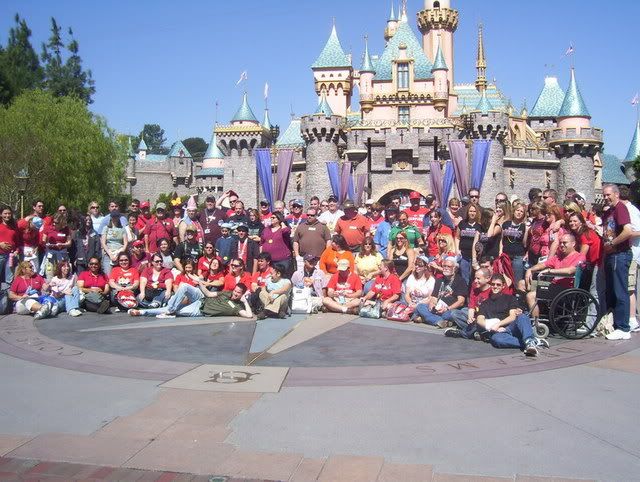 After lunch, we decided it was time to use our FPs for HMH we had gotten earlier in the day.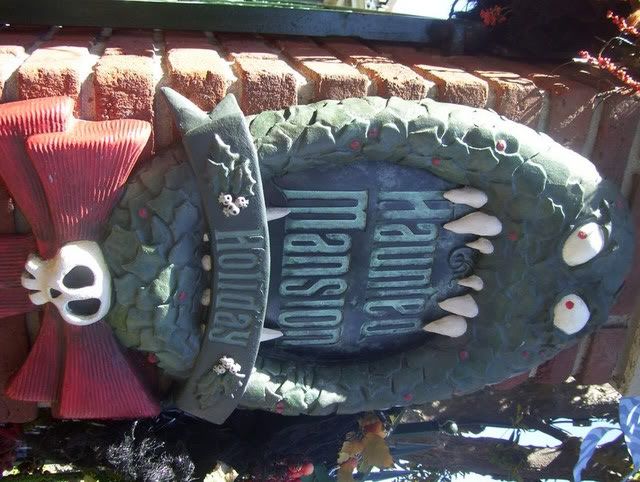 It was a total zoo, and it seemed most groups had fast passes for 8-15 people per group. This was the FP line.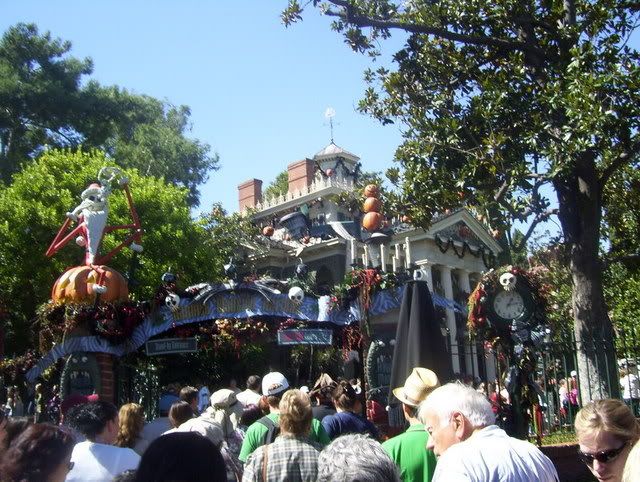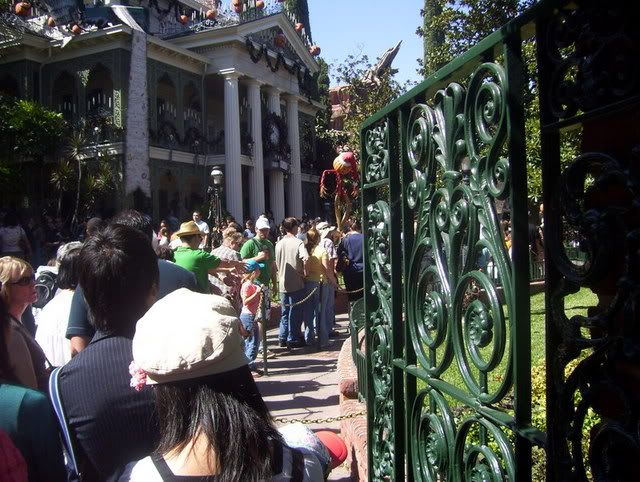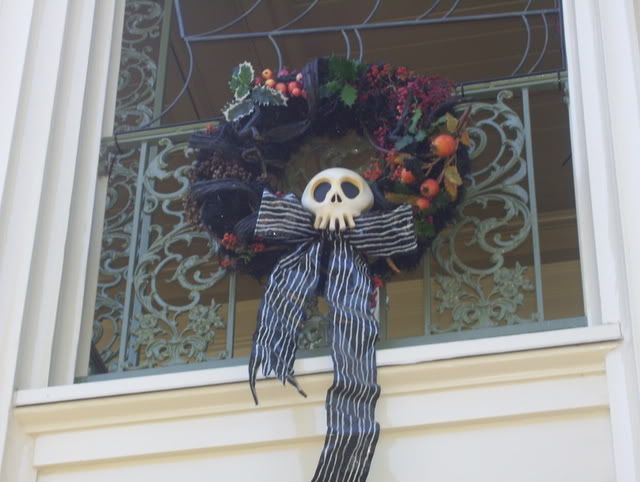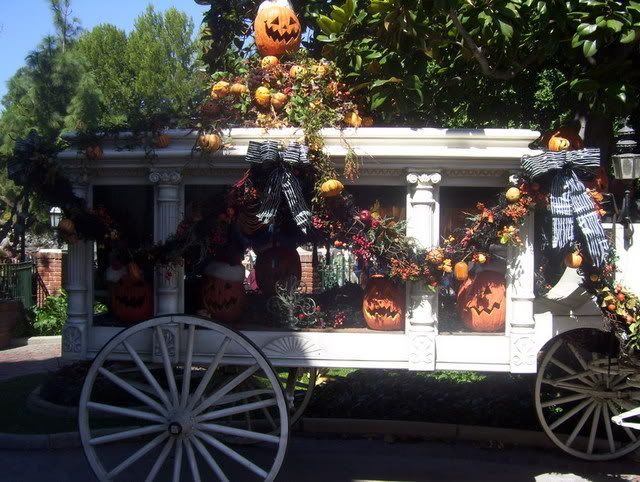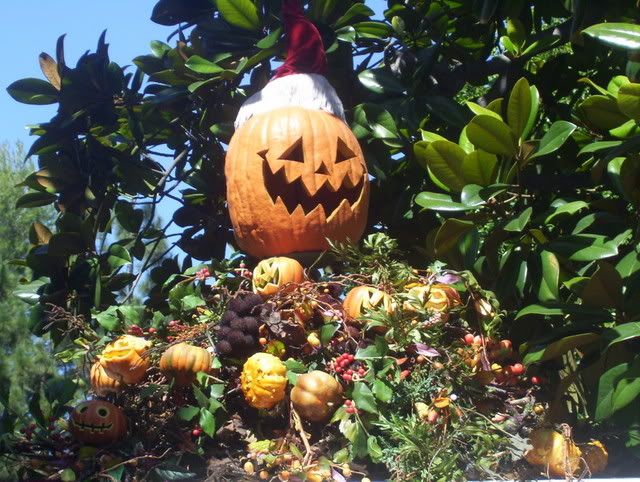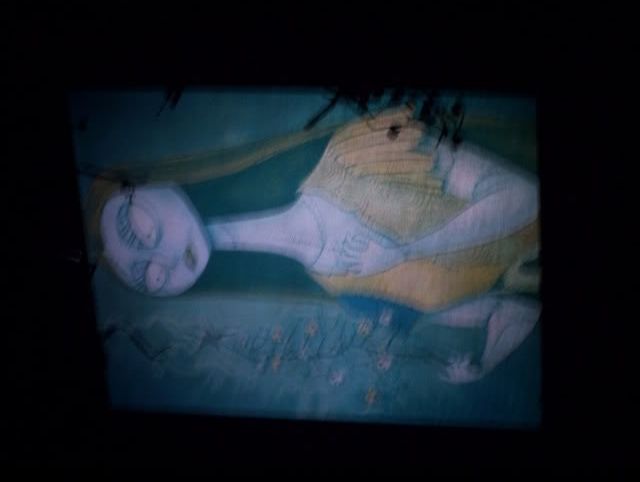 We then spent time on the quest, riding the Jungle Cruise and getting the info for the Tiki Room, and Adventure land items. We then quickly tried to get the rest of the Zocala and BTM questions.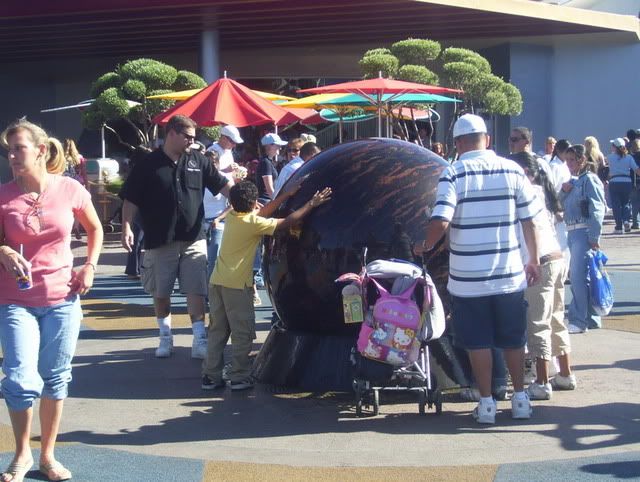 We had a great ride on Buzz, I actually scored 13,000, which for some is laughable, for me it probably beat my best score by about 5,000 points. It was the first level 3 I think I have ever gotten! (Honestly its hard to learn to play when my buggy partner is usually a 2 or 4 year old child).
We had finished the quest and getting tired, plus we had a long drive home and kids to get cleaned and put to bed so around 4:00, we handed our packets to Dusty, thanked him for a wonderful day and made our way out of the park.
It was a wonderful day, I am so glad I got to meet so many nice people. Special thanks again to Villains Fan and Wolfy for making me feel so welcome, as well as DisneyIPresume for our chat on BTT. It truly was a great day!
And with that, we waved goodbye to the train, and were off to home