Ahh, freedom. Blissful kidless freedom. Although, not entirely kidless as we shall see . . .
This was only our 3rd overnight away from Adam since he was born. So we were really looking forward to a fun weekend by ourselves. We had originally planned to stay at Michelle's grandmother's in Long Beach, to save some money. But she's having some health issues so we got a room at the Carousel Inn.
Our day started with us dropping Adam off at my mom's to spend the weekend with her and my sister. Grandma was making pancakes when we got there so there were no tears from Adam when we left. I don't even think he noticed.
We got to the park around 9ish. We parked in the lot near the Ramada and walked in. I got popped by the most conscientious security screener ever, who spotted the pocket knife in my bag. And then when I walked over to the other line with the knife in my pocket, "HOLD IT SIR". Good communication on the nag check that day. So I went back to the car and Michelle went into the park.
When I got back through the bag check, I was met with huge lines to get into the park: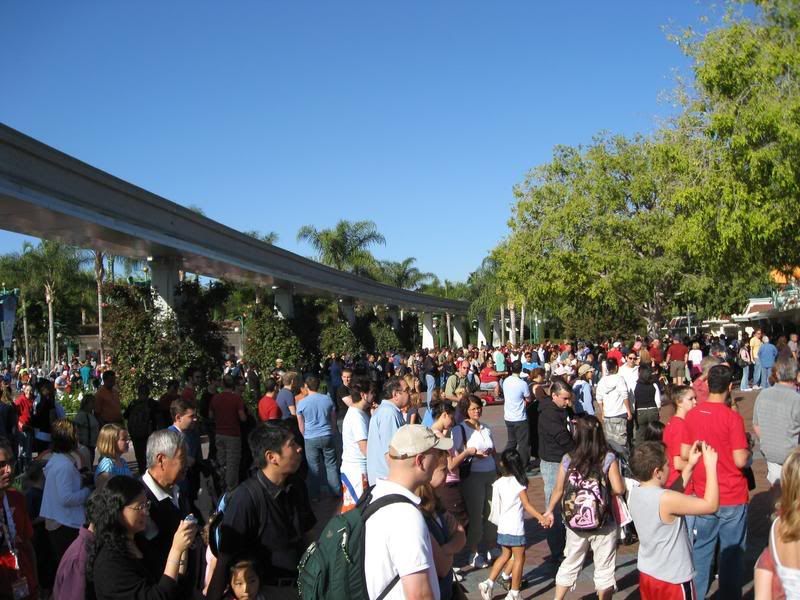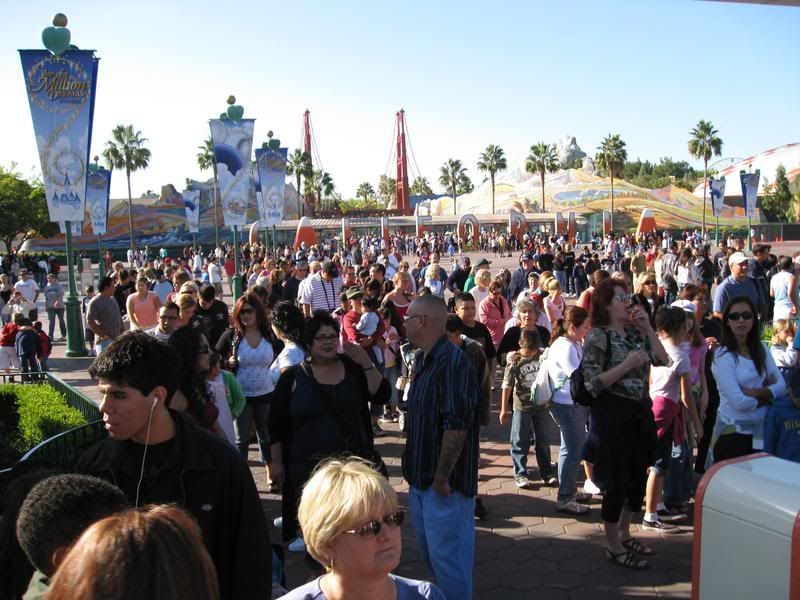 After 15-20 minutes I got in and met up with Michelle at the hub. We decided to check out Haunted Mansion Holiday for the first time this season. As we walked to the Mansion we spotted Pengiunsoda holding down a bench in Magnolia Gardens, waiting for the meet to come to her. So we stopped and chatted and before too long, MICECHATTERS.
Villains Fan shows up and scarfs some rabbit food
Rixter and MickeyMaxx showed up to pass out magnets and name badges: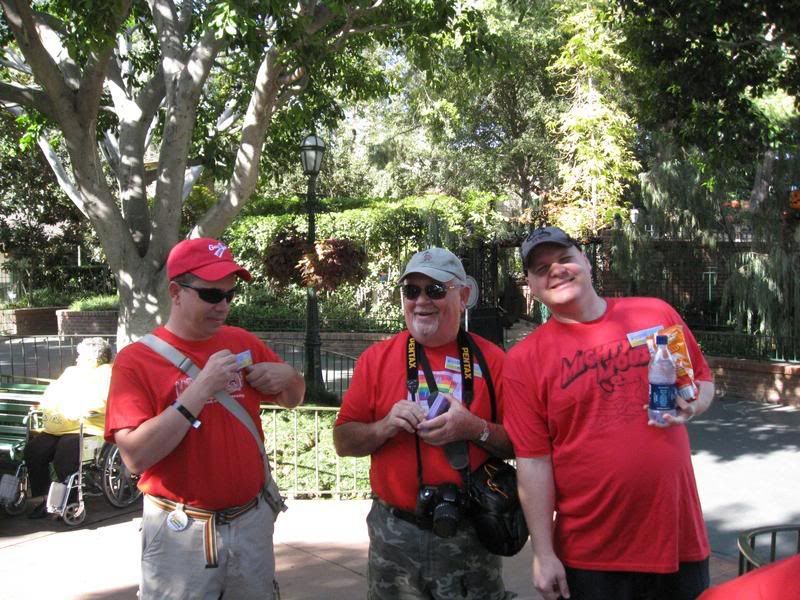 (FlyBoyHI finds the right spot for his name badge.)
The box of name badges (one of them anyway). 200ish name badges are hard ot sort through.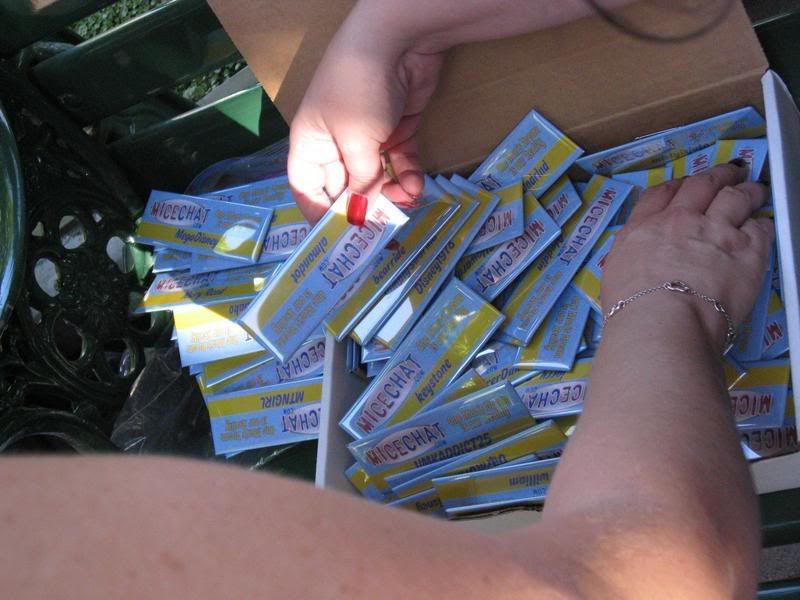 (I believe those arms belong to Belle and SunnyGirl.
DustySage showed up with happy face bubbles because "if you can't be gay at least you can be happy".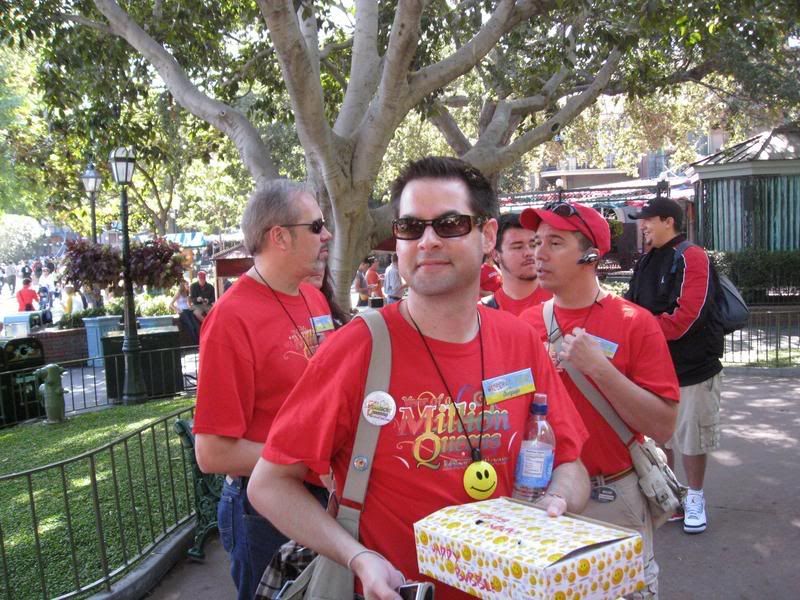 Then there was much chatting:
Penguinsoda, MickeyMaxx, and Rixter. (I could make an old person joke here, but I'm to nice of a person.)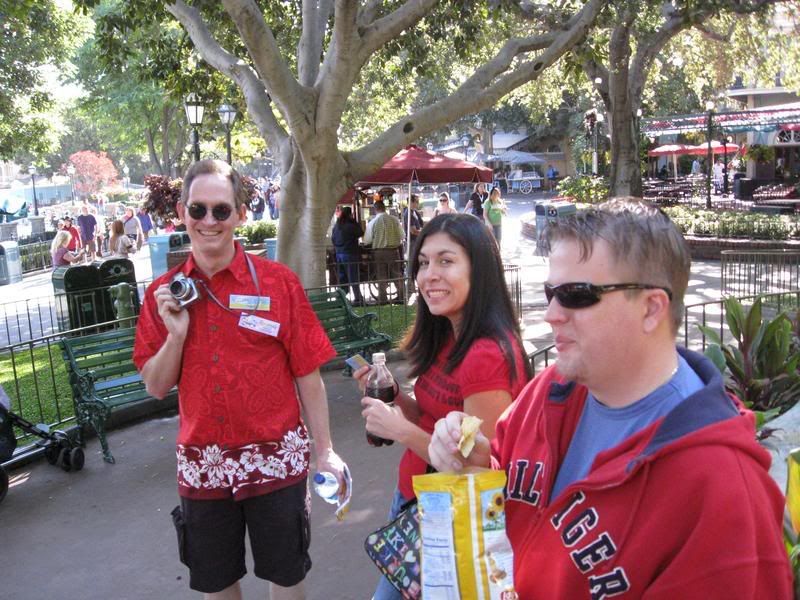 DisneyTim, LuvsLilo, and Anders.
(I have lots of MC crowd shots from the weekend, but I'm not posting all of them. There's just too many.)
Around 10 we grabbed Princess Buttercup and Westley's name badges, and headed back to our car. We were picking them up at the airport at 11:15. We got to the airport early and waited about 15 minutes for them, got their bags and we were on our way back to the Resort. After a couple of brief stops at the hotels we were on our way to Pacific Wharf for Lunch with the group.
My favorite shots from lunchtime:
Sadako suck the head of one of PB's Mister Yummys.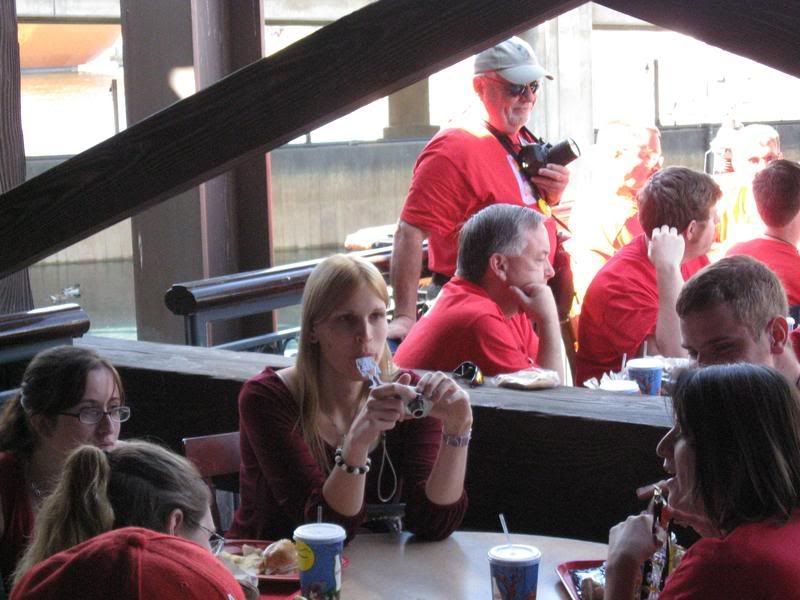 A rare, revealing, never before seen side of PEZZ Lightyear.
Never mind. I'm trying to stay on his girlfriend's good side.
After lunch it was off to the Festival Arena for the Gay Days group picture.
I love shots like this. Cue the Man With No Name theme: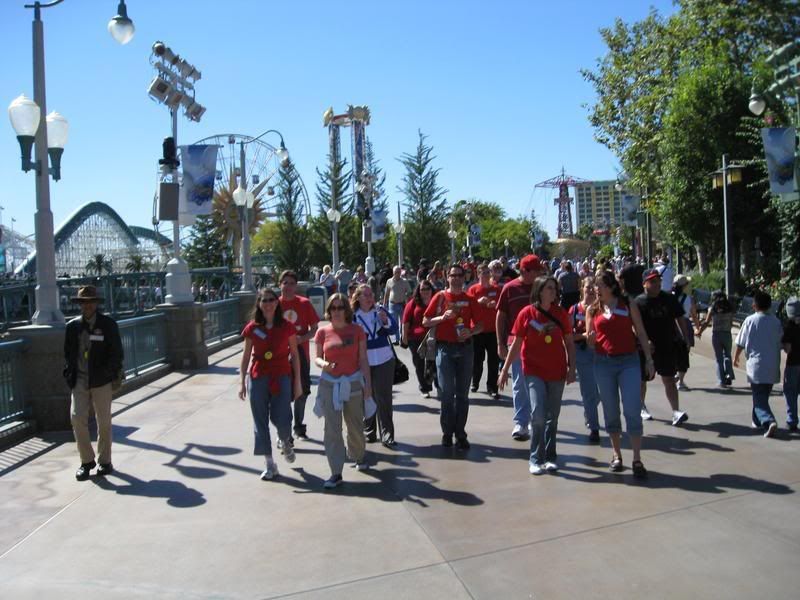 We had to wait in a lone line to get to the picture area. Some pictures were taken:
Westley gets the shot: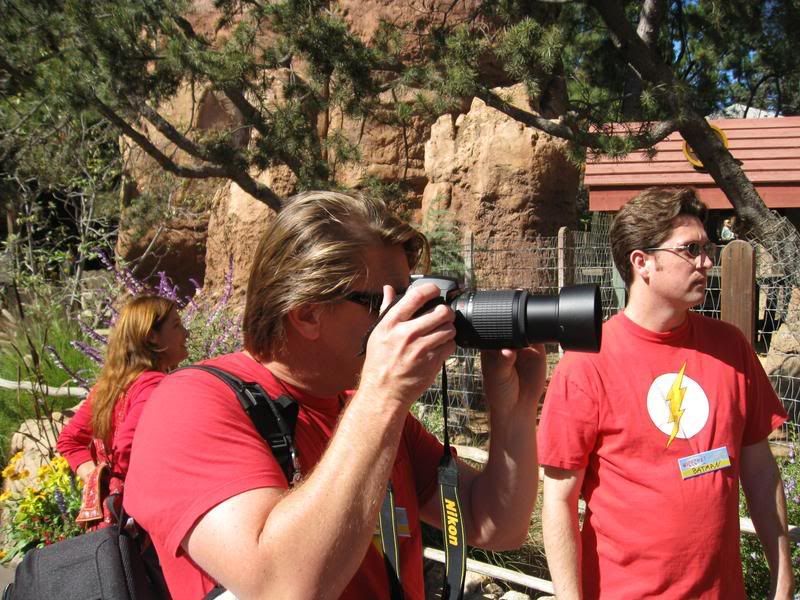 Da Gurlz: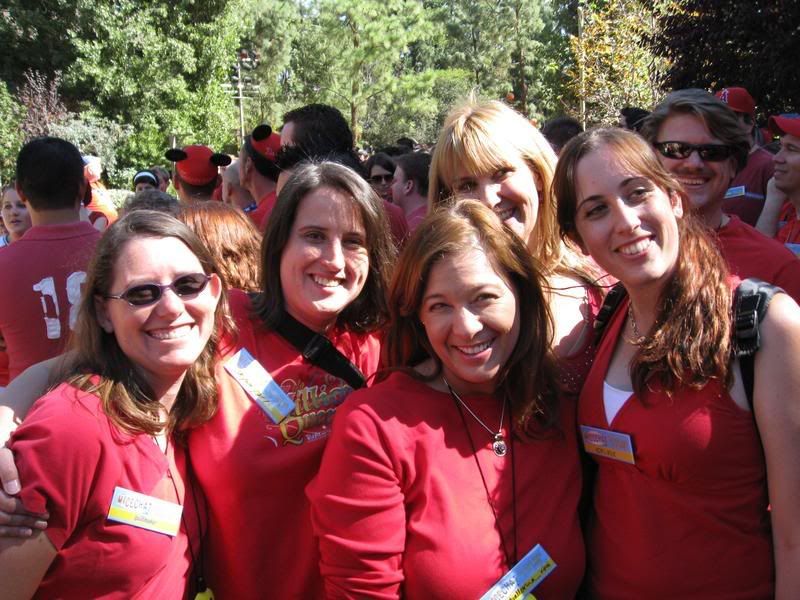 quiltmaker, Skywaygrl, disneyballerina, Princess Buttercup, Adelade, Westley (not a gurl), FlyBoyHI (not a gurl)
After the picture was taken we walked over toward IASW to see the parade. I took a break and went to the hotel to actually check into our room.Then walked back to DL and met up with the group on the way to HMH.
After the Mansion we headed back to DCA to the Cove Bar.
Which was packed. Even these two characters had to wait for a seat: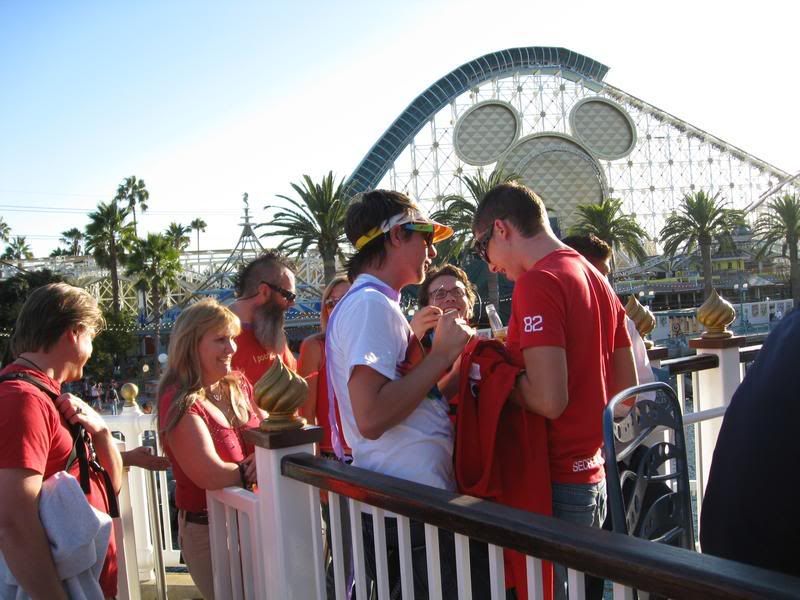 (They had a Mr. Yummy too. Those things spread like the plague.
And guess who was the carrier?
)
So we went to the Hearthstone instead. We took over the area outside the bar proper, on the backside of the lobby's fireplace. There was a lot of fun chat and we met a guy who plays Bert, who had heard of MiceChat.
When the pad for drink orders came around, Michelle passed. This set off the nagging instincts in PB, who interrogated Michelle as to why she wasn't drinking. When it finally got through to PB why Michelle wasn't drinking, she yelled out "Hey everybody, Michelle has an announcement." Michelle was too embarrassed to speak so I said, "There's a reason she didn't order a drink."
After a few seconds everyone who heard me had figured it out and there was much rejoicing.
At this point PB, Westley, Michelle, and I decided to head out for dinner and a nap. We walked to Mimi's, ate, and went back to our rooms for some relaxing before the planned fireworks meet.
We all got back to Coke Corner by the appointed time but there were almost no other MiceChatters. Just the four of us, Roo719 (and his partner who's user name I've forgotten, but I think his real name is David?), FlyBoyHI, and the NCADisney family. After a few minutes and a couple of wind warnings we decided to ditch the fireworks and try some rides.
So the Hamands, Buttercups, Roos, and FlyboyHI headed out to check the Nemo line (too long). So we went on Matterhorn and IASW. The Roos and FBH left after that. The rest of us walked through Downtown Disney looking for MiceChatters. Where do you look for MiceChatters at 10:30PM. Bars of course.
So we first looked in the Hearthstone and no one was there. That's when Michelle and I decided to bail. She was tires and it was a long Day for both of us. We said good night to PB and W and headed back to the hotel.
Sleep was not a long time coming.