Okay, here it goes.
For the two years I've been on these boards I've read trip reports from the mountains of Utah to the winters in Paris. I neverr felt compelled to put pen to paper until now. It seems you all had the wit and charm enough that nothing I could ever write could top all of you!
If I have the guts to write. See, words are limiting. As soon as I say something is blue, you all will take my words for granted, you trusted readers, and I'll be doing the object blue an injustice. It might not have been blue. It might have been cerulean or even navy. I hope I can do fairness to all of you I encountered on this trip. I have no, I'm truly sorry--I deeply respect you all.
But I cannot keep quiet about this most recent trip to Disneyland, California. I mean, I feel like the tykes behind me wailing away. I, too, find myself a bit sad about this last leg of my journey home. My heart aches slightly.
No, no one is sitting on my chest either.
I am going to go against Onut's suggestion (I met him on this trip, by the way, a cute man; a great guy--I recommend chatting with him) and bring up the "pain in my elbow." Onut asked, and I wholly concur, not to keep returning to the same aggravtions and dredging them across the boards. In this instance, however, I cannot. My grandfather passed away. And in that moment, this pre-planned vacation to my personal holyland became more then a break from work, it became a rite. A moment in time to cleanse the soul of it's harbours; a moment to see the world from my new place. Now, an entire genertation of my family has been put to rest, the roles of matricarch and patriarch have to realigned. I'm am being swept up, and am still. I've no choice.
Yeah, personal heavy crap. You could have skipped that whole paragraph without my knowledge and it would not have changed a thing on this report.
But all this 'heavy' hung over me like pall when I boarded the plan last Thursday. It took a leisure vacation and made it something more.
We arrived at my mother's on Wednesday without a hitch. She made my partnera steak dinner for his birthday; my dog found the cage-crate we leave for her and snuggled in for a few days.
We were ready to leave.
And we were literally blindsided upon arrival.
Blindsided is a good thing.
See, my partner and I rarely go out in groups. Not that we don't like them, per se, but we've had each other. There has never been a reason to do so. Or Saturday nights are filled with an evening's decent repast; perhaps some gaming. For those of you in a coupling, you know what I mean. We love to visit with others, but it's rare that we seek such things.
I believe the term is private. We are very private.
Let's just say, we've never attended our employers' holiday parties.
But from Friday night onwards--we were brought up that we were part of something bigger and better.
Perhaps I'll dare to use the word "family?"
Ever single person we greeted was warm and acted like we had been attending meets for years. Hugs abounded, smiles warmed.
And the kid seated behind me, closer, here on the plane has joined the chorus of screams. I'm not being a "child hater." I'm being a "child is screaming and making it hard to type" detester.
There is a difference.
I'll go ahead and cut to the chase. I'll quip some tales together and hopefully not limit this wonderful experience that we had. I'm too afraid I won't have the capacity to capture the wonderments.
First the pics: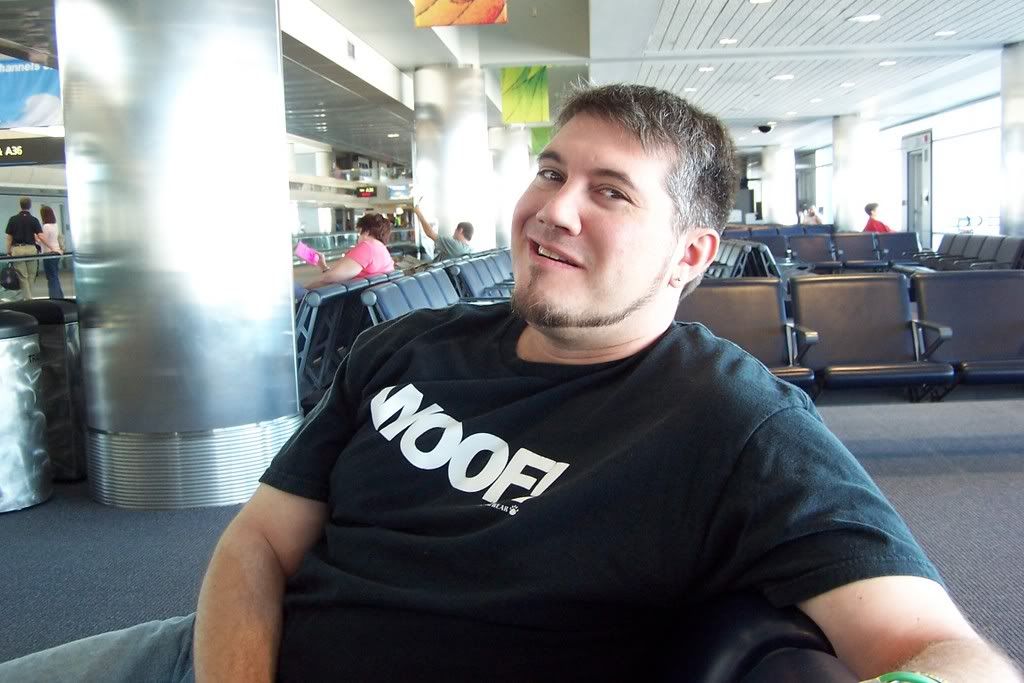 Waitin' a DIA
Please note the nametag! I had to, ya know, put it on, just in case!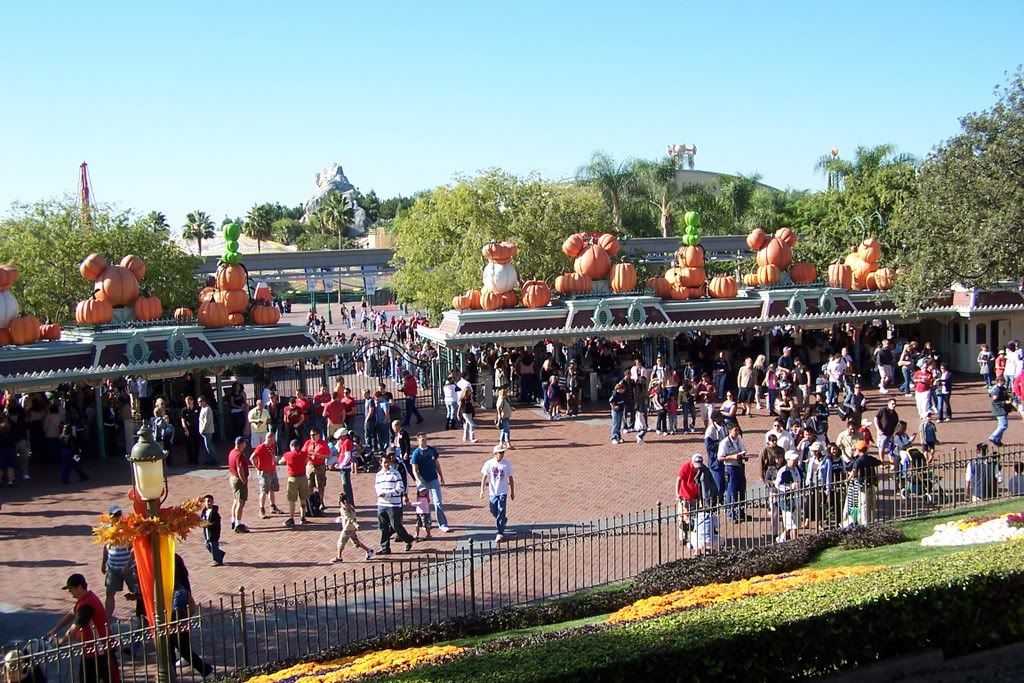 I probably should have mentioned...we're not used to taking pictures! So there's a jump here. Now it's Saturday and Lu, just gave me a jingle while we're on the train to let us know he was at the gate. Strangely, we couldn't see him from this angle.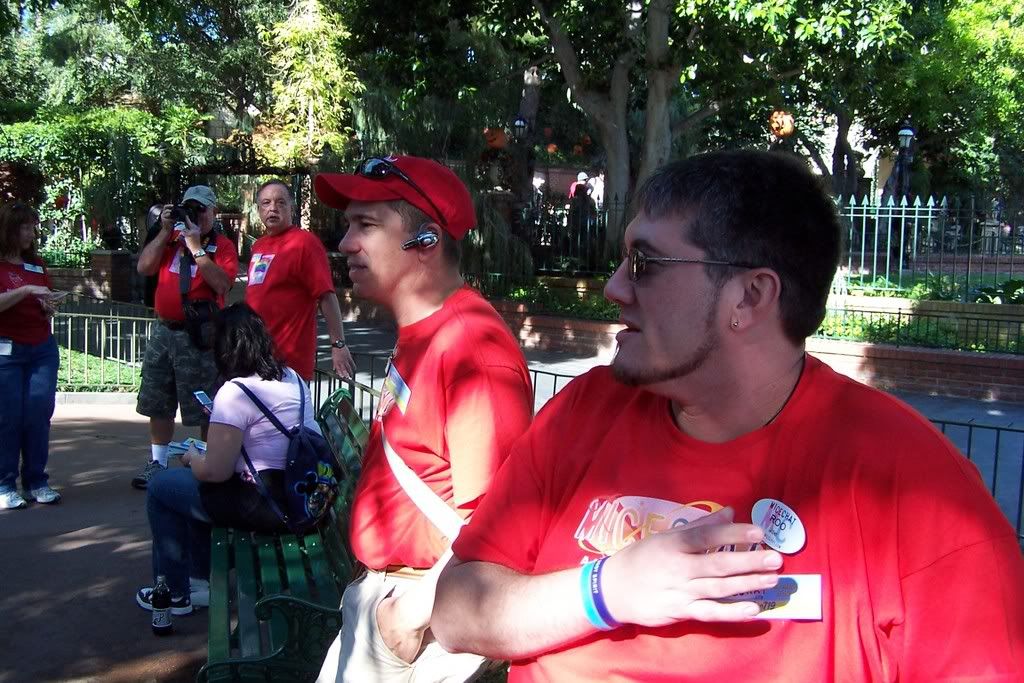 Villains Fan, MickeyMaxx, Rixster, FlyBoyHi (sans chaps) at the meet.
I hope to goodness I get this correctly. PenguinSoda, Alphabassettgrrl, Disneyland1978, Anders, DisneyTim, TarzanTrashCan, Matt Hamand, Judimouse
Rixster looking like he's in deep thoughts.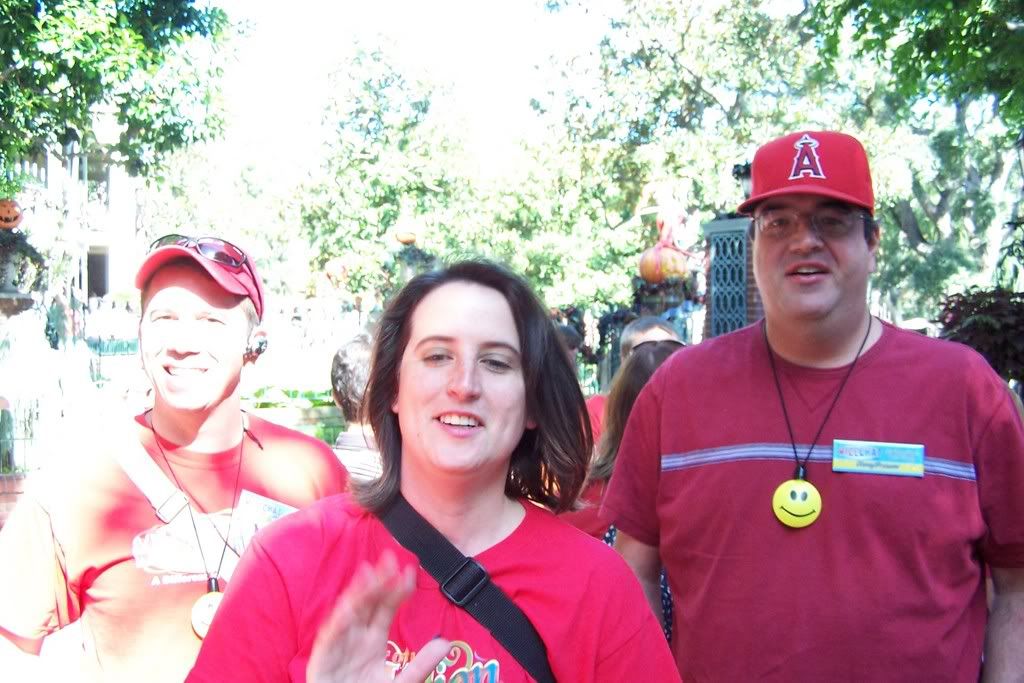 Flyboyhi, Skywaygirl and DisneyIPresume
Okay, that's part one...let's see if I can keep this going!
The tales, I promise, will be soon.
Peace,
Roo