We decided to celebrate my daughter's 8th birthday with a trip to DLR and our first visit to Mickey's Halloween Treat at DCA.
DAY ONE: We left home about 2:15am and were walking through the front gates of Disneyland by 8:30am on Friday the 5th. My son and I went to Astro Blasters (I got a level 5, yay me!) while my wife and daughter hit Indiana Jones. We met up in Adventureland and the kids climbed Tarzan's Treehouse.
We all headed over to Pirates. I noticed on this ride through that the Davy Jones projection was not working and the (now infamous in a different thread) harpsicord (piano? clavicord? casio digitronic?) was not working properly. My daughter then dragged me over to Big Thunder MRR. After that we went over to Haunted mansion where (acting on info learned here on Mice Chat) I asked a CM about the pet cemetary and if it were posible to see it. The CM (I'm not sure if i should put his name here of not!) was so very nice and professional. He took us to the side of the mansion (right side as you face it) and down a walkway and to the small "pet cemetary" that sits there (see pics of first day below).
After that we met up with some friends and their family and headed into Critter Country as the smaller ones in our group wanted to ride Pohh Bear. I sat out with my daughter and a few of the older kids in the group who weren't interested. While the rest of the group was on the ride it went 101! They got to walk out (stopping to find the hidden Mickeys on the way) of the ride. We went on Pirates again and then headed to DTD for my daughter's birthday lunch at the Rainforest Cafe. We rode the Monorail back to Tomorrowland and rode King Arthur's Carosel, the Tea Cups, It's a Small World, and then took the train to Main Street station where we exited the park and headed for the hotel to rest and prep for the big Halloween Treat comming up.
Pictures from day one:
HM "pet cemetary"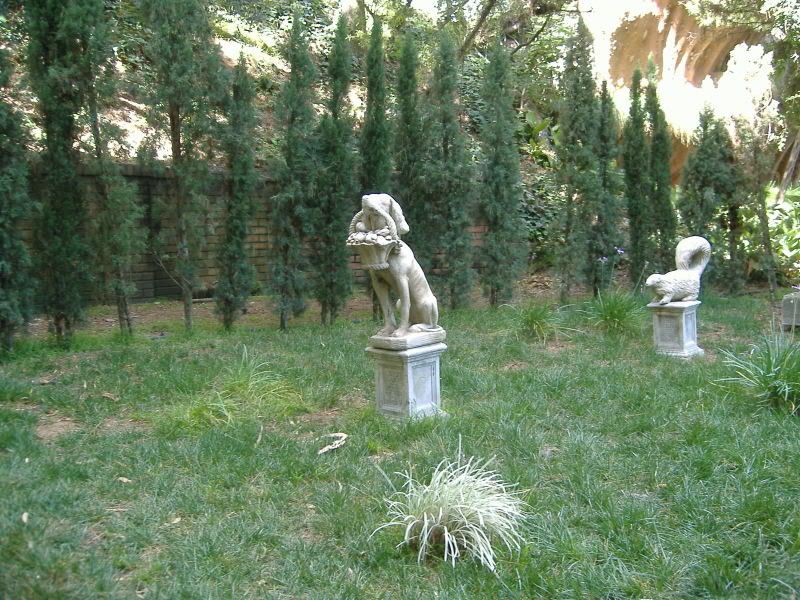 More comming soon!