Wow! Our 2 day trip came and went quickly. We had so much fun, I finally have my DH looking forward to our next trip. Huzzah!
I'll try to be quick (and not bore you too much), and I have tons of photos to share. Our group included Matthew, me, my hubby, his brother, our friends who are DINKS and love Matthew, and my mom and her husband (Guuma and Guupa).
Drove up Wednesday night around 6 p.m., and saw our friends who were meeting us there on the 5 fwy at about the toll road (Laguna Niguel). We saw their blurr as they sped by us while waving out the window. On to the Sheraton Anaheim - pricy, but worth it. My father's wife allowed us to use her numerous Starwood points for our stay.
We had decided to keep the trip a secret from our 4 year old. He thought we were taking a trip to see some of Mommy's friends that she hadn't seen in 2 years. He was excited to find out who they were.
Thursday morning I tried to get Matthew to wear his Buzz Lightyear shirt. He absolutely would not since he was saving it for when he went to DL. I packed it in the backpack just in case,
and headed down for breakfast. Must say the buffet was quite yummy and gave us a good start. Took the shuttle bus to the entry. Still no hint of DL from my DS.
As we walked to the main gate, Matthew noticed several characters on the other buses and the banners, but still didn't figure out where he was. THEN the Monorail glided by... and I've got this on tape... Matthew looks up, turns to me and says, "Hey! This is Disneyland!" I asked if he was sure, and he said "Yeah, this is Disneyland!" I told him that was where my friends were that I hadn't seen in 2 years, and we were going to Disneyland. I think he was a little overwhelmed since he didn't completely jump up and down. It could be he really didn't know what it all meant - he soon would!
At least we weren't last in line
Pumpkin Pluto
First Entry to DL
We stopped at City Hall for Matthew's 1st Vist button and Anniversary buttons for me, my DH, and our friends who we celebrate our October anniversaries with each year.
Goofy in costume!
Miss Pumpkin Festival entertained us while we waited for my mom and her hubby to get their scooters. Side note: The scooters were lifesavers for them. They would not have been able to enjoy the parks without them. My mom can't walk for long, and her hubby has a condition that doesn't allow him to stand for periods of time. I honestly think they had just as much fun on the scooters than on any rides!
Matthew liked the buzz pumpkin at the hub
Our official DL photo
Off to Fantasyland through the castle
I liked this mural inside the castle (Sleeping Beauty is my princess after all)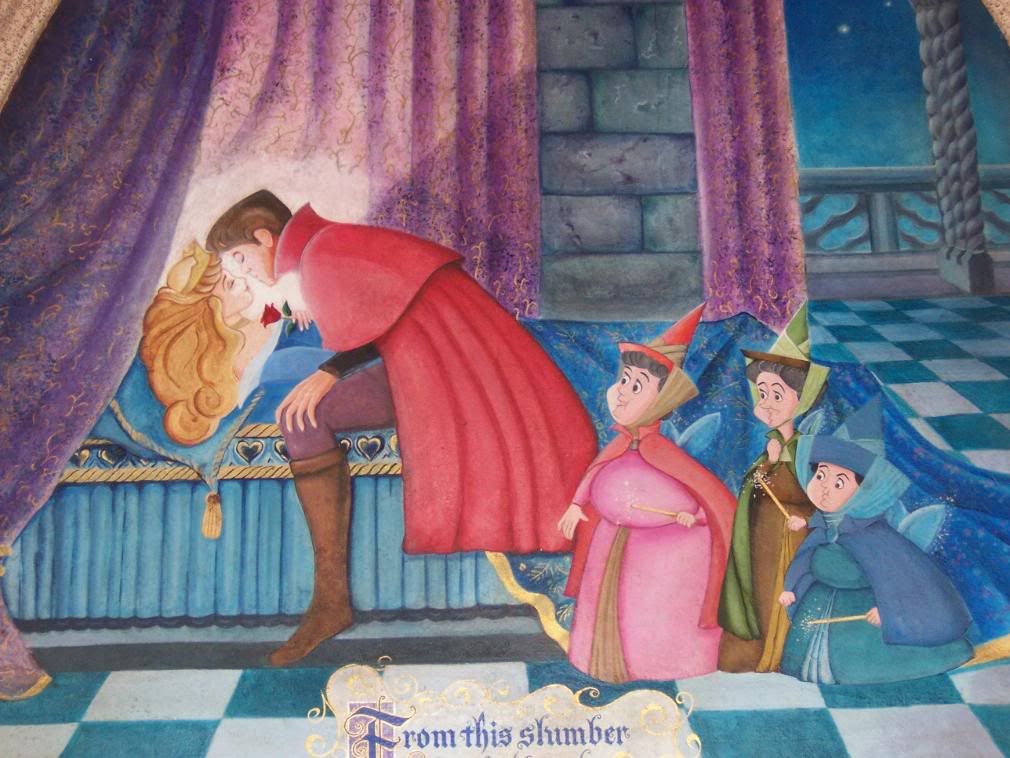 Castle moat
Snow White Grotto - I'm wishing!
Matthew's first ride at DL - King Arthur Carousel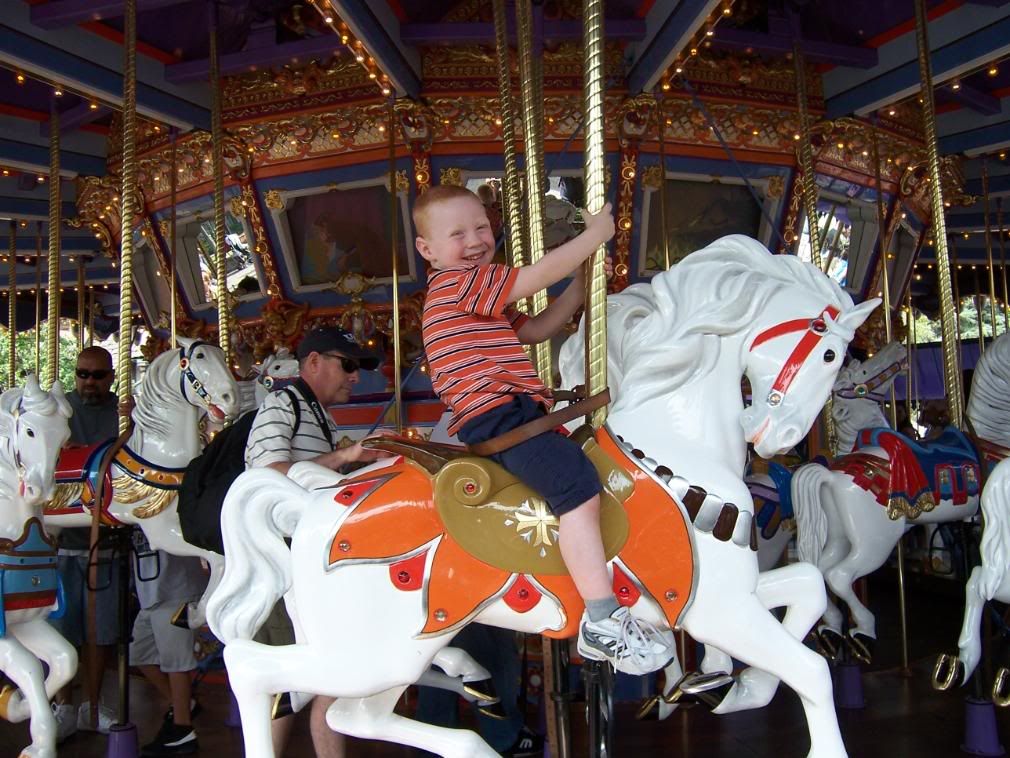 2nd ride and first dark ride - Mr. Toad's Wild Ride
We let Matthew tell us what he wanted to ride. We then went on Peter Pan and he really wasn't sure (a little scared) about the dark rides, so we asked what he wanted to ride. The immediate answer was Autopia! Off we went.
He wanted Mommy to drive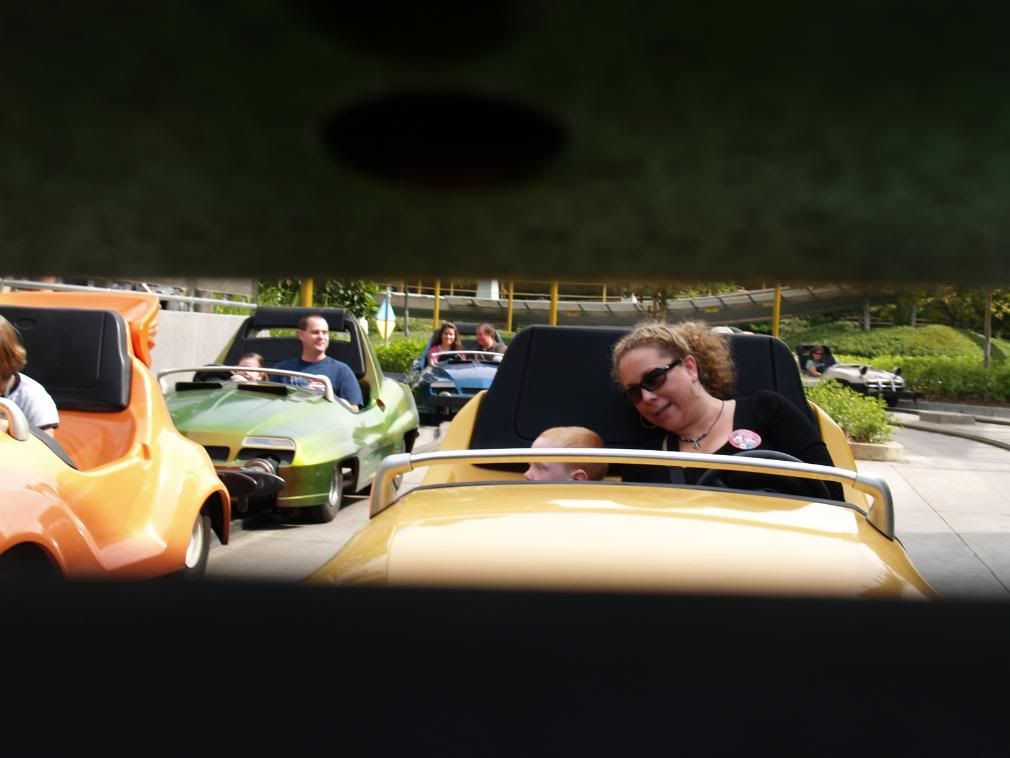 Where's Uncle Dick?
Tailgaters!
Orange County traffic
We decided to completely skip Nemo this trip and save it for the future when (hopefully) the lines have died down. From here we got Fastpasses for Buzz Astro Blasters and went on Star Tours. Matthew LOVED this ride, and I have to say, I never get tired of it. Then we caught the DL Railroad to Toontown. What a fun place for little ones! I had never been there.
Firefighter Matthew
Where's the fire? This little girl was too cute! She really liked Matthew.
Chip & Dale! Or is is Dale & Chip?
Roger Rabbit silliness
Interesting exposure on Roger Rabbit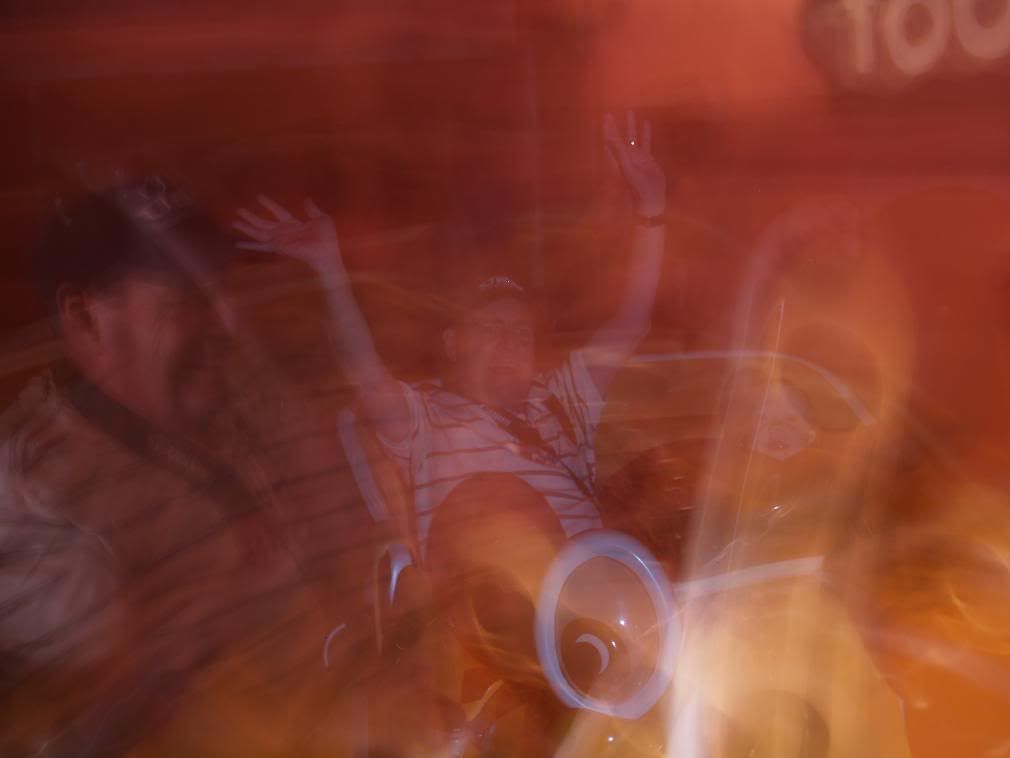 Kim and Matthew checking out the Toontown fountain (I love this pic!)
We took a break for lunch and to recharge our batteries. Then it's off to the Mark Twain. I asked Matthew if he wanted to help pilot the ship, and the said no. He was getting a little tired at this point. He really liked the big paddle boat, though.
How many people in the world have this photo in their collection?
Old Mine Train
Old Mine Train tracks
Indian Village
Paddle wheel
Have they ever had to use this?
Matthew surfs the Mark Twain!
Mark Twain flags
Davey Crockett / Mike Fink Keel Boat
On to New Orleans Square to ride Pirates and HMH. Matthew loved both. Smart boy!
Center of DL?
Just wanted to add that this survey marker is in NOS on the path that runs near the river towards HM. This is NOT the one always mentioned in Fantasyland as the "center" of DL.
Someday! Both Kim and Guuma have been - b**chs.
Saw these guys cavorting the streets of NOS. Yo ho, yo ho, a pirates life for me!
Daddy and Matthew catch a few zzz's in the lobby of the Blue Bayou while waiting for our table.
Always love the atmosphere. Food was good, not fantastic. Might try for lunch next time to pig out on the Monte Cristo. Yummmm...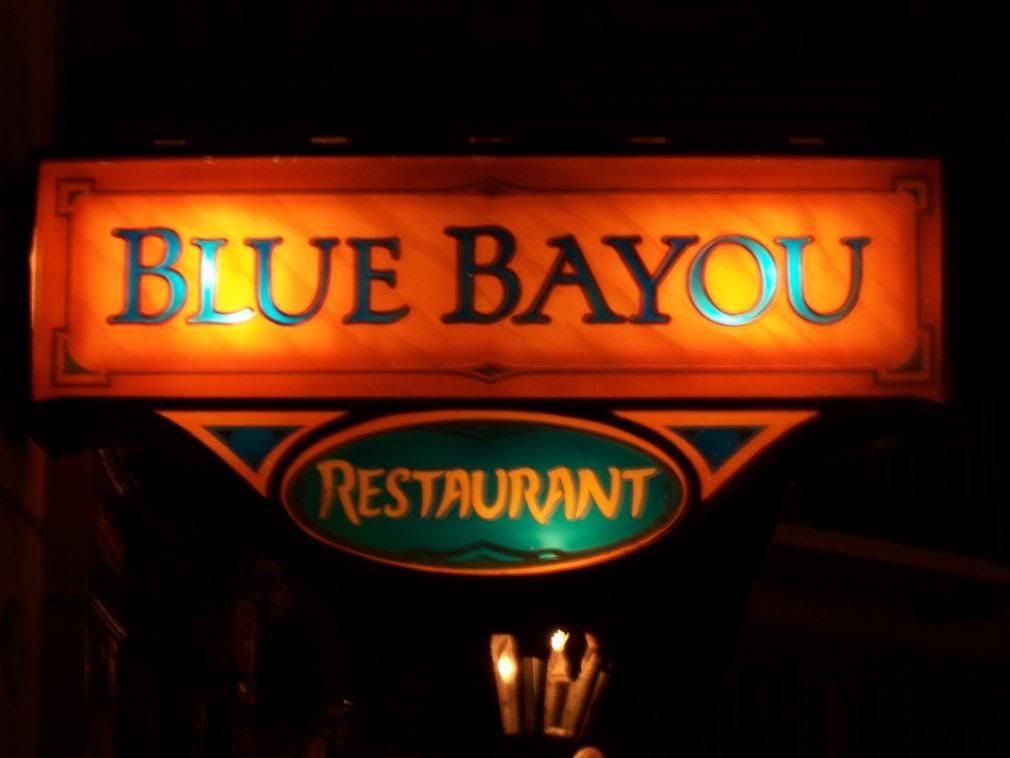 Said goodbye to Guuma and Guupa for the night, then headed to Buzz to use our Fastpasses. This wound up being Matthew's favorite ride by far and the only one he wanted to ride again.
Larry gives Matthew a boost at Buzz
Daddy & Matthew - where's Matthew?
Mommy & Uncle Dick - I know my score is cr*p - I've never done well on Buzz
Before the park closed for the night, me, Kim, and Larry wanted to ride Space Mountain. It broke down for about 20 minutes, but we stayed in line. We were able to get on quickly when it came up again. Never get tired of SM either. Too much fun!
Then we headed back to the hotel for some well deserved sleep. Part 2 (CA Adventure) to come.
Goodnight Sleeping Beauty Castle
Goodnight Main Street
Goodnight pumpkin Buzz