Even though it was a long weekend at the resort last week for Gay Days, we decided to head back this weekend for the Noon Meet and the Single Riders Meet.
We got a bit later start than usual so Michelle and Adam could go to church. We got to the resort around 10, parking in the Pumba lot.
Our first stop was Matterhorn for Adam and I. We waited in the line for a while and when we got to the next to last turn I spotted a pair of Dream Teamers taking up position at the exit. I figured we were too far back in the line to win, but they just waited there, taunting me.
Anyway, the ride broke down and we waited for it go start back up and the Dream Team kept waiting. We got on the bobsled and had a good time and when we came to the end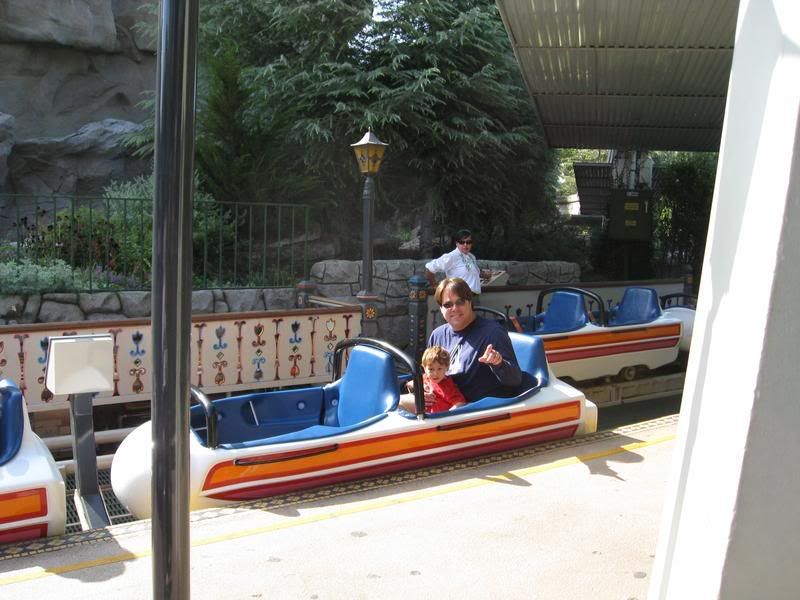 I watched the DT hand out the last of their FPs and walk away. *Shakes Fist *
Anyway after that drama we went on a cruise around the world and then took the train to NOS. While we were in the line for the train we practiced asking Adam "Where's the baby?"
Here are Adam and Michelle on the train.
At NOS we went on Pirates and then headed for the noon meet. Well, Michelle did. I went to change a dirty diaper. When Adam and I got there everyone was there.
JudiMouse, Deogge's Mom, Morrigoon.
Disney1978, quiltmaker, Doom BGI, NeverNeverLand.
I tried to get a picture of SuperStacie and TrekkieDad, but it took a couple of tries to get it right.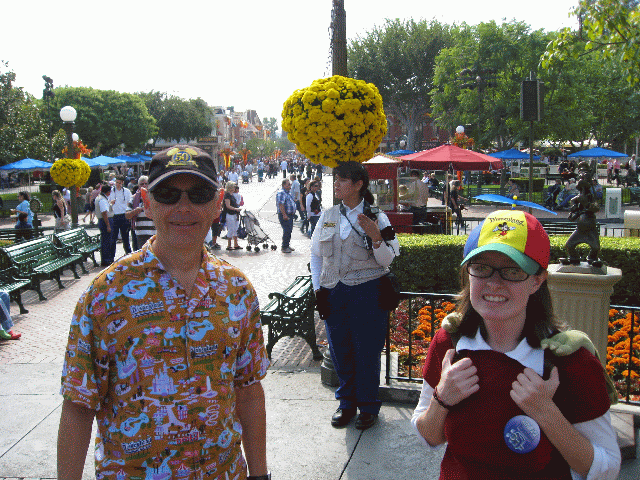 I was going to animate this series of SuperStacie and MaryAnn In Wndrlnd's husband but it just doesn't work.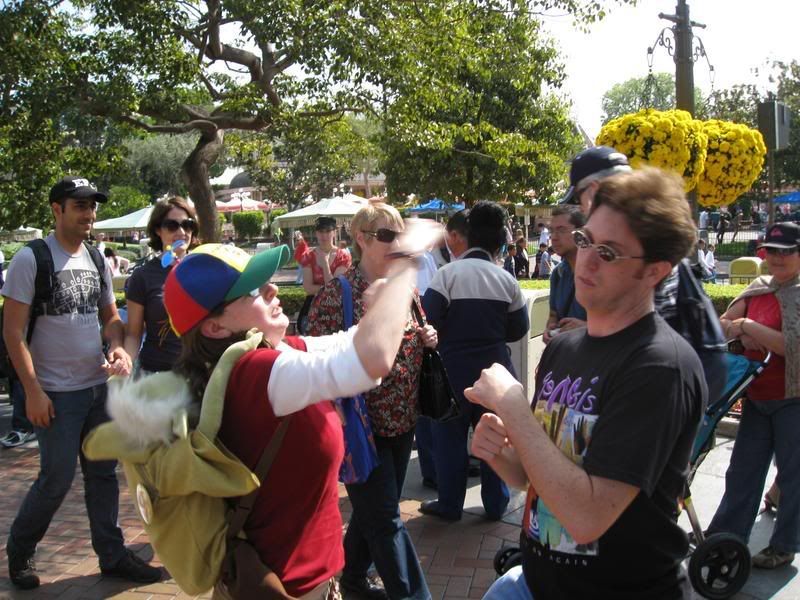 After the meet we went to lunch, where Adam continued the behavior he started during the meet. Grabbing a MiceChat grrrl and dragging them all over the place. He pulled MaryAnn In Wndrlnd and Disney1978 to look at the horse. He made SuperStacie look at the book attached to his stroller. I think he grabbed or groped both Morrigoon and Mousercise at one point.
After lunch it was time for the Single Riders Meet. We waited for some Space Mountain riders to arrive before we moved out.
Adelade, Mousercise, Disney1978, Morrigoon.
Lots of things to like about this picture. SuperStacie taking a picture of me taking a pictures of her. MaryAnn In Wndrlnd's hair spinning as she turns her head.
From here we headed to IASW.
Then to DCA to check out the decorations, then over to the Animation building to see the Pixar Zoetrope.
(This is where a Youtube will go once its uploaded. Should've started it sooner.)
After that there was some waiting in the lobby. And dancing
Some of the group went to the Animation Academy, some of us went to Monsters Inc. From there it was time to head back to DL for dinner at the Plaza Inn. This was a fun meal. And after SuperStacie proved how awesome she is by buying Adam a duplicate of her famous propeller hat. He'd been playing with hers all day. And now he has one of his own.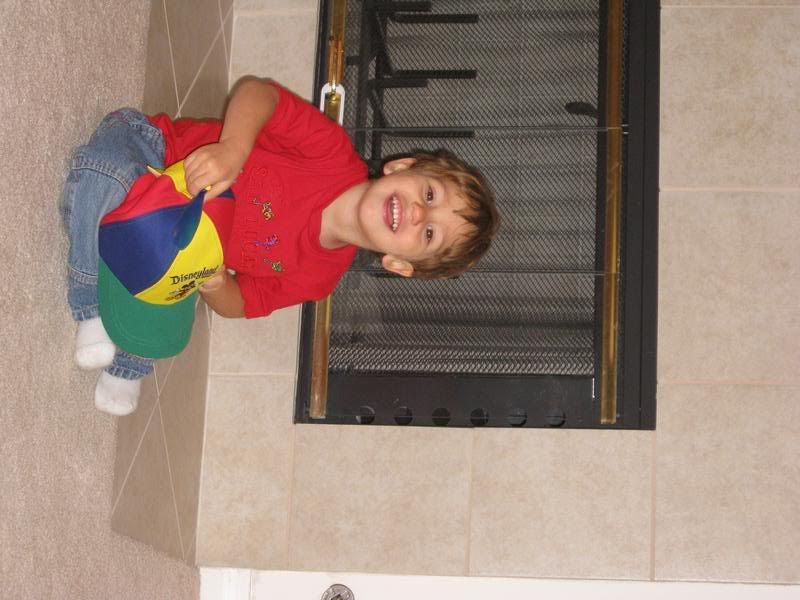 Thanks for the fun day everyone.