Matt's September, 2015 Solo Trip after the Safari Cruise...
OK, this is a continuation of my September, 2015 Trip Report which started with my Sunrise Safari breakfast experience on the World Famous Jungle Cruise!! You can find that first part here:
http://discuss.micechat.com/forum/di...-jungle-cruise
2015.09.25
Mid-day, I had decided I was going to try to go back to DLR that night. I knew that Disneyland closed at 23:00 and the drive up in rush hour was going to take in excess of two hours. I weighed the pros and cons of time spent in park vs. the time it would take to get there, when I would be expected to get back to San Diego, and how tired I was going to be the next day. When my 4-5PM meeting got rescheduled for the following Monday, I knew it was a sign. I threw my stuff in my backpack and ran to the hotel to drop off laptop/Jungle Cruise treasure, and boogie up to Anaheim. By 16:49, I was pulling out of the hotel and hit the road. The 163 was pretty empty, the 805 practically deserted, but when I hit the 5, it was gridlock. Ugh… nothing more frustrating than trying to get to DLR and sitting in traffic. It took until Carlsbad to finally open up, and I made great time until 11 miles from my exit at which point I was again sitting in gridlock going nowhere fast. Oh well… just cranked up some Disney tunes via YouTube and texted with Amy and Lindsey.
18:50… I was on Harbor, turning onto Ball and into the gas station on the corner to grab a few Gatorades. Five minutes later, I was pulling into Mickey and Friends Parking structure… I made my way up to level 3 and grabbed a spot at the VERY wrong side of the structure (West end)… a good quarter mile walk to the escalator… Oh well.. I didn't care, I was back at Disneyland!!!!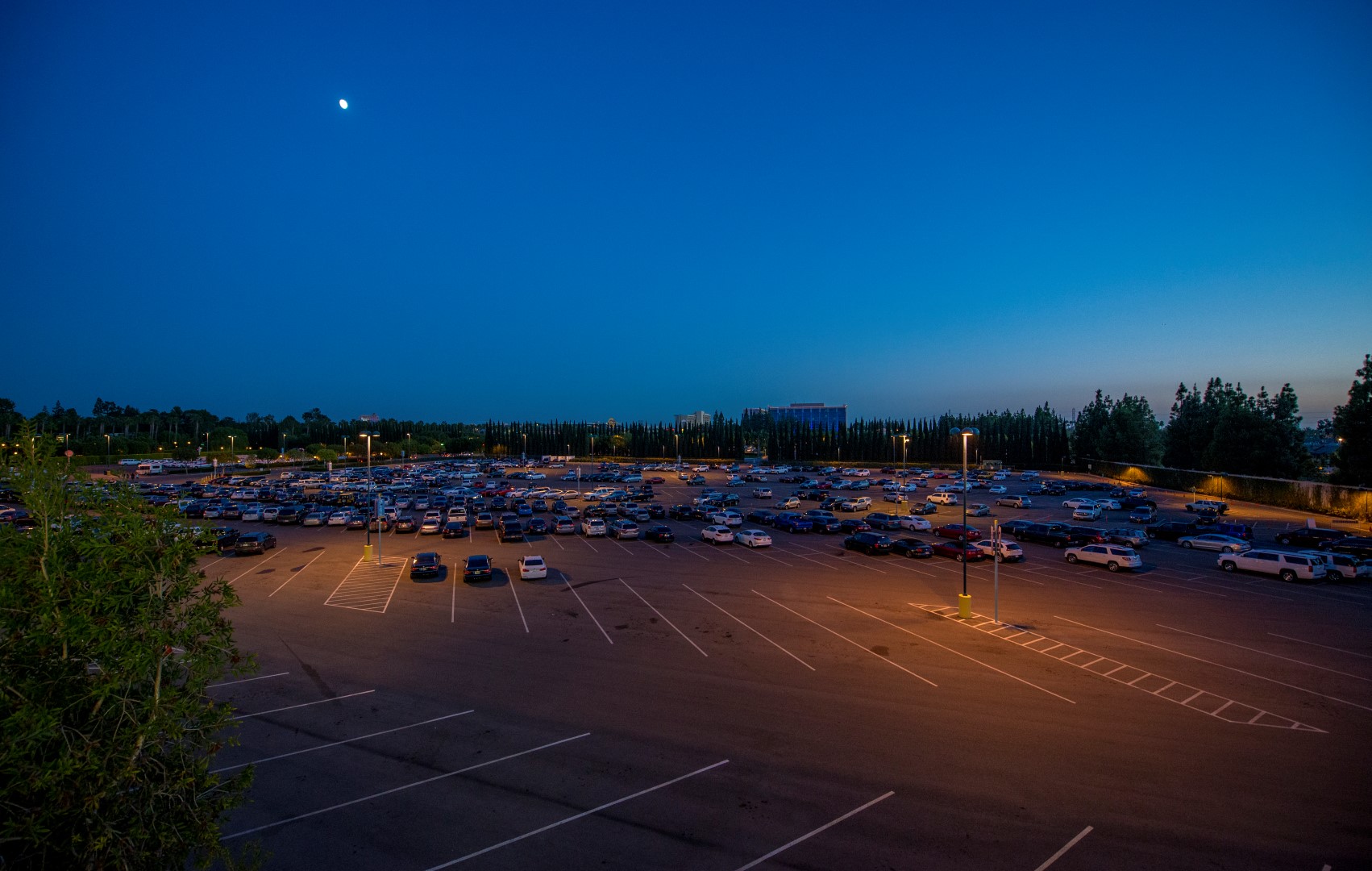 AT 19:14 I was on the tram… seven minutes to get to DTD, and six minutes later and I was inside Disneyland walking under the East railroad underpass… I had a few pics I wanted to try to grab, so I wound my way on the East side of the hub, by Pixie Hollow and over towards the subs.. I tried for a few pics of the subs, but with only f/2.8 glass and some pretty inky blackness, I didn't really pull off what I was hoping for. Oh well…. I made my way around the N. side of the Matterhorn, tried for some equally dismal pics of Alice, and then waited quite a while for the Casey Jr. train to come around. …so-so at best results on that one.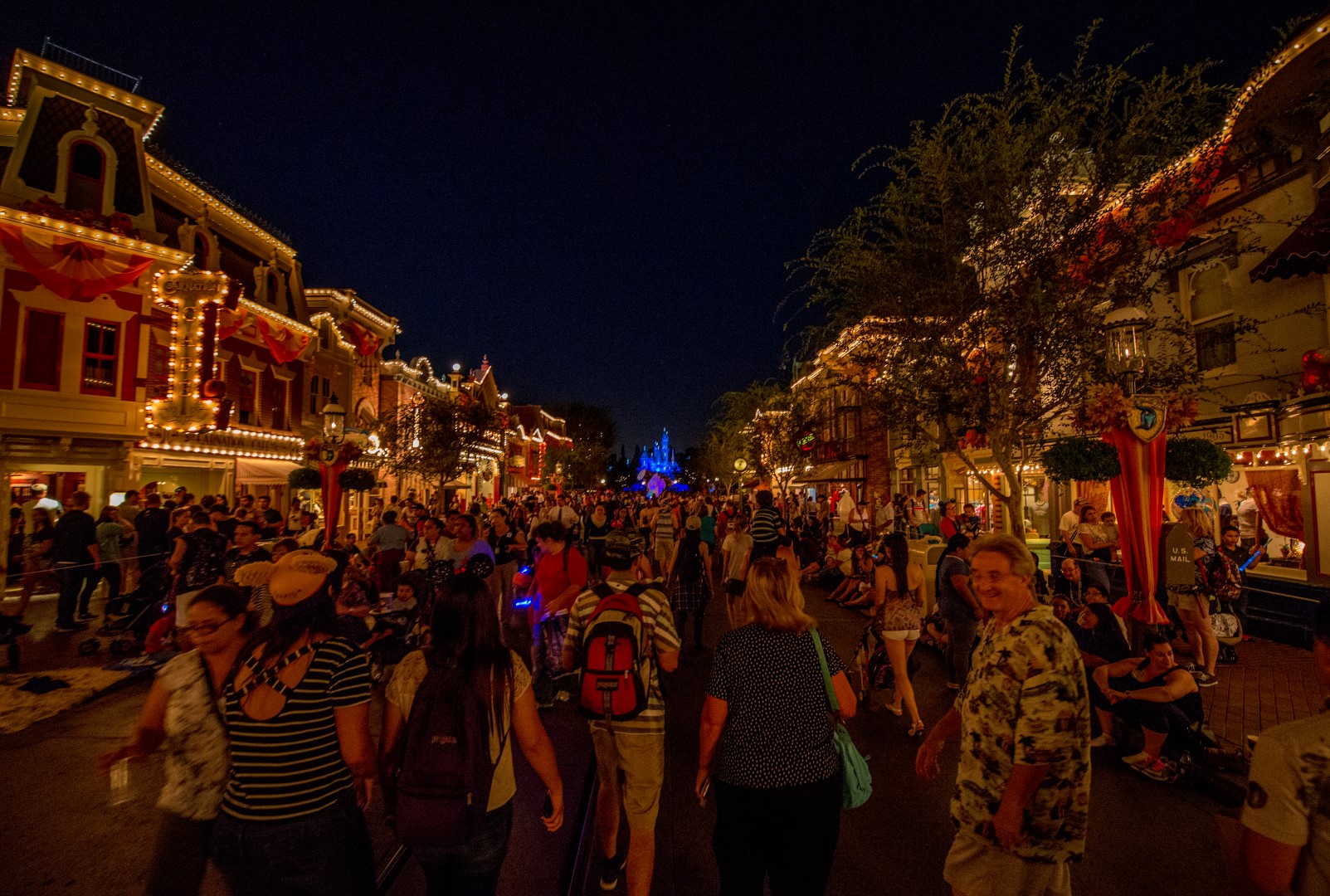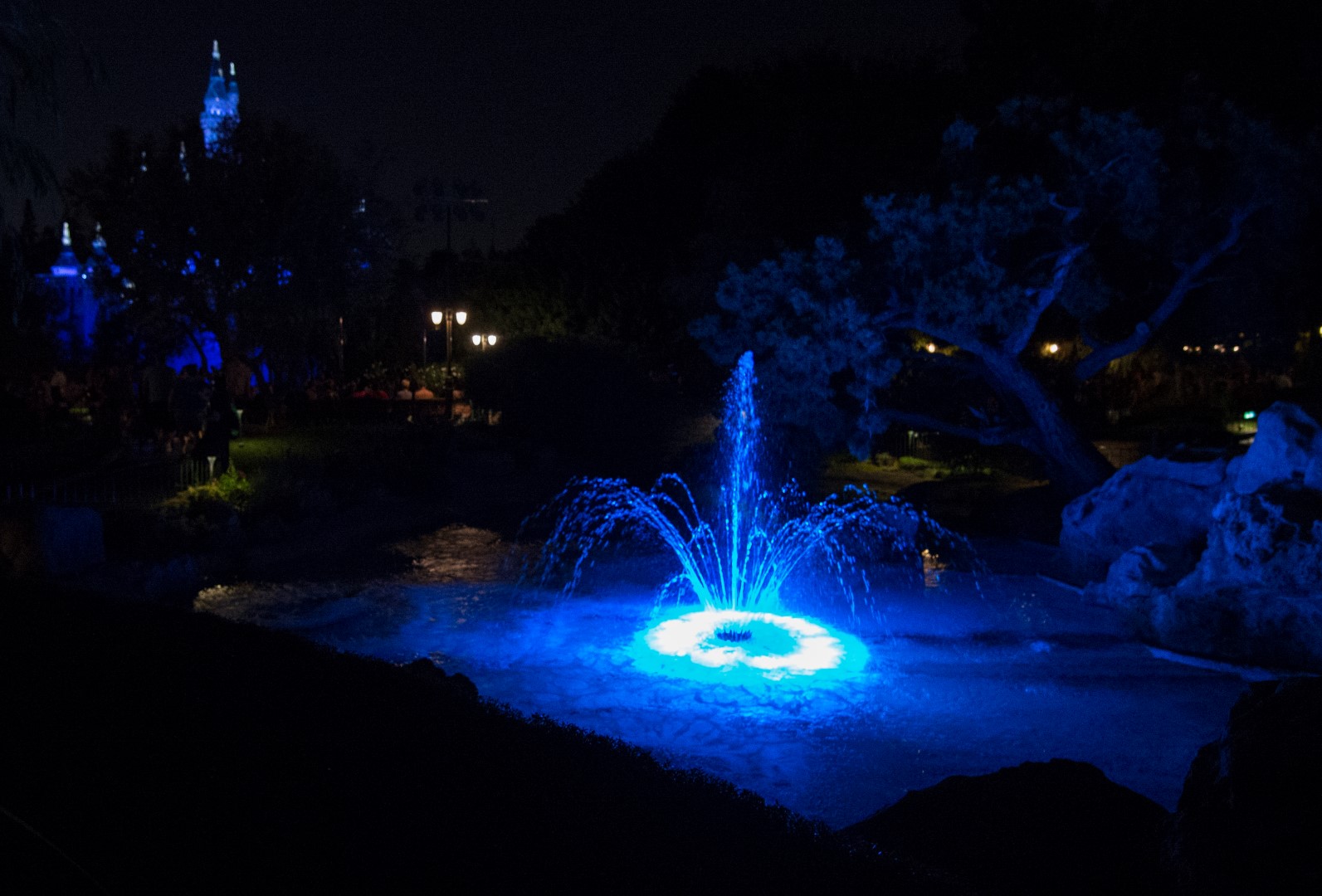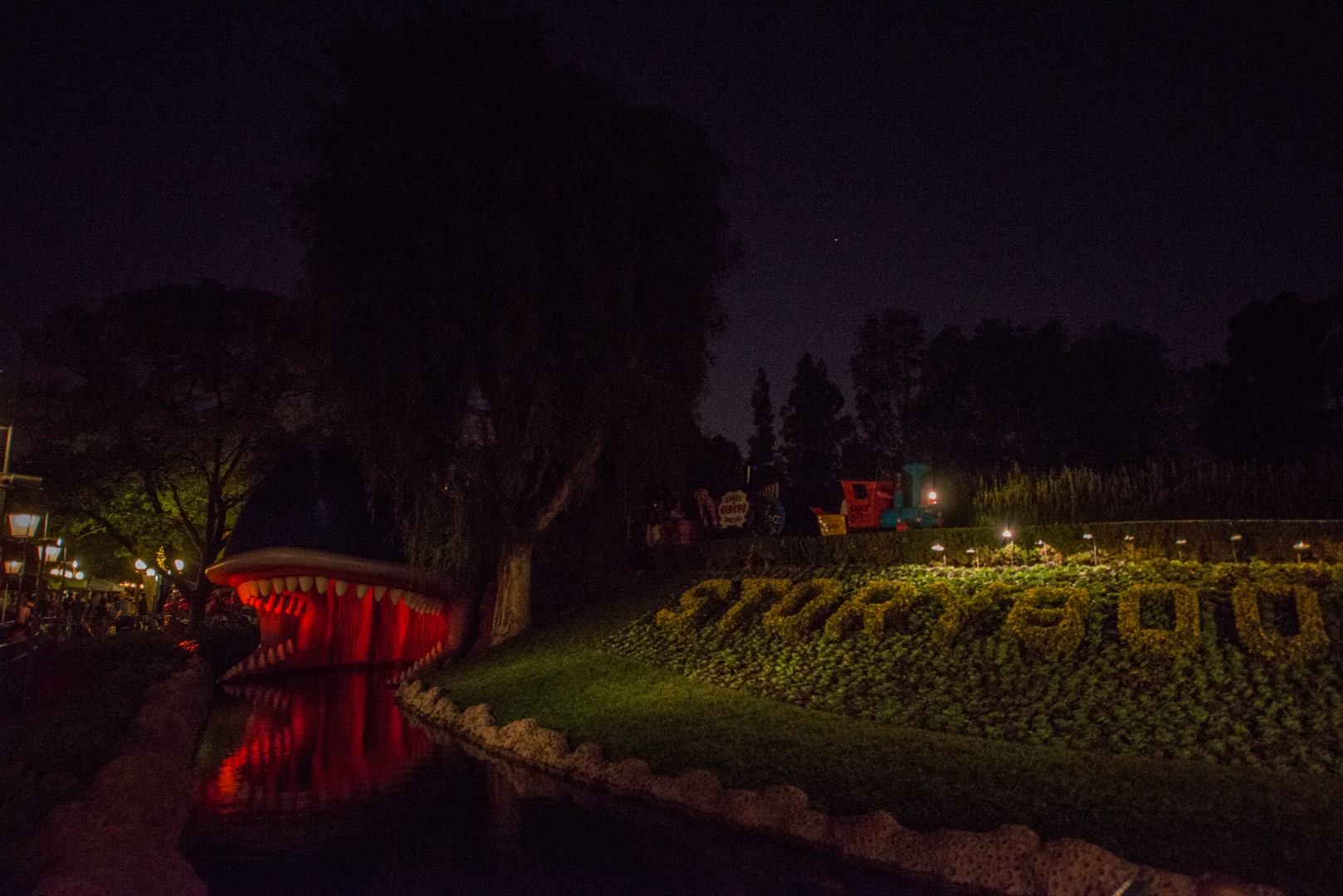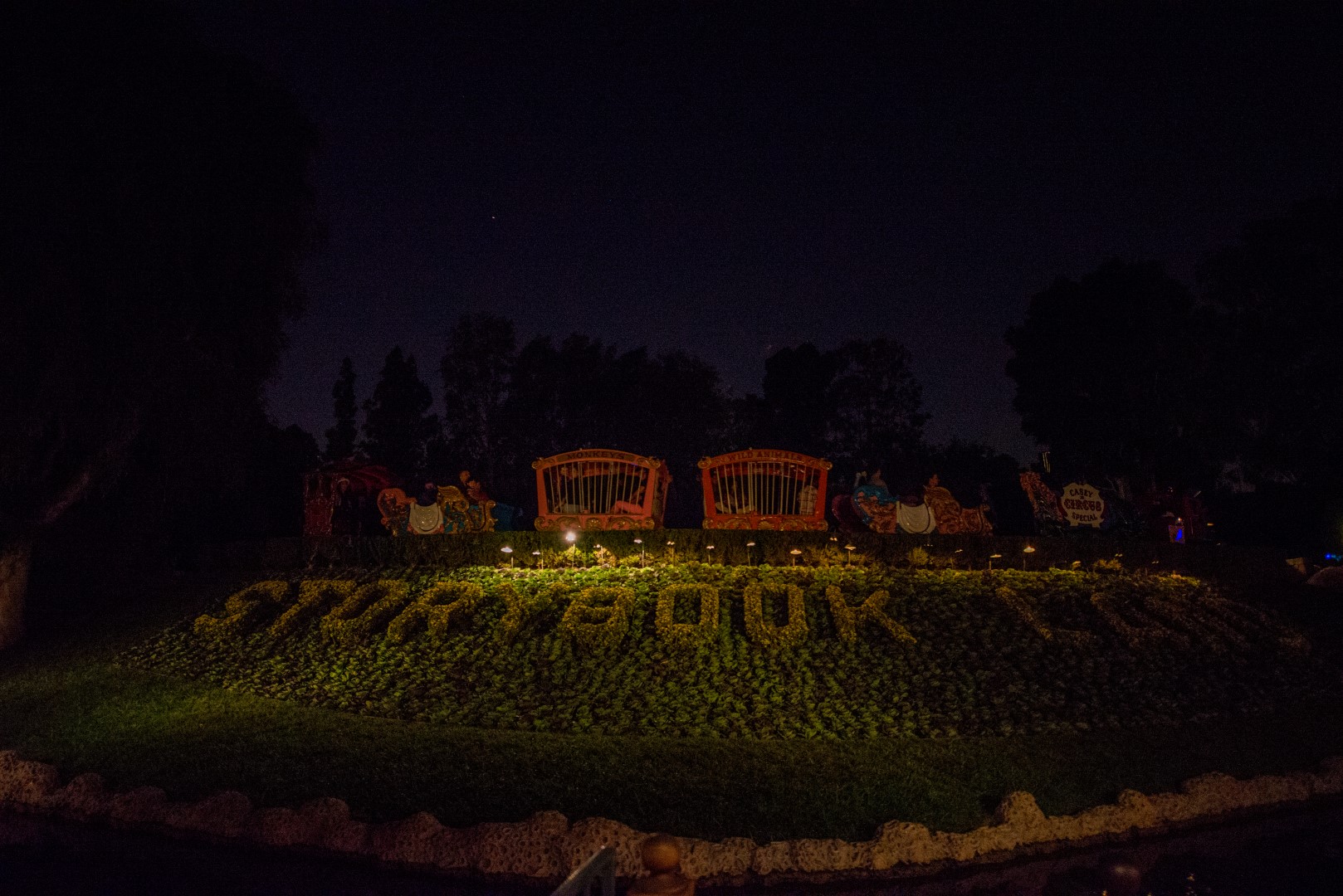 I rounded Big Thunder Trail at 19:47, and seven minutes later I had made my way into the Haunted Mansion Queue…