Part 1 -
http://discuss.micechat.com/forum/di...isneyland-pt-1
Part 3 -
http://discuss.micechat.com/forum/di...celebrate-pt-3
Part 4 -
http://discuss.micechat.com/forum/di...ate-final-part
Chewie….We're Home
By 12:30, we were in line at the Grand check in desk. We felt like it would be best to get it all taken care of now as we planned to close the place down tonight at the parks. What better way to get ready for 3 days of Disneyland then waiting in line at the check in desk for 20 minutes.
Keys now in hand, a room to come later in the day, it was off to the gates. I am pretty sure I could have floated from the Grand to the entrance gates. Instead I borderline ran.
And there it was, for the first time in 3 years we were heading inside the gates. A couple of obligatory pictures in front of the mickey flowers and it was on. We have learned over the years that planning to do things later on usually doesn't happen.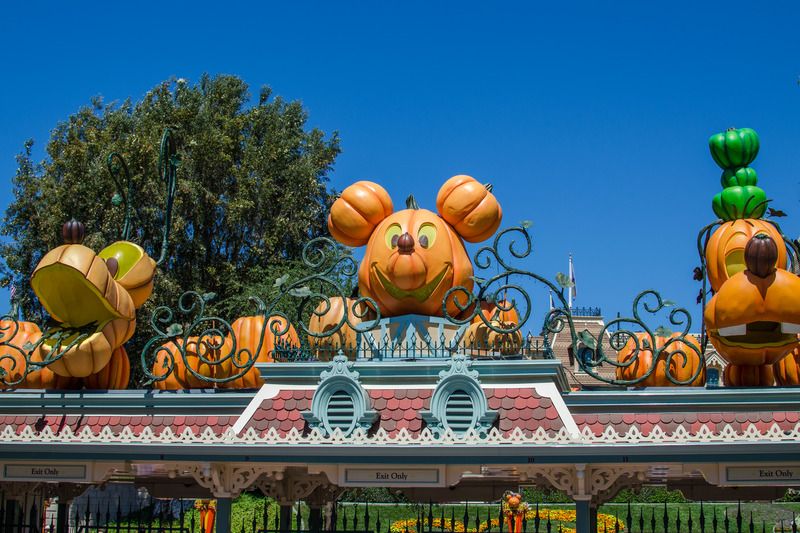 ***Side note – this was the first trip to Disneyland with my DSLR. Having read, re-read and read some more all of Hot Sauce's photo tutorials, I lugged all of my gear around for the entire trip. It may not be much compared to many, but it is mine and I was going to get the pics I oh so wanted.
We took in the sights for all of about 10 seconds on Main Street as I cleared a path up to Pirates. Since we went a day earlier than planned, we were going to be able to ride it before it closed the next day for a two week refurb. Normally, Small World is our first family ride but not this time. It was time to pillage, plunder, rifle and loot. Ah, what a site and what a ride. Our whole family felt gipped by the WDW version on last year's trip. We were going to get the real deal here.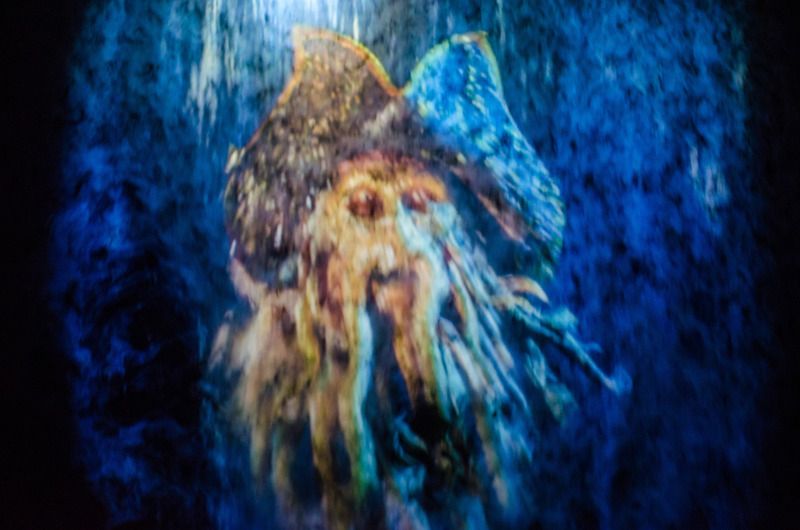 The rest of the afternoon period was spent hitting as many rides as we could. Knocked out in the first few hours were Winnie the Pooh, Haunted Mansion, Jungle Cruise, Tiki Room and Tarzan's tree house a few times.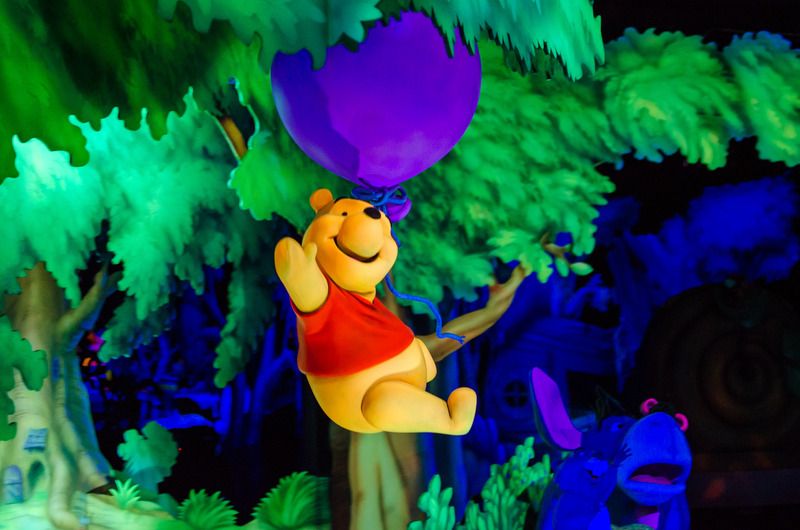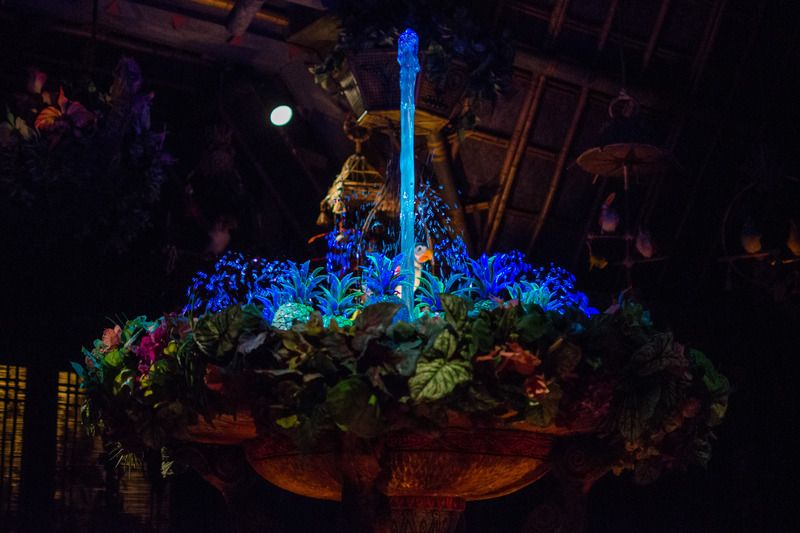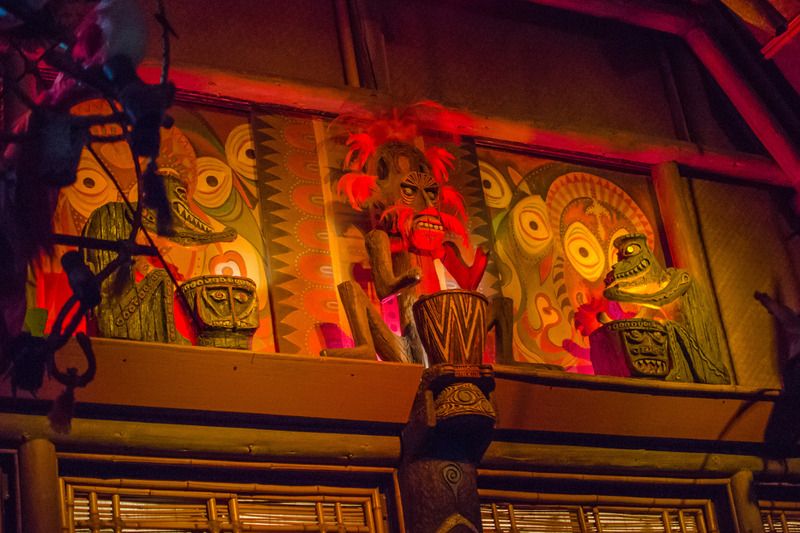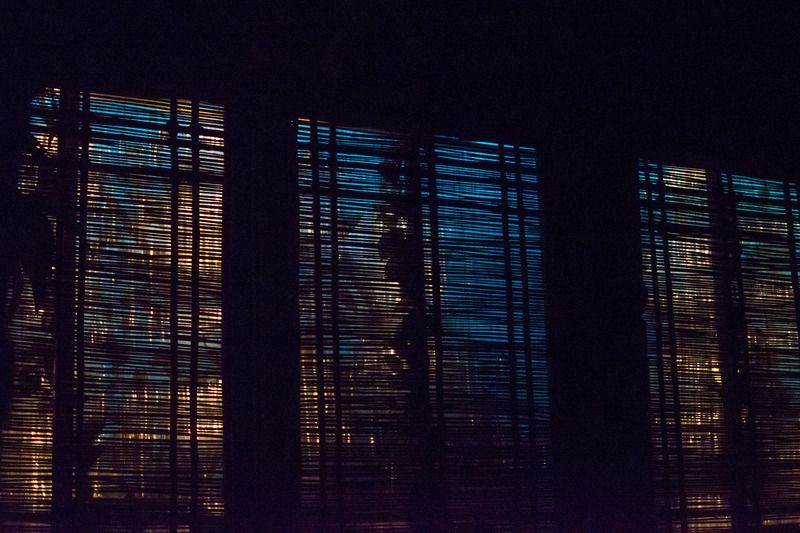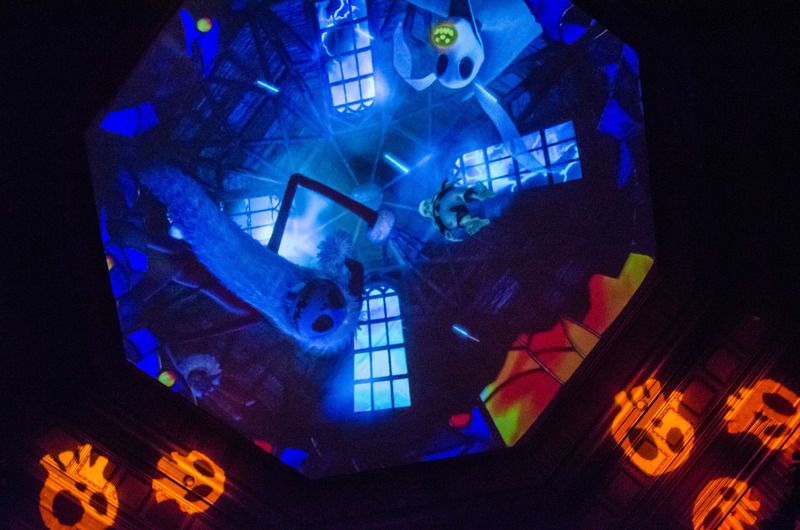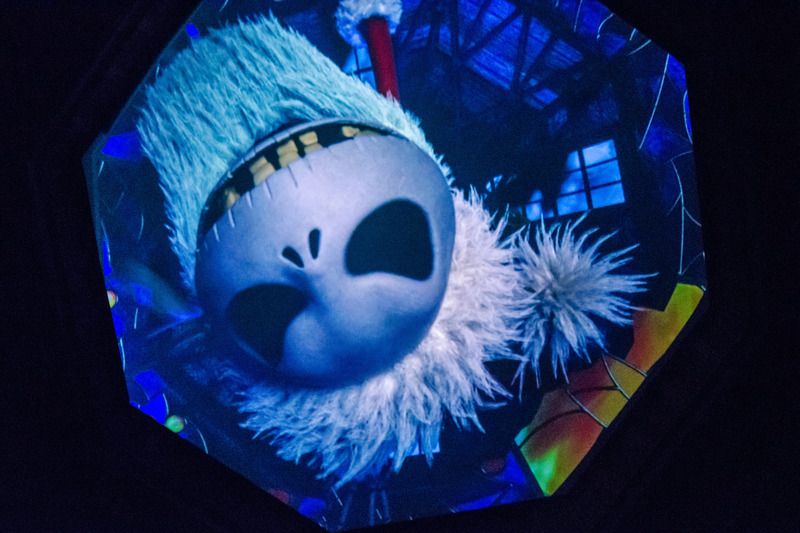 We hit an early dinner over at Rancho del Zocallo. This is the first dinner stop on every one of our trips. Why? I don't know but it has sort of turned into a tradition for us. Even though we can get a lot better Mexican food in Phoenix, there is something about the Carne Asada and enchilada platter that keeps calling me back.
After dinner, my boys wanted to head to the shooting gallery. Always a favorite of mine growing up, how could I say no. With quarters in hand, we mowed down target after target. However, at one point, I noticed something. A wee bit of Disney magic. The rifle my youngest was using had a glitch. It still fired long after the 20 shots were up. Was I dreaming or did he just get a free play? Nope he wasn't dreaming. For the next 20-30 minutes, we saved a fistful of dollars at the shooting gallery playing on the glitched gun.
Daylight receded by the time we went over to Tomorrowland. Both of my boys had to get some Buzz Lightyear in and get it in a hurry. A couple of trips through and then off to the Astro Orbiter. My oldest wanted to spin around on that. However, we started noticing that people were lining up for parade spots already. It was 5:30. The parade didn't start for almost three hours.
A few more rides and window shopping the sun was getting lower and the curbs were getting more filled. I headed out to scout out a parade spot at 6:30. Holy cow, darn near every bit of concrete and brick was already taken! We found a spot just up from the Coke Refreshment Corner behind some benches. The cast members said we would have to stand starting about an hour before the parade started in order to squeeze more people in there. Fine, I would take one for the team and stand to claim our coveted spots. My mother in law volunteered to join me too in order to secure concrete.
Over the next two hours, I got some Gibson Girl ice cream for all of us, the kids played a little on the phones and we waited.
**Side note #2 – my oldest has a peanut allergy. At WDW last year, I was surprised that the desserts and ice cream toppings were not segregated like they were at Disneyland. In Orlando, peanut topped items were literally mixed on top of, underneath and beside normal items. I knew that was not the case at Disneyland and was pleasantly surprised that the desserts were still mostly segregated in Anaheim. However, the Gibson Girl changed a bit and now had the peanut topped cones all over the place unlike our last trip. This necessitated having to call the chef in to specially make my son's ice cream in order to make it safe. The chef and cast member were great about it.
Now for the un-Disney magic. At about 45 minutes before Paint the Night was to start, just as they said, the cast members went around asking everyone not on the curb to stand. My boys and another child (who was so worn out he is probably still asleep) were right behind the first row who got to sit. The cast member became over zealous and belligerent, demanding that they all stand now. No one around was bothered by them sitting 6 inches behind the curb. Despite saying that they would stand for the parade when it came around, we asked if they could sit until then. Apparently, Little Miss Flashlight didn't or couldn't use common sense to see that being 6 inches behind the magic line shouldn't be an issue. Despite sound logic that the kids would be standing at time of parade but let them rest for a little bit and not have to wake up our passed out sleeping little neighbor, the cast member was unmoved. Carol aka Little Miss Flashlight eventually moved on after a pseudo détente ensued between my wife and her. Neither was going to budge. Fortunately the couple sitting at the curb allowed my two boys to scoot next to them to avoid us getting thrown in Mickey Jail.
As for Paint the Night itself, we enjoyed it very much. Each float was done nicely and the amount of lights brought out a lot on each float. I was encouraged by it after hearing several negative views about it after it first premiered. The mix of LEDs and animation was a nice touch on several of the floats. Either the Peter Pan or Monster's Inc. floats were my favorites.
Immediately after the Paint the Night parade, everyone moved to Main St. to view the fireworks. While I had heard the audio of the new show, I avoided actually watching the videos. I was glad that I did. The show was great. Although, my hopes for photographing it went straight down the … once we moved to Main St., I still really enjoyed the show. It captured a lot of things perfectly. Loved the Finding Nemo piece. Even my wife remarked about how she liked it and really enjoyed the Jungle Book segment.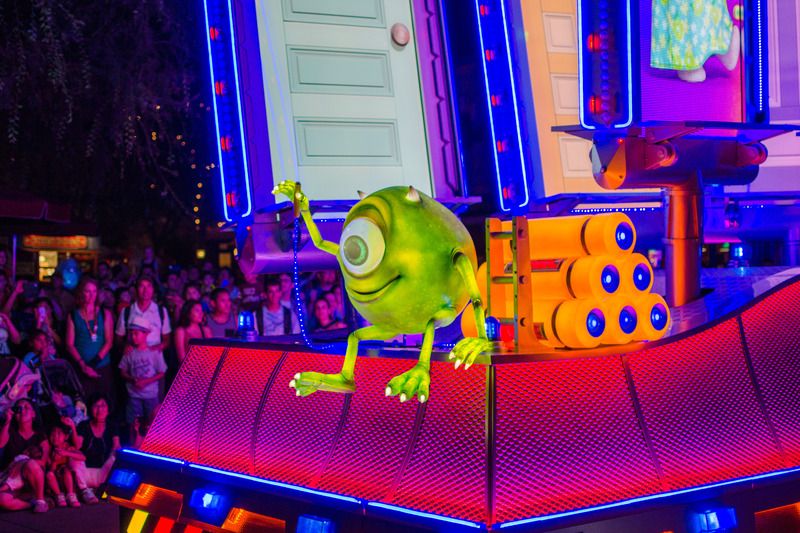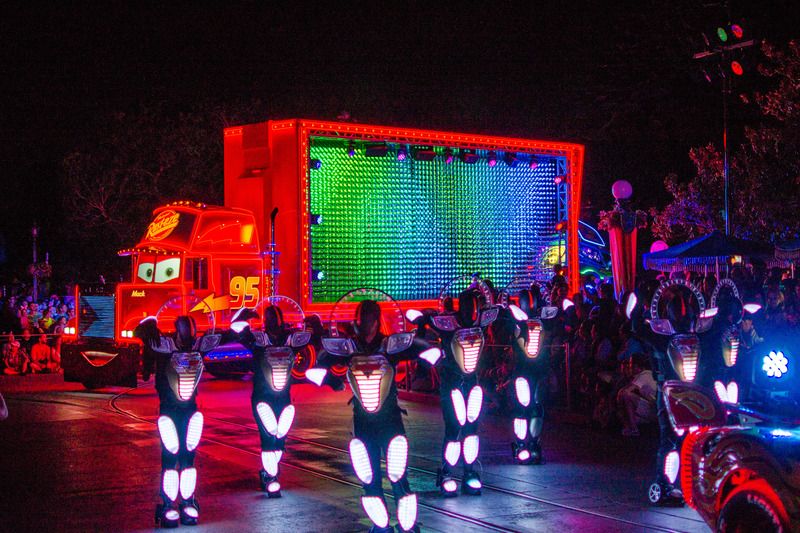 By now, it was 10pm, we had been up since 5am, had yet to get to our hotel and I had walked the family about 6 miles already. Rather than heading back to the rides, we headed back to the Grand to rest up for the next morning.
All in, it was a very successful first day. We got to ride Pirates before it closed, hit several other rides that were on our must do list and caught both nighttime shows.
The only downside to our first day was the location of our hotel room. Perhaps we got spoiled on our first stay at the Grand in 2012 where we had a room overlooking the pool with a slight view of the park. This time, we had a view of Disneyland Dr. and the front of the hotel. At least it was facing north so we might be able to see the fireworks the next several nights.