Part 1 -
http://discuss.micechat.com/forum/di...isneyland-pt-1
Part 2 -
http://discuss.micechat.com/forum/di...celebrate-pt-2
Part 3 -
http://discuss.micechat.com/forum/di...celebrate-pt-3
--------------------------------------
Rain, Rain, Go Away
And the rain, rain, rain came down, down, down in rushing rising rivulets…
The pitter patter of rain drops we awoke to on Tuesday was unfortunately what we expected. However it held off on Monday, the day before, which allowed us to cram more in. On Tuesday, it was expected to break by lunch time. Ok, we could work with that.
Due to the morning rain, we took it easy. My oldest had a Disney gift card he wanted to spend so we made the morning a shopping day. Off to Downtown Disney we went.
The World of Disney store is a fun place. A really fun place to shop. One in which my wife is best served to seize any and all credit cards of mine before entering. If left to my own devices, we would need a U-Haul home. Not that it would be a bad thing.
While the kids and my wife shopped for toys, my mother in law and I each went in separate directions to look for our own souvenirs. I picked up a couple of mugs to bring home, found a new shirt for the 60
th
and was jonesing for a watch. A particular watch I had seen in one of the Dateline Disneyland photo spreads of the 60
th
merchandise. Unfortunately I found out it was $1,000. Uh, I would have to pass.
Armed with our new purchases amidst a downpour, we jetted over to the Lego Store for the boys. They scoped out the new sets and found which ones they were going to bring back home. On our last visit to Disneyland, the wanted to go to the Lego Store the first afternoon and were essentially done with the parks after that. New rule, no building vacation bought Legos until we get home.
Three years ago, my oldest son fell in love with the ESPN Zone. He was promised a trip there for a meal on our return. What better time to hit than during the rain when we would definitely be away from the parks. It was a ghost town there at open so we enjoyed our meal. Overall, it was tasty, just the wait for food to actually come to the table was too long.
Ok, lunch over and the rain has stopped. Who is up for a shortened day at the parks!?!?! We had thought on the drive out about adding a day to our tickets in case it rained. If the rain was short enough we could pay a bit extra and still go and enjoy the rest of the day. That was the plan and we were running with that.
Back to the Grand where the concierge told us an extra day on our three day park hoppers would be only $25 per ticket. Perfect. We were directed to turn from the concierge to the registration desk to complete our transaction and be on our way to the parks. Oooohhhhh, it was almost time to hit the gates again. As directed, we handed over our tickets to validate and then there was the hiccup….
The desk clerk asked if our tickets were discounted. Why yes they were. My employer offers us discounted tickets (FYI, because of our partnership with Disney the tickets are more discounted than just about any option other than working for Disney or being in the military) and we always enjoy the few extra bucks in savings. She politely informed me that the actual cost would be different. Fine. If it was a couple extra bucks above the $25/ticket, it was still a huge savings.
$80 per ticket! Uh excuse me? Apparently our discount was too good and we would have to pay up to the regular price to make it cool. Commence crestfallen in 3…2….1. Sorry folks, parks closed for us for the day. Too pricey to make happen. Time to come up with a Plan B.
Well, we went back up to the room for a bit. The kids played their games, my wife fell asleep and we just kind of hung out. A while later, the kids jumped at my suggestion to go to the pool and water slides at the Grand. They had a good time and eventually got me to go in with them. Uh, 82 degrees water is a wee bit colder than our home pool back in Phoenix. As my blood has thinned, the pool quickly segued into the spa to stay warm.
Deciding to head out early and beat the crowds, we opted to check out Trader Sam's over at the Disneyland hotel. Having never been there before and hearing many positive things, why not? The menu was fine for the kids to eat. Even before 5pm though the inside was all taken so we enjoyed the patio. While not as picturesque, it did offer a nice setting to enjoy the end of the day. Of course a couple of souvenir mugs came home from there too.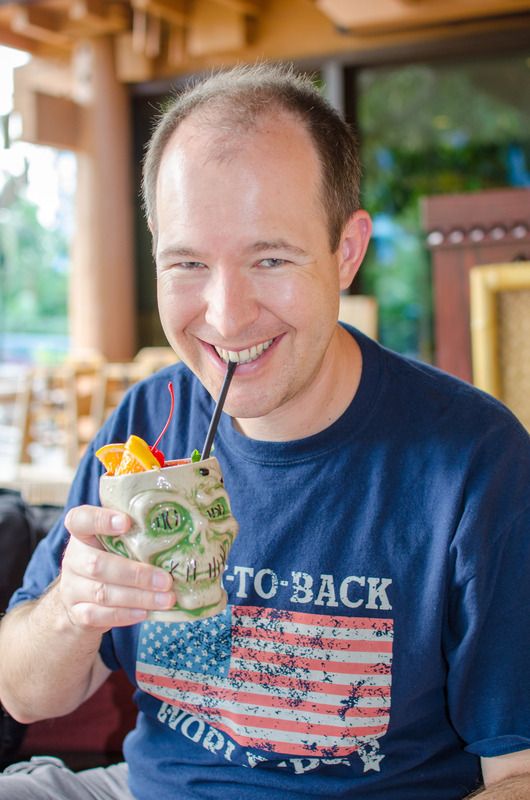 The day ended with a stop for cookies at Marceline Confectionary for dessert along with fireworks on the hotel patio. FYI, we love the chocolate chunk cookies at Disneyland. We typically get at least one a day when we are at the parks.
Overall the day was a washout (pun intended) but we tried to make the best of it. Even though we were bummed at not being able to head to the parks, we enjoyed being together albeit with a touch of sadness. Tomorrow would be another day, our last park day, so we were going to hit it hard.
Last Day
Our last park day. It is always a bummer when you reach the end of your Disneyland trip. When will you come back? Will you be able to come back?
Our alarms were set for bright and early. Mickey woke us up and we got ready for Extra Magic Hour at California Adventure. My oldest son agreed to ride Radiator Springs Racers with me. The quicker we got it done, the more time we could have for other stuff before heading over to Disneyland.
We got through bag check early and in line at DCA by 8:30. Quite a few people in our line didn't realize what the requirements for Extra Magic Hour were and slowed our entry. However, we eventually got in and made our way up Buena Vista Street for rope drop. Two rope drops in one trip! It was a new record for us. Other than a family of Seattle Seahawks fans around us who forgot to shower and use deodorant for the last few days, we were ready to go.
The rope dropped and bedlam ensued toward Radiator Springs Racers. Even with the crush of people we made it on in less than 15 minutes. In fact, my son and I didn't stop moving until the last switchbacks of the queue. Off we went. It had been three years since we rode it before and he liked it a lot more this time around. I can't wait to do it again. By the time we got off, the line was getting closer to 30+ minutes and we wanted to get other rides in.
While we were on Radiator Springs Racers, my wife, youngest son and mother in law rode Toy Story Mania twice. My son and I looked at each other and raced off to get a trip in blasting away before the line got too long. A short wait and we were on.
We rode Mater once before departing California Adventure for a few hours in order to finish up at Disneyland. My son was determined to tackle Splash Mountain for the first time on this trip so we jetted off.
Once inside Disneyland, I grabbed Fastpasses for Splash and we got in line for a last Haunted Mansion ride. My youngest actually likes the Nightmare Before Christmas overlay more than the regular version. With his last must do accomplished, it was off to Splash Mountain.
Earlier I said we are not roller coaster people. That is still the case. I had done the Matterhorn, Big Thunder and Space Mountains as a kid, mostly against my will. However, tackling Splash with him would mean I had conquered the mountains. As much as I didn't want to deal with drops, I was more concerned with my camera backpack getting wet. So, I swallowed my pride, wrapped my backpack in a poncho and we set off. Our fastpasses had us on the ride in 2 minutes. It was go time.
Even though I had seen the ride video before and had my son watch it too, I was really surprised at how fast things moved on the ride. I barely got to take in any of the scenes as the ride seemed to be moving along so quickly. After a few inside drops, we headed for the last climb. And down we fell. Before I knew it, it was over. My son and mother in law were ecstatic for finally getting to ride it. As luck would have it though, the ride cameras were down so my son couldn't get a picture of his accomplishment.
We spent the next couple of hours saying our goodbyes to Disneyland at the Shooting Gallery with or still unfixed gun, Tarzan and some other rides. We just barely got a few seconds in with Captain America and Thor too before we had to get back to California Adventure. But our lunch reservation at Wine Country Trattoria waited.
A month before we left, my wife surprised me by saying we should get a dining package for World of Color. Knowing how much it would cost, I was taken aback and actually against the extra cost. However, she felt it would be best and I went along with it.
It was a great decision. The food at Wine Country Trattoria was great and due to the three course price fixe menu, we actually felt like we got more for our money than a regular diner would. All of us loved our dishes. After dining at both Blue Bayou and Wine Country Trattoria, I think our food budget on our next trip will be going way up.
With lunch secured in our bellies, my oldest now wanted to conquer Grizzly River Run for the first time. I opted to let my wife take this one and I would get some time in at Redwood Creek Challenge Trail with my youngest. They jetted off to get wet while I went to climb with my youngest.
Upon meeting back up the Grizzly River runners were overjoyed. They loved their trip down the rapids and my son begged to go again. This time I wanted to get some pics of them coming down the drop. We snaked out our spot to watch and waited for the appointed time. In the meantime, one of the rafts sent a sheet of water crashing over the barrier and soaked my youngest. The smile on his face said it all. Down they finally came full of smiles. Needless to say, they loved it and we found a new ride to hit on our next trip.
We got a little bit more time in A Bugs Land as the sun was getting lower. While we walked on Francis' Lady Bugs a few times, we had to wait about 30 minutes for Heimlich. Oh how I wish they would just start over on that ride. It could have been so much better.
Already having made the decision to have dinner after World of Color, what better decision than to have some pre dinner Ghirardelli? Sundaes all around with no line at all.
My mother in law and oldest sun headed back to the Grand for a rest while my wife, youngest son and I zipped back to Disneyland. Having realized we missed doing Autopia, we had to get that in for my son before leaving. Surprisingly, the wait wasn't bad, only about 10 minutes.
That is until the ride shut down for an unexplained reason. It took us a few minutes to realize what happened. Apparently, a mom decided it would be a good idea to stop the car, get out and take selfies with her daughter in front of the car. Throw in a few more staged shots on Autopia and the cast members finally noticed what was going down. There appeared to be some language differences and difficulty communicating with the mom. Eventually they got her back in the car and drove away. Why they didn't get tossed off the ride is beyond me.
It was now time to head back to California Adventure to get our spots for World of Color. Our dining package tickets were in a prime spot. So with our early arrival, we staked out a front and center spot to view the show. I had the camera all queued up and on the tripod for the show. Even with a wait, we chatted with a few other Disnerds to pass the time. This would be our second time viewing the show while my mother in law would get her first ever viewing. Who knows what she would think.
The show was certainly different than the previous one. I thoroughly enjoyed the original we saw in 2012 but was disappointed in the new Celebrate show. I could have done without the constant stop-start and Neil Patrick Harris segments. It seems to flow so much better with clips and the accompanying audio. Now with that said, once it got to the clips, it was great. Walt, Star Wars and the park history were fantastic. Every one of us was glad to have seen it with my mother in law speechless from it. When the Forever Young segment came on, things seemed to get a little dusty. Strange though because there was so much mist. We waited through the after show segment before heading out to say one last goodbye to the park.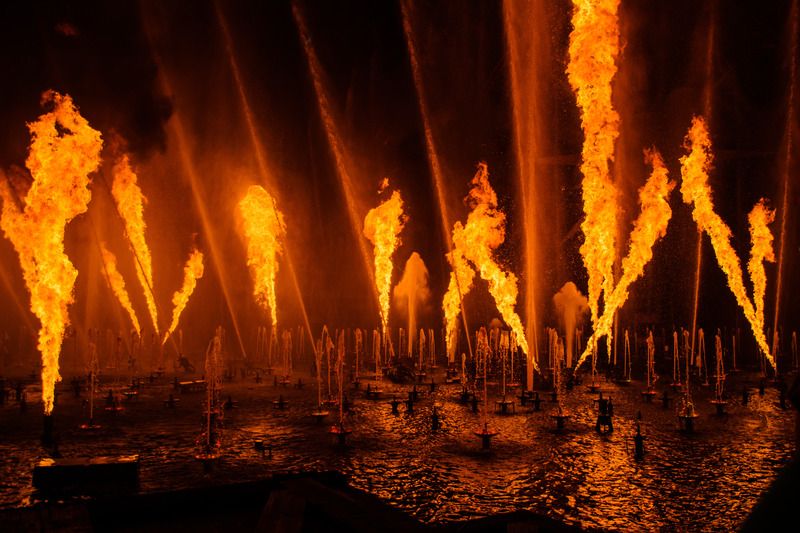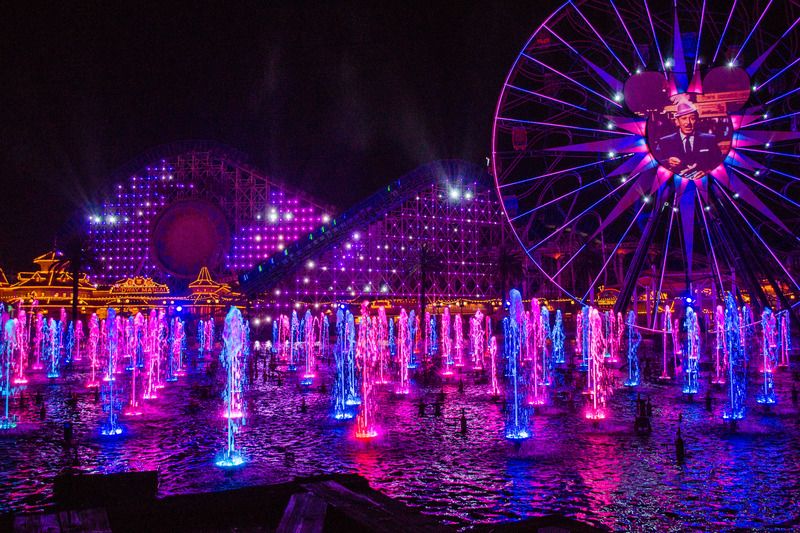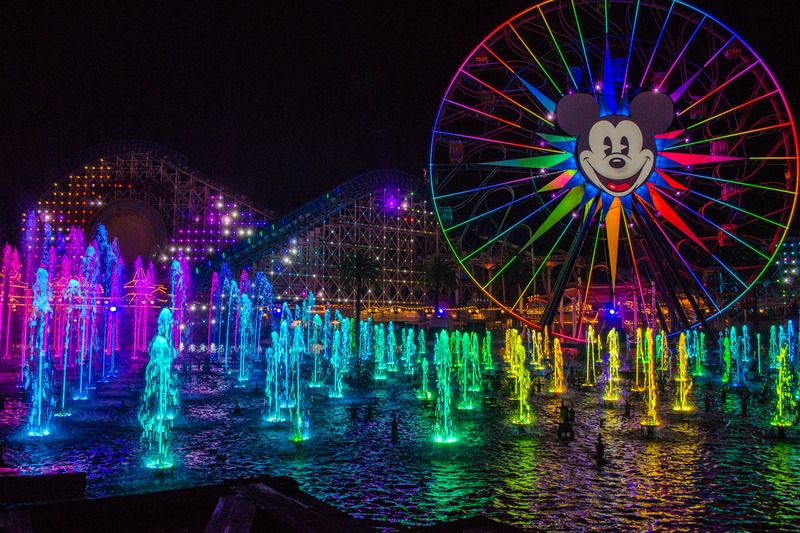 On the way back to the Grand I looked at my watch and realized we had five minutes to get to Whitewater before they closed though. Much like Indy diving under the closing door, we made it just in time to get orders of nachos and burgers all around for a late dinner. Enjoying the meal outside with the calm, quietness of the hotel and park feet away is so relaxing. The nachos were great and my son loved his burger.
Our trip concluded we sauntered back to the rooms to end the day before returning to Phoenix the next day.
Home
Over the four day trip, according to my step counter we logged over 30 miles including two 10+mile days. My mother in law loved the trip and was so glad we went. Both kids loved the trip and are still talking of how they miss Disneyland and the hotel. I guess that means we had a good time. As usual, I left claw marks in the concrete leading away from the parks as I was dragged back home against my will.
We tried to do everything we wanted at least once. For the kids it was a 100% completion. They got to experience all they wanted, sometimes several times. I would have liked to hit a few other rides that we always seem to miss but I will trade that for a ride on Pirates any day. We missed our chance to say goodbye to the Big Thunder Ranch. In hindsight, I missed seeing all the usual Halloween displays. Don't get me wrong, I loved the 60
th
sprucing up but I guess I had gotten so used to the pumpkins and orange everywhere over our last few visits.
It was three years from our last visit. A lot of life happened in the ensuing years. However, it seemed like we had never left. We picked right back up where we left off. Sure we are all older, taller and experienced in life, but the Disney magic was alive and well. I don't know when we will get back, but we had a blast and couldn't have had a better time.