Finally, another family trip to DLR! Knowing our spring and summer schedules were tight with kid travel commitments and work commitments, not to mention our nine-day trip last October was going to be a hard act to follow, we found a week at the end of May/beginning of June to spend at the happiest place on Earth. Just so happened that we'd be able to celebrate Charlotte's recent 7th birthday and our lucky 13th wedding anniversary while we were there. Thankfully Matt's AP was good through the end of the week but expired on Sunday, which was fine since Amy and the older girls were blocked out on Saturday.
Having spent a luxurious nine days in at a room adjacent to the concierge lounge at the DLH last October, we knew this trip would be bringing things back to reality. Amy started watching hotel deals and reading reviews in January. It took a few months, but we finally settled on Camelot Inn and Suites for our first family off-property stay. The kids were initially disappointed not to be staying on-site. No early entry?! But what about the woodland theming Katherine loves so dearly?! After assuring the girls they could stay up late in the parks to make up for missing out on early entry and showing them floor plans of the family suite with their own bedroom and television., they were on board.
Shortly after we booked the room, we found out Katherine's Odyssey of the Mind team advanced to the World Final competition. Awesome news, however it meant Katherine and Amy would be in Ames, Iowa for five days leading up to the trip only to fly in 12 hours before our planned departure. Looks like we wouldn't be leaving before dawn on Memorial Day after all!
8:29 am Monday morning found us with the truck loaded with cargo and kids and a quick stop for ice for the coolers had us on the highway in no time. Without having the time to devote to the organized packing that makes long road trips with small children smooth and reasonably enjoyable, things were a little sketchy. The kiddos managed to find their groove with and only one sibling spat broke out at the two hour mark where we did our fueling pit stop before leaving Arizona.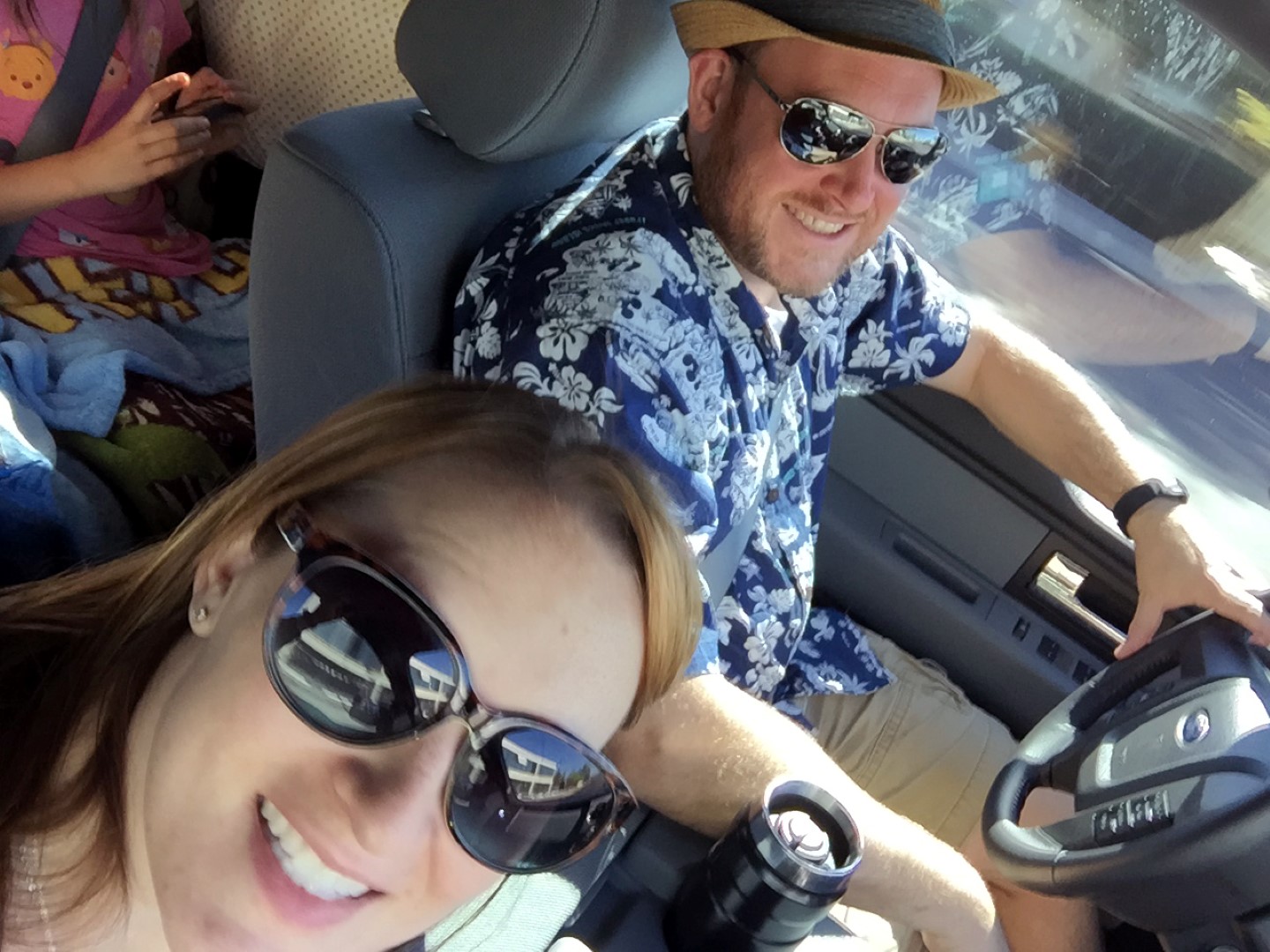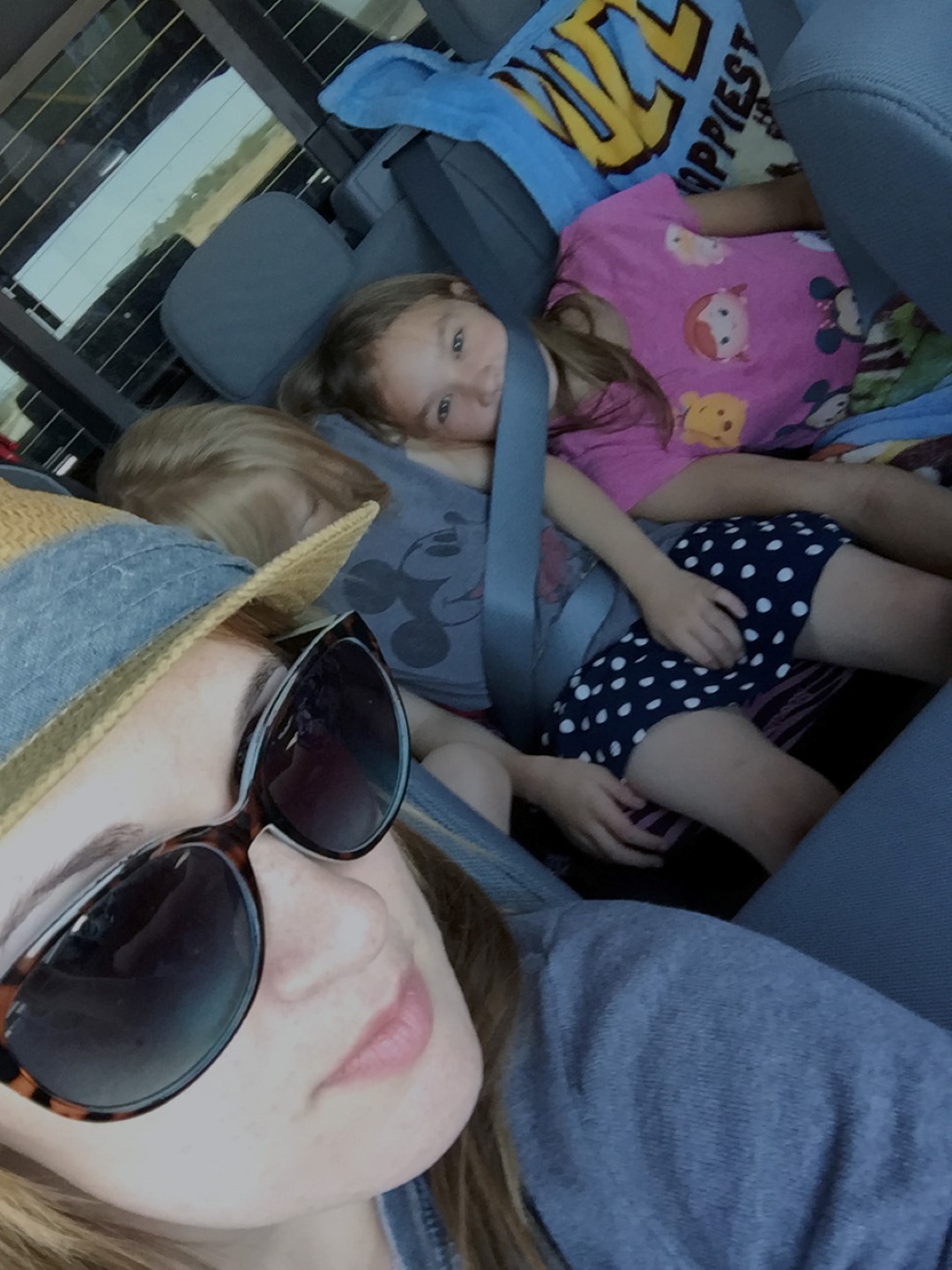 Travel on Memorial Day implied some additional traffic, which we found about three hours into the trip. It was time to put some Disney music on the radio and scout some alternate routes. We ended up opting for a detour through Palm Springs to avoid some of the stopping on the 10. Wouldn't you know it? When we merged back on to the 10 there was the very same truck hauling onions we had left miles back.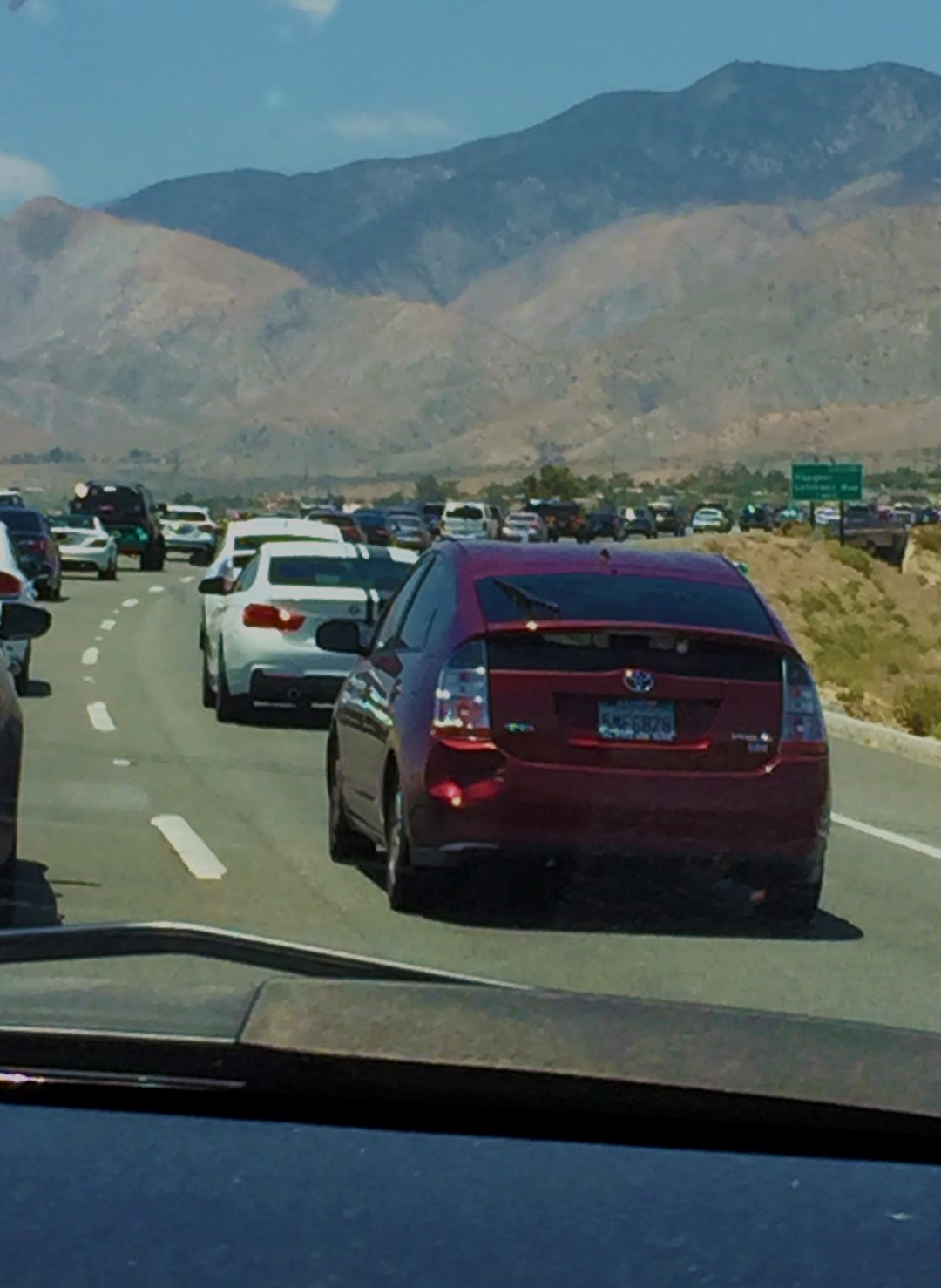 In our longest drive time ever, 6 hours and 20 minutes (Compared to 5 hours or less) after departing we pulled into the parking lot of The Camelot Inn and Suites. Matt parked the truck and Amy got room keys. There were a few family suites available, and we had our choice of floors. We opted for the top floor with a view of the Matterhorn and fireworks. The girls were excited to see the room and eagerly looked over every nook and cranny. The family suite is a large space with an ideal configuration for families. Plenty of room for all of us, plus the obnoxiously large jogging stroller we now need for a three-year-old that is the size of an average five-year-old. The room was clean, with a slightly overpowering fragrance in the clothes armoires. The kitchenette cabinets were shabby with signs of previous water damage. There are two mini-fridges in the suite with one in the bedroom. Plenty of space for living and sleeping, but we wouldn't end up spending much time in the room at all.
A quick 30-minute unpacking of everything five people would need for the next five days and we were on our way across the parking lot to fill the kids up at McDonald's before heading into the parks. McDonald's was packed at 3:30 pm, which we weren't expecting. Still, we easily made the short walk to the park and were in line to buy Victoria's 5-day Park Hopper by 4:10 pm. The other family members all had APs from our fall trip. One issue I observed with our strategy to not pre-buy Vic's Pass ahead of time was waiting in line. We waited 12 minutes to get someone to attend to us. They only had two windows open and the people lined up outside those two windows had serious issues with completing a simple transaction. Either by act of GOD or simple shift change, a third window opened which I IMMEDIATELY went up to. I had my 5-day Park Hopper in hand NO LESS than 45 seconds after approaching the window which is a testament to Disney's inability to identify people who can get stuff done/dealt with vs. people who need more time and segregating them appropriately. Disney… PAY ATTENTION!!!
Into the parks we go!