Greetings, Muggles and Michechatters.
As many of you would have already gleamed for yourself in person, Sunday was the unofficial Harry Potter Disneyland Day and Scavenger Hunt.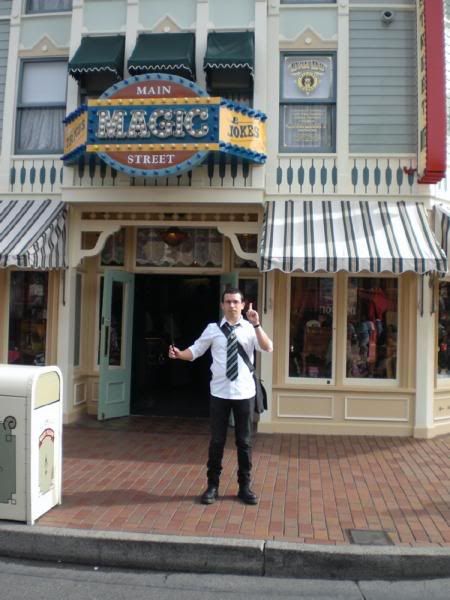 For the most part it was a success.
Each participant (in parties up to 4) were given a list of 45 clues describing a person, place, thing, symbol or artifact of the Magical World as described by JK Rowling in her novels. To get points for a clue one had to track down the item in Disneyland which matched the description and snap a digital photo of it.
For example, clue #5: "Letter carriers; they do more than deliver mail."
The answer, of course, is an owl.
So this would constitute a correct answer:
My lovely girlfriend aquiesced to participate....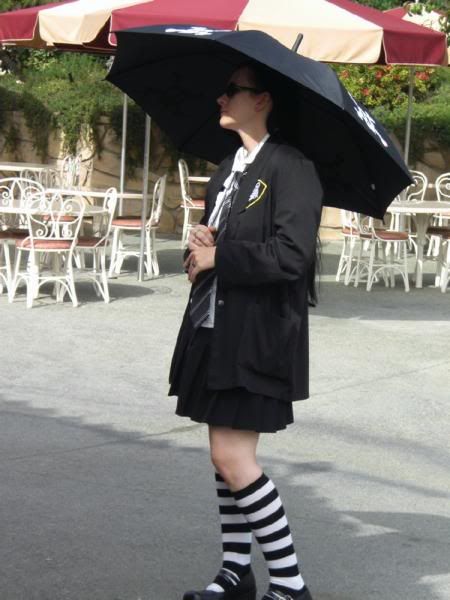 However due to an all-lane queue of cars stretching outside the parking structure to get in we were late to and missed the 10am meetup, and met up only with the organizers. This is Head Girl Lauren.
I think most of the people in this image are from an entirely different scavenger hunt going on the same day. Was it a micechat event? Anyone recognize yourselves?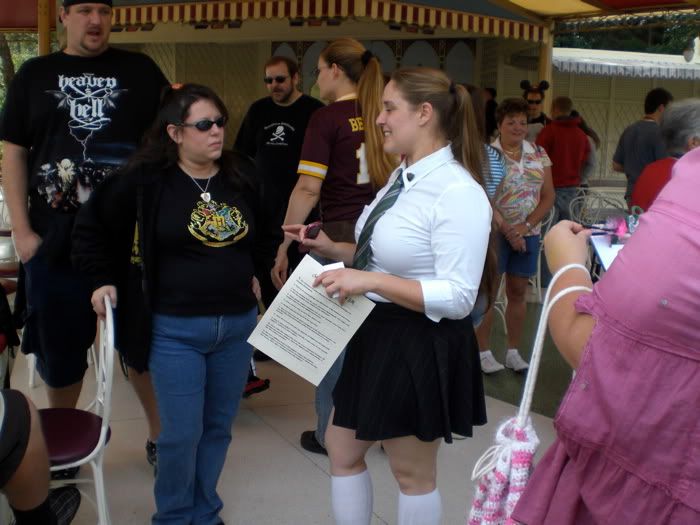 In general this was a great day to be at the park. The crowds weren't too horrendous (for a Sunday) and the weather was perfect all day long.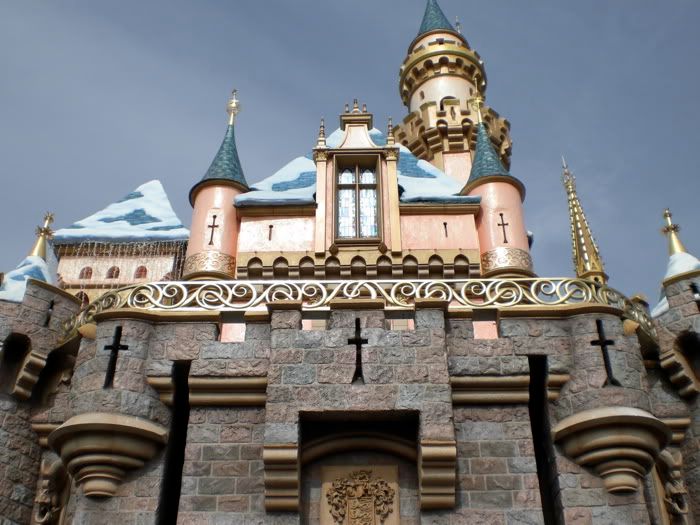 Clue #29: "James' animagus and Harry's patronus form.
If you're a reader you know the answer is "a stag." Therefore we boarded the Columbia in order to snap off this correct answer:
The great thing about this particular scavenger hunt, as you're now gleaming, is that you not only had to have intimate knowledge of Rowling's books but every nook, cranny and detail of the park as well.
Whoah. Looks like Ariel had a rough night.
I've been there.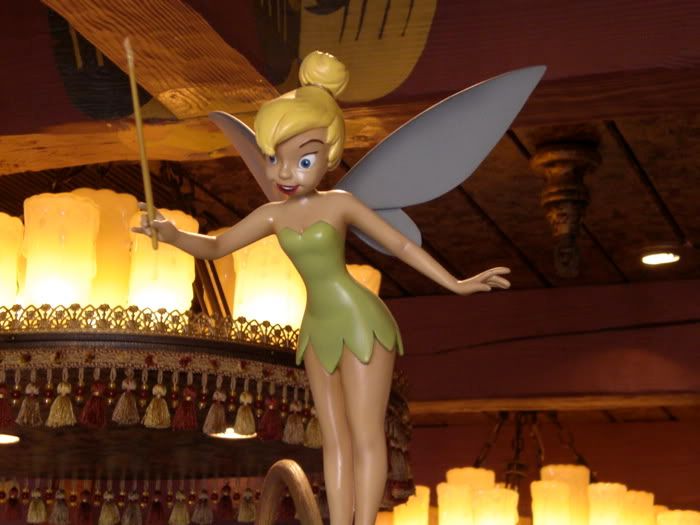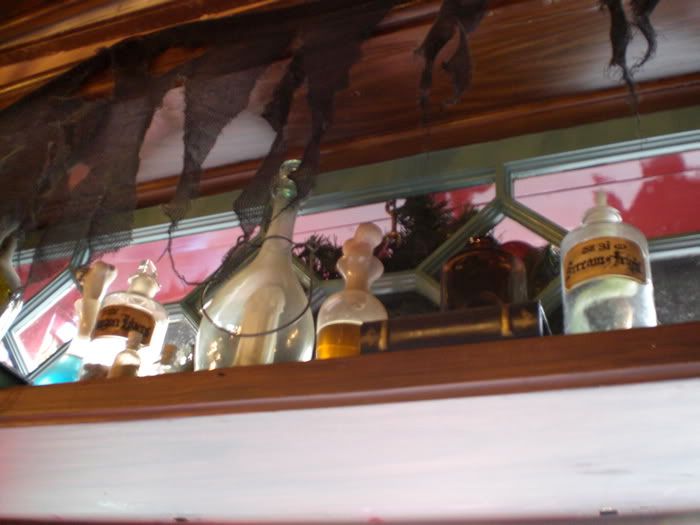 Time for the 1:30pm meet-up!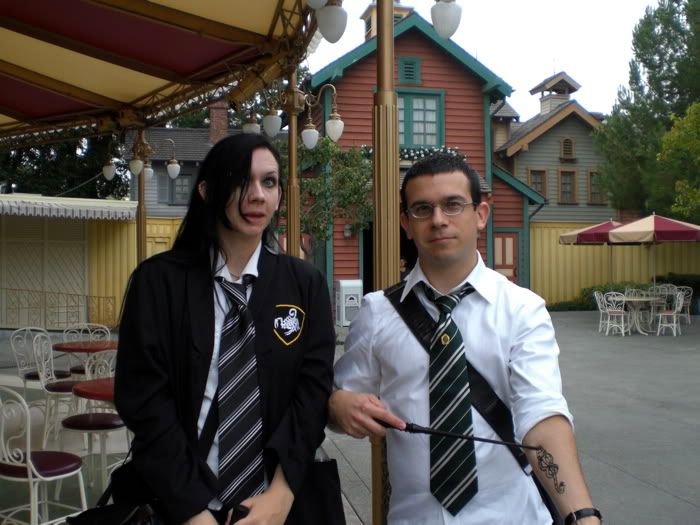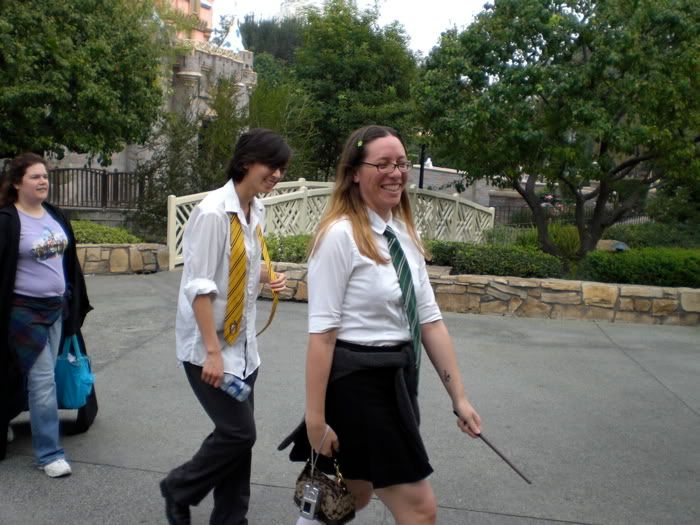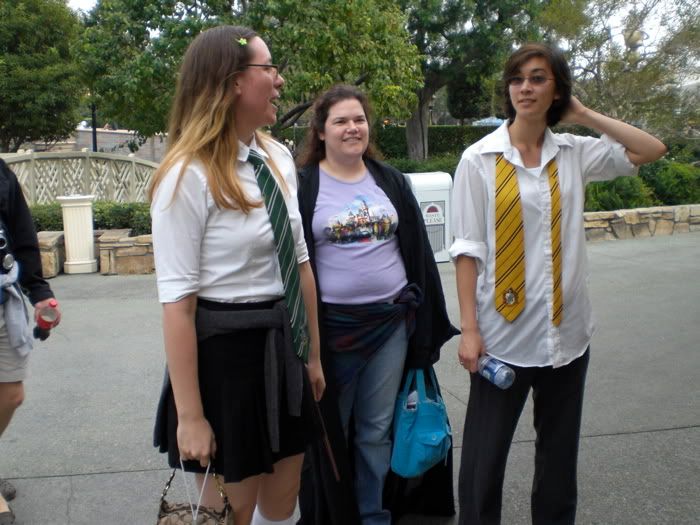 A Slytherin and a Huffelpuff?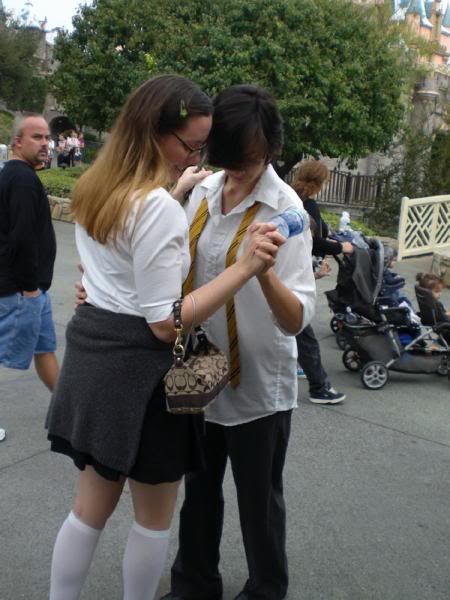 A romantic, sweet notion. But it can never be.
Eeyore joined us for our group photo. Someone asked if he was a Harry Potter fan - he nodded his head enthusiastically.
That was the truly magical thing about this day. Everyone knew by our ties or scarves what we were up to - the Mad Hatter walked by me and Silvia at one point while we were gathering clues at the Wishing Well and said "I hate to dissapoint you, but this [indicating the Castle] is not Hogwarts."
Other people would stop us, ask what was going on and lament that they didn't know about it because they would have loved to participate.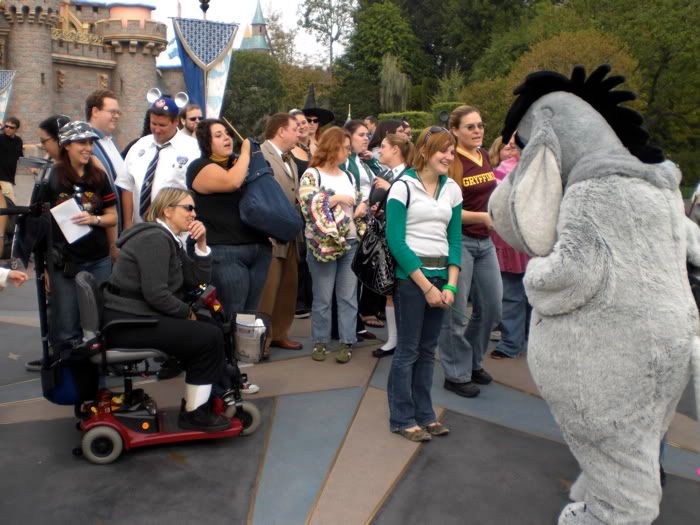 Dolores Umbrage of the Ministry of Magic.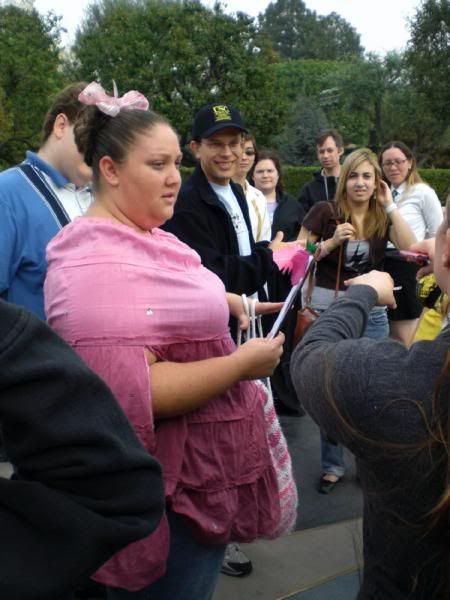 A spot-on Weasley family.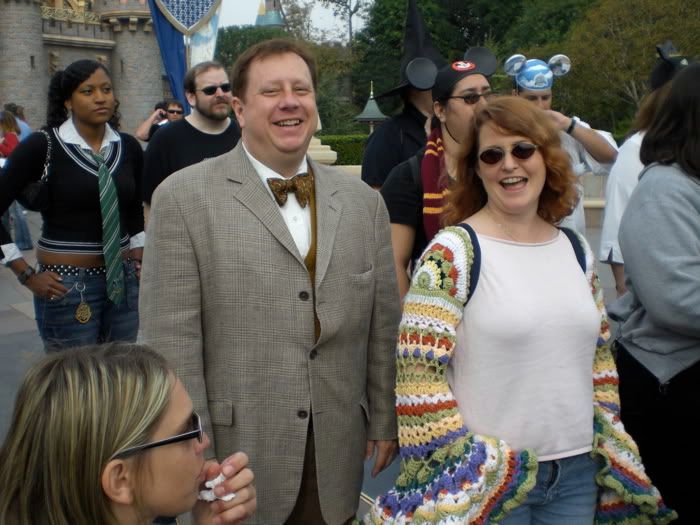 Break time! Off to the Uva Bar where they were serving Butterbeer throughout the day. The actual recipe is butterscotch schnapps and cream soda. It's not bad. But one glass was enough for me.
Camera war.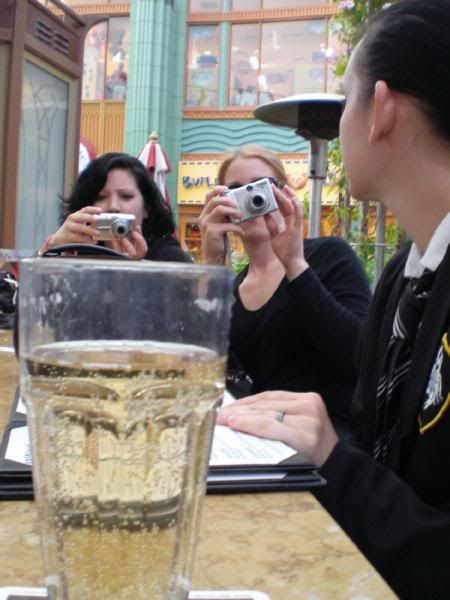 The 5:30pm meet-up at the Submarines.
Arthur and Molly Weasley and their Death Eater child. How the two of them could have spawned a Slytherin is a mystery. Loved these two.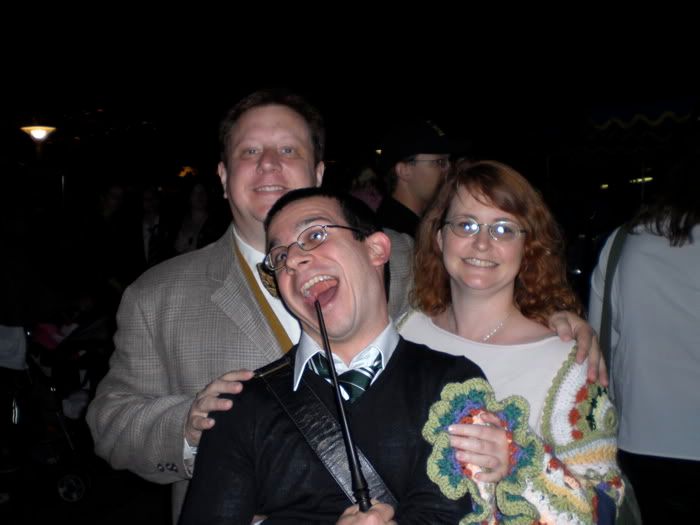 My insane roommate had joined us at the Uva Bar and had no interest in waiting in line for the Submarines. Instead she suggested that we all go on Splash Mountain. Why I agreed to this I'll never know.
Time for the final meet-up at 9pm. What a day.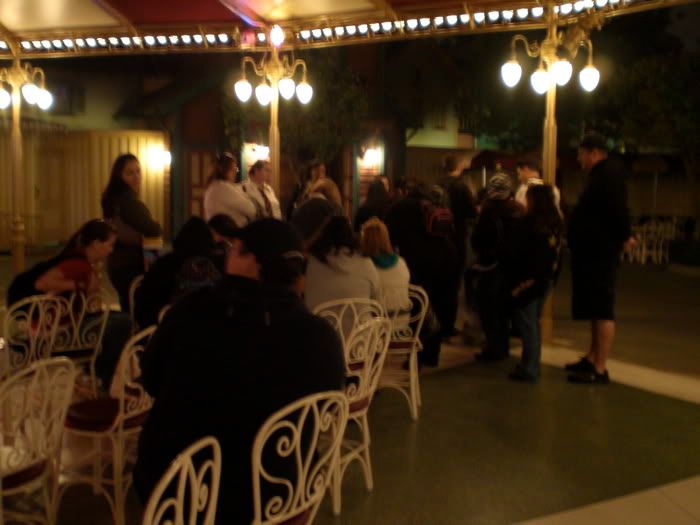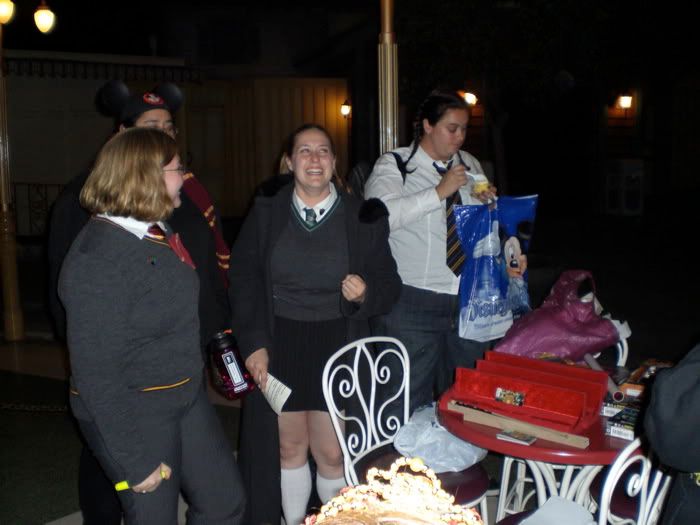 Sadly, we did not win. I suspect fraud, naturally.
Here are the Head Girls pulling their hair out trying to figure out how to score and rank the winners.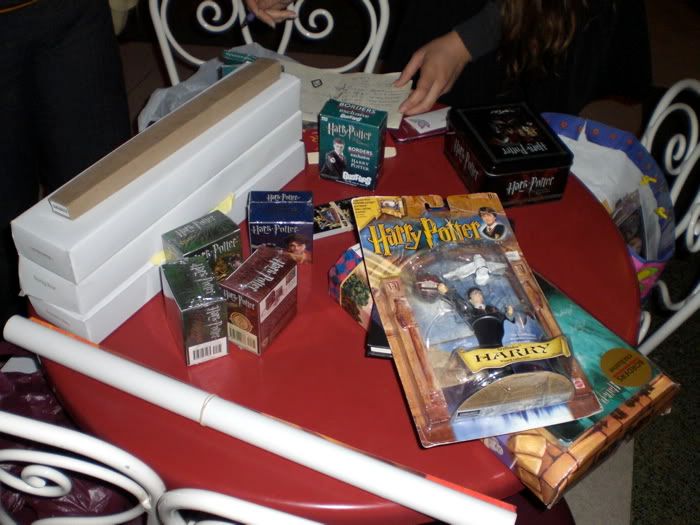 They had some pretty swanky prizes. In the picture below you can see replicas of Voldemort's wand, Harry's wand, the Elder Wand, and a random rosewood wand. Very nice.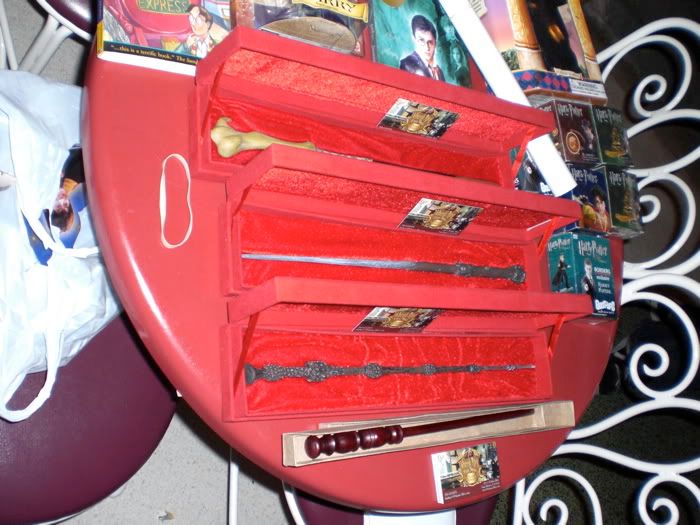 All I got was this sticker.
Shenanigans.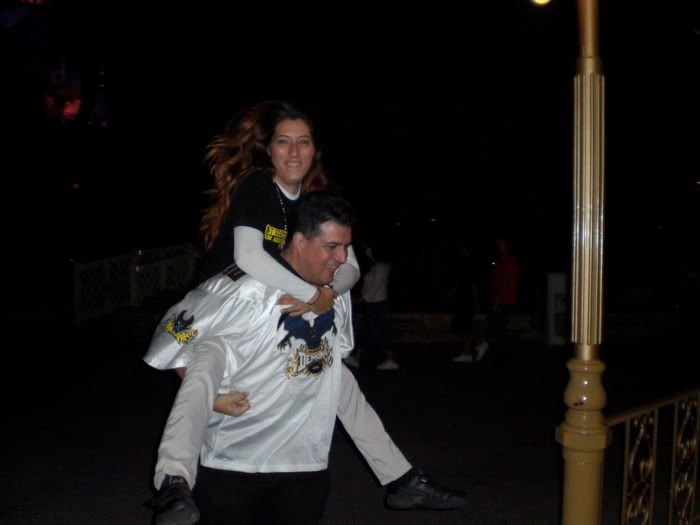 And then we watched the fireworks.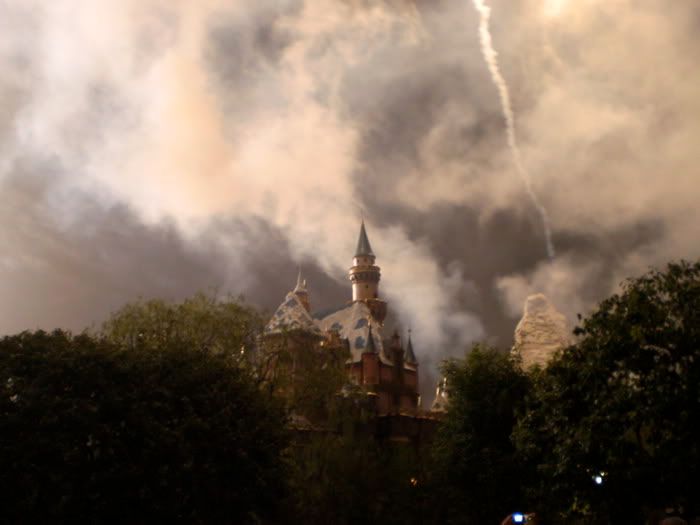 After all was said and done we found some new stragglers who had heard about the day but not the scavenger hunt somehow...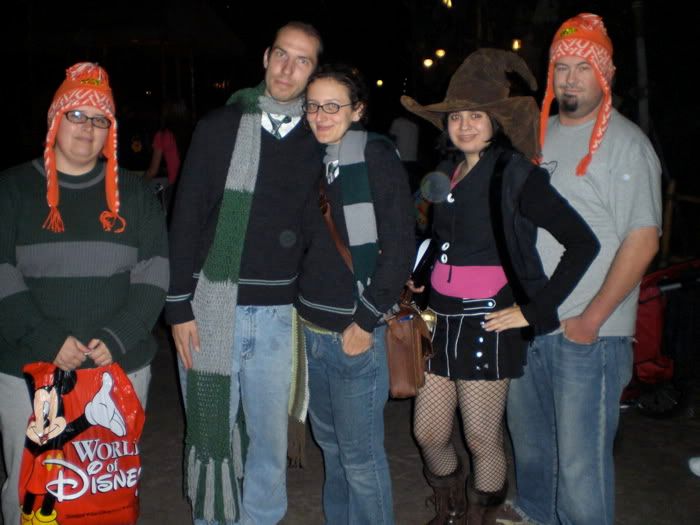 And headed off to Uva Bar for a nightcap. We exhausted their supply of cream soda which they procured just for this day, so only one person was able to order Butterbeer. I settled for a pint of Fat Tire.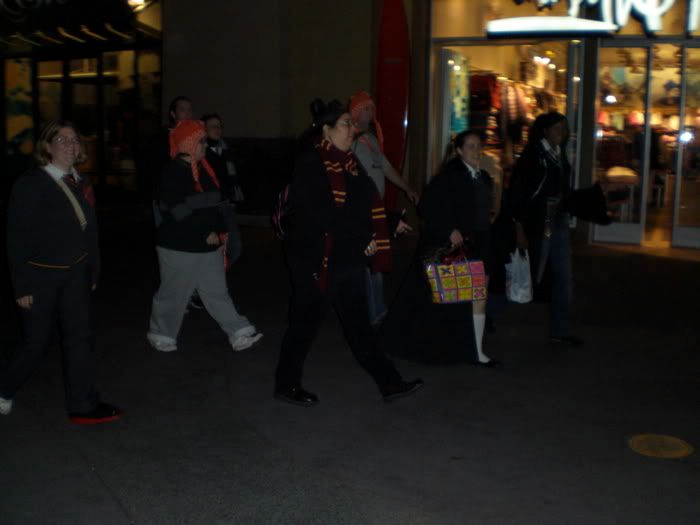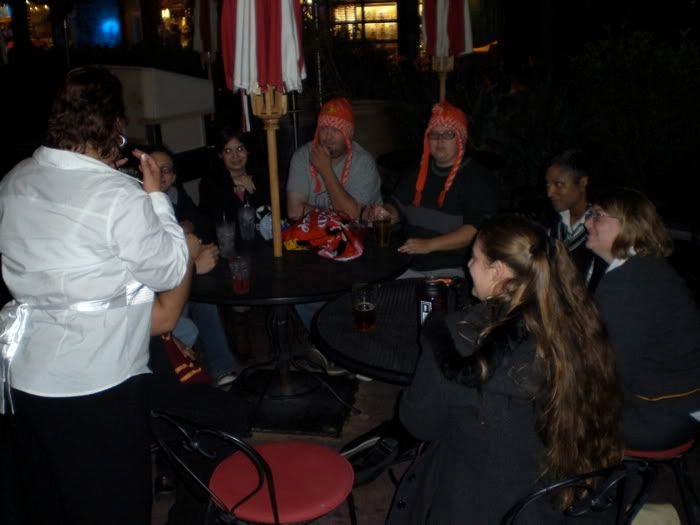 And that was that. A great day. I look forward to next year.