T
his trip report will be multiple parts. Each part will be added to
this thread so check back for the entire three day trip report.
Back Story:
The only way I was ever going on this trip was because my cousin found a connection into Club 33. Without that, not a single piece of the trip would have ever happened. In no way would my wife let me go to Disneyland by myself, let alone with the credit card. However, once Club 33 was guaranteed, I had full blessing to tear off from Phoenix to Anaheim.
Once my cousin found an "in" to Club 33, it took almost a year to get the reservation secured. Along the way, I had given up and realized it may not happen. But then in July, the process really started rolling along. Available dates were exchanged and then the waiting for confirmation commenced. Finally, the reservation number was received at the start of August. Fireworks shot off, parades were held and the entire kingdom rejoiced. Well, mostly me but you get the idea. I had even packed the week before I was to leave. Do you think I was excited?
Ironically, the trip coincided with our first ever family trip to Disneyland nearly nine years to the day. That was the trip that changed me forever. Prior to that, despite being born and raised in Orange County, Disneyland was nothing special to me. As I got into teenage years and college, I tried to avoid going as I was not into roller coasters and didn't see much enjoyment. That trip nine years ago changed all that.
Having talked my wife into bringing herself and our two year old son to Anaheim so I could attend a convention was a feat unto itself. Saying we could try Disneyland during the day and night when I wasn't partaking in convention events would mean we would spend time together as a family. At that point, our son had not seen anything related to Disney. Ultimately, it was a win-win situation.
By the end of the first day, nearly all convention activities were cast aside for park fun. Seeing 100% pure joy, amazement and wonderment in the eyes of a child permanently changed me. I was hooked. I had seen the light of what Disneyland could mean to people and why it was special. All from that day, nine years ago.
Trip Report:
Thursday August 11
th
Needless to say I was chomping at the bit. I was up before my alarm and ready to go. Of course I had to drop the kids off at school first but as soon as they were there, it was light speed time to Anaheim. I have never had the opportunity to take a solo trip anywhere and I was going to max out this entire experience. The car was on the road by 7:30AM. Next stop 101 to the 10 to the 60 to the 91 to the 57 and exit on Katella.
I hit the usual gas stops along the way to stretch the legs but I stopped for less time than if we were going as a family. Ehrenberg is Ehrenberg so there was no reason to stay longer than needed. I stopped for lunch at the same Burger King on the Washington Exit near Indio I have been stopping at for the last 20 years. Treating myself to a rare Whopper, it took longer for them to cook the food than for me to eat it and get back on the road. Mickey was calling.
Finally, off the Katella exit. My heart started beating much faster. Only a few more streets until I could pull into the Castle Inn check in and get going. I had gotten to Anaheim in about 5 hours and 30 minutes. Of course, hotel check ins take forever and my room would not be ready until later. So I picked up my camera bag, told them I would be back way later and beat feat up Harbor to the park entrance.
I had to stop at the ticket booth to redeem my ticket voucher. Great, I picked the one booth with only one person in front of me. Woohoo. Too bad it was the one ticket agent who was all into customer service and spent 15 minutes talking to the person in front of me. Seriously, people, don't you know how bad I want my ticket? Finally, ticket in hand it was time to enter the pearly gates. Three days of nonstop park action was about to go down. It was about to get real.
A quick pause to smell the cleaner Disney air, see the brighter Disney skies and bolder colors and I was off to Pirates. I prepped my camera for all the settings needed and preceded to the queue until the welcoming smell of Pirate Water wafted over me. Yeah, I was home.
I got the front of the boat to better shoot pictures with. This was the first time I didn't even feel the drops. However, I was kind enough to scoot to one side so my 6'5" frame didn't totally block the family with little kids behind me them out of viewing the ride. But I did shield the little ones from the spray of the water. The ride seemed so much quicker this time. In a flash it was over with.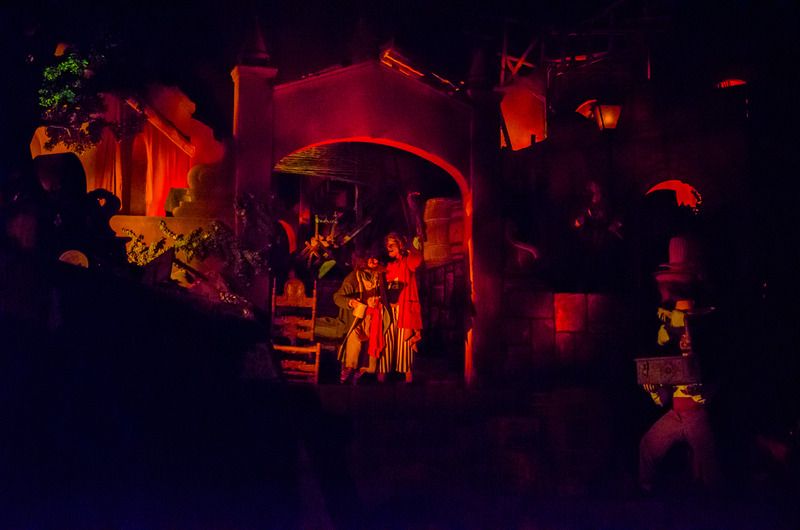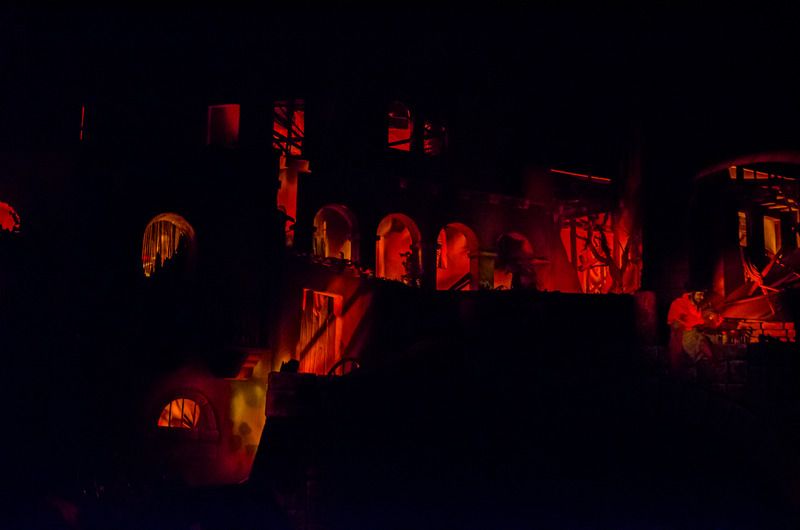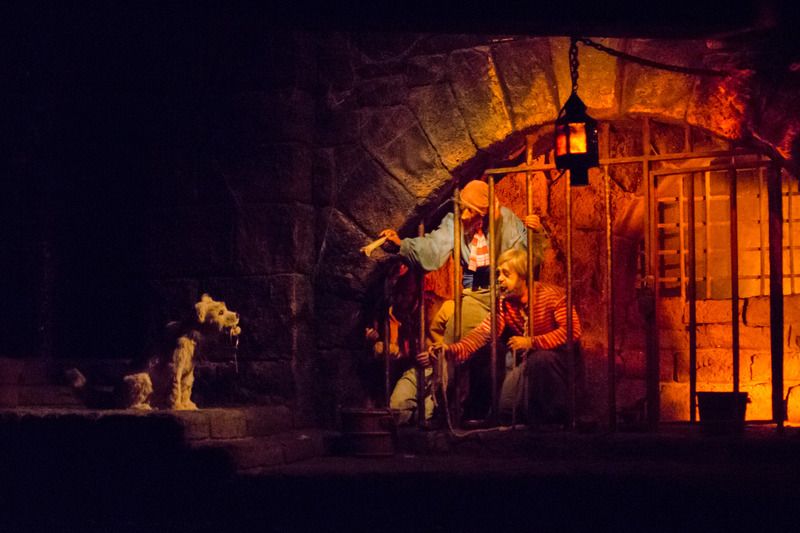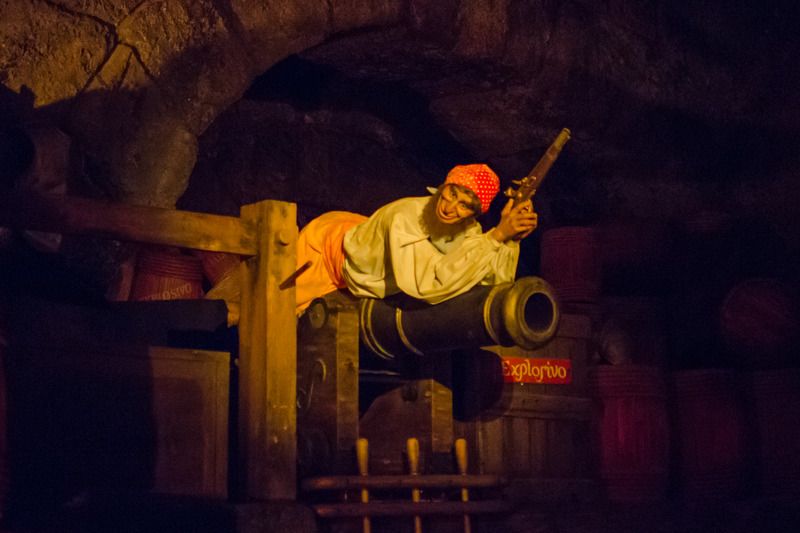 Next stop, Haunted Mansion. This would be the first time since before 2001 I had seen the normal Haunted Mansion set up. Why? Well every other trip we have taken since has been during the Nightmare Before Christmas overlay. My only chance to see the normal version came at WDW a few years ago.
Now queued up and ready to go for the 45 minute wait, I was looking forward to finally seeing it. But as soon as we made our way to the entrance gates, the rope came out and was told to wait. Yup, ride breakdown. After 15 minutes, they shut it down. Argh. I didn't feel like waiting so I wandered over to Winnie the Pooh instead.
Understand that since California was still on summer break I knew it would be busier. However, crowds have changed big time in the last 9 years. Gone were the days of mid august waits being really short. This hit me square in the face at Winnie the Pooh when the line started at the ride entrance. What??? Seriously? Oh boy, this trip was going to have longer lines than I wanted. Oh well, I had three days to take it all in.
Done with Winnie the Pooh, I wandered back up from Critter Country, by Splash Mountain and toward Haunted Mansion only to see at that exact moment, the ropes came down and ride reopened. Boom! I was in! Since most people had bolted the ride, I basically walked up into the ride with only a five minute wait. Nice.