So this trip finds us doing Fall Dapper Day with only ONE KID!!! Katherine had turned ten years old a few days preceding the trip, so we begged, borrowed, and stole to get my parents and Lindsey to take the two other girls for the weekend and a day on each side. Victoria was a trooper about it. Charlotte left in TEARS that morning. Oh well... she'll be ten some day and get a trip with us all by herself too. We were trying out our new-to-us vehicle. Unfortunately the Volvo XC90 V8 had some mechanical needs which I just couldn't justify addressing for a Swedish vehicle with over 100k miles. It was sold for a pittance and replaced with a few-years newer land yacht which we have affectionately named "The Axiom" of Buy n' Large fame. We were really struggling with the Volvo for family trips and had even resorted to a roof rack to extend its practicality. Needless to say... once we gave up hope of fitting a vehicle in the garage, bigger was better (read more utility for the $), so this behemoth found its way home. As we packed our TWELVE bags/cooler into the back with the third row simply folded up, we had ample room. For future trips, we'll probably leave half the back row out, and have a spacious trip without being crammed in. Hopefully a family trip this spring will prove this out, but we still have the roof rack if needed.
Almost ready to go...Katherine almost lost some fingers after she wrote in the morning dew on a black vehicle...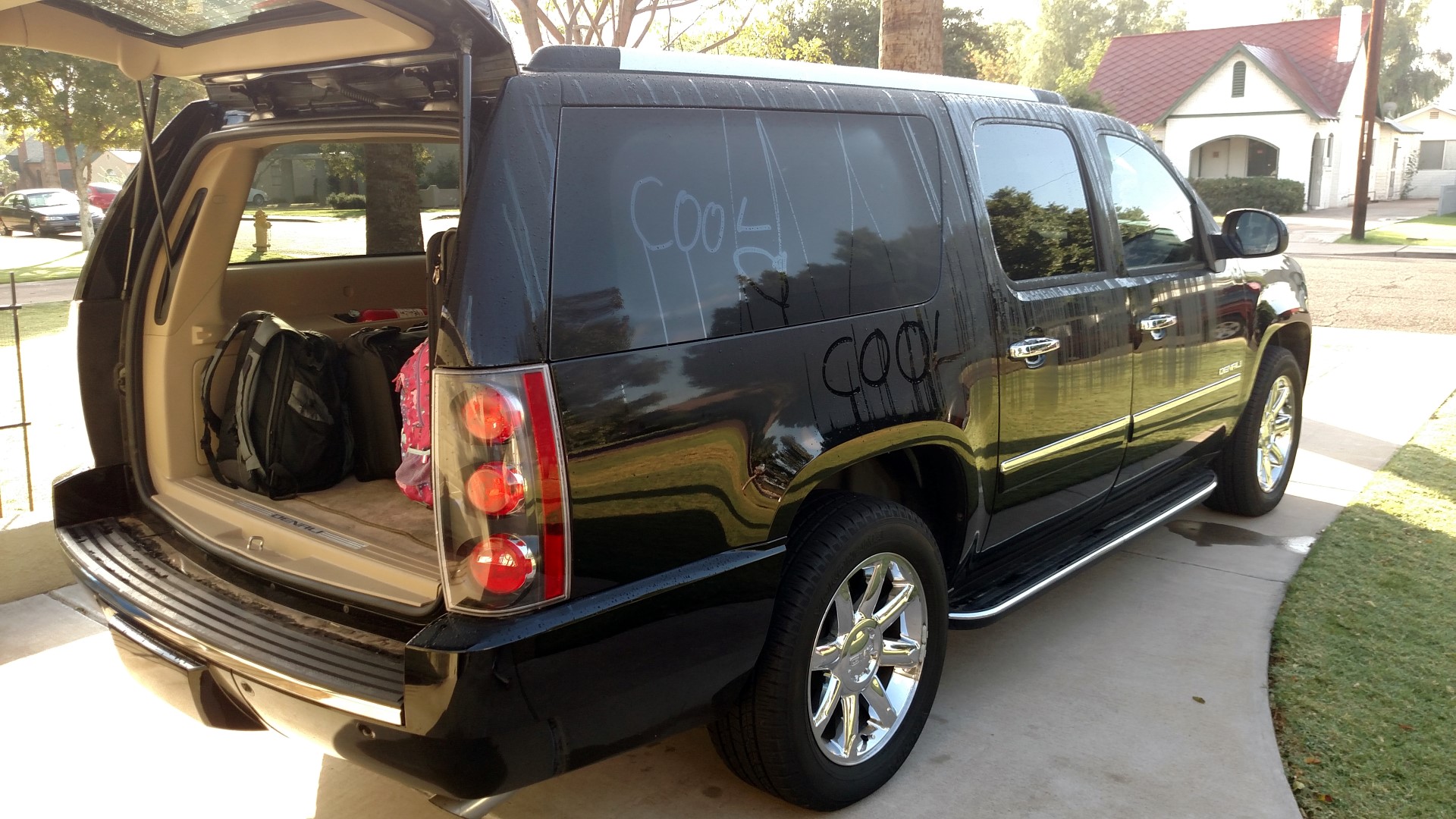 She had the whole second row to herself which she would soon commandeer in its entirety.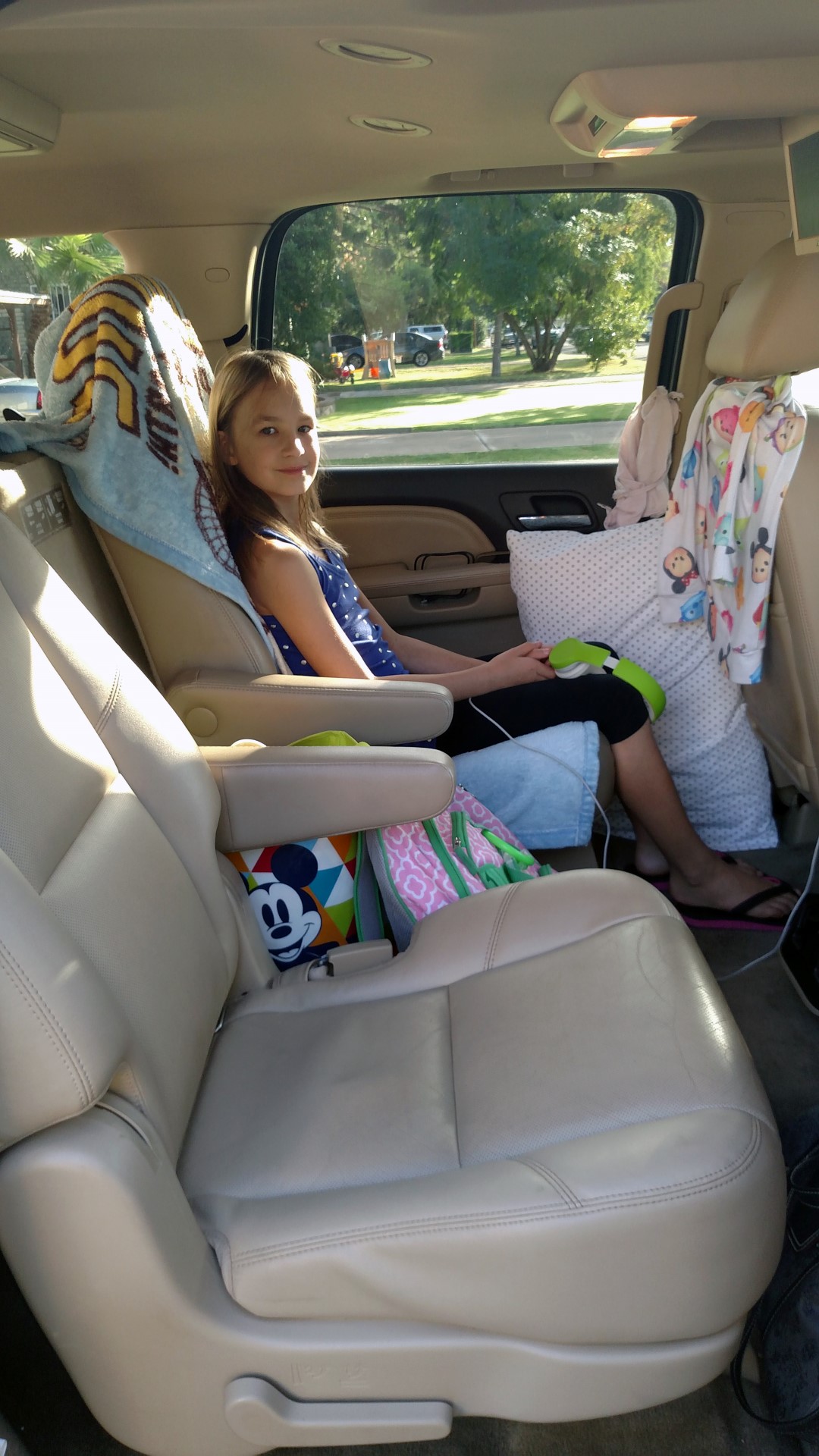 Loads of room to spare..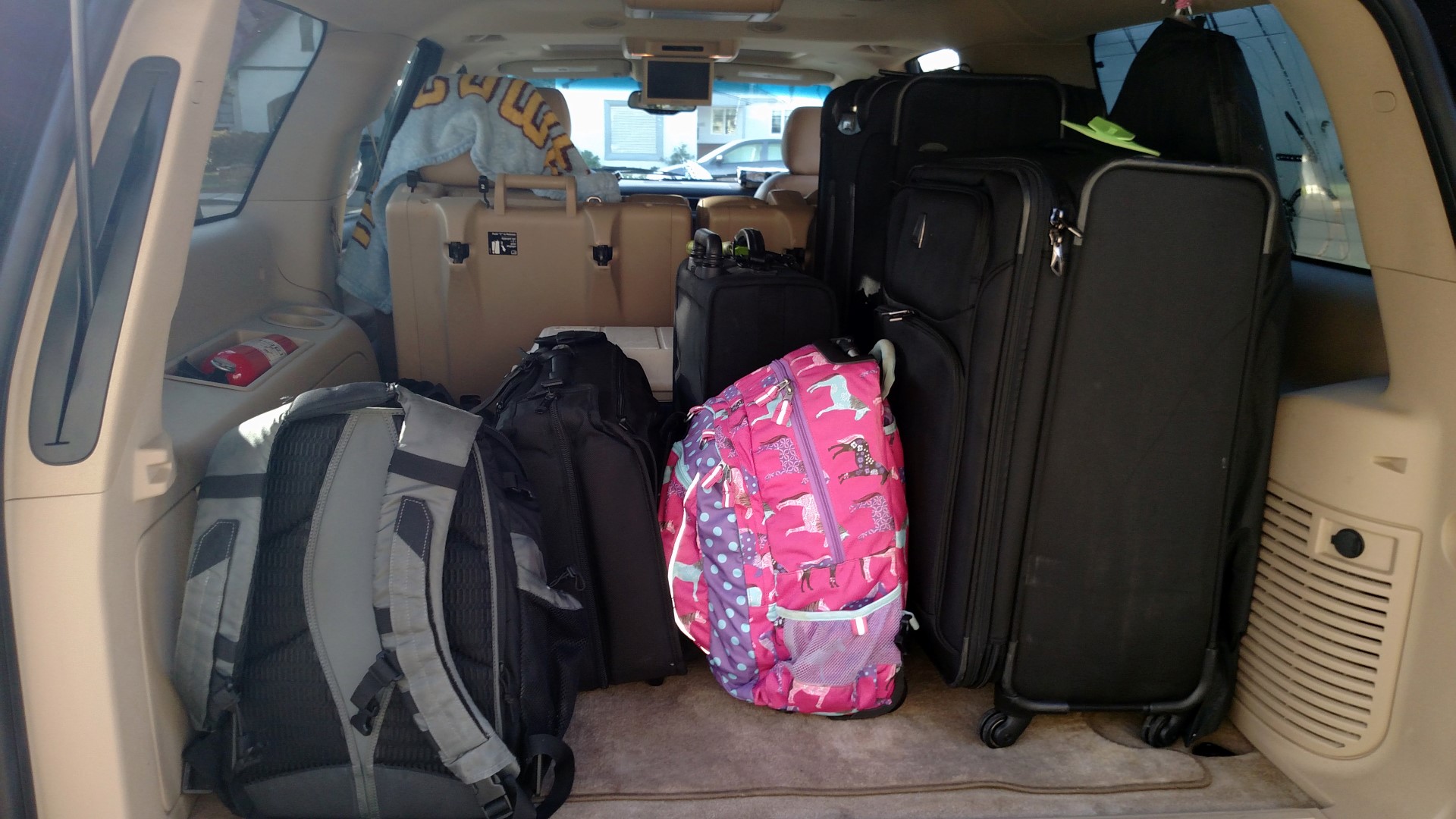 And we were off at 08:43. A quick stop to fill up the battleship-sized fuel tank with some 91 octane and we let the 403 horses run and jumped on the highway at 08:50.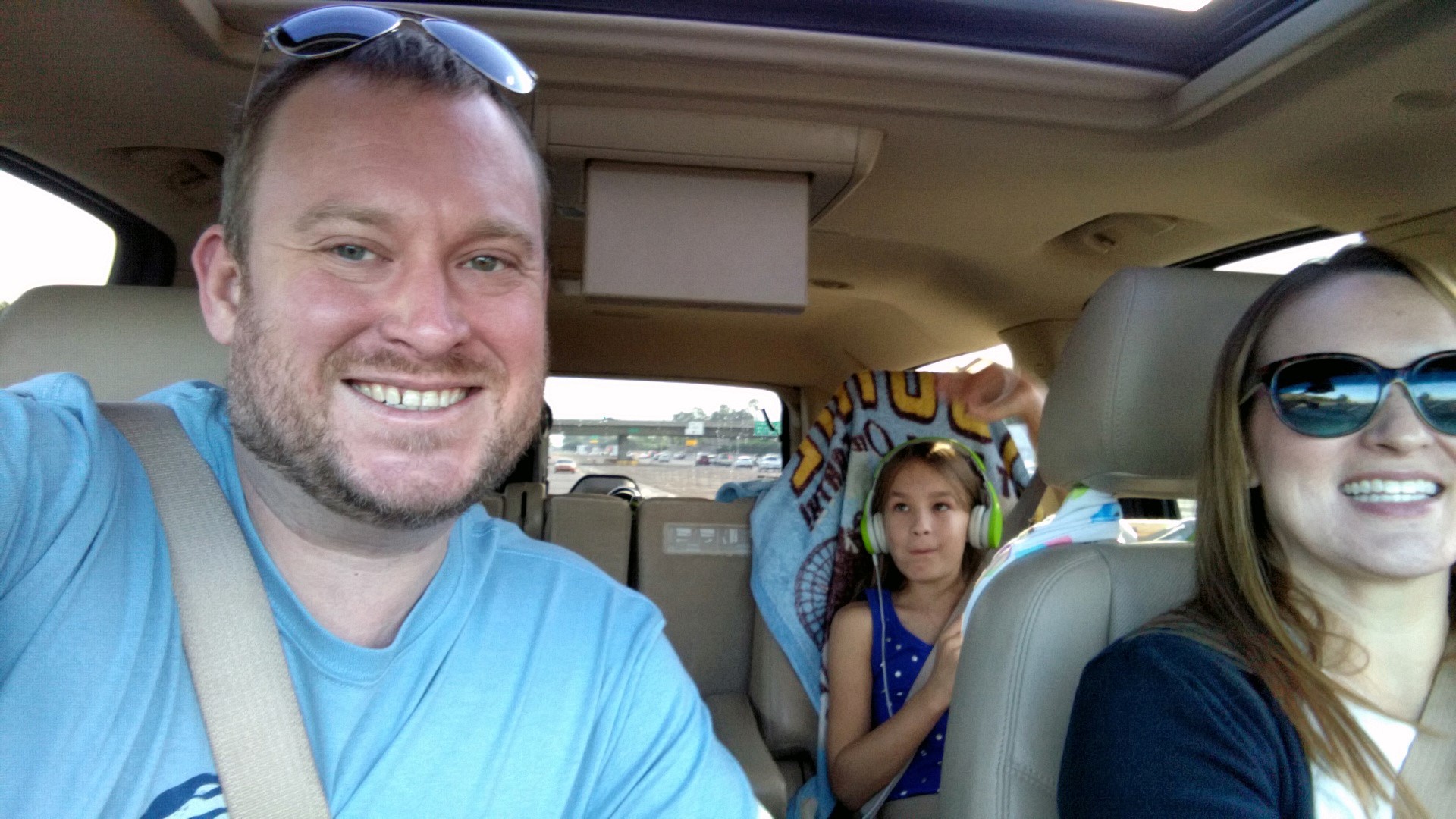 I had some things to address, so I let Amy drive. It was hard not to be a backseat driver. I figured out how Katherine could watch Dark Wing Duck while we could listen to the radio/music from the phones after a quick perusal of the encyclopedia-esque owner's manual.
Katherine eventually stretched out and enjoyed a luxury seldom afforded by the eldest of three children... SPACE.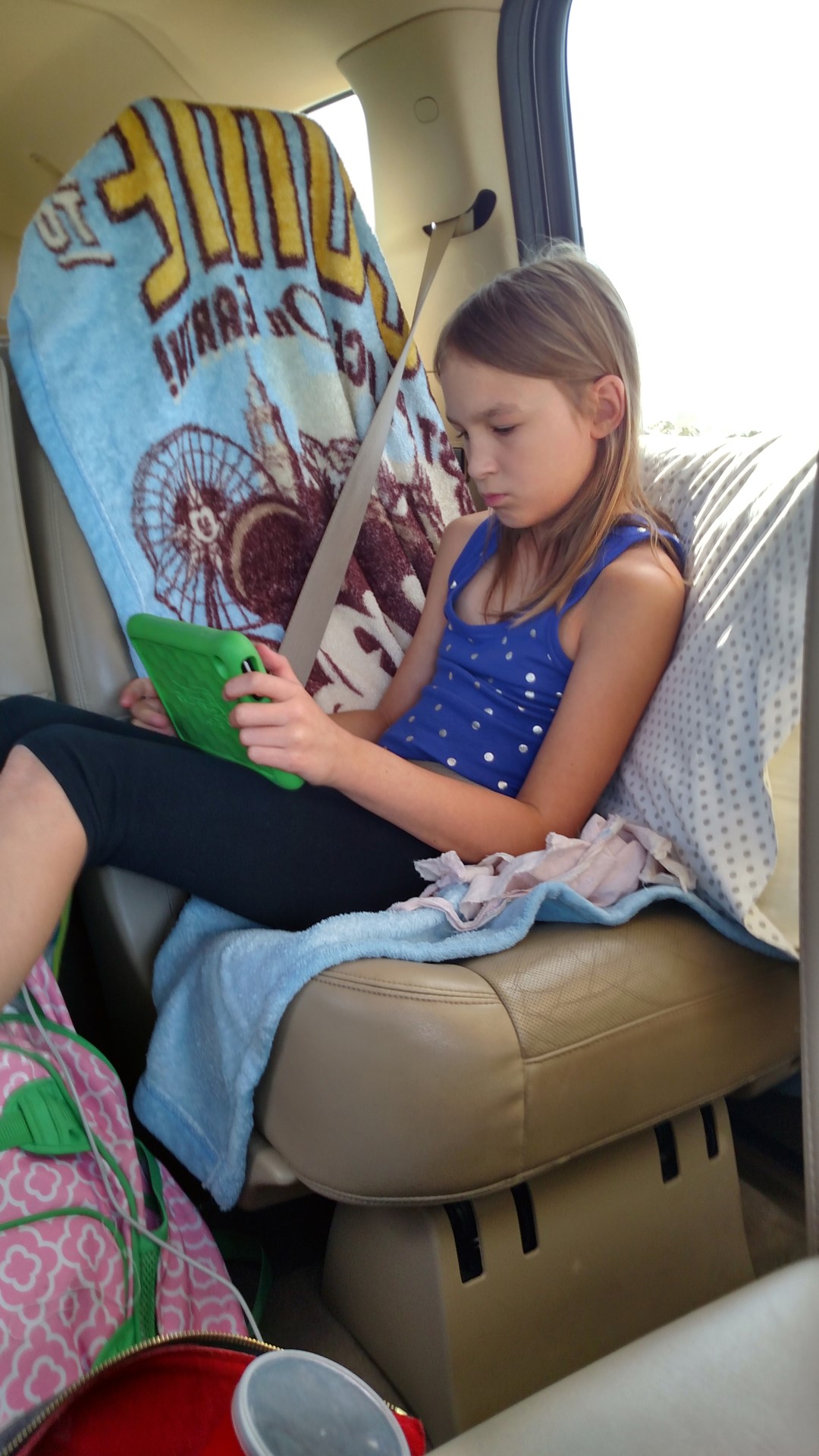 Amy has never driven... she did just fine despite heckles from me to "go faster".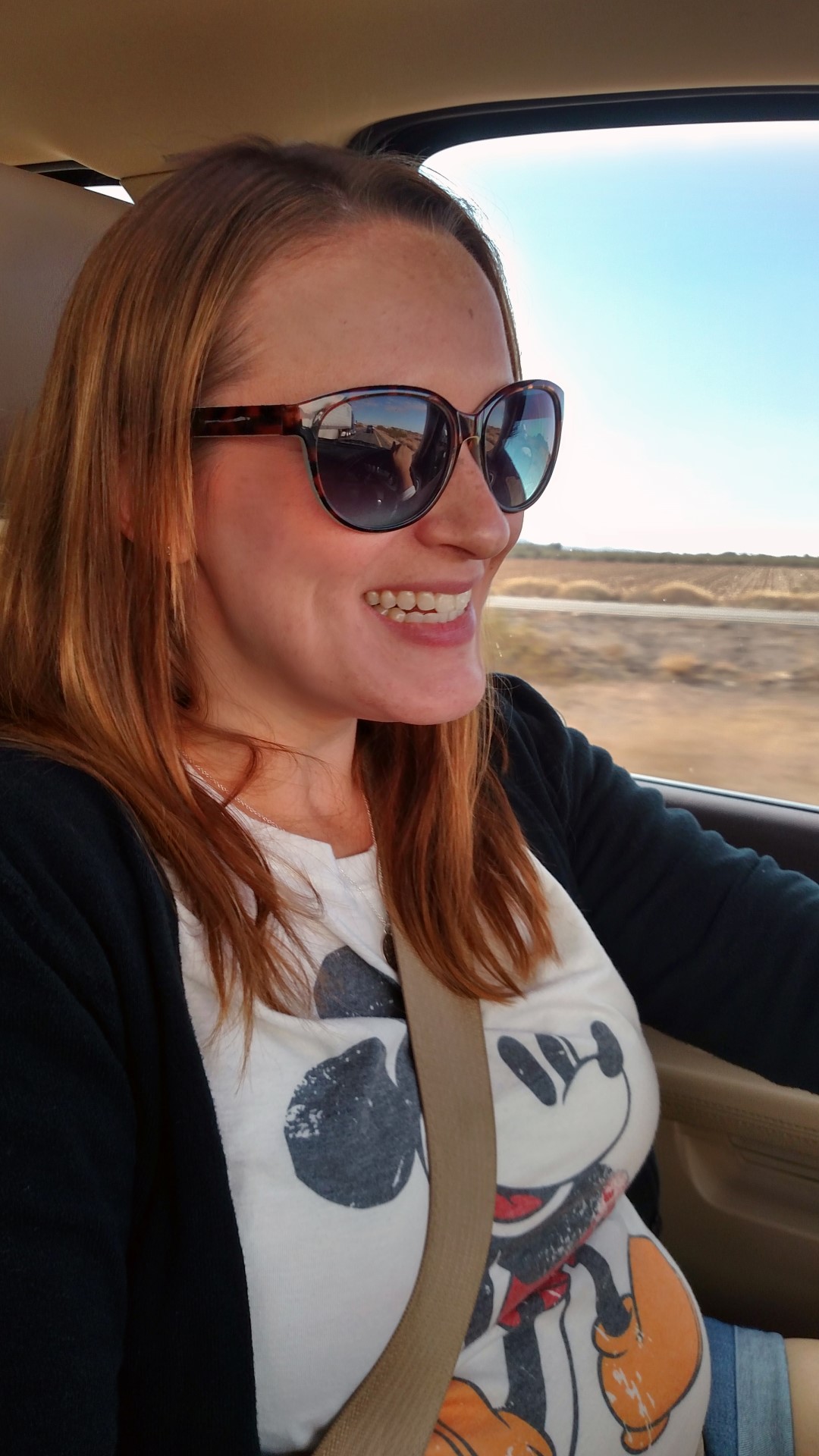 This is where my story goes bad. I somehow dropped my trip journal (one from a previous trip in fact) at the FlyingJ gas station at exit one. It hasn't made its way home yet despite owner info in it with offer of reward. I do remember it took us about 10 gallons to get the 130-ish miles to the California boarder, but not the time. Oh well.. teach me to pay more attention next time.
We made it to the Disneyland Drive turnoff from Katella a minute or two before 2PM. Not bad, but we've definitely made better time with me at the helm.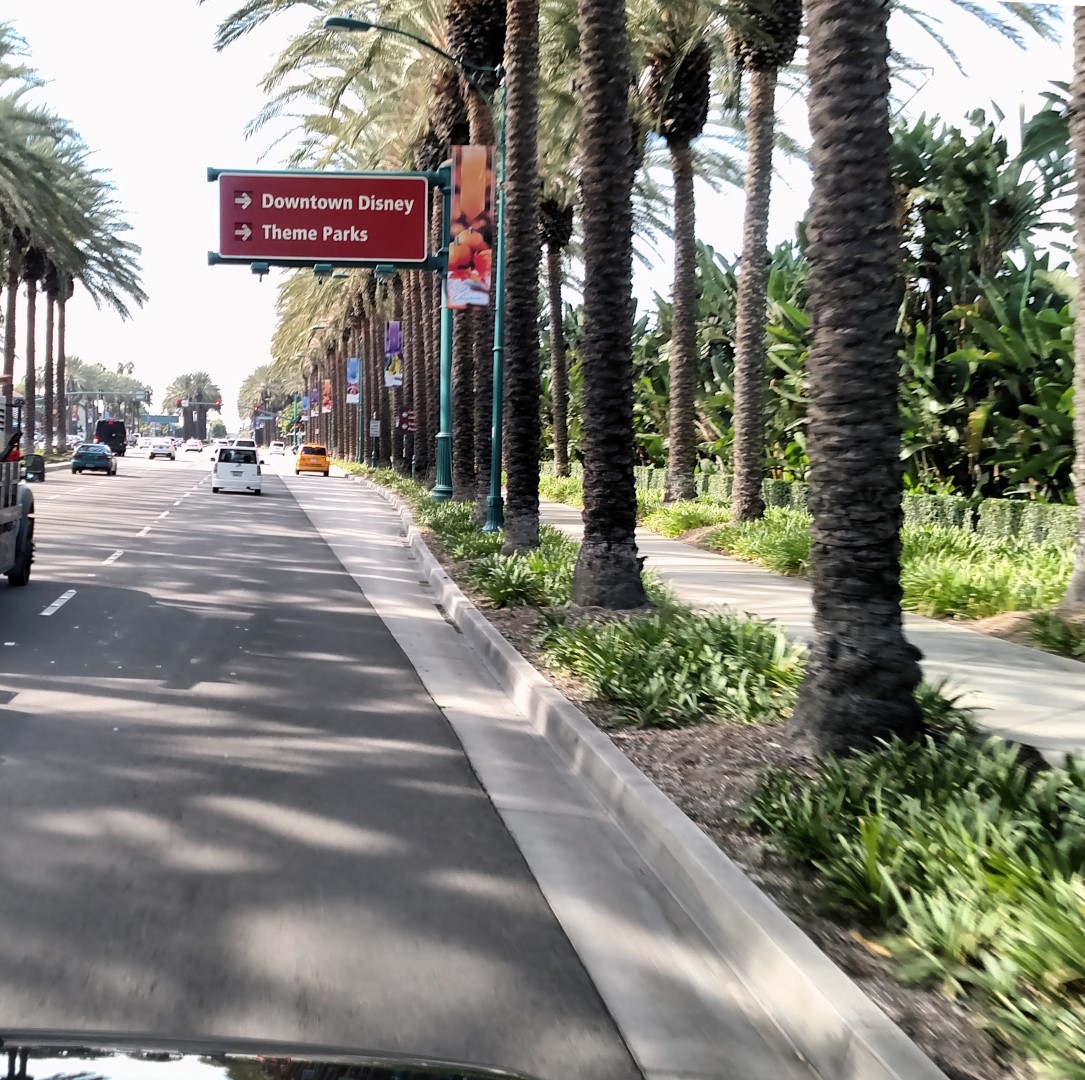 Passing Paradise Pier. Despite the great views of DCA, I doubt we'll ever stay there. The amenities didn't seem "Disney", and the walk wasn't any fun last time we did it.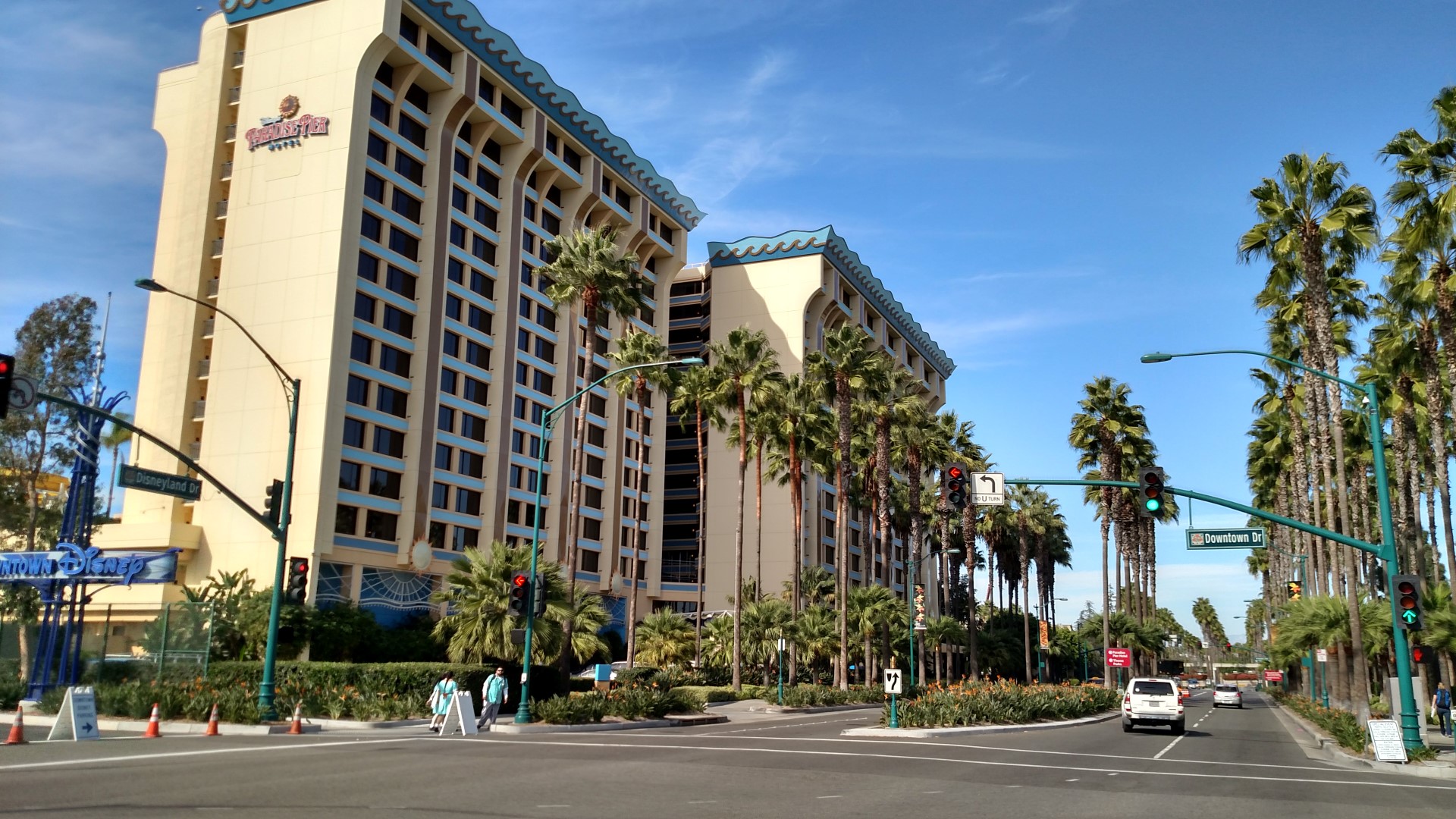 Oh yes... Our turn!!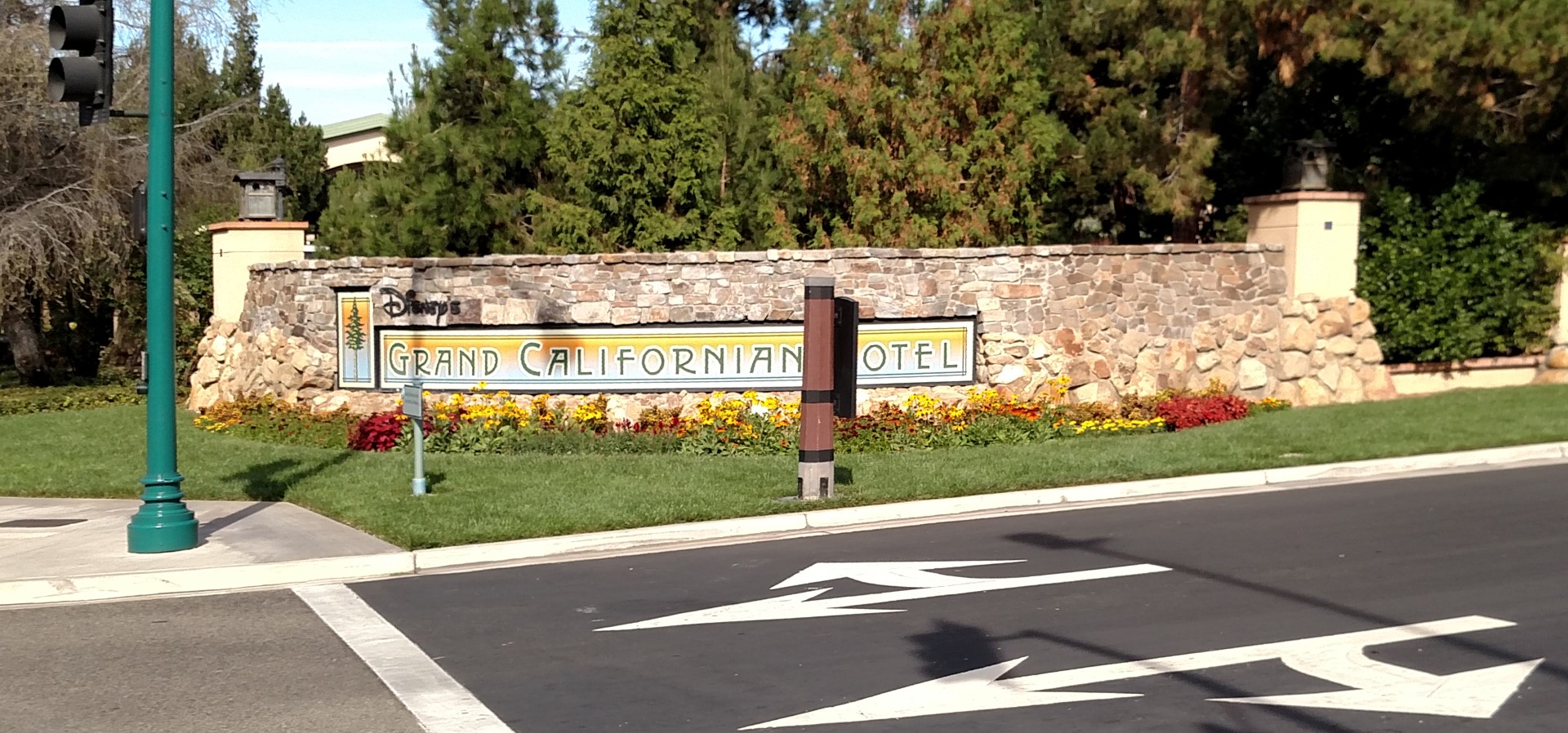 A quick exchange with the guard shack attendee, a happy birthday for Katherine and a joke and we were pulling up to the inner sanctum of Disney Resorts.. We were home!!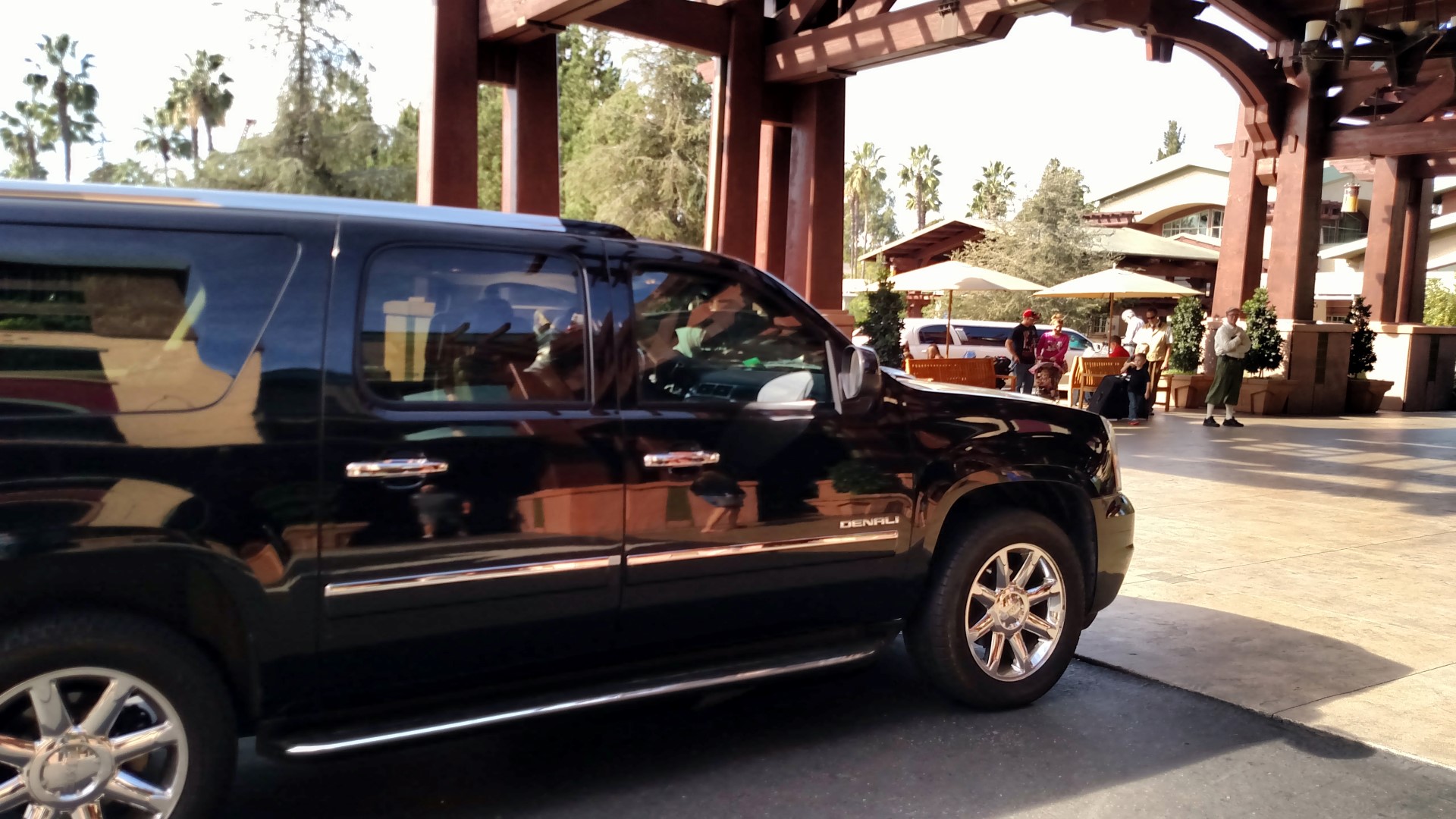 I must admit, I felt like a Secret Service Detail pulling up. No celebrities here, just us. Unloading went flawless, a quick exchange with both Valet and Bell Services and we were on our way..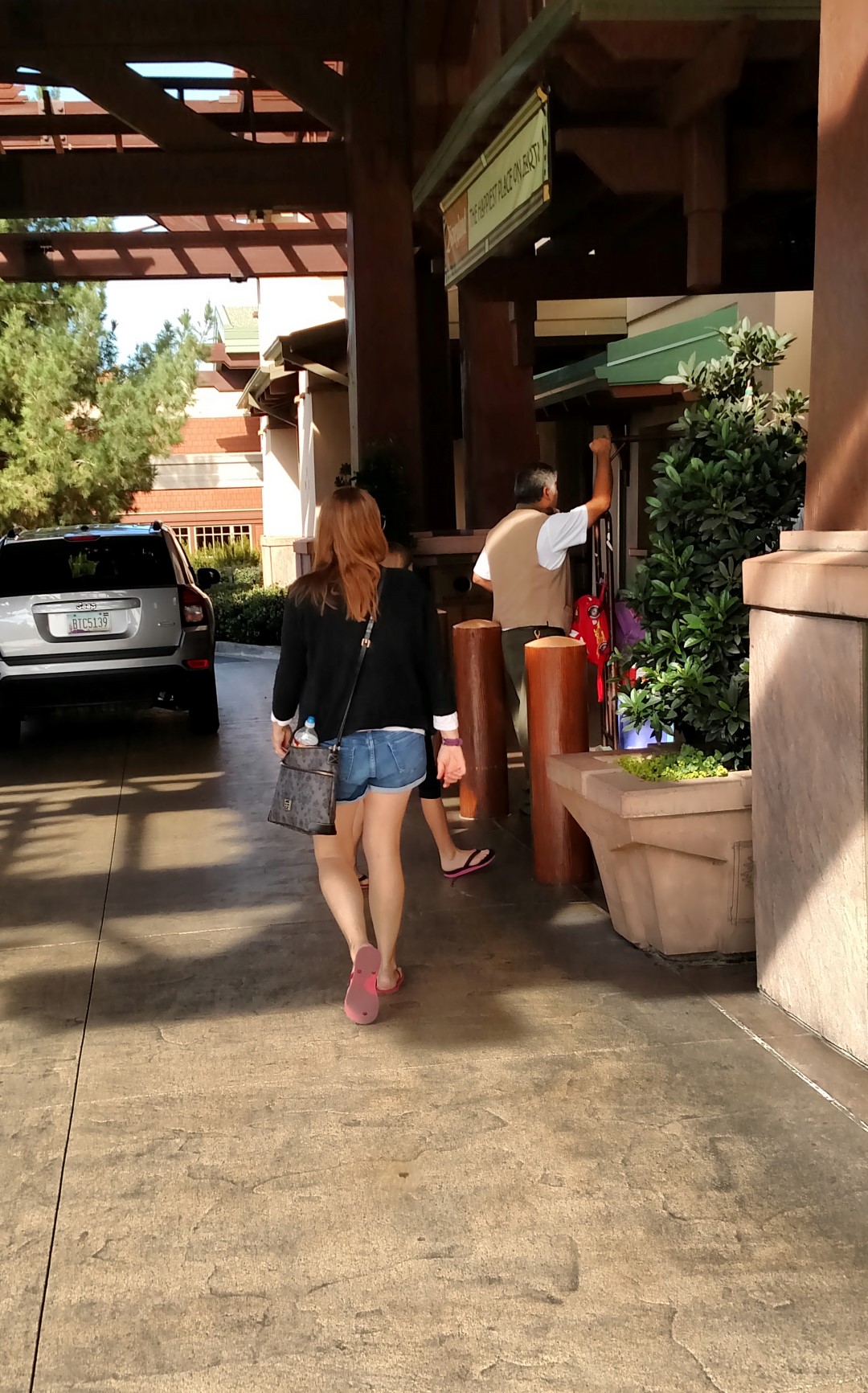 Our room was actually ready, so we scooted up and checked it out. We were pleasantly surprised with an upgrade to a pool-view room and ended up in 2228 for this trip, which was a view/wing we had never really been in. It was right over Pinocchio's Workshop, and you could access it from either the elevators in the DVC wing, or from the lobby directly. I liked it all told.
Unlike my last stay at the Grand, being in a newer section of the hotel, this room was in great shape. Nothing to complain about whatsoever.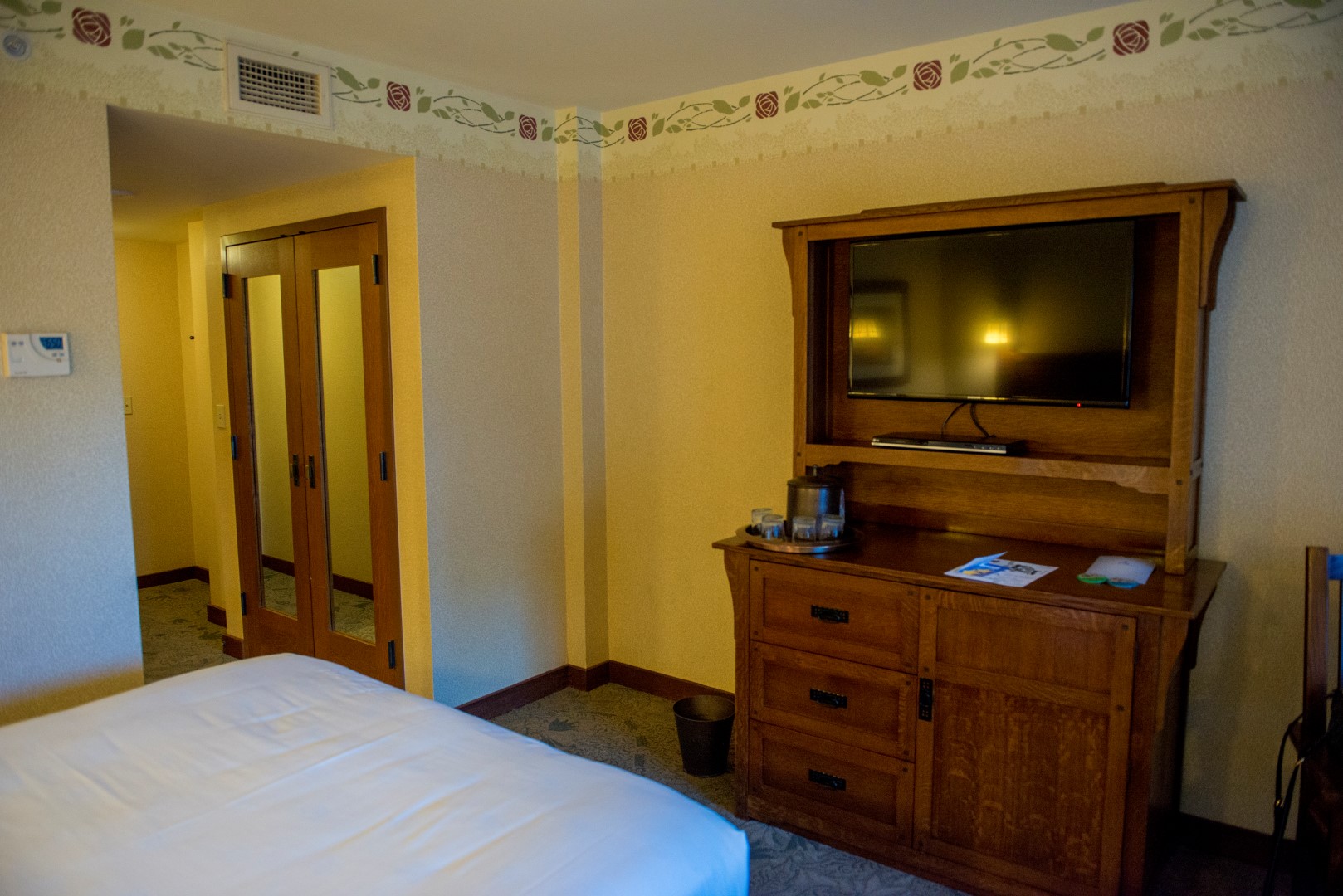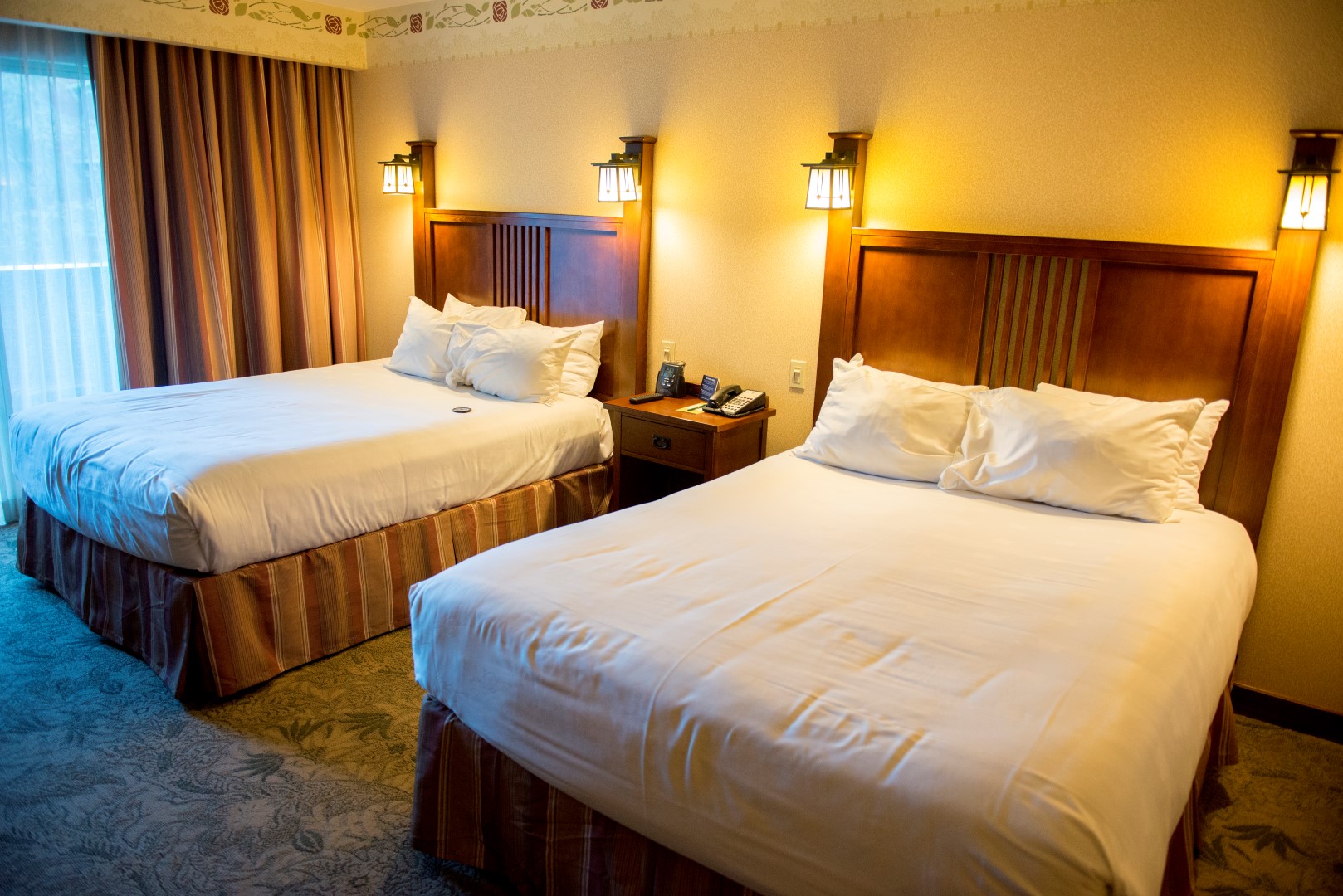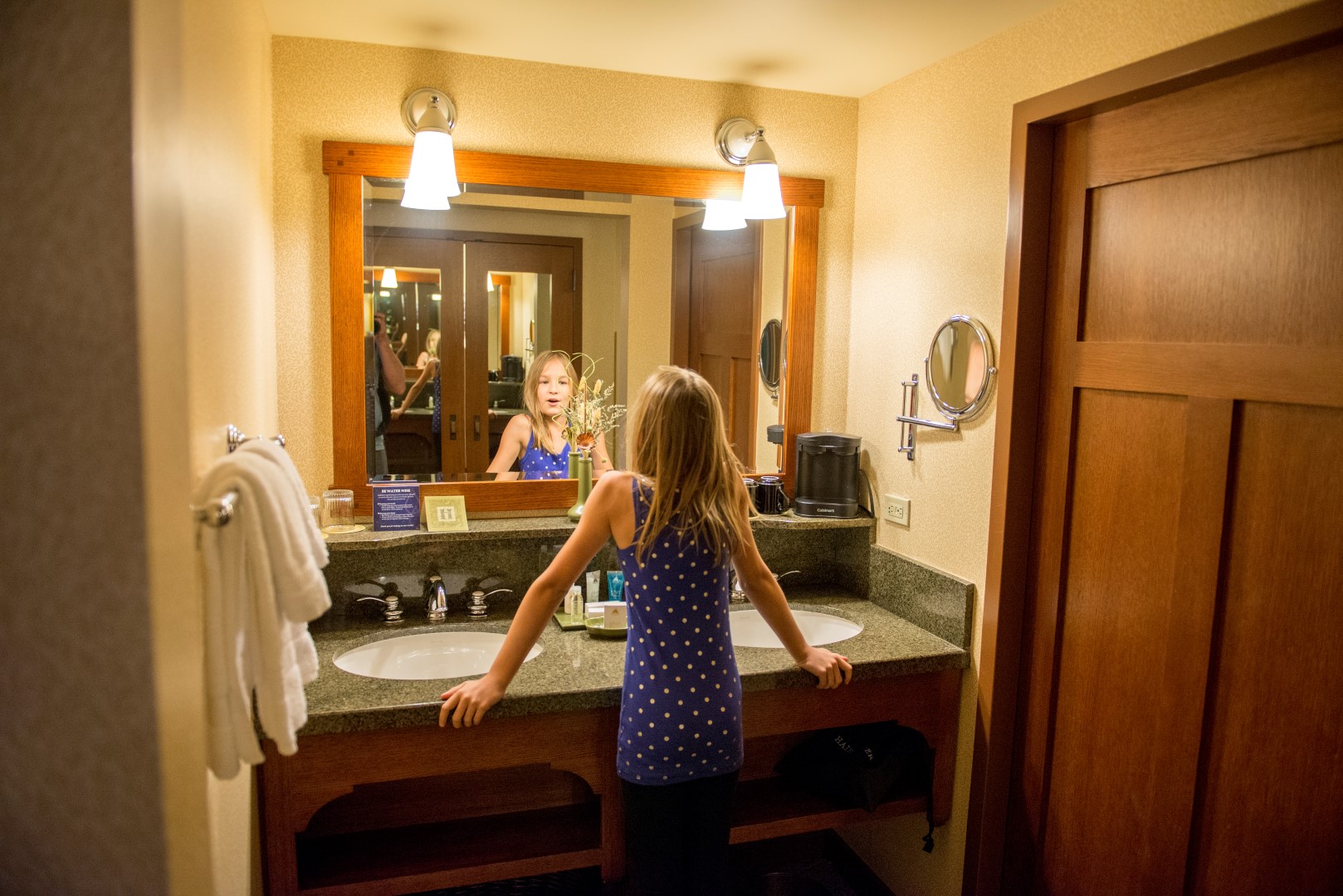 It's the little touches which make the Disney hotels worth it.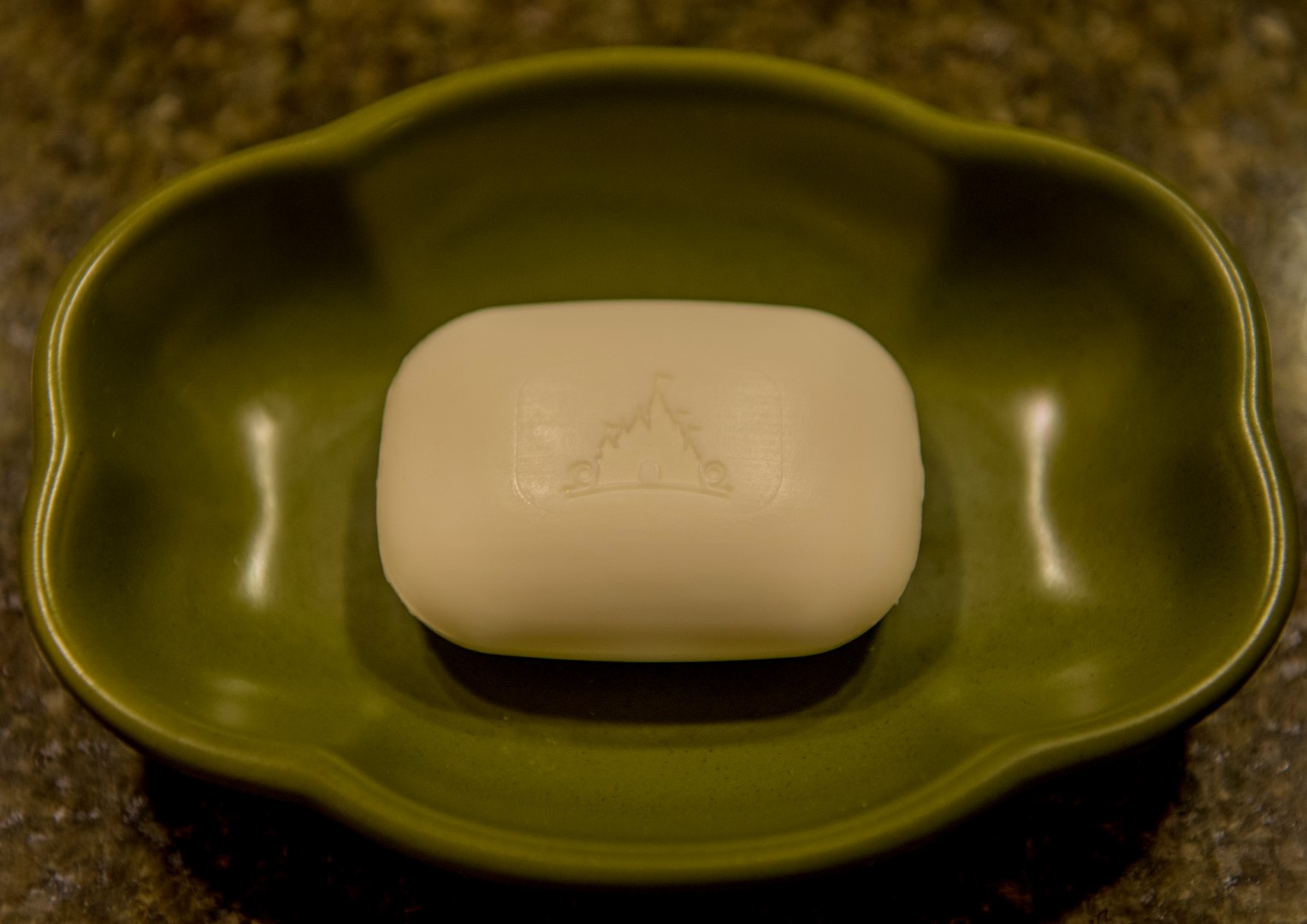 Katherine loved the balcony and view despite being a lower room.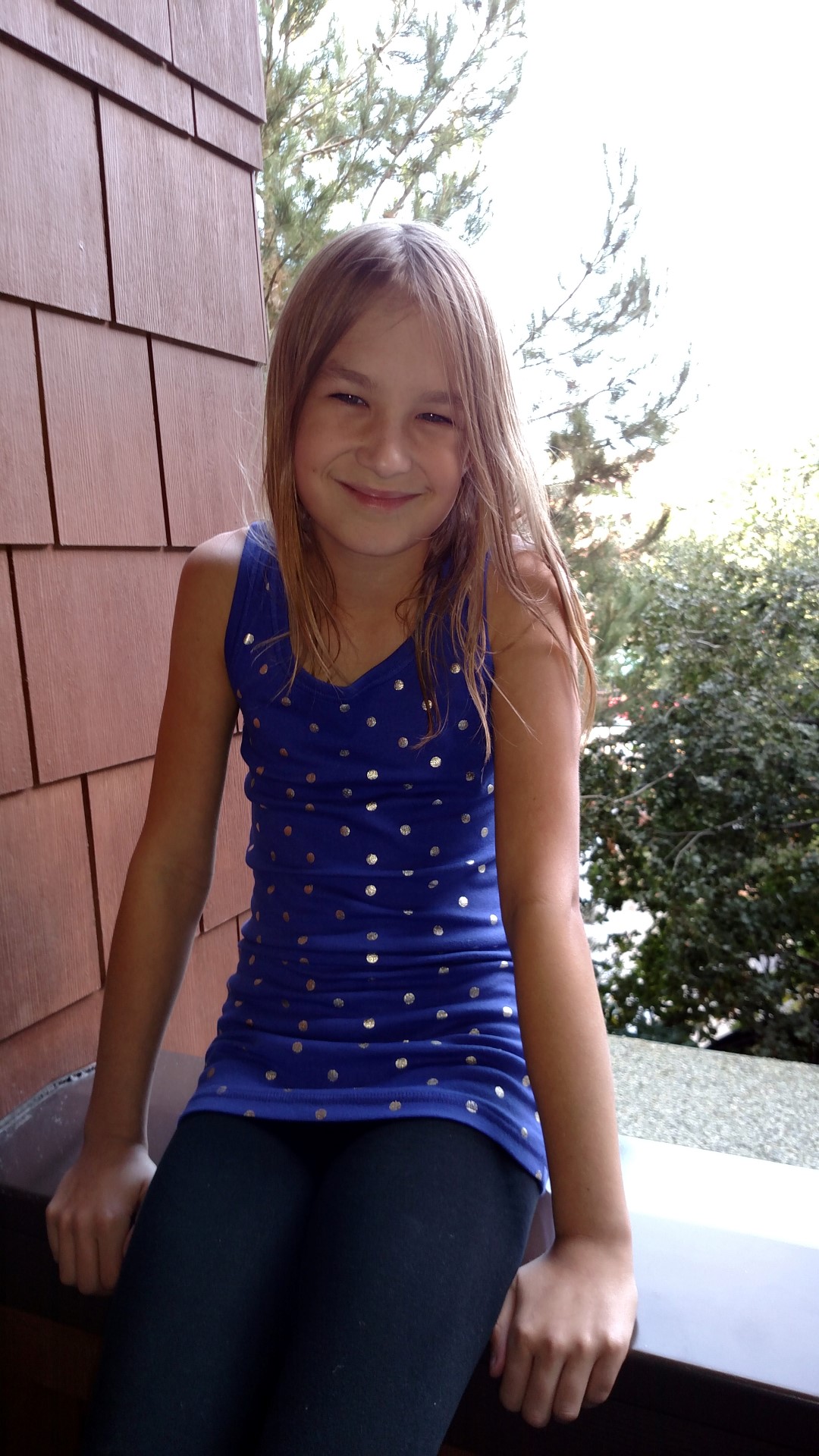 After bell services dropped our bags, we quickly organized and headed off towards the parks.