We wrapped up at the pool around 18:00-ish and decided we'd make our way back to the Hotel via Downtown Disney. We strolled through, checked out the Lego store (boy I wish I could justify a whole room of my house and hundreds of dollars per month to Lego fancy). We also stopped at Vault 28 for Amy to look at those special themed dresses they were selling. They were out of several and I think they only had the haunted mansion themed one left. Amy spied a Small World Dooney she wanted and in my compromised state, the Disney Visa came out and it was hers (saved $32 bucks with my AP though). This trip was going to hurt on food/drink/souvenirs for sure.
A quick stop at the room to change and we were ready to head back into the parks at 18:55. We are Disney warriors after all, no rest for the wicked.
Our first stop was Plaza Inn for some Fried Chicken Meals. Nothing beats it for Disney quick eats and filling goodness..
Somewhere between dinner and Frontierland, Victoria fell asleep and Katherine was being moody. This prompted Charlotte and I to ride BTMRR in the last car. I love riding all the way in back.. it feels SOOO fast. Once we got off, Amy decided to take the older girls on another round while I watched Vic.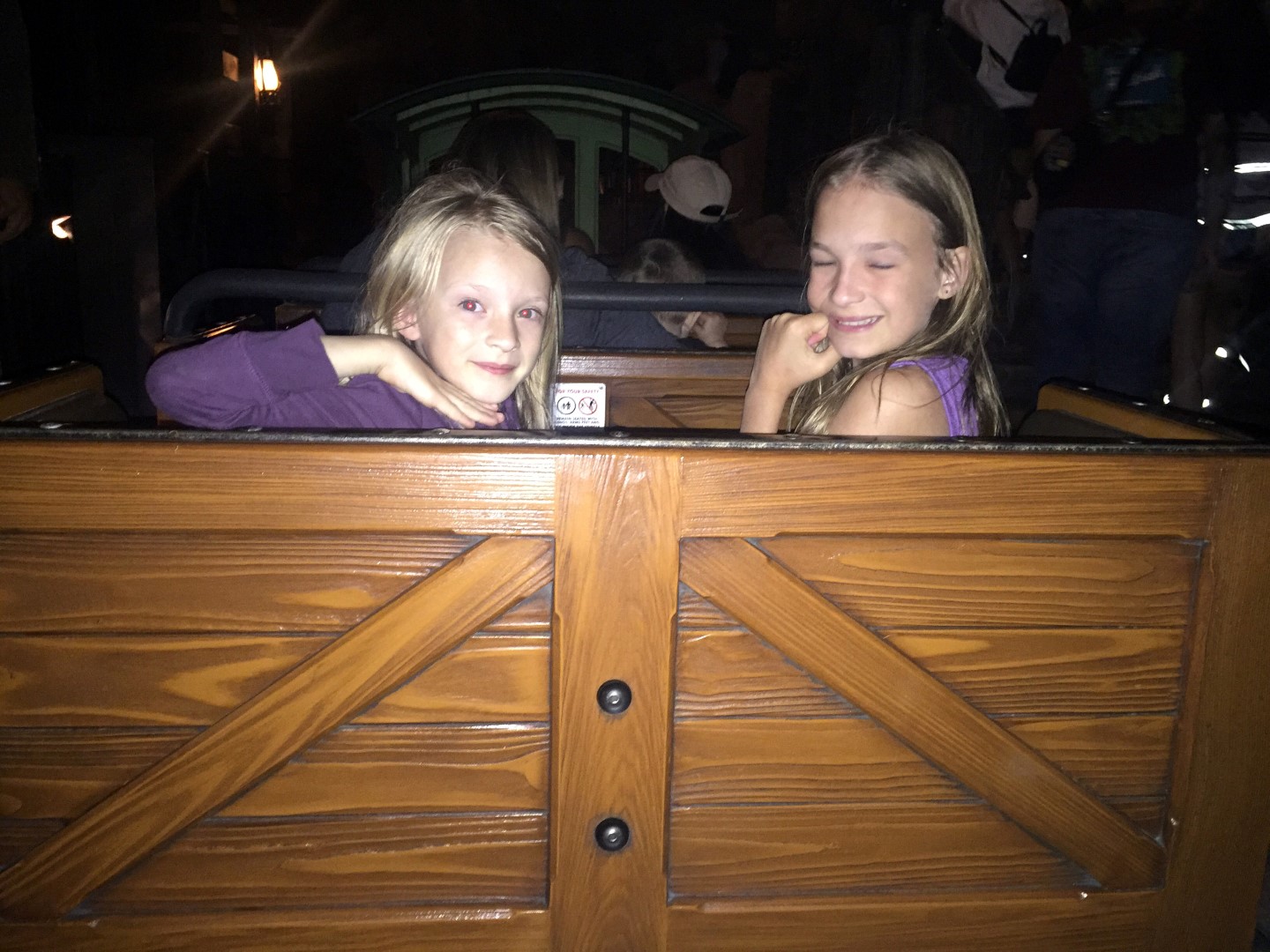 I just have to say that I LOVE BTMRR at night... so beautiful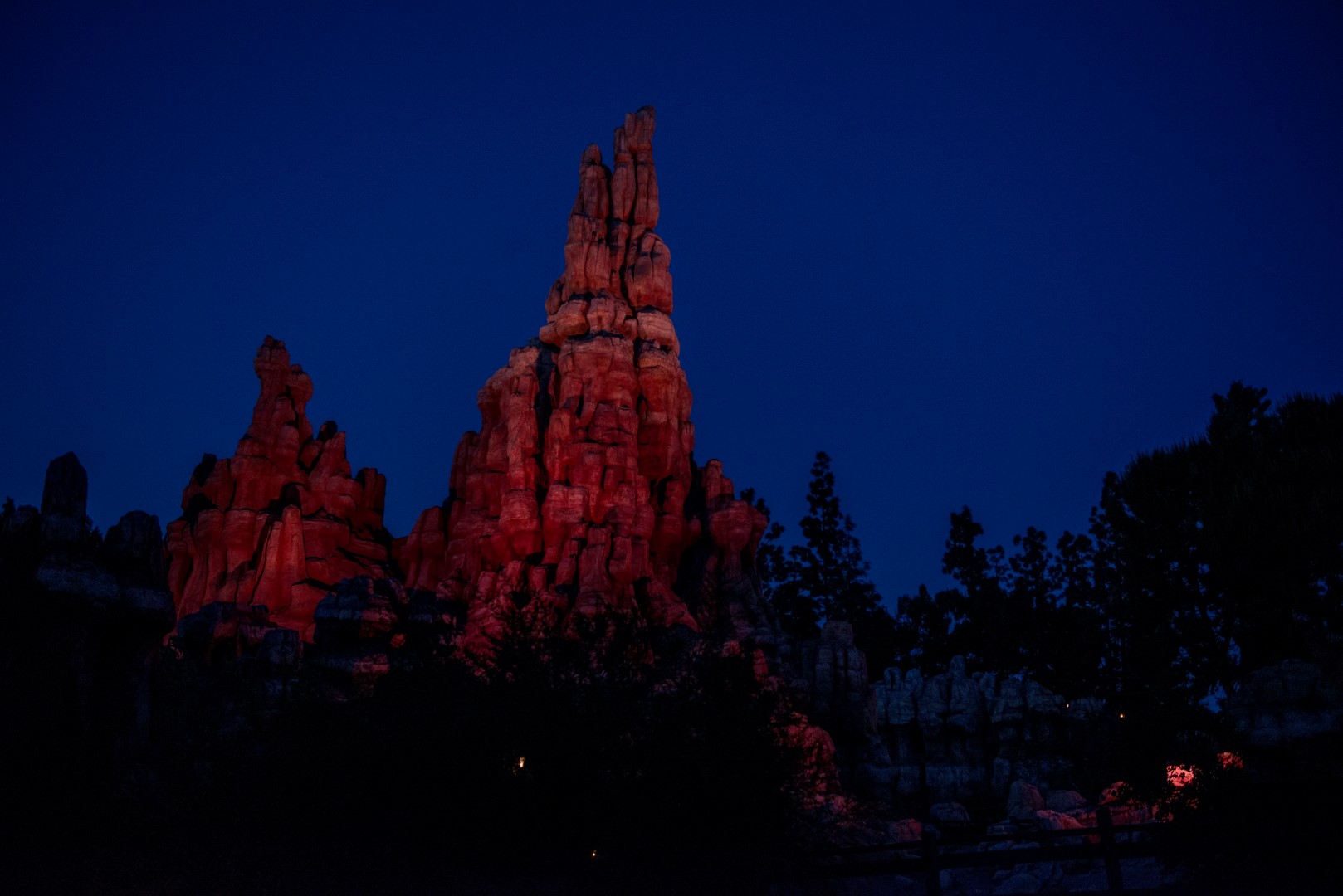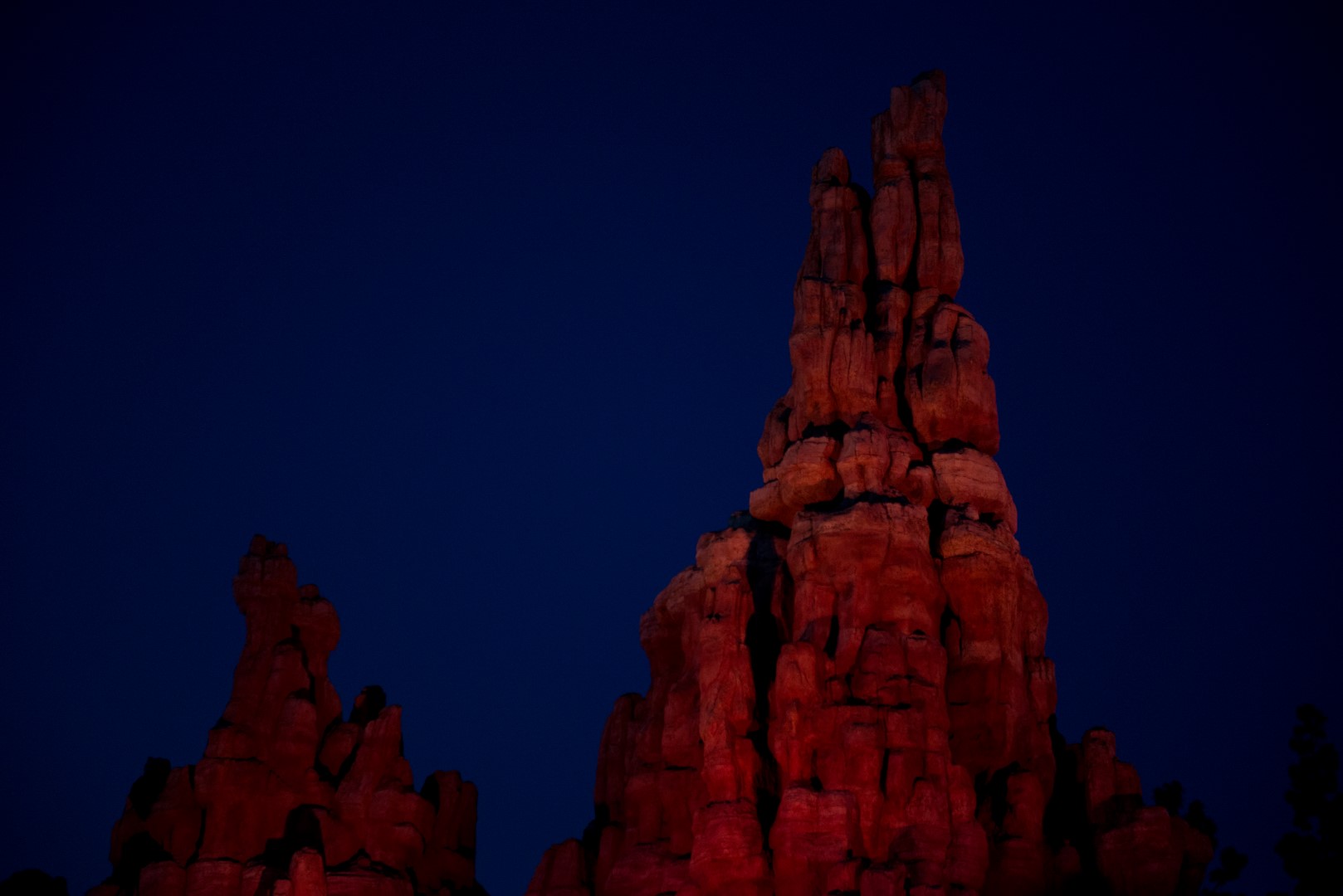 After we concluded our adventure on the wildest ride in the wilderness, Amy decided to take Vic back to the room and call it a night while I keep the older two girls up a bit later. Clearly to me, this meant a trip to exotic locals via the Jungle Navigation Company was in order. We had a GREAT skipper who could sling his witty lines with expert fluency. We did get a little backed up over by the anaconda though and getting back to the dock turned into a slight fiasco.
Clearly there could be only one attraction for our next adventure and that was Pirates!!! We jumped in the queue at 19:07 and proceeded on our quest for cursed treasure.
There is that myth again. Wanted to make sure my eyes weren't deceiving me the first time around...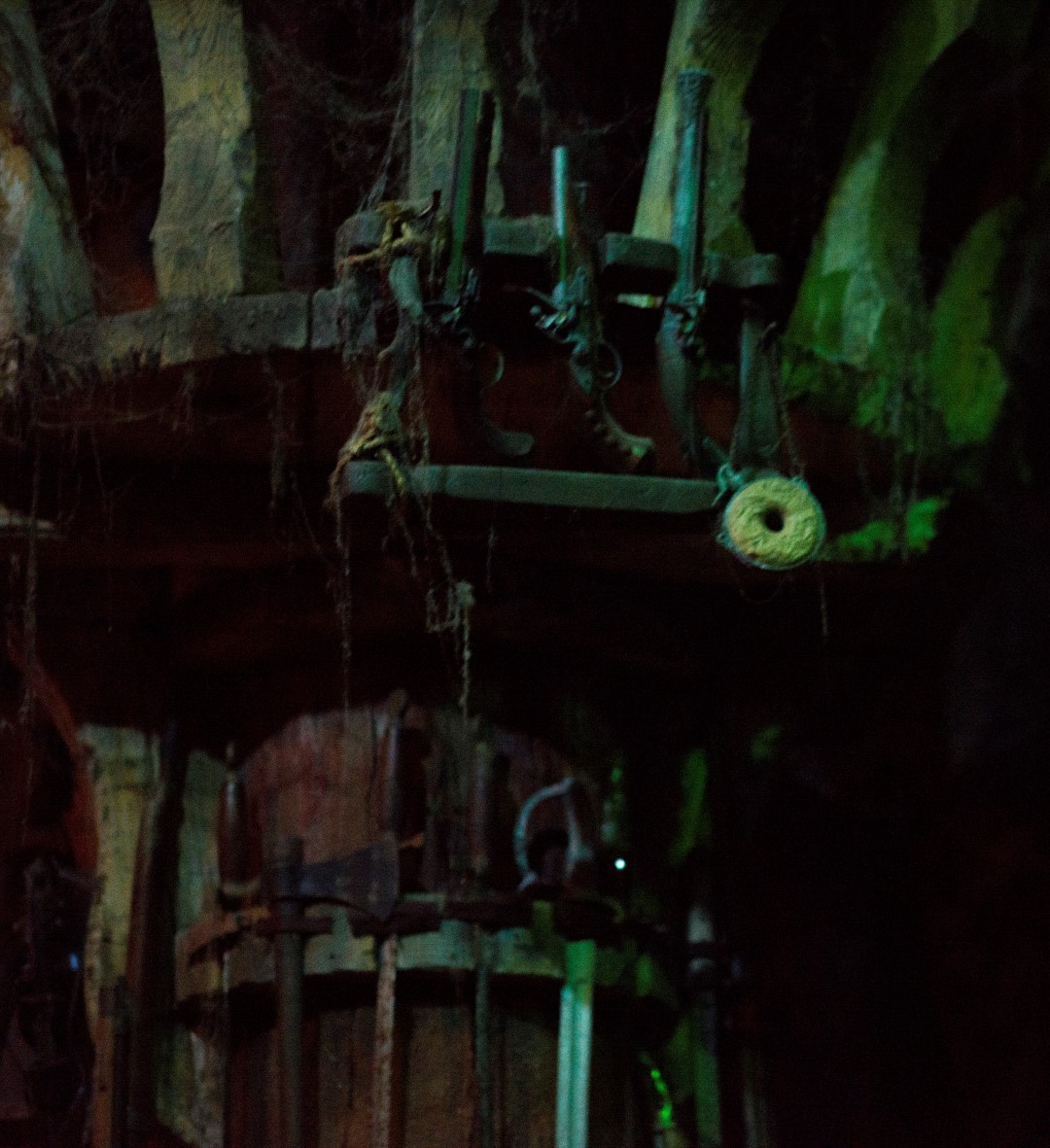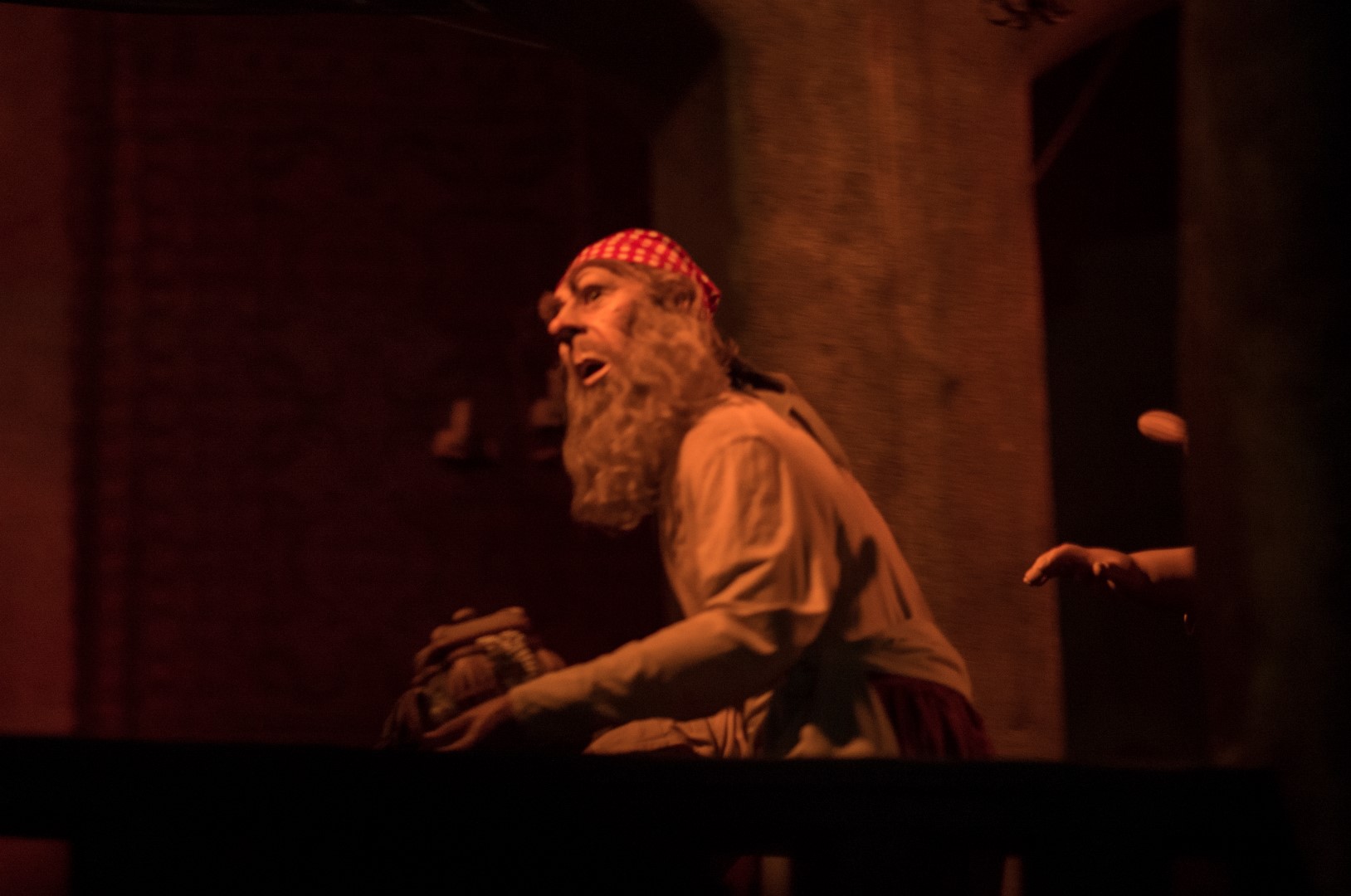 Our adventure through the Spanish main was going well until... we hit a sand bar just under the bridge leading to the burning scene. This persisted for probably 10-15 minutes with the singing pirates not to far ahead perpetually wailing out the Pirate's song..
Once freed up, I had a chance to try for the hardest shot on all of Pirates (IMHO), the cat with the fish bones in its mouth...and... still not passable as a worthy shot... oh well, I tried my best. If somehow I could get a 1/10th second exposure from a moving boat MAYBE I could pierce the pitch blackness it resides in and get a proper shot.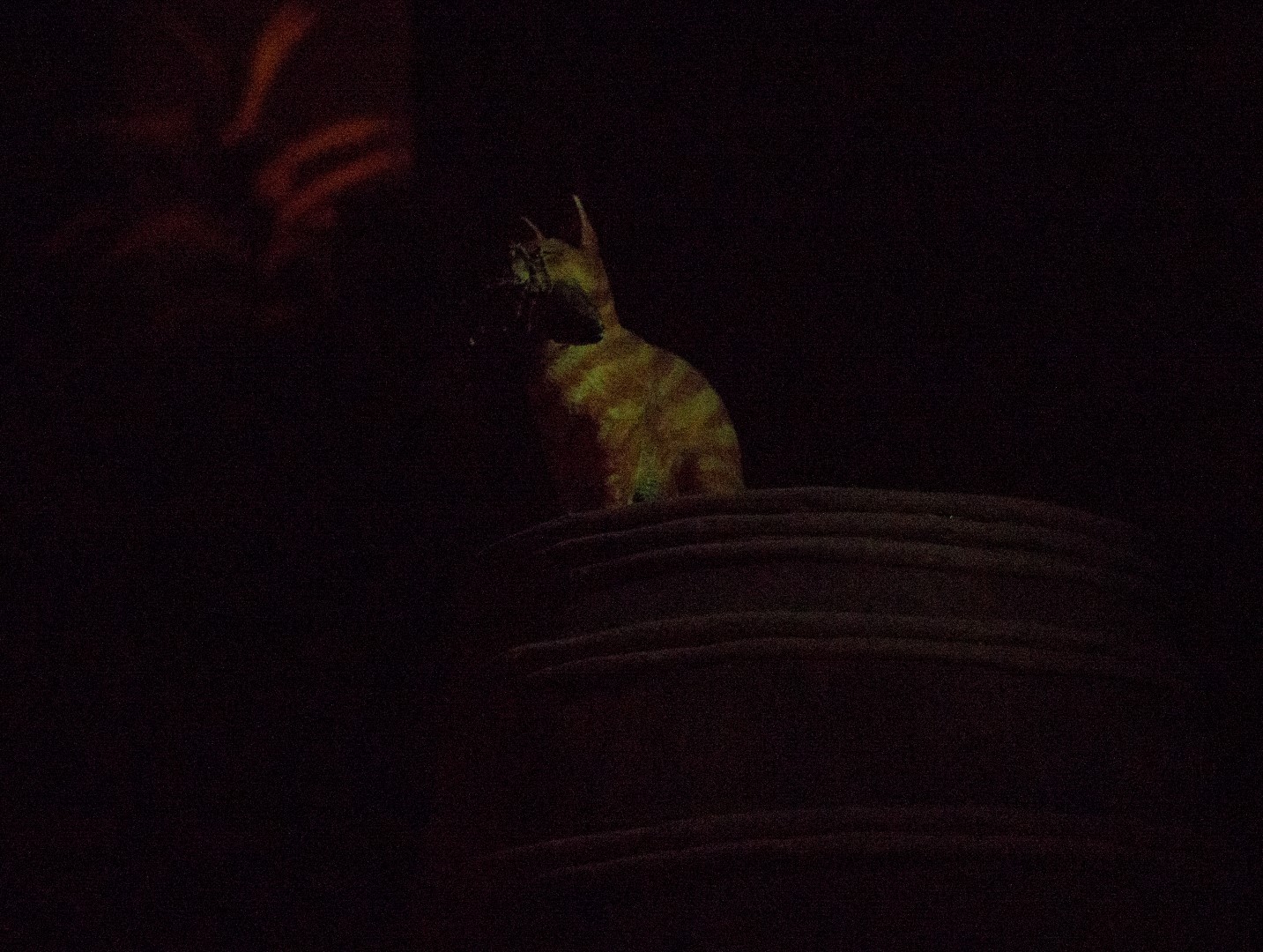 These guys had been tormenting us from just beyond the bridge... finally I could cast my vision on their blithering faces..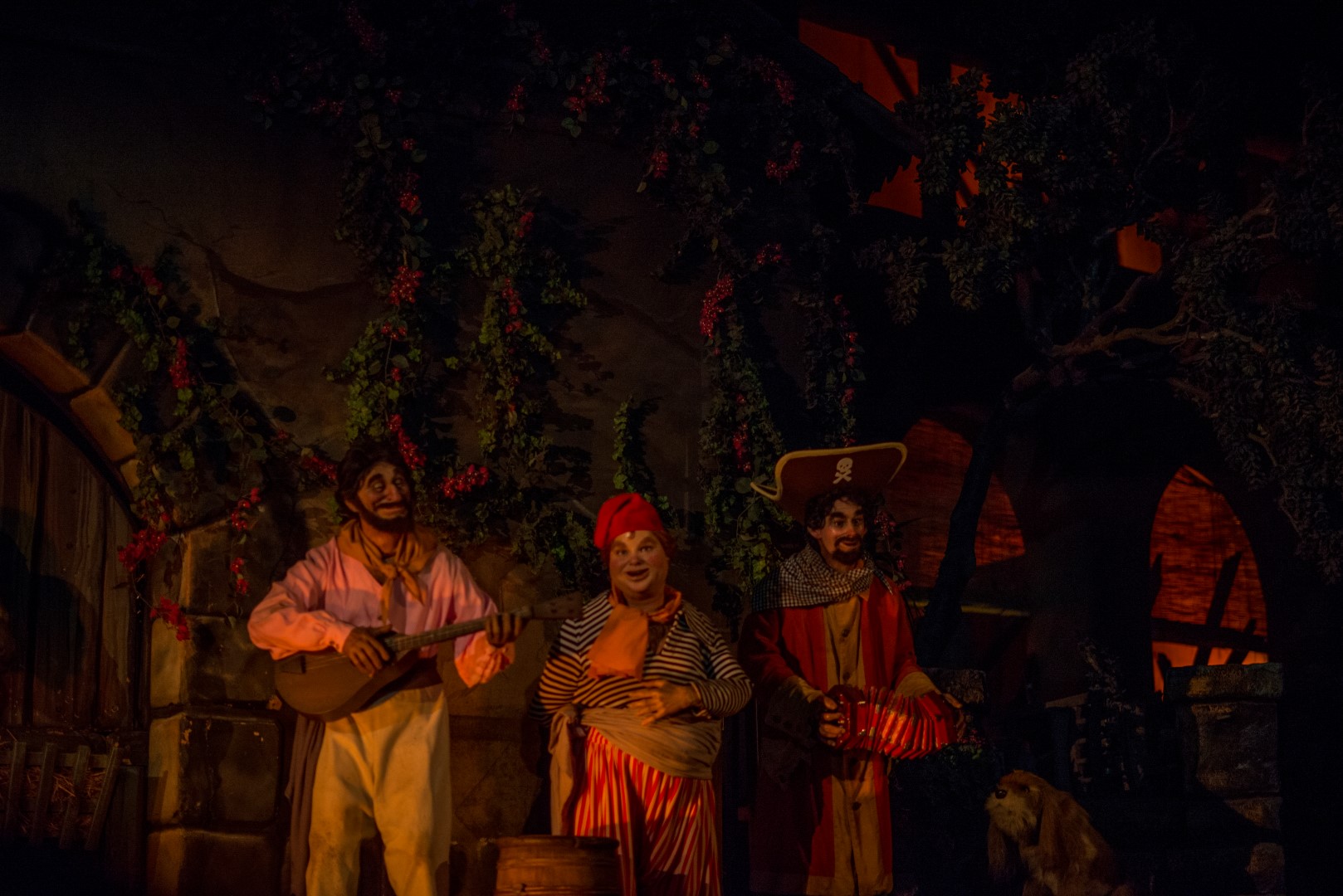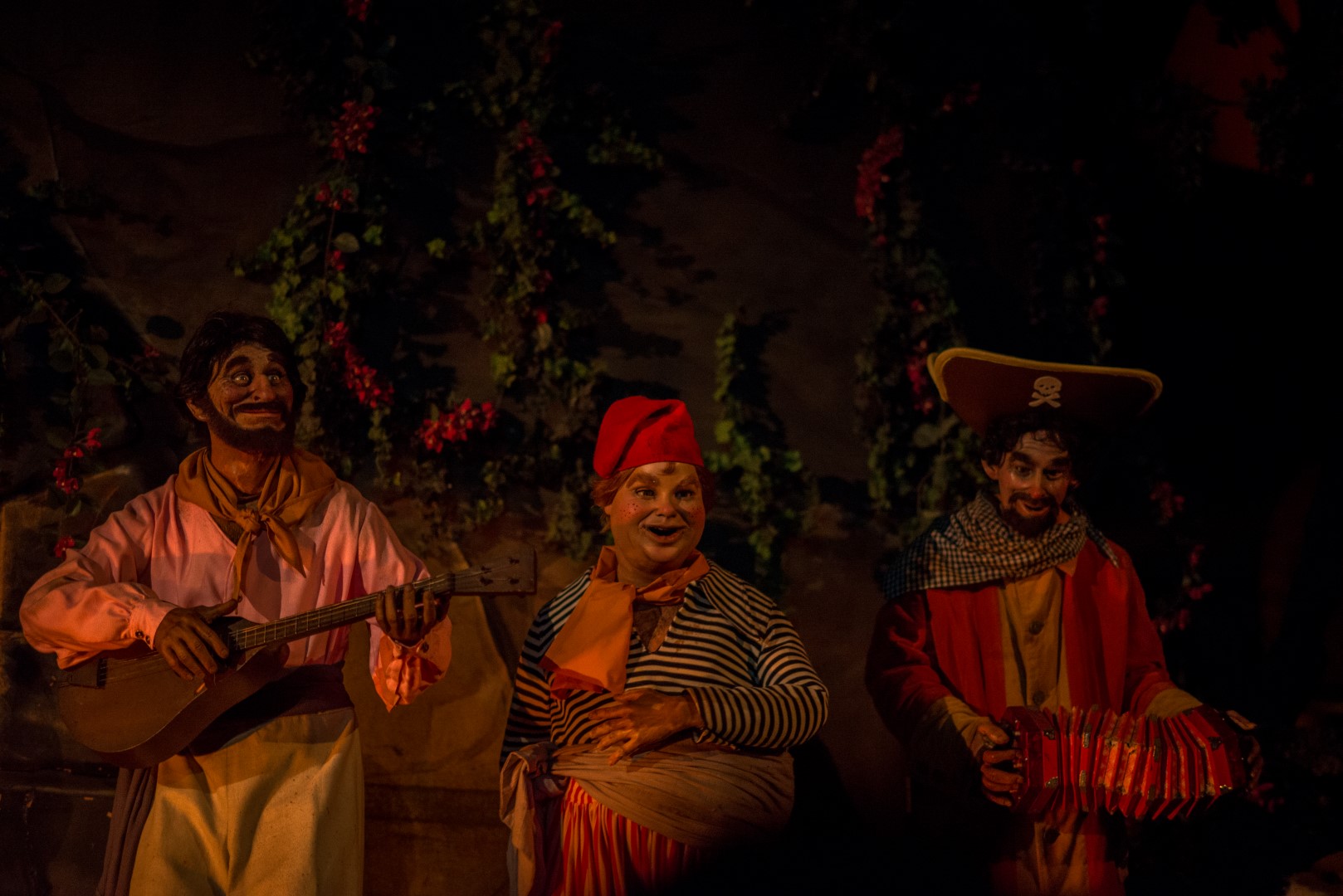 I never realized how expansive this show scene is. It occupies quite an area..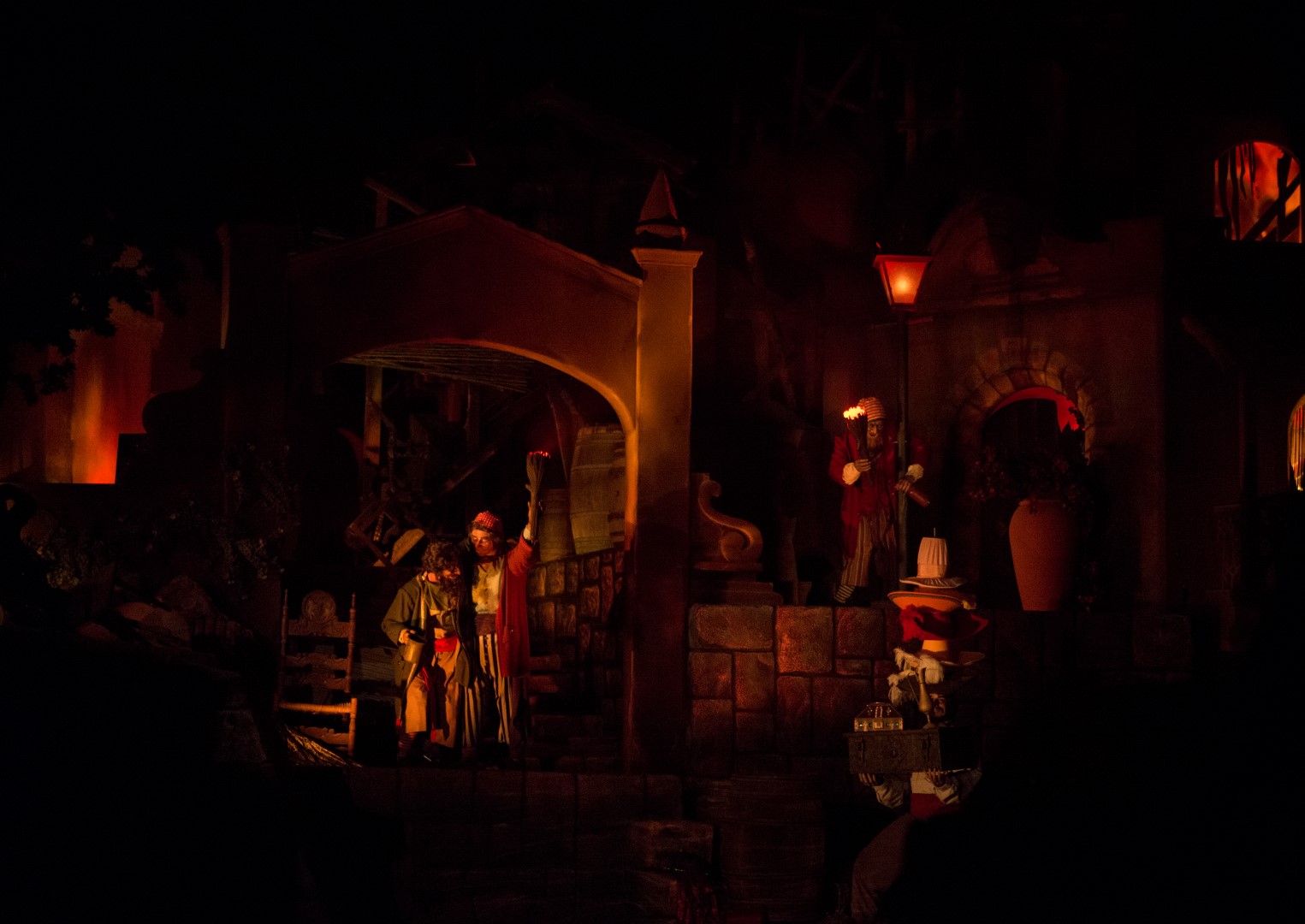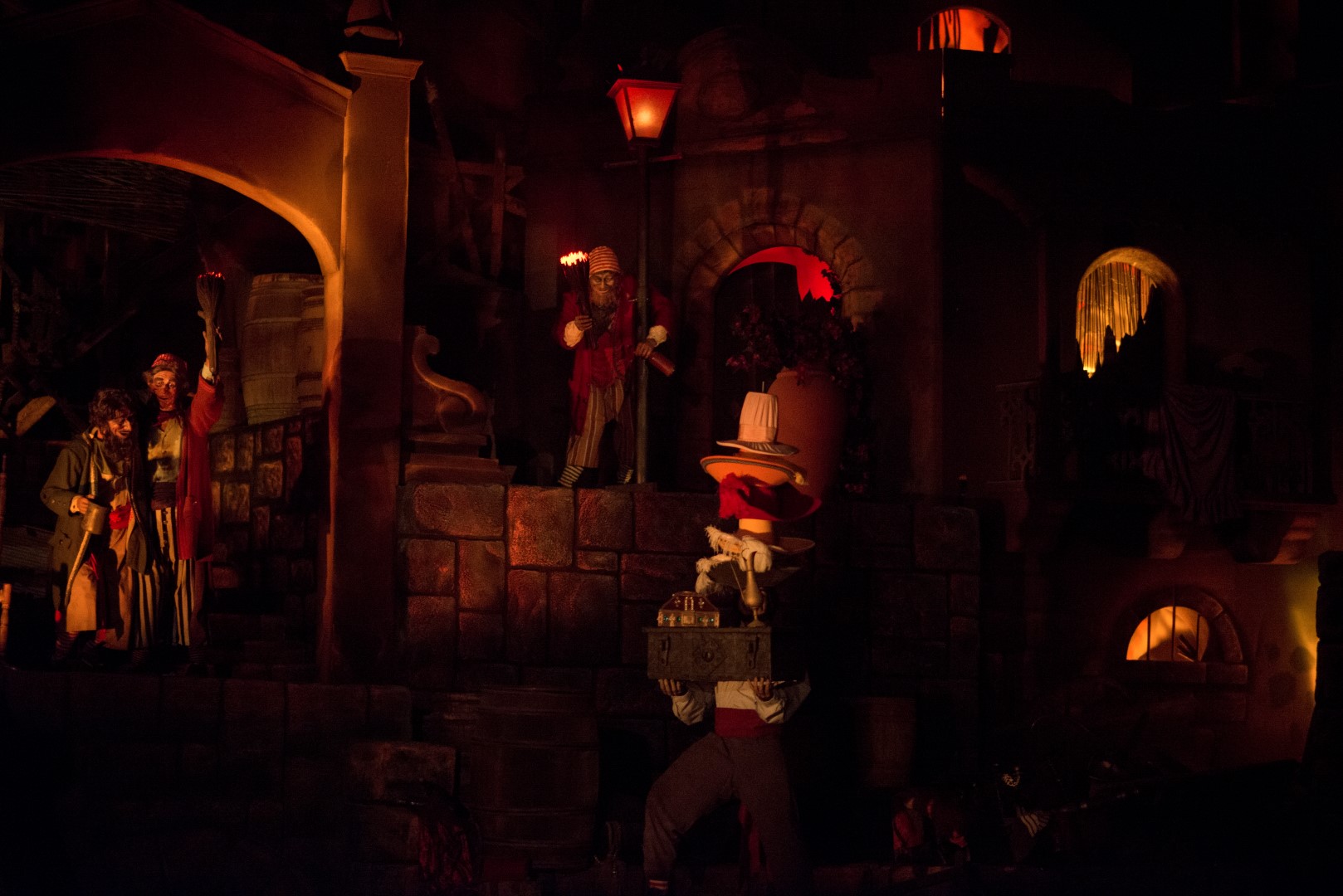 Not sure if I like my normal close up or a bit further away better on this guy..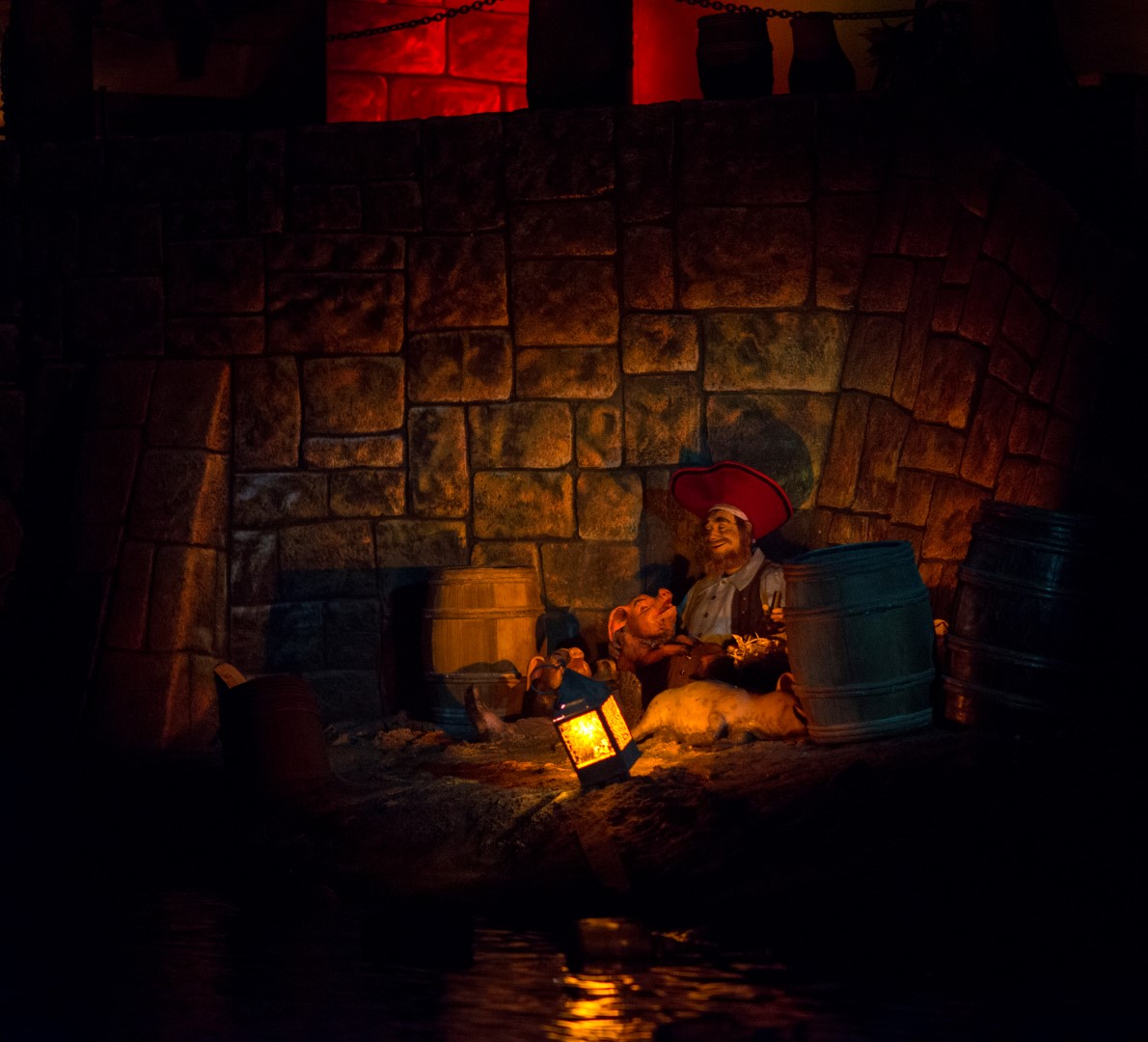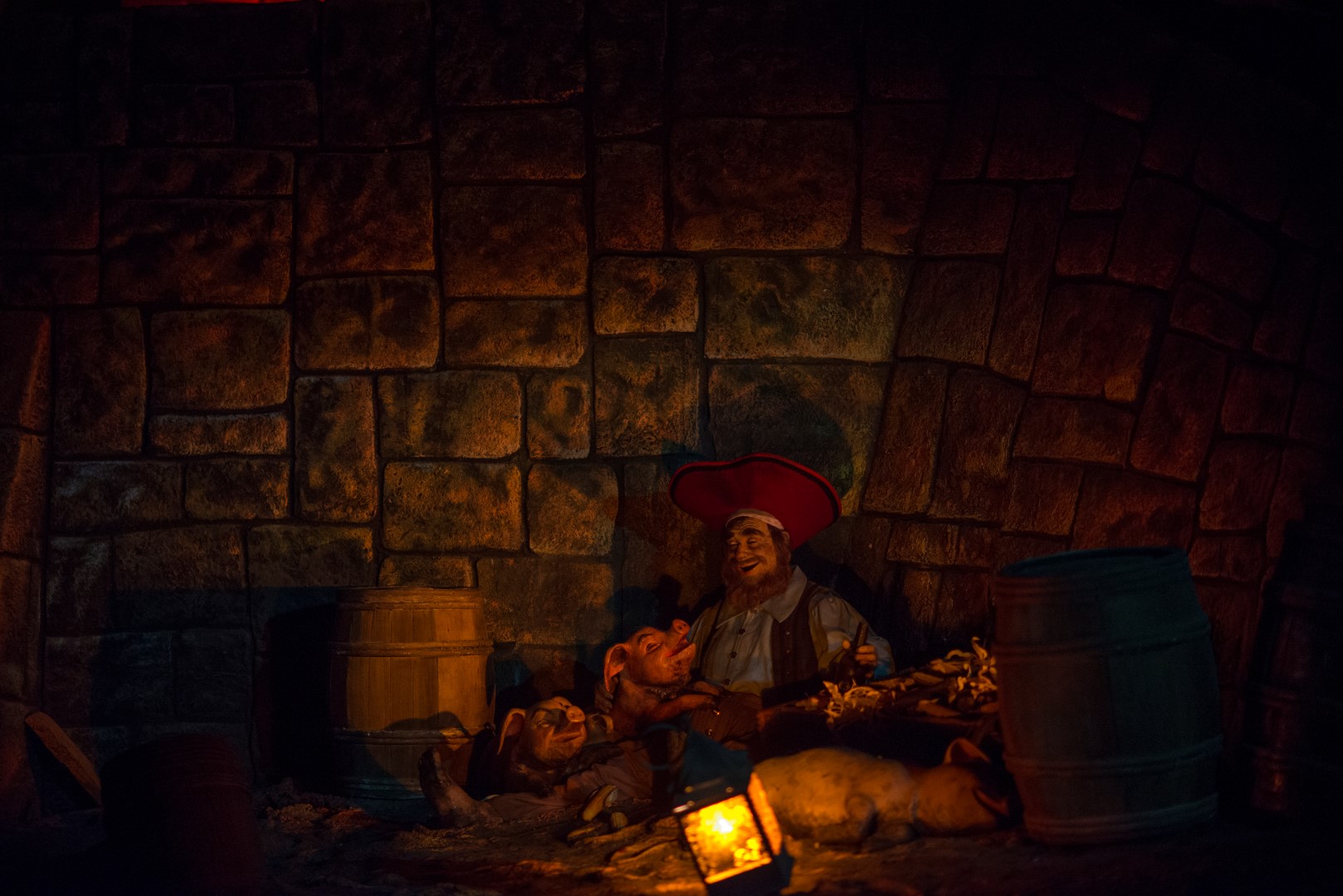 And as always... time for a jail shot or two.. that dog is NEVER going to move!!!!!!!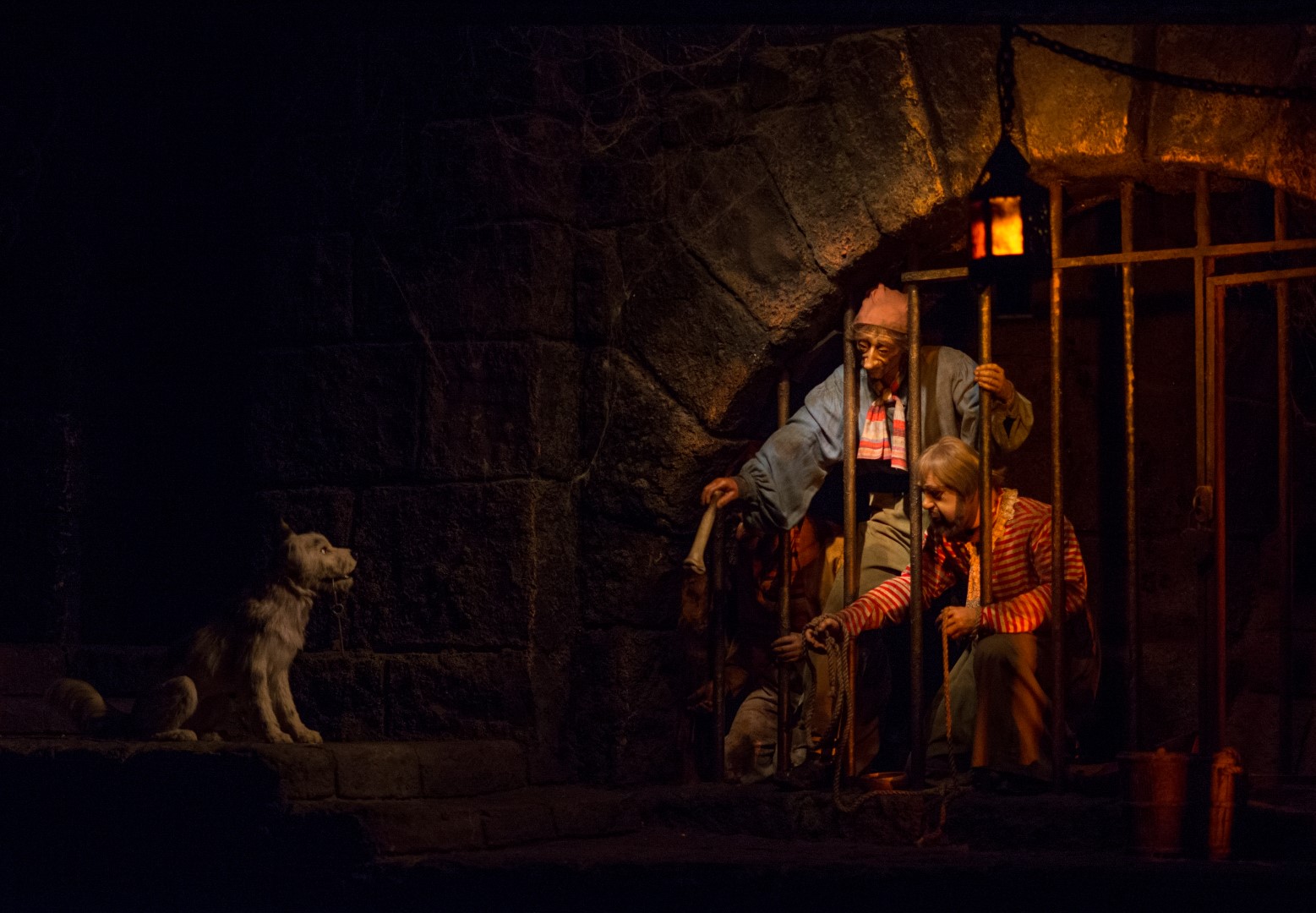 The trip had taken 31 minutes. Not bad for a long stoppage. Indy was calling to us as well, so into the queue we went.. it was a relatively fast progression and I got my best Eeyore to date (but still pretty darn grainy)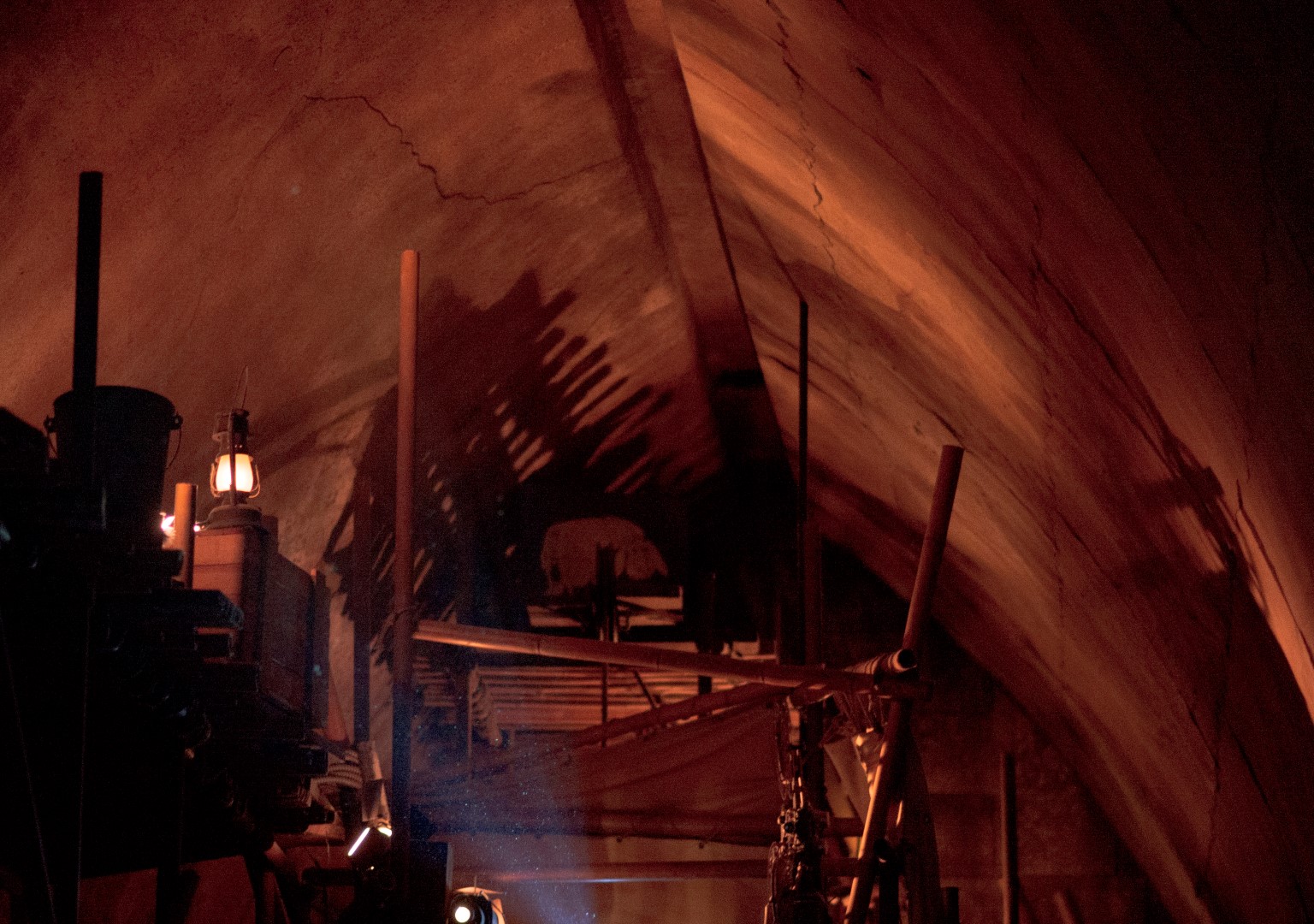 The ride was pretty bumpy and chaotic (I think they turn it up late at night when the smaller kids all leave) but we left the queue after at 22:00 on the dot. The park was open until midnight, but we weren't going to stay out THAT late. That didn't mean we weren't going to get several more attractions-worth under our belt. What could we do without Mom and Vic which we would love and they would be hesitant to do were they here? Splash!!!
We ended up getting to go THREE times in a row. At the end of #3, we called it though and sloshed our way back to the room at 22:55. This is why I love the Grand even moving at a glacial pace, stopping at both the Emporium, AND World of Disney we still hit our room at 23:17 not the worse for wear.