So, on Sunday, 11/11, Stitch and I made a special appearance at the MiceChat Meet at the Hub. I stayed the whole day from opening to closing with three different group of friends. It all started at 7:30 A.M when I met Alyssa3467 in the CM parking lot on Katella so that she would help me get free parking.
I drove to the parking structure only to be diverted to the Pinochioo Lot.
By the time I got to the entrance, people waiting in lines reached across the esplanade by about 5 minutes to opening.
Forst thing we did was grab a fast pass for Space. The line was 10 minutes long so we hopped on it.
Next off, we went on Big Thunder with a 5 minute wait.
Afterwards, we made a trip to the Hub so I can see the pretty castle all decorated in snow. I saw so many pictures of it, but never saw it in person. It was so beautiful!
We sat down in a near by bench for Alyssa wanted to rest her feet for she was in pain!
After a good 10 minutes, we got up and decided to exit DL and enter DCA.
We made our way into Condor Flats and decided to fast pass it.
Next stop, we headed to Screamin. On the way there, PUSH was out and about.
We got on Screamin with a 10 minute wait.
We then decided on exiting DCA and going back into DL. On the way out, we past by the Golden Winery and Alyssa mentioned that they were doing a character photo shoots for the Disney Visa for about an hour an a half after park opening. So, we made our way there and took pictures with Chip And Dale at the theater for the "Seasons Of The Wine".
Afterwards, we left DCA and as I crossed the Esplanade, I saw this:
.......................... MONORAIL
PURPLE
!!!!!!
We ented DL, and made our way into Tomorrowland. I glanced over to Buzz it was a 45 minute wait, but I manage to weasel my way into the fast pass line, muahahaha!!! I rode Buzz as Alyssa decided to sit this one out.
This is MY fast pass!! :lol:
My skills as a Space Ranger is rotting away!! :lmao:
When I got off, I met up with Alyssa. Then, I told her that I will be checking the Nemo line to look for a friend and told her that I would be right back and left. When I came back, Alyssa and I headed towards the Hub to the meet.
Upon arrivial at the Hub, I got shocked expressions from Aashe, Pezz Lightyear, DisneyIPresume, CMPaley, and TikiRoomLiz.
I told them that I was there just for the day and not having bought a pass yet.
I looked over to Pezz and snapped this photo:
He is sure multitalented!! Aashe's caption: "Look, TWO Goofys!!!"
then it was off to lunch at.............
White Waters!!
What do you call cheese that doesn't belong to you??
Nacho Cheese!!!
MCers having lunch
Crazy Legs, I sure hope that's the right name (isn't it?) and Stitch:
After lunch, I somehow lost the group on the way out. I heard them that they were planning to do to the Animation Building to watch the zoetroph(sp?), so Alyssa and I decided to wait for them there. When we got there, it was closed for preparations for an event for the 70th Anniversary of Snow White.
We decided to watch Aladdin, but we missed it, and they we about to start and wouldn't let any more people in.
Alyssa and I waited outside of the Animation building for the group to arrive.
First, I caught a glimpse of Crazy Legs and asked if she knew anyone that I can get in contact with, no luck. Soon, I saw Hollywood1939 and he said the rest of the group is coming behind. I informed them that the Animation Building was closed, so we made our way to Monsters. After that, the group went to Tower, but I decided to sit it out.
While waiting for the group, I was bored. Stitch was comfy in my pocket.
When we regrouped, we headed to the Cove bar for a drink. At that point, Alyssa had to head off to the flag retreat.
Forbidden Eye has met his match........... mentally:
Stitch played around with Jack's camera:
SirClinksALot decided to grab fast passes for the group. We eventually decided to wait in the standby line, but changed out minds and was going to come back later.
We then walked through Paradise Pier through grizzley Peak and Condor Flats on our way out.
On the way out, I got separated from the group.................... AGAIN!!! I remember them saying that they were going to go on Pirates next, so I made my way over there. I exited DCA and into DL.
I got to Pirates and waited for about 10 minutes when I found them. Together, the six of us went on Pirates. The ride was almost a walk on. When we got off, they decided to make a reservation for dinner at Cafe Orleans for 8:00 P.M, but settled for about 7:50 P.M
We decided to go on Big Thunder, then made our way into Toon Town.
We came upon Small World Holiday!!
Then, we entered ToonTown.
We hopped on Gadget's Go Coaster.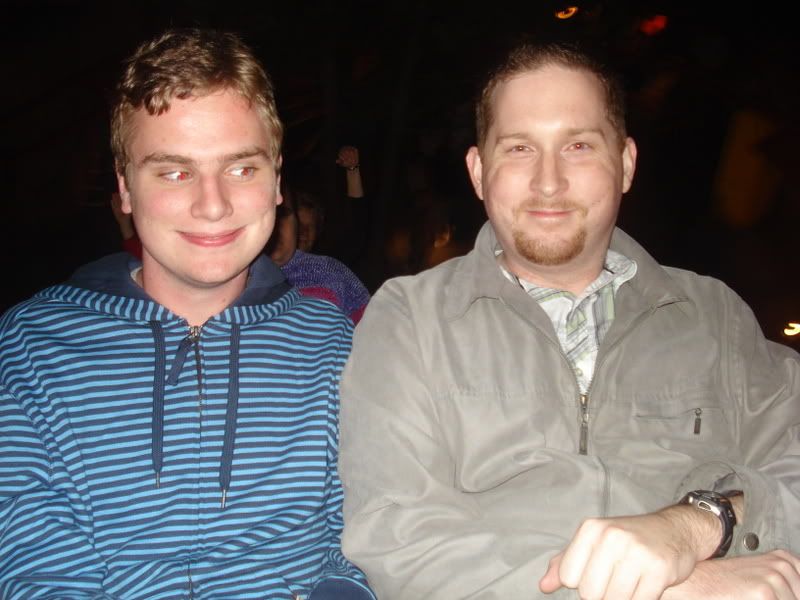 Monorail Man and a fellow MCer whom name I do not know.
We visited Minnie's House.
MaryAnnInWonderland:
Minnie's Fridge:
Minnie's Shopping List:
Then, it was a trip to Mickey's House.
Mickey sure wastes a lot of electricity
TV on!
Washing machine running!!
His household products:
Pluto's doghouse:
Mickey has rodent problems?!?!?!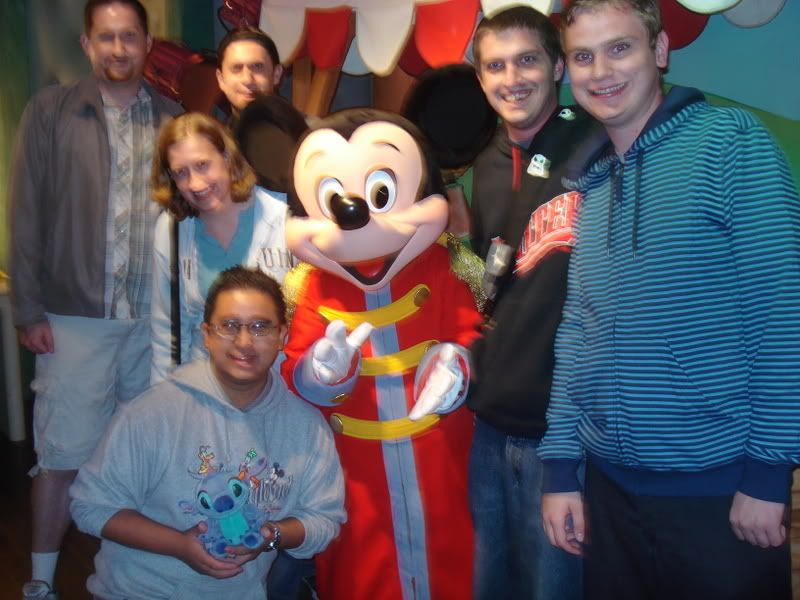 MCers and Mickey!
We exited toontown and boarded the train at ToonTown Depot and took it all the way to new Orleans Square to make the dinner reservations at Cafe Orleans.
When we got to Cafe Orleans, I said my goodbye and told them that I was meeting a friend later on.
I met my friend, Michael in front of Pirates. We left and went on Soarin with the previous fastpasses I had earlier on when Alyssa gave them to me before she left. We got off the ride at park closing and headed back into DL. We rode Space and got off when the fireworks was showing.
We catch the rest of the firework show in Fantasyland in front of Small World, but got cancelled in the middle when it was 2/3 done.
We thenwalked to Pooh to visit Adelade, but it was closed, so for some crazy reason and persuading, we went of Splash.
When we got off, we checked Pooh again, but it was sadly still closed, but I found Adelade at the front entrance.
We passed by Mansion with a 5 minute wait and got it. We decided to get on the train to take to Fantasyland.
While waiting, Stitch watched Fantasmic!
When we got off the train, we went on Small World Holiday
We saw a boat getting diverted to the storage area:
Nearing the end......
Afterwards, we headed towards the Matterhorn to see what's the line was like, but decided to go on Nemo instead. it looked it had a 25 minute wait.
After that, we decided to call it a night!! It was a fun day and I had a blast!!!
SAD NEWS: I LOST STITCH!!!