A while back someone had posted about the one hour Disney shopping pass and I had mentioned that we had done it on the way to a cruise in 2005. I finally found my pictures from then and so I thought I would share the pictures.
On June 6, 2005 we were scheduled to take a 4 day cruise leaving from San Pedro. Prior to that I had read about how at Disneyland you can get a one hour pass to go into the park and shop so since Hubby55 and I were driving over and we were not sure that we would be going to the park anytime during the 50th anniversary we decided to check it out.
We arrived at the resort and parked at DTD knowing that we would only be at the park for a short time. We got in line at Guest Services and since the line to the park seemed long I sent hubby over to get in line for Disneyland while I talked to the CM at Guest Services. She asked for my credit card and explained that if we were not back within 60 minutes that our credit care would be charged for 2 full day admissions. She stressed that we needed to be back at Guest Services before the 60 minutes were up.
We entered the park at 11:25 a.m. We immediately went to the Mad Hatter on Main Street and got our Gold Ears and then waited for them to be embroidered with our names. We then went shopping at the Emporium where I spent the next 20 minutes melting my credit card with 50th Anniversary souvenirs, ornaments, maps, etc.
By 11:48 we were at the hub taking photos.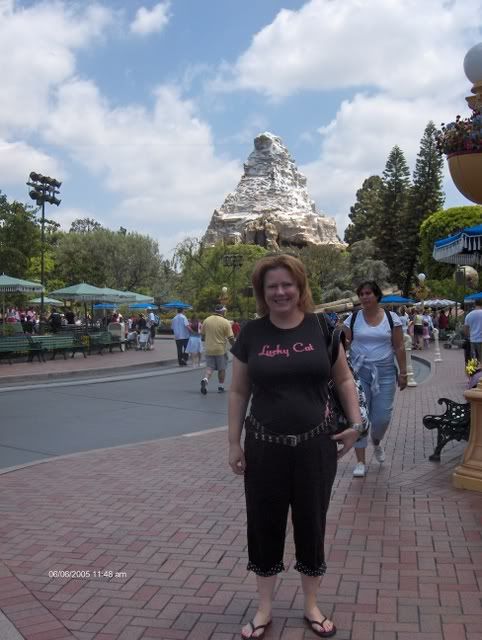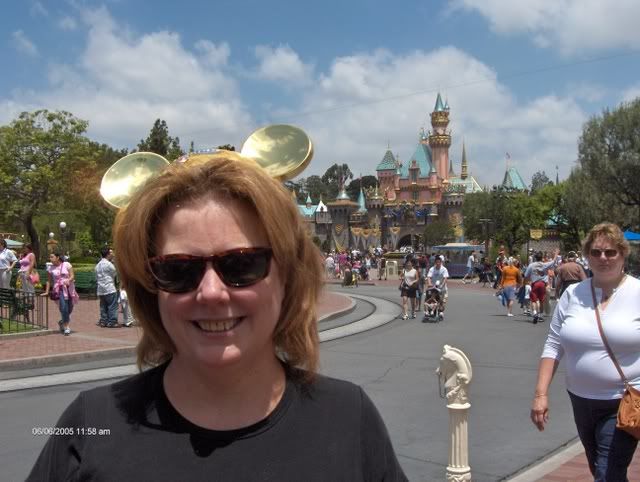 After 10 minutes of taking the pictures we were debating whether to risk trying to go on a ride. We headed towards Adventure Land and decided that it was better to just get a dole whip and not risk getting stuck on a ride.
It was not 12:15 and it was time to leave the park after a quick picture of the Mickey floral.
We headed over to Guest Services where they asked how much we had spent. They then returned our charge slip showing that we had not been charged since we had returned in 55 minutes. Whoo-hoo.
4 hours later Hubby55 was relaxing by the pool.