Re: Lisa's Mega Colossal, SupercaliforniafragilistikexpialaTrip Report! 10/26-31
After rides, snacks and fireworks we felt the need for a little... relief. And how fun to learn that even the bathrooms have a bit of themeing!
Kaylie looks like a princess, doesn't she? But her tiara is often pretty crooked, ha ha!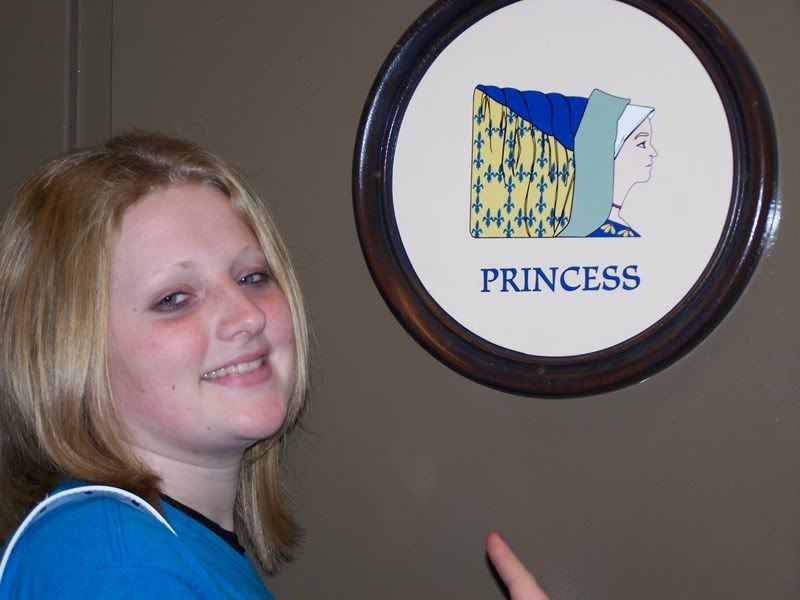 We'd passed up Mr Toad's Wild Ride earlier because of a long line. After the fireworks it was at a reasonable 15 minutes, so we joined the crowd. It was a fun ride, but again, Joey wasn't thrilled with it because of the darkness. He did like the car we posed with afterwards though!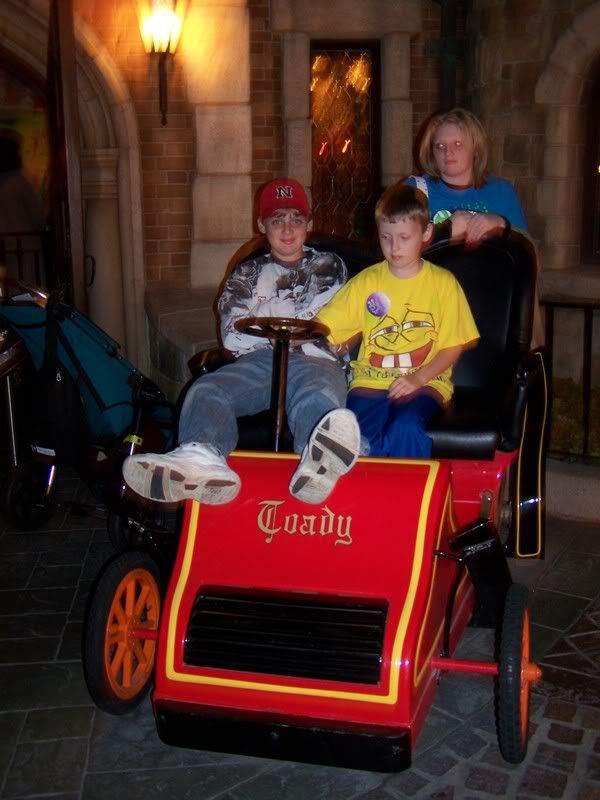 The next thing we decided to tackle was The Matterhorn Bobsleds! Neither Trev nor Joey wanted to face that ride, so they were content to relax on a nearby bench while Tom and Kaylie and I hopped in line. It was probably about a 15- 2o minute wait.
I have to be honest and admit we weren't impressed with the bobsled ride. Tom and Kaylie rode in one car and I rode in the other right behind them. The ride was so jerky, that I didn't feel safe in my car. I was tossed all over the place and I'm not a small person! I had a bruise on my arm from a smack to the side of the car during a fast, jerky turn. Kaylie and Tom felt the same way. This was just our opinion based upon one time on the ride though. It was late and we were tired from a full day of travel. Our opinion might be different had we ridden it at a different time.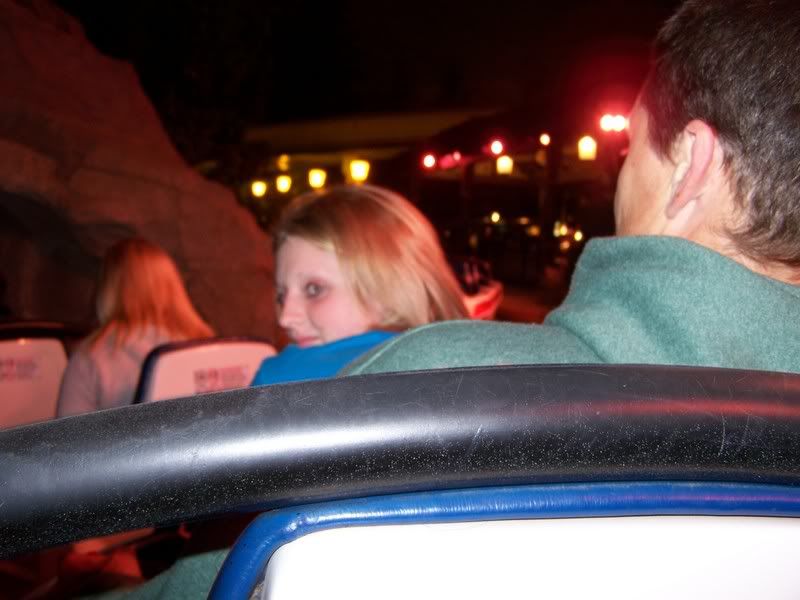 After the ride, we found the boys kicking back and relaxing.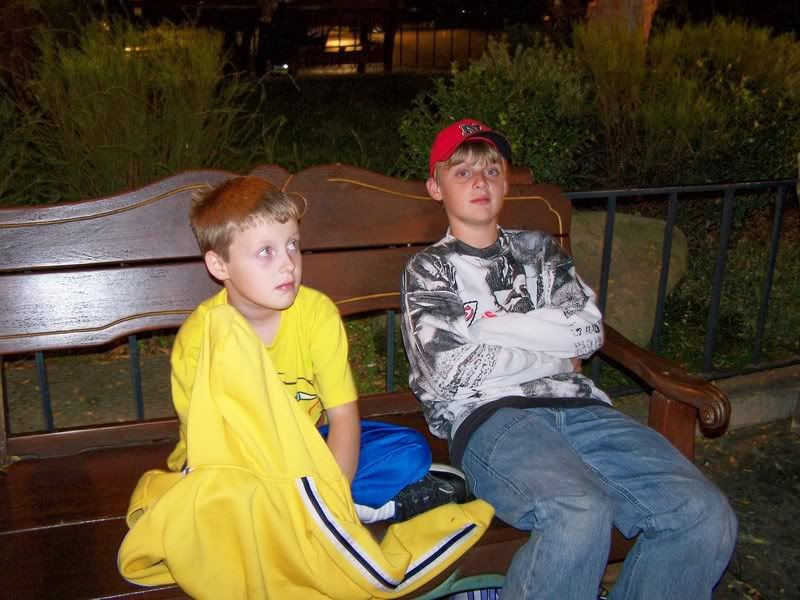 A beautiful view of Tomorrowland at night.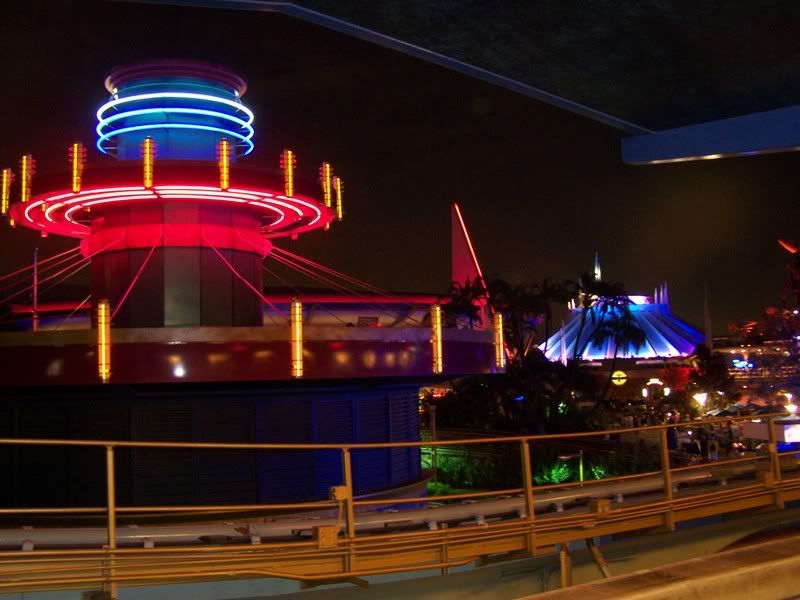 We were all exhausted and decided to do one more ride and call it a night. We decided to ride the monorail to get a full layout of the park. We had just sat down in the car, when the driver announced he had four seats available in the front car with him. Well, since we're a party of five, we couldn't take him up on it, so a group of teenagers did.
We liked the monorail. It was awesome seeing all of Disneyland by night, it was all so amazingly pretty. The motion of the cars though was very relaxing and by the time we were done, we were more than ready for our beds.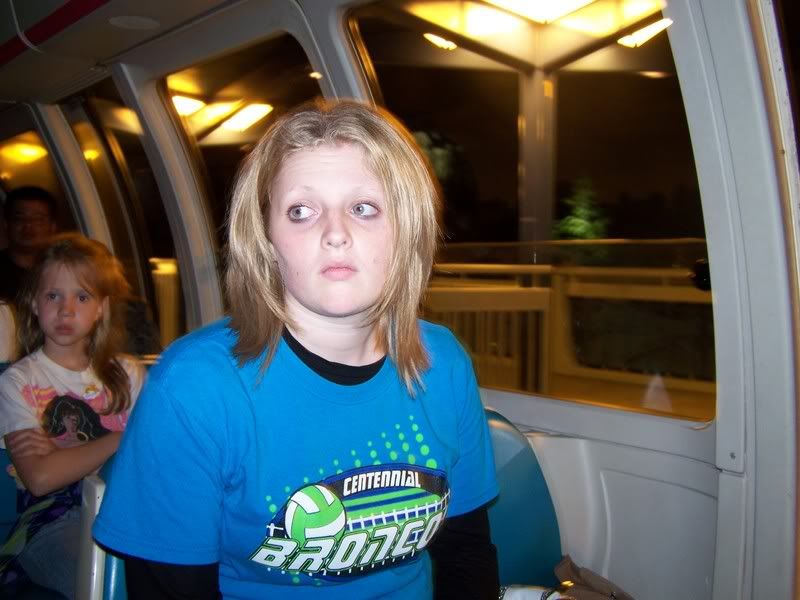 Joey was all about food during our visit. He couldn't get enough of the fun snacks. He immediately spotted a popcorn vendor and announced that he just had to have some of the "hot, delicious, buttery popcorn". So we stopped. Joey was also thirsty and wanted a bottle of water. The vendor was out of water, but kindly offered Joey an unopened bottle of her own water and didn't charge us. Several vendors did that for us during our visit there. And yes, the popcorn was hot and delicious. We ate it all the way back to the car, inbetween yawns.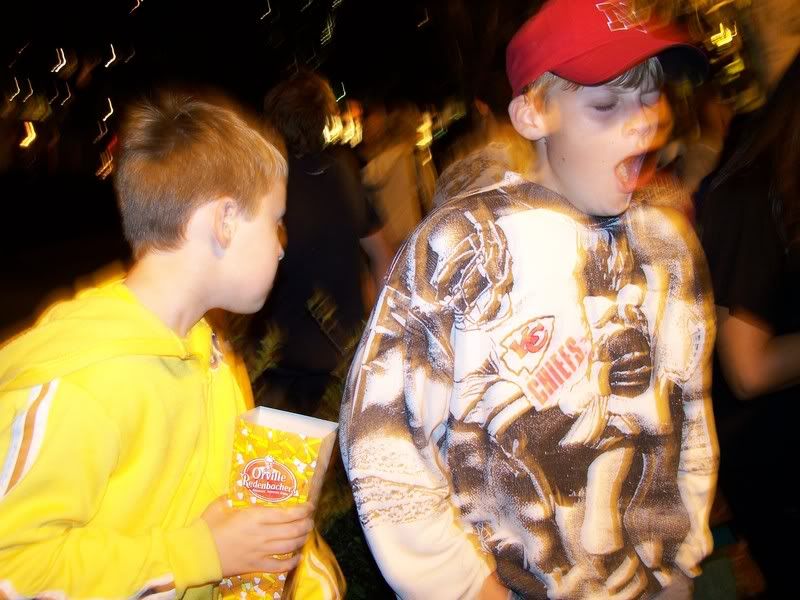 Trev was the first one out as soon as the car was in motion. It was around midnight. He was the only one who hadn't napped that afternoon, so with the two hour time difference, we'd been on the go for nearly 24 hours. We were wiped out.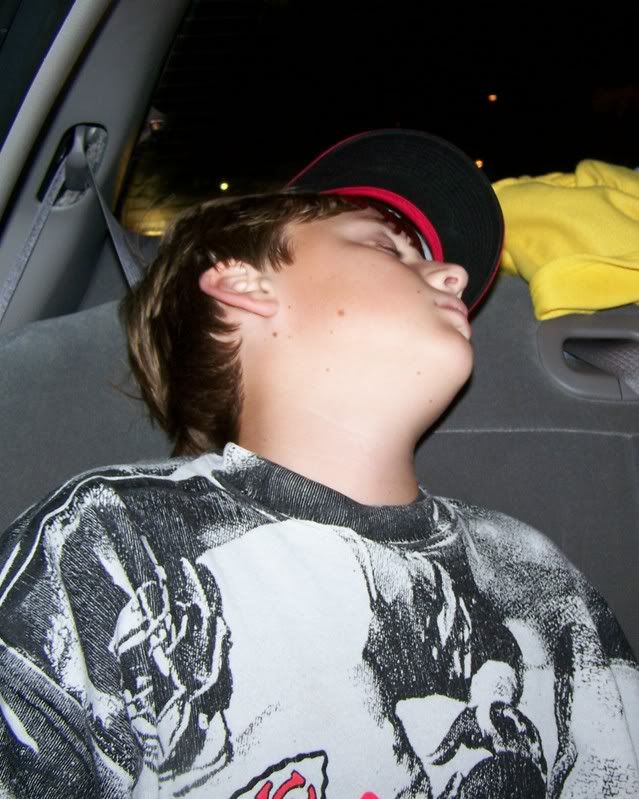 I mean WIPED OUT!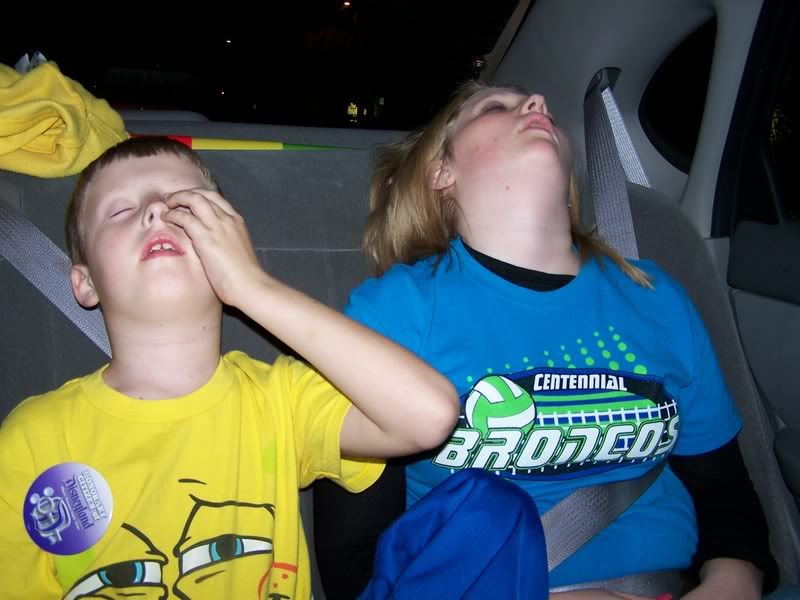 Day One was a huge success. We only had about 5 hours in the park, but we rode a fair amount of rides, sampled lots of good snacks, bought souvenirs and watched the amazing fireworks show! All in all, a great night!
Tomorrow afternoon or evening I'll post part 2/day 2 of the trip in a new post. Thanks for the kind comments- and goodnight!