Frontierland needs your help.
Once upon a time Frontierland was the largest realm in Disneyland. Over the years it has been whittled away at the edges and stands today as a mere shadow of its former self.
Here's Frontierland circa 1960: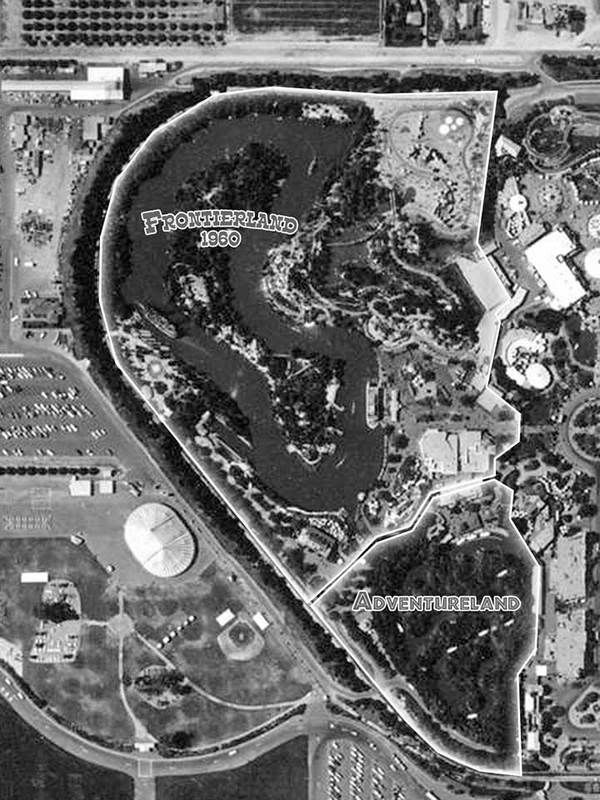 Just look at the size of that place! Sure, there wasn't a lot of sophisticated AA attractions there, and the whole place was in black and white, but ol' F'land made much more sense in those days from a thematic standpoint.
Now, take a look at the west side of the park today:
Adventureland looks about the same, but Frontierland has been carved up like a Christmas goose. Granted, these are not the 'official' boundries you'll find on park maps, but they do reflect the current thematic reality. Tom Sawyer Island, with it's Pirate overlay is now much more closely tied to NOS than to Frontierland. Critter Country, with its odd mix of Pooh and Song of the South is now a thematic no-man's-land with little or no connection to Frontierland.
Now, let's please
NOT
turn this thread into a debate about the appropriateness of Pirate's on TSI or whether NOS is it's own land or a 'sub-land'. Those topics have been beaten to death on these boards and I believe its now time to discuss what should be done with what's left of Frontierland.
Fortunately, there's still ample room to build and expand on the concept of Frontierland without going crazy beyond the berm. The north end of the land remains largely undeveloped and underutilized.
So, what should be done? How can the concept of 'life on the Frontier' be made exciting and relevant (short of a blockbuster movie) to today's families? And how can these areas be developed without sacrificing the remote, back-woodsy feel of this part of Disneyland?
Here are some of my ideas:
Build the Western River Expedition

Nothing packs them in like a new 'E' ticket attraction. For those who may be unfamiliar, the WRE was part of the planned 'Thunder Mesa' development for WDW. It was pitched as a 'Wild West Pirates of the Caribbean' and featured a boat ride through a lavish, musical AA show. Though extensively planned, it was never built. WDW got an abbreviated (and inferior) version of POTC instead, and the WRE/Thunder Mesa complex morphed into Big Thunder Mountain Railroad.
Here's a great site with concept art and a complete history of the WRE.
There is room at Disneyland for a version of this attraction where the Festival of Fools arena is now. It could easily extend beyond the berm a bit with the DLRR running right through the show building. Original plans for the attraction called for a rugged, cliff-like facade to disguise the show building and this could be themed to blend seamlessly with BTMRR just across the path.
A New Fort

Fort Wilderness on TSI is dead and gone. So is Cascade Peak on the Rivers of America. Why not combine the two and bring back a version of both?
That big, empty elbow of Frontierland that extends out into the RoA was once the home of Cascade Peak on the old Nature's Wonderland RR. Here's an idea for that local:
'Fort Cascade'
. On a rocky bluff overlooking the Rivers of America sits Fort Cascade, about the same size as old Fort Wilderness, this new fort is built atop a bubbling spring that sends cascading waterfalls down into the River from beneath the Fort's foundations. Climb the parapet walls to the lookout towers and fire the water cannon at passing 'Pirates' (Summer only, and just a light mist really). Take the 'secret' escape tunnel out to Big Thunder Trail, or relax with the family in the Fort's canteen and enjoy lunch overlooking the River and the roar of the falls. Oh, and this time, the fort is built of fiberglass logs so the termites won't eat it.
Bring back the Indians

Frontierland used to have an Indian Village. It was located where Critter Country is now. A new (and more culturally sensitive) 'village' could be located along the RoA on the west side of Big Thunder Trail. Have a native dance circle just like the original village and invite Tribal Peoples to demonstrate their cultures there. Move the Canoe landing over from Critter Country (where it doesn't fit at all) and you've got a nice 'C' ticket attraction there. Include some of the Pueblo elements that were planned for Thunder Mesa.
Do something with Zorro

Does Disney still have the rights to Zorro? They produced a great series in the '60s with Guy Williams that would make a fine basis for an attraction. I have no idea what type of an attraction it could be, but there seems to be a lot of good unused material there.
So, those are some of my 'Blue Sky' ideas. What are your's? What, if anything, would you do with the north end of TSI for example?
Let's discuss.