Okay...so I hauled my sorry butt out of bed and decided to go for it, sneezing and all, and the kids thought it sounded fun. I warned them about the crowds and we were not disappointed by the amount of people who showed up. Fortunately, there was still parking available...waaaaaaay on the top of Mickey and Friends, and a healthy wait for the tram that made us nervous that they might start turning people away. We got into the park just before 5:30 and found just about the last two curbside spots for the parade.
But the COOL part....
I'm not sure if they are still doing the lighting of the tree, but they ARE doing the lighting of the castle and all I can say is......
I'm speechless.
At 5:30...ish...the lights went down, the music started, and a little kid's voice was telling us he or she wanted it to snow. Mom said to be patient...it was just about to start...then...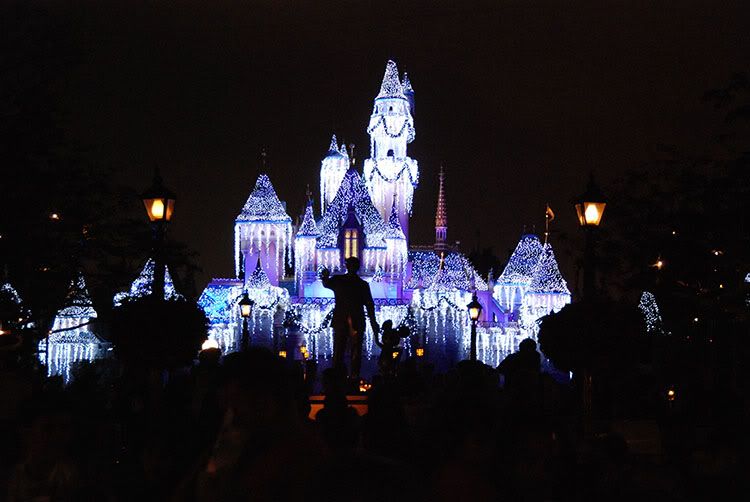 The castle lit up and it was snowing all over Mainstreet and the hub....at 5:30 PM!!
SOOOOOOO COOOOOOOOOL! :bow:
On the not so cool side, word must have gotten out about the holiday season beginning tonight. 20 minute wait to get into Mickey and Friends, 25 minute wait for the tram, 10 minute wait at the gates....and finally were in. Only to find...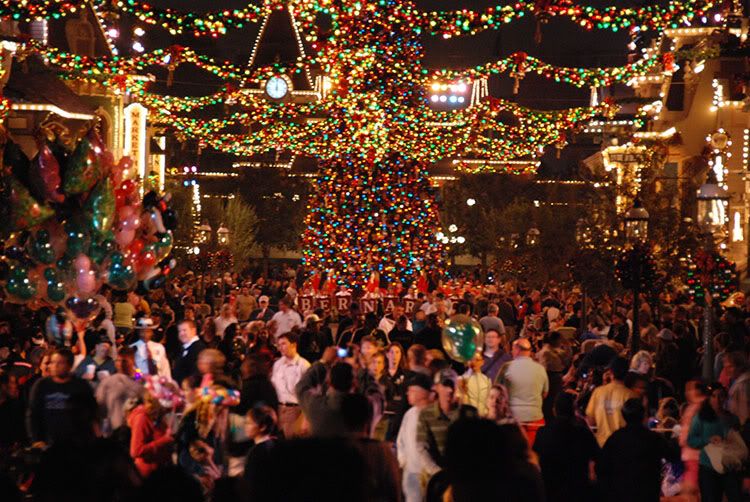 Lots, and lots, and lots, and lots of people...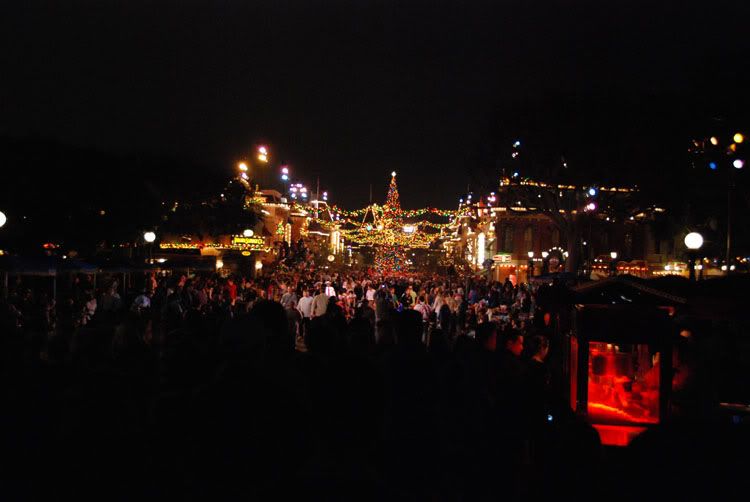 Soon, after munching on chicken strips, dodging toddlers, and feeling the press of waves of humanity from all sides.....it was time for the parade.
Before the parade, Giselle made a trip down Mainstreet in a horse drawn carriage. Sadly, as I am still getting used to a new camera, I missed nearly all of Giselle. :bang: All I could manage was...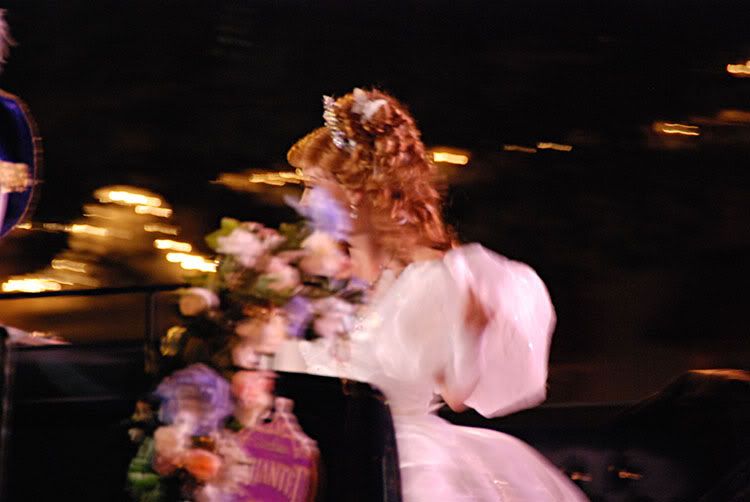 and...
As I was still fighting with my camera, I barely got some of the characters that came down in the preview with Giselle...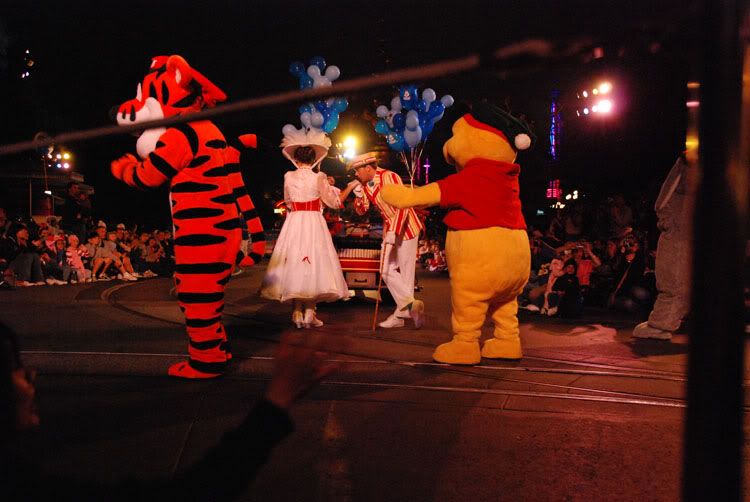 Having read the trip reports from those who watched the WDW Christmas Special taping, I was expecting some changes to this year's parade, i.e. Tinkerbell skating and Santa Goofy at the end with moving eyes.
So...I was a little bummed to learn that it was pretty much the same parade from last year. No tinkerbell and Goofy was back with Max on a different float. Santa Santa was on the last float. Don't get me wrong. It's still a wonderful parade...but I was looking for those new touches this year.
The wind up doll is always such a great way to kick off the parade...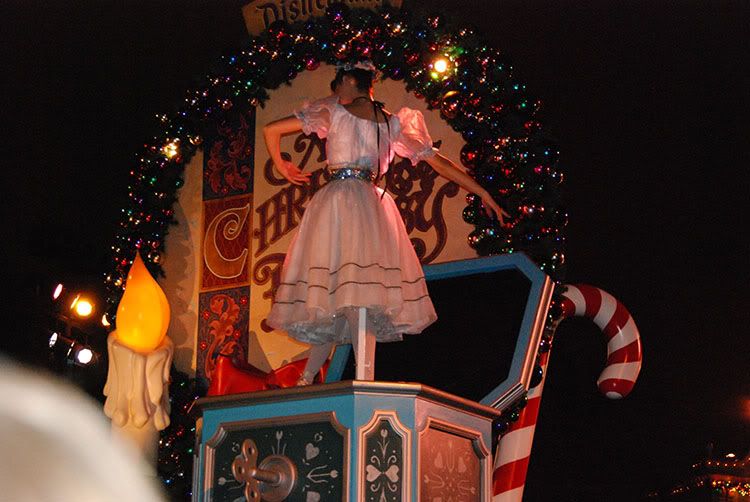 Where do they find these limber performers?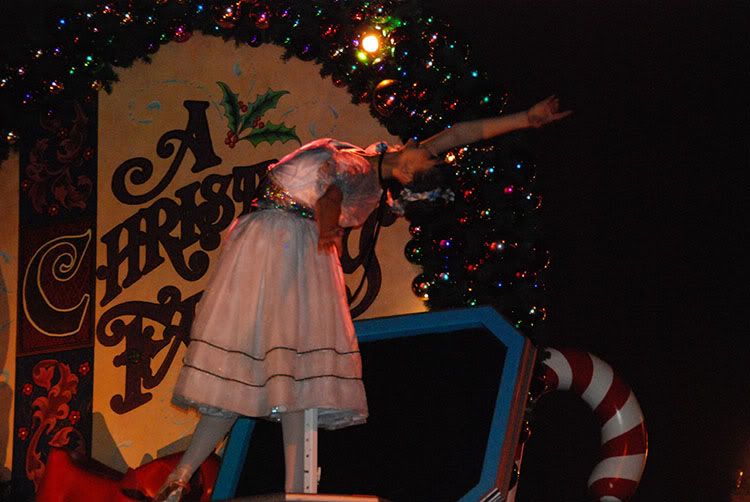 Next came the toy soldiers. I think these guys...and gals....are amazing. How they can see and keep time and play with that precision is beyond me...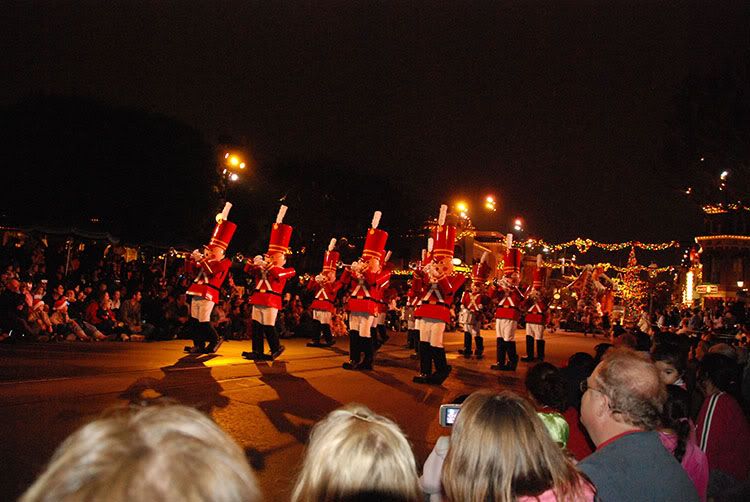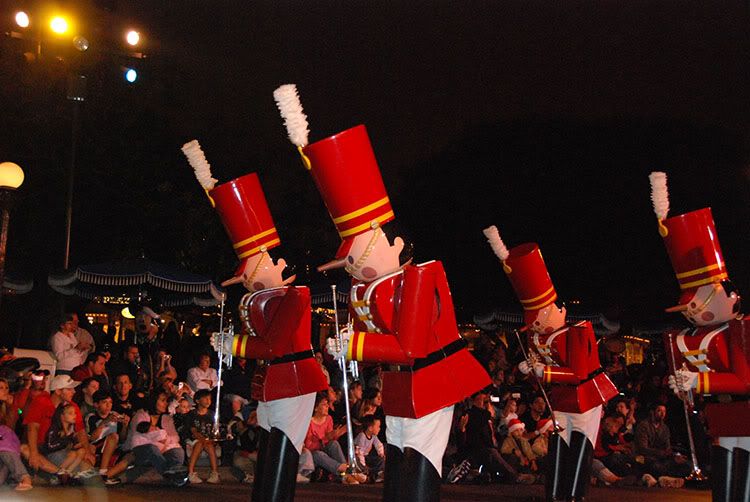 Click here for Part II
Click here for Part III