Our main courses were to be presented shortly, however while we waited, some fun action was happening in the kitchen..
Al little flambé action going on.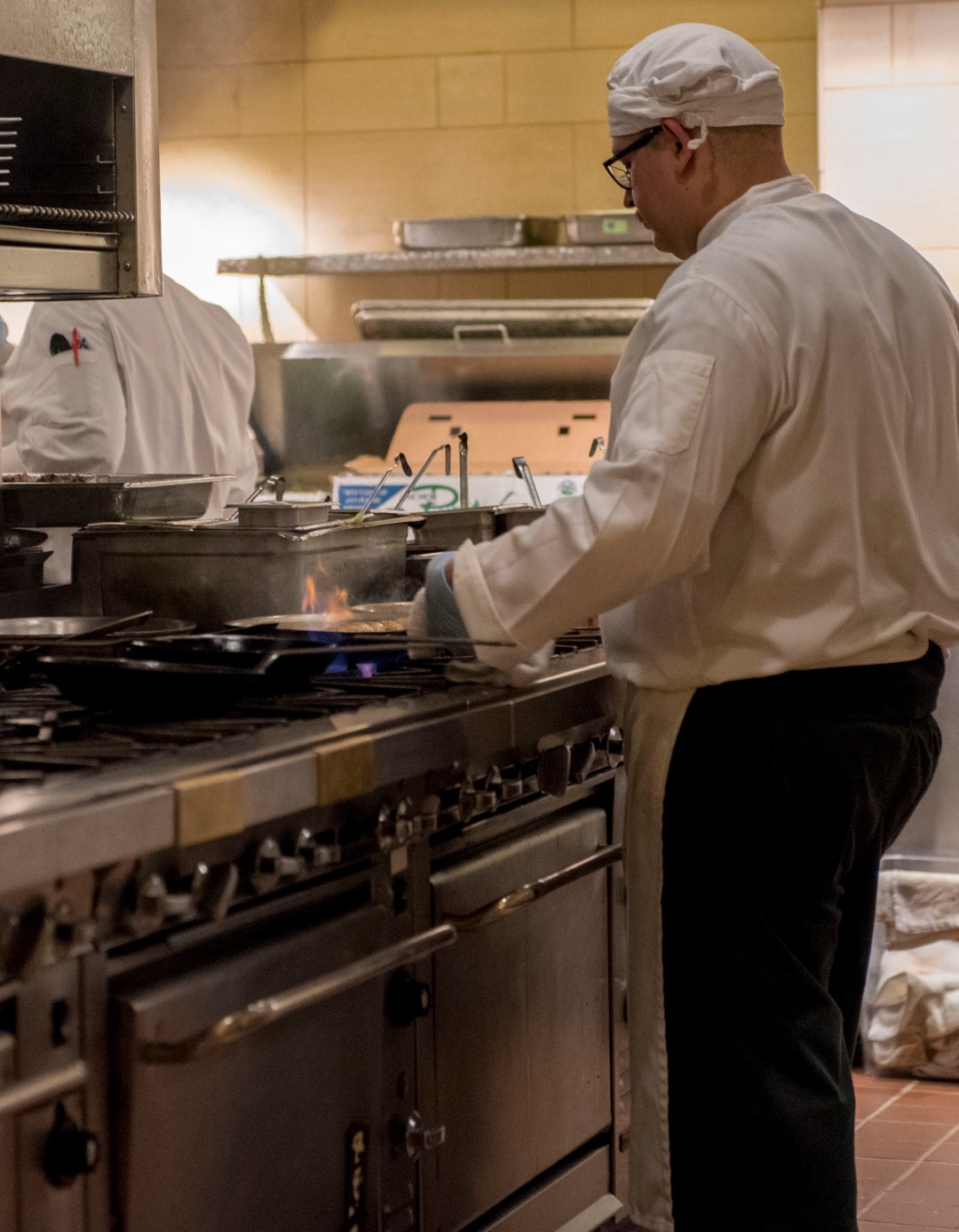 I regret to say I did NOT ask what this cut what. It has a nice fat cap and the cut was rolled and tied to give it a nice round shape for even cooking and fat rendering. Whatever it was, it looks AMAZING!!!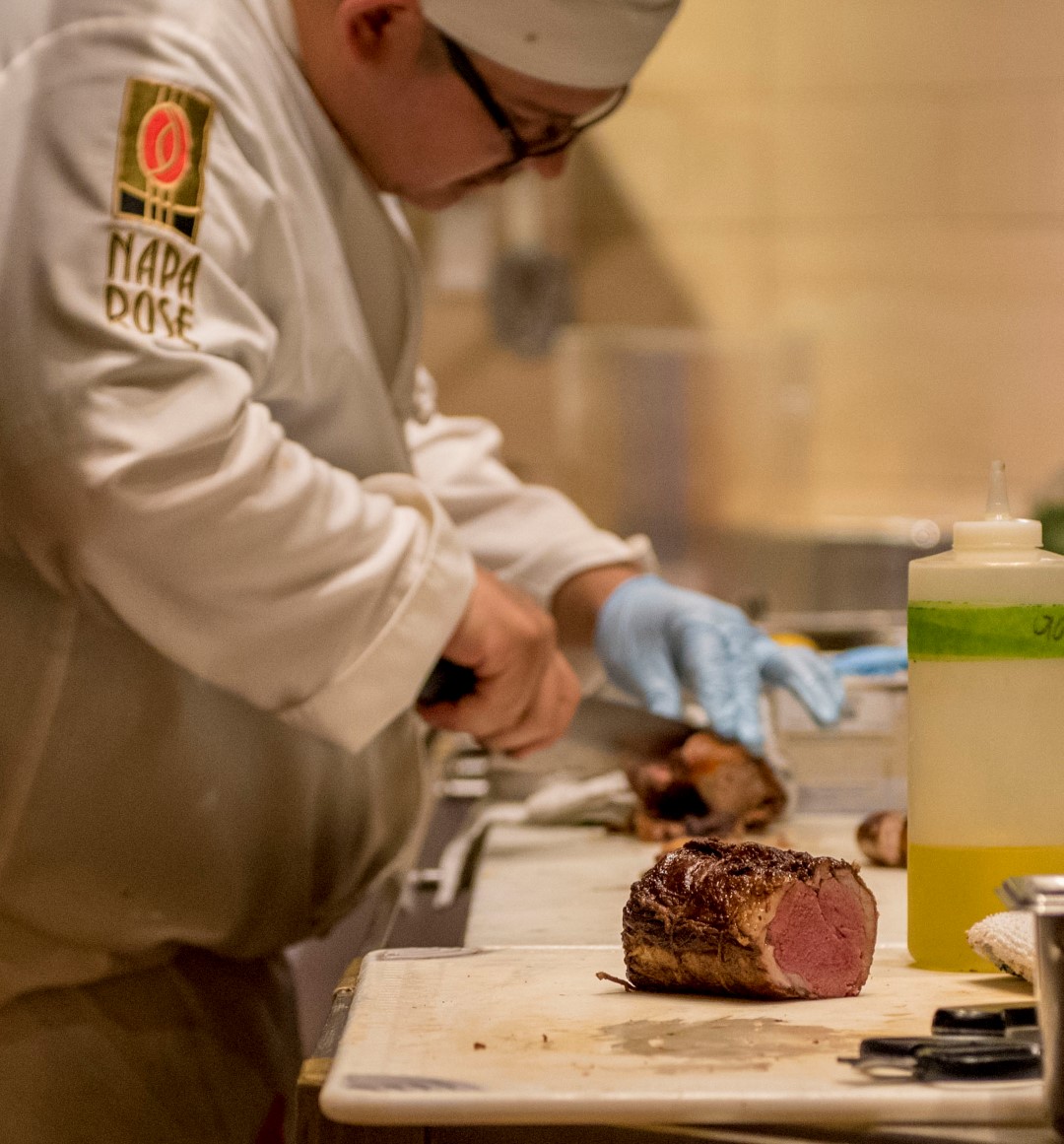 Finally, our Main courses had arrived. Amy was to have a grilled Prime-grade New York strip from Creekstone Farms served over Fava Beans, Onion Fondue, and a Mustard Crème and paired with a Bone Marrow Fritter. The steak perfectly cooked medium rare as every steak should be was tender, and flavorful as only a strip cut can be. A lot of beef flavor present compared to the fatty lusciousness of a Ribeye that is. The Onion Fondue paired well with the beef as onions tend to do and the Mustard Crème supplied a bit of a kick if so desired. The Bone Marrow Fritter I personally felt was a little bit of a let-down. We are huge bone marrow fans and was expecting something a little more unctuous. It was light and tasted of essence of beef, but when you say BONE MARROW Fritter, I expect more bone marrow. Just my personal opinion. Amy liked it, and there was very little for me to sample. As far as drinks go....I can't recall what either of us had. Red and delicious I would assume...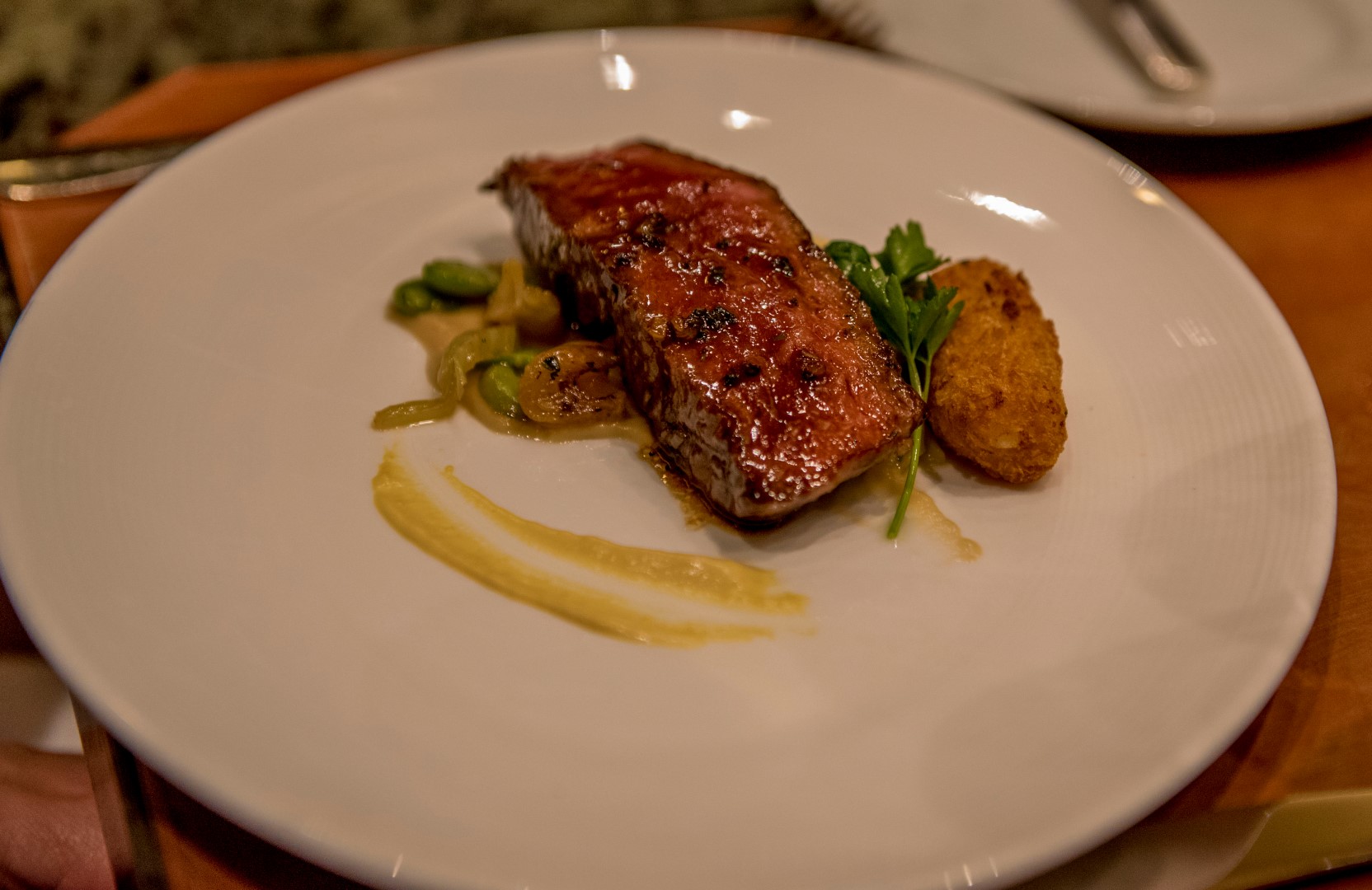 I was to have Roasted Duck with Pheasant Sausage over Baby Carrots, Peas, and Green Garbanzo Hummus. I had been watching serving after serving of duck come out of the kitchen that evening longing to have it as one of my courses and here I was with it. The Duck, perfect. I am a huge Goose and Duck fan. The meat has a hint of gaminess, is pretty much all dark and fatty, and the fat layer and skin crispiness when cooked properly makes it to DIE FOR. I may have discarded my utensils at the end and went caveman on it. OOOPS. The Pheasant sausage was only just OK. I expected more out of it honestly, and while I knew it was the dark meat of a avian, it could have well just have been spiced chicken thigh. That didn't do it for me. The root veggies accompanied roasted poultry perfectly as they always do and the bean puree and peas did as well. All in all, a VERY well executed dish. Favorite part... the skin as always. YUM!!!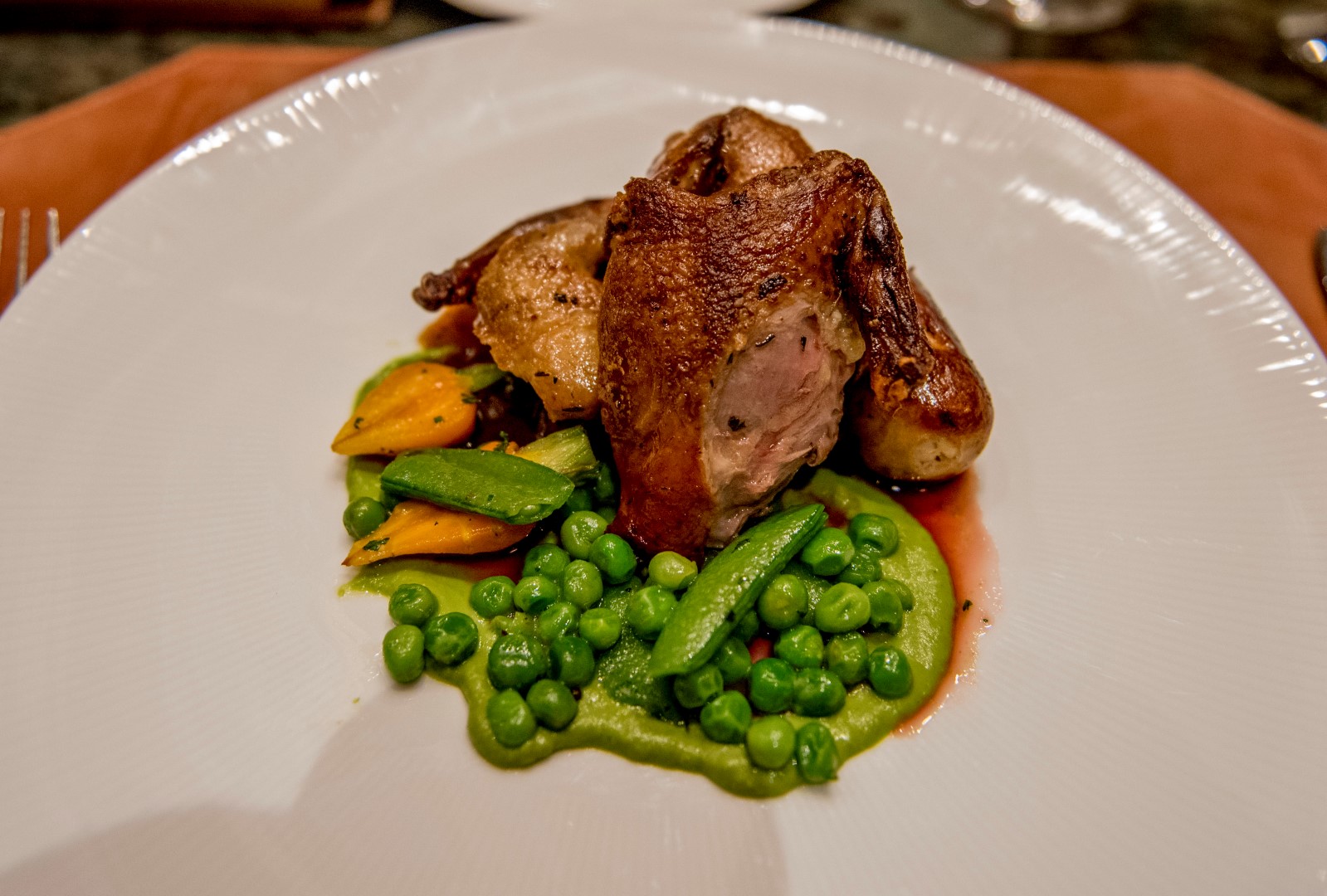 This is the face that Amy makes when she realizes we are 80% of the way through our meal at such a fine restaurant.. I echo that sentiment.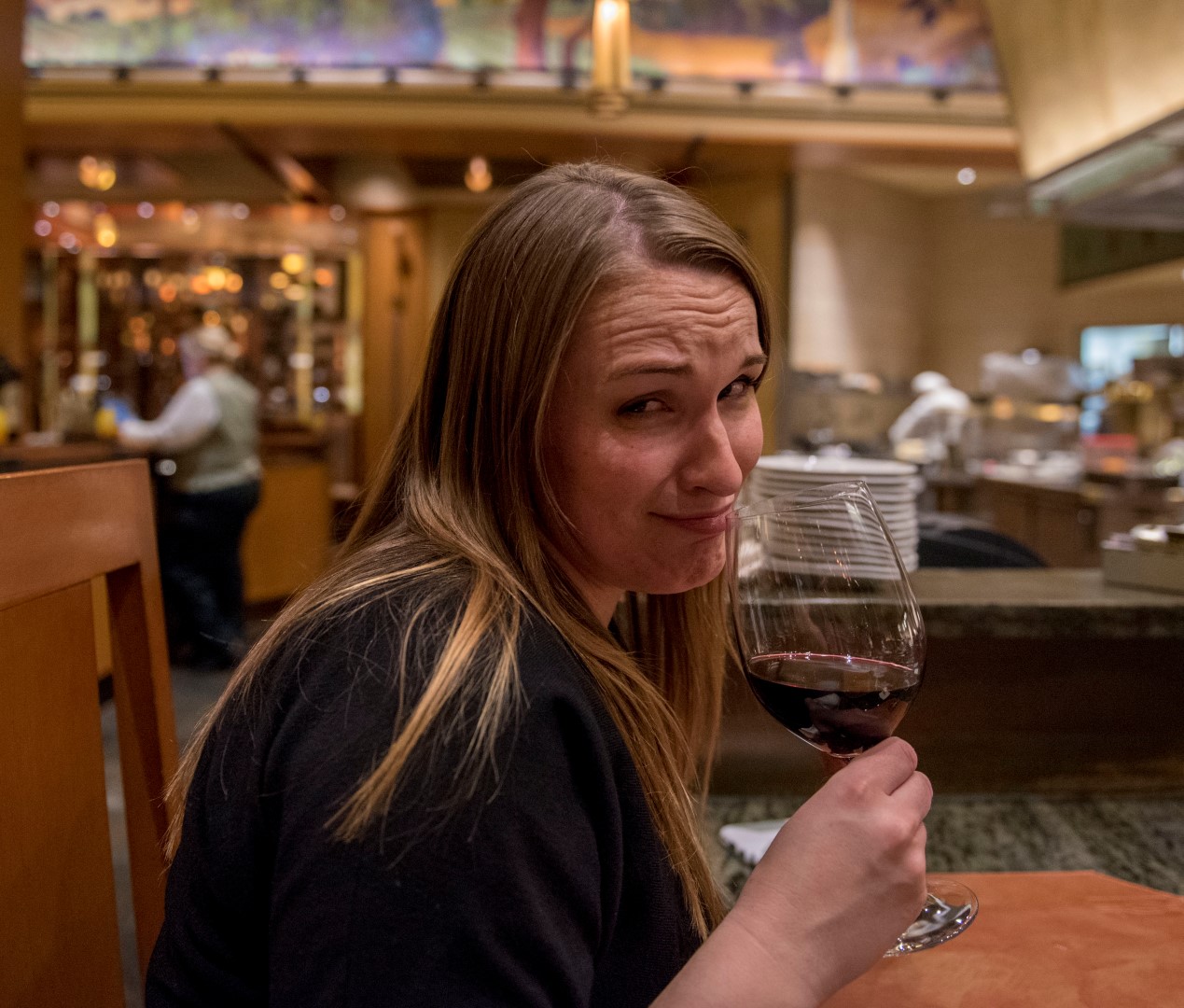 Hidden grin for when the wine kicks in.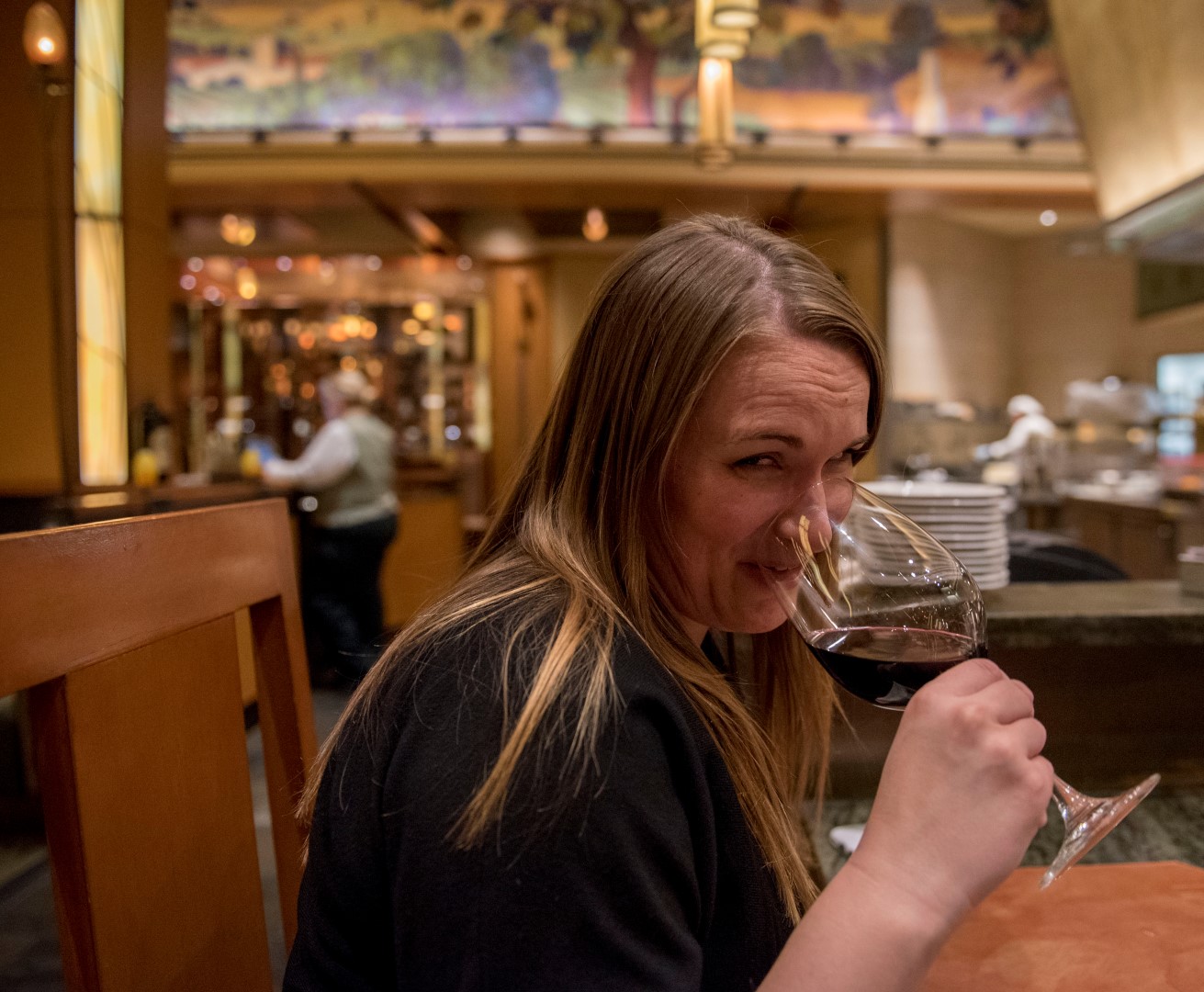 This was my FB selfie of the night. It looks it.