It had been 15 years since I only went to DL for 1 day, but it had been
25
years since I rode the subs. So there we were on a holiday weekend, with the boy and wife at gate 25, and me waiting for the ticket window to open (getting a 1 day/1 park ticket has gotten tricky these days. Not at Disney stores, AAA, online, etc.) While waiting for the ticket booth to open, I got a call from the boy saying to hurry up, we were opening the park. I hung up thinking it was a comment on being first at the gate. Then it hit me. Since the freak dad with a Grateful Dead pin on his jacket wasn't present, they had picked our family to lead the countdown and open the park! Before I knew it, we saw the view from inside the locked gates, getting photographed in front of Main St. Station at 7:59.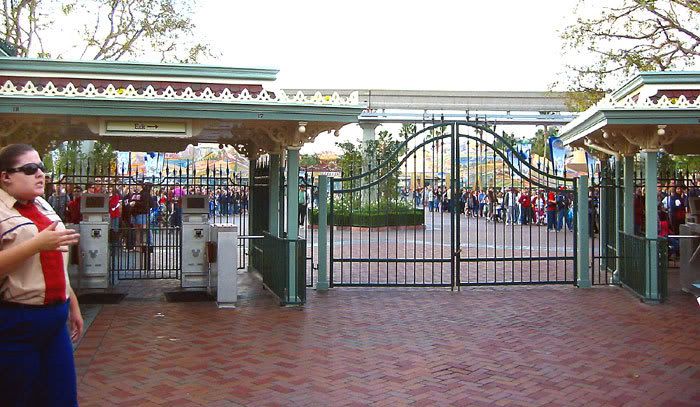 So afterwards we make a bee line for the subs; the boy speeding ahead; the wife dragging behind (with no phone). Waited for her to catch up, she said go, and the boy called to say he was second in line. The didn't let anyone enter for a few minutes, so some of us joined our people, and a CM led us through the queue. After a bit, she said anyone still catching up could join their groups at a spot about halfway down, and the wife caught up just after that. Even being on the first sub, it took a 1/2 hour total to finish the ride. We also rode at closing, entering the queue at 11:38, and boarding about 30 minutes later. The line was clear when we returned.
Won't bore you with a blow by blow tale. However, we did go to Main St. Station a little after 10 AM and asked for a tender ride if possible. As soon as the EP Ripley arrived, we were on board meeting Engineer Mike and Fireman Ed.
For those interested, you have to get on and off at Main St. Station and go the full circle. Ask at the station, and they'll ask the crew, who can refuse. Not all cabs have a seat for this, and if any other CM is in it, or they have to stop for water or fuel, they won't take guests. The boy did this at 2, when I was mostly interested in his reactions, but this trip was quite informative. They explained all the functions of the various gauges and knobs, and it's clear that this isn't something any ding dong can run after a few hours of training. If I worked at DL, this would seem to be a good position except for the heat in the summer. As we passed the Grand Canyon, I asked if Ed Grier had ever been by for a ride. I was not surprised with the answer; "never seen him". They did gush about CM Matt's tenure, and we all agreed that things should be mostly OK with Lassiter on the scene. I made sure to tell them how cool it was that these cab rides can happen, and how when they stopped a few years back, I figured they were gone forever. Apparently the train crews themselves made a big push to have them reinstated for the 50th. Obviously, only a few each day will get the opportunity, but it's the way all these little opportunities (Mark Twain wheelhouse rides, Sword in the Stone, etc.) add up that contribute to why so many of us return to this little rodent infested park called Disneyland.
Didn't take a whole lot of pictures, but a few can be found here:
http://s100.photobucket.com/albums/m...eyland%202007/
There are a few from TSI, French Market, DLRR and HMH. We stopped on HMH, so I pulled out the camera for a shot of the big present wheel. I swear on my mother's weak heart that I though the flash was off.
A bientot.