My wheels to Disneyland went round, round, round, all through the towns...
(Got a super deal on a set of 4
)
And then some more wheels took me round round round, right next to the park...
Be sure to sit "well back" in your seats, and raise your hand to alert the driver...
That is, when there is one, of course!
So the wheels in my heels are mush, mush, mush
and my doc said at D-land you'll push, push, push
and you'll-have-new-thrills!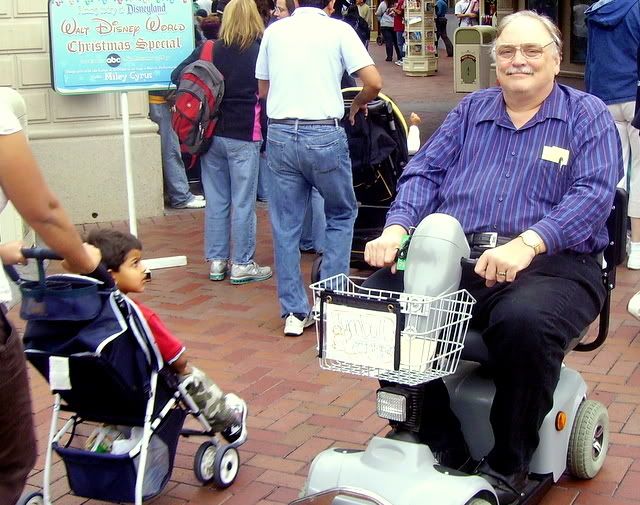 So the kid's got his wheels, and I got my wheels...and isn't he giving me a look that's just precious.
I started to tell him, young man, I haven't been to the park in almost three months. I told some very important people that I'd be here. And aren't you a bit young for that kind of "road rage"?
But alas, he was long gone ... and I was left to contemplate...more wheels...on the Disneyland Railroad.
When my eyes spotted, yes, a young cowboy...with his back to me, gettin' ready to ride..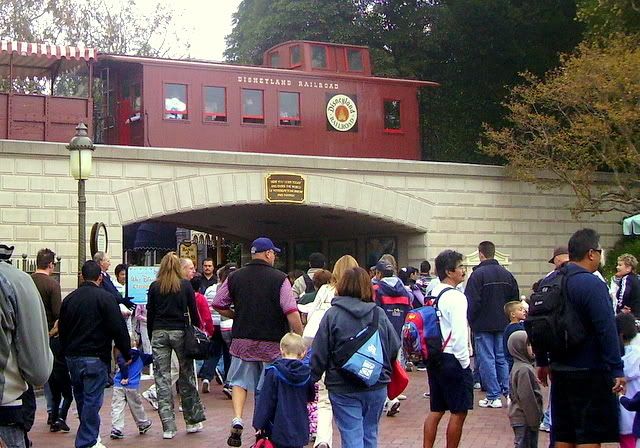 Wait..the guy sitting in that caboose...could it be...
Dallas Cowboys quarterback Tony Romo
? He sure was a cool cookie, since just a short time later he had a game against the Redskins, a few thousand miles away...
Just one of the more remarkable sightings on Sunday November 18, 2007....and You Are There...
The wheels in my brain go grind crash bang...