Disclaimer: I have only gleaned this information from watching ride videos. I can't speak to the physical motions or feelings of looking at the set pieces at the ride. However, even watching Rise of the Resistance videos multiple times did not prepare me for the full extent of actually being on that ride (ride motion, effects, etc.). That gives me the confidence to share my opinion on Runaway Railway.
This isn't a scene-by-scene review, but rather my view after taking the ride as a whole. It strikes me as a certifiable D-ticket ride, perhaps a tier below Pirates of the Caribbean and Haunted Mansion, but a tier above more recent dark rides like Monsters Inc., Astro Blasters, and Midway Mania.
I have long been an advocate of using unique ride systems to fit their purpose in a ride, and I feel like the trackless vehicle system works perfectly with the concept of runaway train cars. The ride appears to be high-capacity with wait times significantly shorter than advertised, and with no minimum height requirement looks like it's fun for all ages. There are many distinct different settings and locations throughout the ride which make it feel expansive (as opposed to small-scale Fantasyland dark rides). Of course, because there is no rail to be followed, more of the "show" space is occupied by other ride vehicles rather than set pieces. Some times, I feel like this is to a ride's detriment, but I believe they've come a long way since Pooh's Hunny Hunt and the ride feels much more like a shared experience with everyone in the other vehicles too. This is most evident to me in the dancing scene with Daisy, but perhaps others notice it too.
The sets themselves deserve a distinct shoutout. I was skeptical of their "2 and a half D" branding, but now I think I understand what they mean. It's not a heavy reliance on projections like Midway Mania (or soon-to-be Spiderman). Instead, these set pieces harken back to the stylized cutouts we see on only Fantasyland dark rides. By trying to achieve that feeling of putting us into a Fab Five cartoon (albeit from the new age), they steer clear of the uncanny valley and master a great blend of dynamic set pieces and animatronics. Seeing what long ago would have been stationary plywood setpieces now looking like flowing water was a wow moment, and I can only imagine what things I have missed that I will have to keep looking for. The ride is no Pirates of the Caribbean, to be sure, but it does feel distinctly "Disney" to me in a way that even modern rides don't quite grasp.
I would be remiss not to address the level of projections utilized throughout the ride. I am always fearful when a ride is said to make heavy use of them, and worry that we will see diluted brightness of the projections since they have never quite measured up to the same vibrance as fluorescent-painted dark ride sets. Boy was I wrong. For the first time, I feel like projections blended seamlessly with a 3D environment on a large scale. Much like the projections/animation plussing we've seen to Fantasyland dark rides, these projections are used judiciously to add to the experience rather than
be
the whole experience. The lone exception is the faces of animatronics, which still look somewhat washed out due to their projector being embedded in their skull(?) like the Buzz Lightyear animatronic or the dwarfs of Magic Kingdom's Mine Train. Nevertheless, I was astounded at what they were able to pull off with practically instantaneous scene changes, which I will not spoil and leave for you to watch the videos of. Again, it is the careful use of projections and physical setpieces working harmoniously that I think pull off these effects.
All in all, it looks very much like the spiritual successor to Roger Rabbit, which I think makes it a perfect fit for ToonTown. I'll miss the Great Movie Ride at Hollywood Studios, but I'm glad Disneyland isn't losing anything in exchange for this new one. I can see why Josh D'Amaro greenlit the project. I can't wait to ride it whenever it comes to Disneyland.
Here are two of my favorite videos of the ride:
Attractions Magazine: Mickey & Minnie's Runaway Railway Third Car Low-Light POV | Disney's Hollywood Studios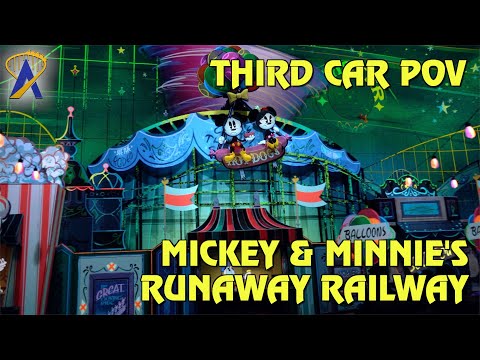 The DIS: Mickey & Minnie's Runaway Railway Multi-cam POV | Walt Disney World