Trip report
Cast: Mom (me), Dad, 9 year old daughter and (almost) 8 month old baby girl.
Dates: November 17th to November 20th, 2007
A little background info: we live in the San Francisco Bay Area…My first DL trip was in 2000 when my oldest was 2. Ever since, I've tried to make it down to Disneyland at least once a year. In February 2006, we finally bought APs, we went back in June 06 only to find out in August that we were having a baby! Needless to say, we let our APs expire in February.
Our last trip before then, was right before Thanksgiving last year and I fell in love with the park at Christmas time. So magical! No heat! Sure, there were crowds but nothing unmanageable. The trip was very mellow given that I was pregnant, and that was also very eye opening for me….I realized you don't have to DO the big rides to enjoy the park. I had such a blast without the "big" rides (OK I admit I did ride Splash Mountain), just people watching, enjoying wonderful snacks, watching shows like Billy Hill, staking a spot for fireworks while my husband and daughter went on rides, going on ALL the fantasyland rides, etc.
Now, if you really want to get in the mind of a Disney over-planner, keep reading. If not, you might want to skip to the actual trip/photo section
. OK, where was I? Oh yes, Fast forward to summer 07…we have a new baby girl, and as busy and stressful as I was, I was still jonesing for a trip to Disneyland….can we pull it off financially? (our Aps expired in Feb) can I handle the park with a baby? Can I take time off work right after I came back from maternity leave?
So, to help in my decision making, Disneyland puts out there the AP4 rate offer…darn Disney internet board reading, now I'm REALLY wanting to go, how can I pass such an offer? I sweet-talk my hubby into a trip (with the promise that next year we are going to Mexico to a fishing spot he wants to visit) and promptly call Disney travel to book a $149 a night room at the Paradise Pier…...mmm the room is not available on the dates I want (Nov 17 to Nov 21), the only thing available is DLH for $189 ***or*** Grand Californian CONCIERGE for $279. Oh boy, that's quite a jump from my original plan of $149 a night. And the last night we want to be there is NOT part of the promotion at all. So, being quick on my feet I decide on the spot to forgo the fourth night of our stay and go all out and book the GC concierge :yikes: Of course, being a good wife I can justify anything to my husband LOL….mostly the fact that concierge is going to save us SO MUCH on food and drinks that we are basically at our same original budget (wink wink).
OK, with Pixie Dust all around me, I find a $39 airfare from SFO to LAX, yes!!! So now the 3 night stay makes perfect sense, since we won't be spending 8-9 hrs on the road driving to and from DL. So with the flights booked (departing early am Saturday, returning early evening Tuesday) and the hotel booked, all that was left was to find a way to and from LAX. Well, we are going to the Grand, and a dedicated shuttle is $80 something dollars (I didn't want to share the ride, time is money and I wanted to go straight to the hotel with my family), so why not finish the splurge and get a town car? I can just imagine the look on my 9 year olds face when we get to the airport and somebody is there holding a sign with our name on it J …OK Limos.com here I come. I got a bunch of quotes, but the one that stood out was from Luken Limousine- a small company, I dealt with the owner, Howard, and he gave me a very up front quote of $100 each way. NO hidden charges, no extra surcharges, no airport fees, gratuity included. I liked his manner and his no hassle quote so I pulled out my Mickey Disney Visa and reserved the towncar. So now all the details are taken care of!
OK, if you've stayed with me this far, my hats off to you, you must be an over planner like me J So NOW we get to the actual trip part LOL.
DAY ONE – Saturday November 17th.
We are up at 4:00 am (why is it SO easy to get up at this ungodly hour when we are on our way to Disneyland?) and at the airport by 5:30. Our flight leaves uneventfully, the baby is being her usual sweet self and we are all starting to get excited…after all, we haven't been to Disneyland in a year!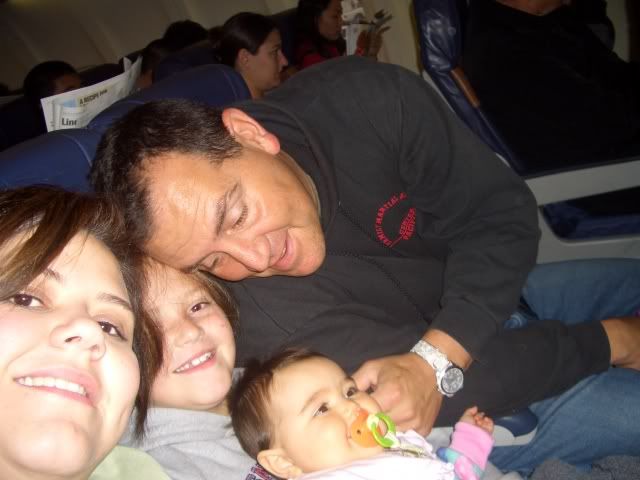 Our towncar was waiting for us, and being that it was a Saturday morning, we get to the Grand in about 35 minutes. We say goodbye to Howard and proceed to check in. As expected, the room won't be ready until 3 but we are given keys so we can go to the concierge lounge. It's now 9:45 and if we hurry up we can still get breakfast (which they stop serving at 10). We leave our luggage at the bell desk and excitedly press the "6" in the elevator J We are usually very budget conscious travelers so by now we are feeling like movie stars, or at least, like rich people LOL and boy, let me tell you, it is easy to get used to that feeling!
Anyway, as cool as the lounge is, DL is calling so we head to the park, finally!
Right off the bat, we see the Mad Hatter. My daughter loves anything Alice in Wonderland: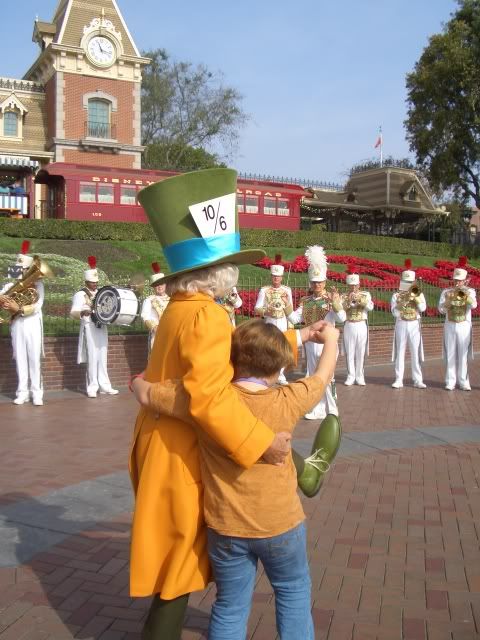 Finally, after a long year, the sounds and sights and smells of Main Street, always brings a tear to my eye to see the castle in the distance. Look how crowded it was already!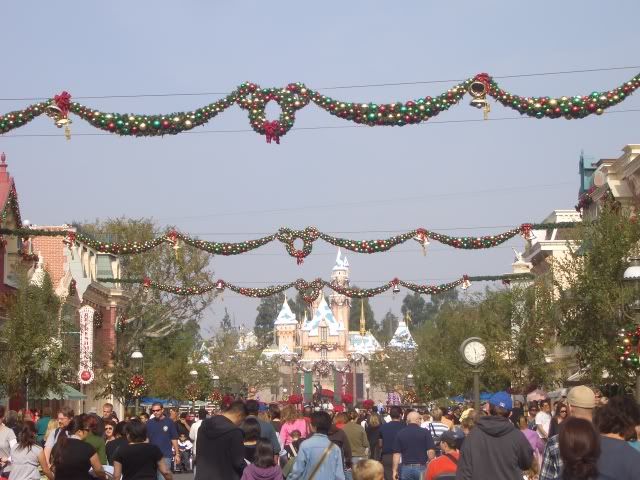 I grab fast passes for Space Mountain for later, and since Star Tours was only 15 mins we try our first "baby swap" ever. Easy as pie! What a great invention that is
in the next few days, the combo of fast passes and baby swap passes made it possible for us to ride everything, even as crowded as it was. By the end of four days, I was an expert baby swapper, knowing which ones work as fast passes and which ones work as special needs lines, etc.
After Star Tours, we head over to the Jedi training academy (Buzz was a 30 min wait, too long for my liking and we couldn't get a FP yet so we skipped it for now). My daughter got picked! She was on cloud nine. I had never seen the training session, just read about it, and I really enjoyed it. I think my husband really wanted to be a kid again so he could be picked LOL what a great job they do and the little certificate is a memento that my daughter is going to treasure for a long time!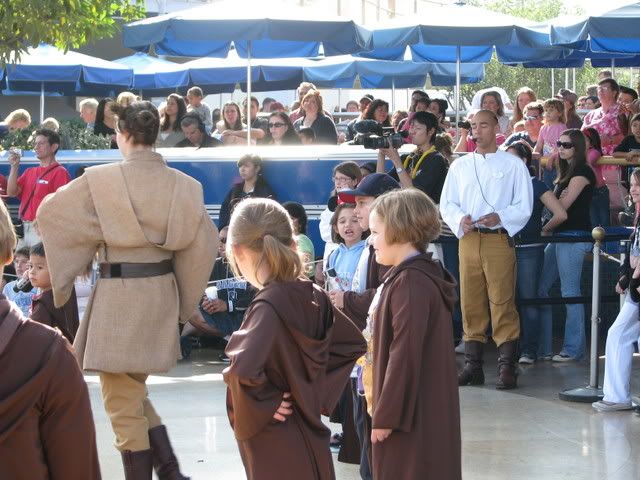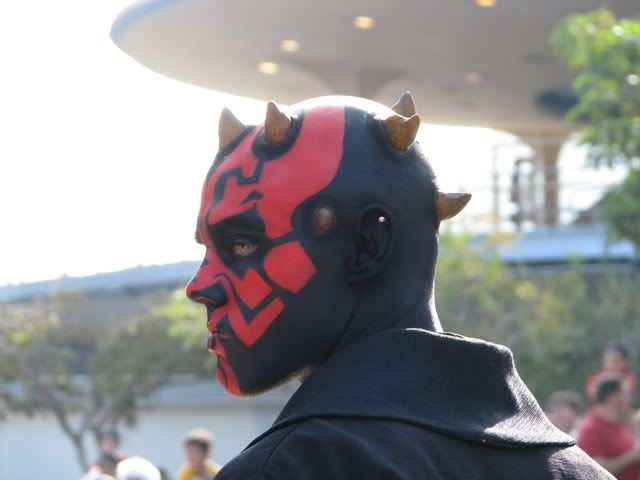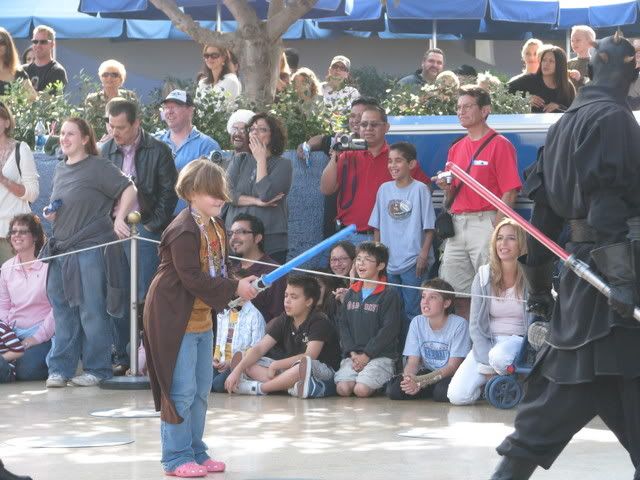 OK, on that nice note, and with the baby awake now, we decide to make our way to Pirates. Grabbed FP for Indy on the way. I was a little apprehensive about the baby crying on the drop in Pirates but she did very well…she just kept looking around with big eyes, it was so darn cute!
After Pirates, we headed down to see Pooh. We didn't ride Pooh since there was a line for the first time ever in all our visits, so we decided to skip it for now. Splash was a long wait too since the weather was so nice. We were holding Indy fastpasses, so we put off
Splash for another day. We visited with Winnie the Pooh and Tigger. Again, I wasn't sure how the baby would react but she was doing just fine, thank you very much!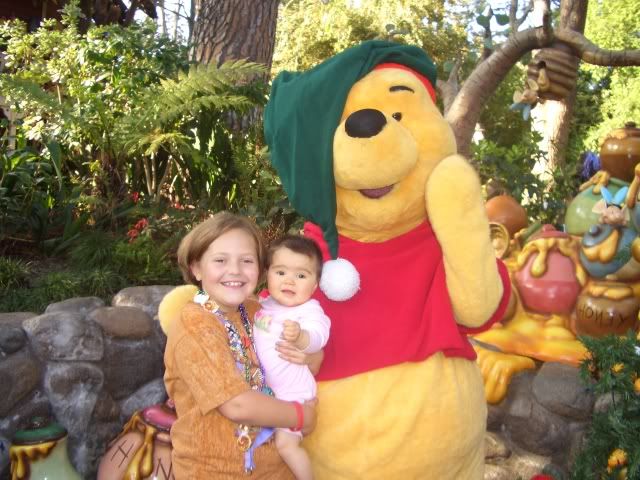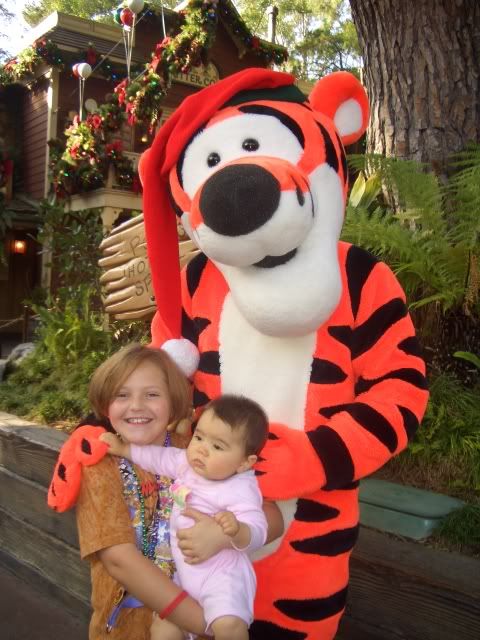 So now it's almost 3. I called the hotel to see if our room was ready, and it was. So we head back and get our luggage and go up to our room. (room 6403, we had standard view which was fine with me, the monorail passed right below our room and my daughter tought that was the coolest thing!)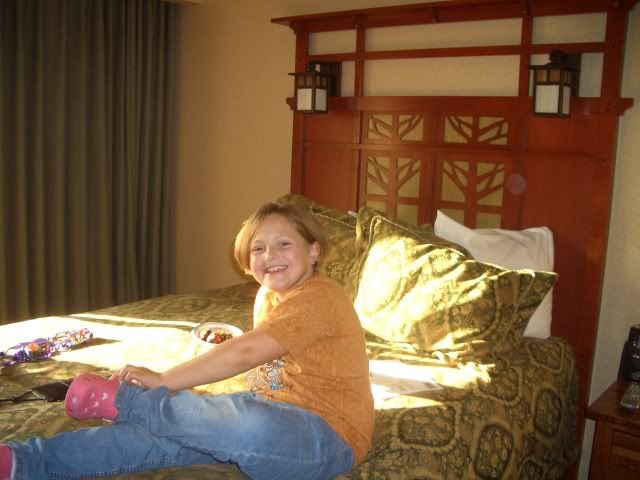 I tell my crew to hurry up and freshen up and grab jackets, as I had bought tickets for the Holiday Tour….a surprise to them! We did the tour last year and while the tour itself was cute, the fact that you get FP to Haunted Mansion and Small World, PLUS seats (and I mean actual chairs) for the parade make the tour price worth it!
We had Claudia as our tour guide, and she was very sweet. We had quite a bit of small children in the tour which made me sigh with relief. Last year my 8 year old had been the only child in our group, and this year I was concerned that people might not like that I had a baby and a stroller, etc. But I knew what to expect from the tour and I knew my baby would be fine, since she's so easy going. Having other people with small children made me breath a little easier nevertheless.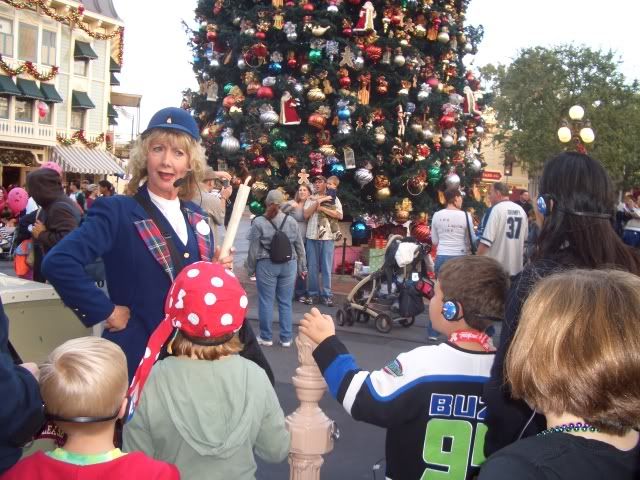 The only bummer of the tour were the fudge sample flavors: pumpkin and chocolate mint, neither one of which I like L Oh well, I didn't need the extra calories I guess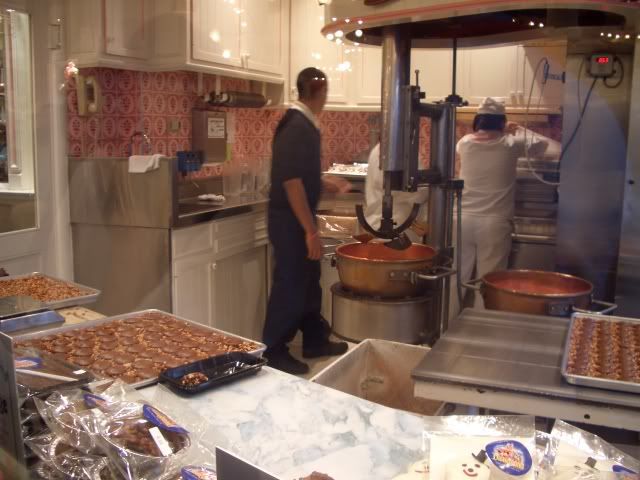 We boarded the train in NOS and this year we got to ride in the caboose. It was fun! Finally, after a very busy 2 hours, the moment I'd been waiting for: a souvenir mug of hot chocolate (mint! Yuck! What were they thinking?), a delicious sugar cookie, a special pin for each of us and wonderful chairs to watch the parade! I was in heaven.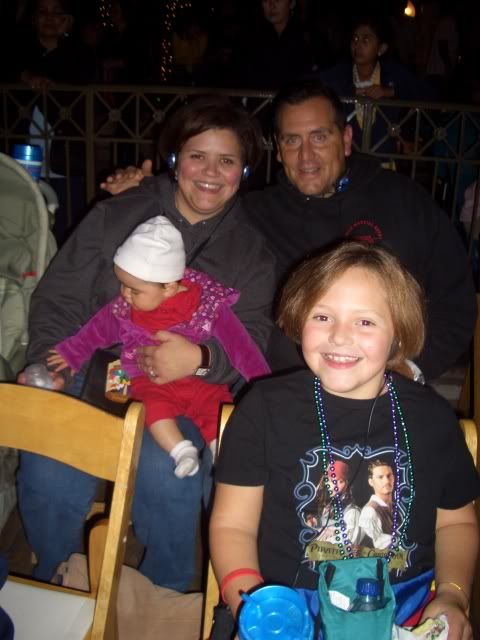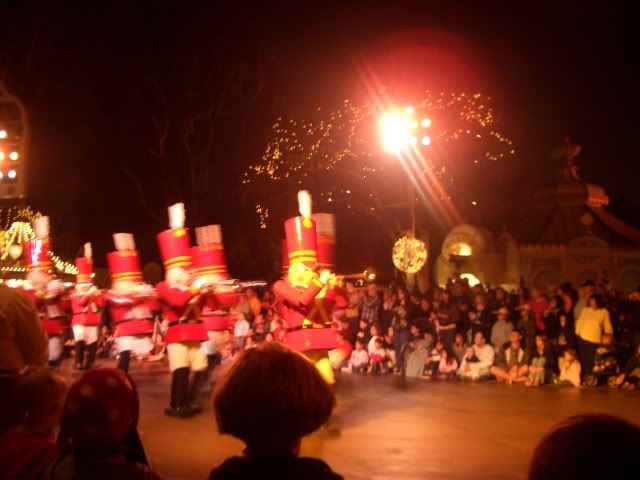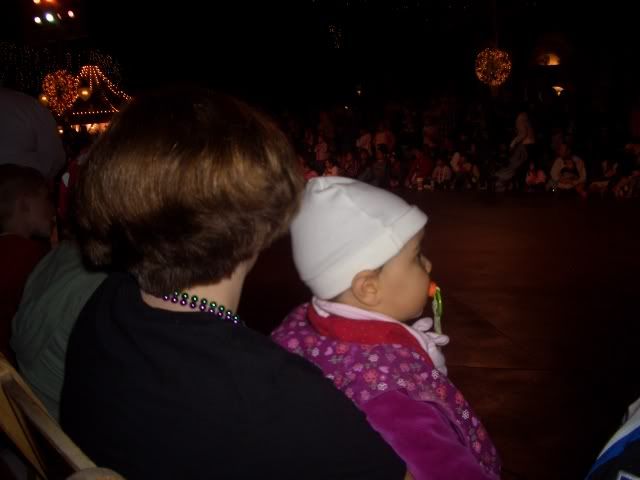 After the parade, we realized we had not eaten any dinner yet and we were starving! So we headed to Rancho Del Zocalo for yummy enchiladas. I had never eaten here and people were not kidding when they said the portions are big enough to split! Yummy.
Even with the food in our tummies, we are now starting to run out of gas (we'd been up since 4:00 remember?) so we stop by Space to use our fastpasses (I didn't ride) and decide to call it a night. Amazingly, we didn't even ride Indy! (it's my daughter's favorite ride so that tell you how tired we all were)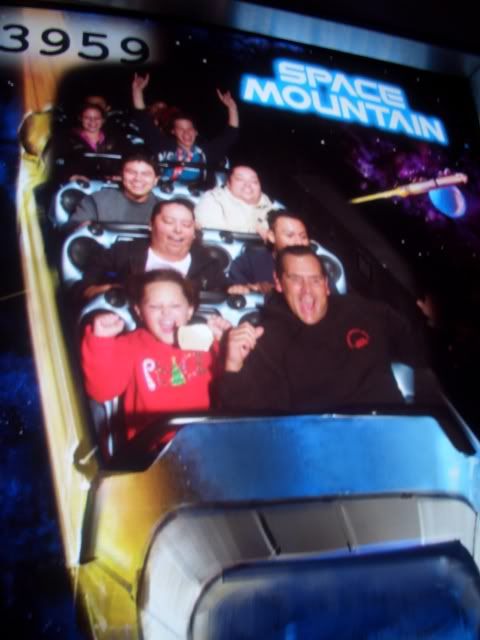 We stopped by the lounge on our way to the room to get some dessert and coffee. We were going to watch the fireworks from there (it was now a little before 9) but again, decided that we were too pooped even for that and went to the room to crash.
Here is what was awaiting us: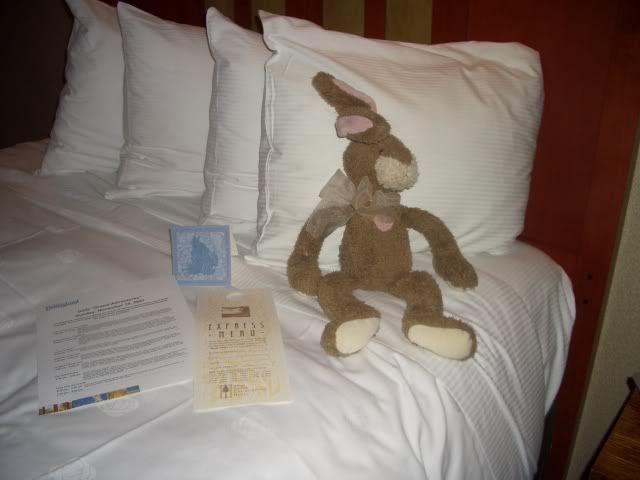 We fell asleep to the sound of fireworks and slept like babies (yes, even her!)
Stay tuned for day two……can it really be Miley Cyrus in the park? And how crazy can a couple be to bring their 8 month old baby into the middle of tween hysteria? You will find out in my next installment (hopefully tomorrow!)