My day started at 6 AM to make it to park opening. This was the first official Sunday Meet with my brand new AP.
I had a new special friend with me. On Saturday, I recieved a special delivery by airmail via USPS. I bought him on Tuesday and got it by Saturday afternoon.
As soon as I entered the front gates, the characters were out and about signing autographs and taking pictures: Mickey, Minnie, Donald, Goofy, and even Chip and Dale. so, I took one with Mickey.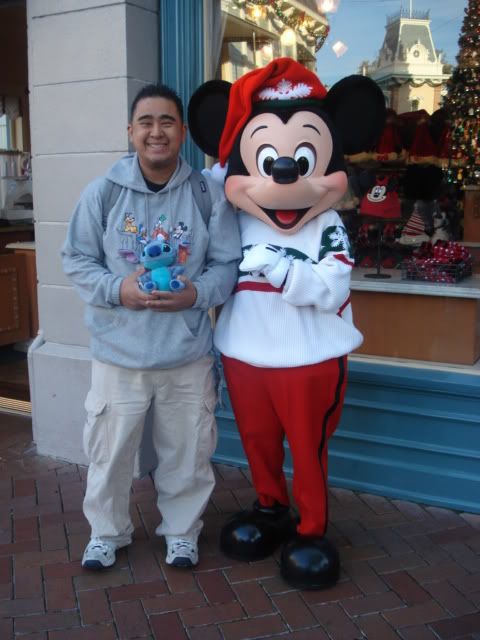 i was going to take a picture with Chip and Dale, but the line was too long, so I bailed.
First stop was to grab a Fast Pass for Space, but since it was a 5 minute wait, we went on it anyways.
As we got off, we passed BLAB and since the line was short, we rode that, too!
When we exited, we went around the Matternhorn and into Fantasyland. As I went pass Mr. Toad's, the line was short, so we rode it.
Next, it was Snow White.
Then, Pinchioo.
We headed towards Frontierland down Big Thunder Trail. As we passed Big Thunder Ranch, we took a photo op.
We made our way to Big Thunder. It was also, a walk on.
When we got off the ride, we exited the park to go back into DCA. On the way, we decided to take a picture with the big "C".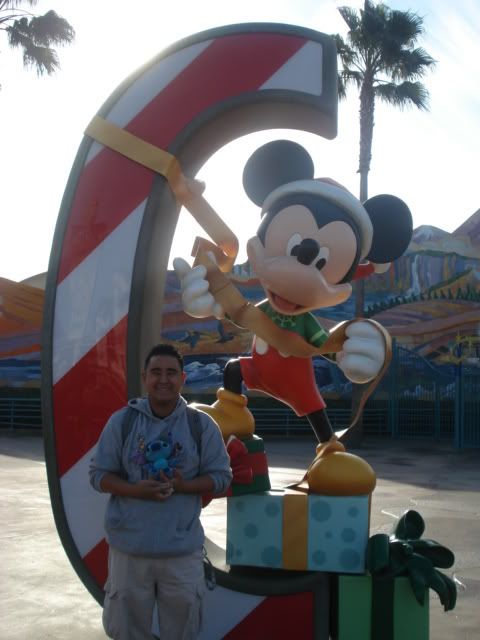 When we entered the park, it was before park opening. We headed towards Hollywood and decided to wait there.
I didn't take a good picture, but at the bottom, you can see Stitch in front of the entrance to HPB.
Out in the distance, I saw someone walking towards us.......
..................... MICKEY!!!! Wow, he changed FAST!!!
So I took a picture with him.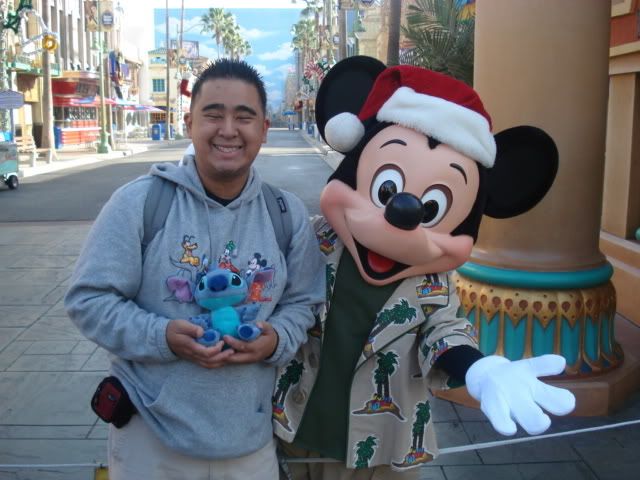 We left to wait by the other rope leading to California screamin'. On the way, I took a picture with Minnie.
We waited....
Then, the park was open! We then made our way to California Screamin'. By the time we got there, the ride was still close, waiting to be opened.
Upon exiting, I made my way to HPB to the Animation building hopping to see Snow White, but nope, so I waited.
Snow White arrived a little bit later.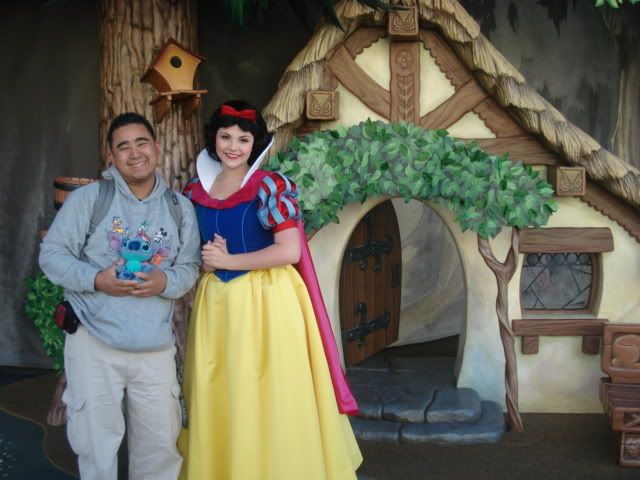 There were some additional photos on Photo Pass.
Then, we exited DCA and re - entered DL. We got our APs ready.
I entered the park and headed to TL to check if Bob was at Astro Orbitor, and he was. So I met him, talked to him, and he said he was going to wish me a happy birthday because I didn't get to see him on Tuesday. So, I rode it and he wished me a Happy Birthday. That was the only reason I rode Astro.
While waiting to be boarded, Alice, Hatter, Pinochioo, Chip, Dale, Goofy, and Mickey came out for the show in front of the castle. So, after riding, I headed towards there. On the way, I ran into Peter Pan. I asked him if I can take a picture of him........... so, he posed! LOL, :lol:
Then, I asked someone to take a picture for me and we posed.
Peter noticed that Stitch wasn't in the picture and we posed again.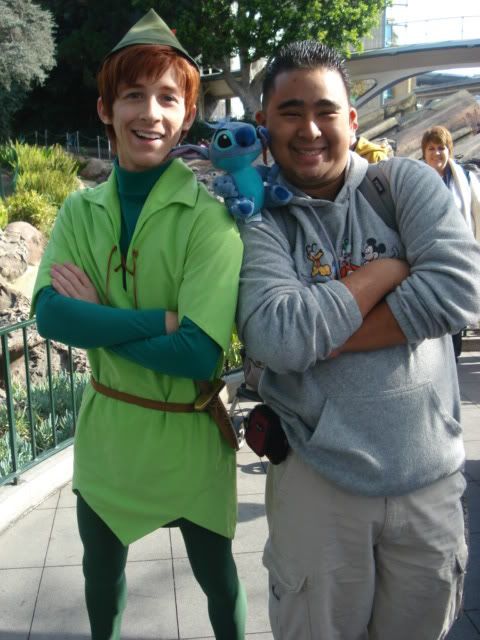 Then, I thanked him and made my way to the castle.
It was almost noon, and had more time until the meet. So, we rode the Mark Twain to kill time. While waiting to depart, Stitch posed for a picture.
Leaving NOS, I caught a glimpse of Jack.
There were awfully a lot of ducks down by the Hungry Bear.
Here is something I haven't noticed before, anyone know what it is?
The beautiful scenery:
"Don't squeeze the Shaman!"
By the time we docked, it was after noon, so I made my way to the Hub. There, I saw many familiar faces: rex, Rockr, NNL, Judimouse, rangerrick, and many others.
As we waited on what we were going to do, I noticed Mary and Bert down by Plaza Gardens, so I grabbed a photo op with them.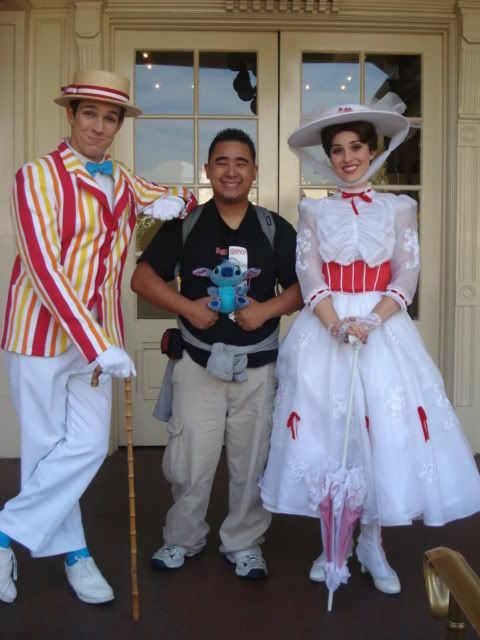 It was lunch time and the group decided to go off property for lunch, it was MM Birthday! Unfortunately, some MCers stay behind. So it was just all 15 of us!!
On the way........
We walked to Chesse Cake Factory and seated in the patio and waited.
STITCH IS HUNGRY FOR FOOD!!!
We ordered and our food came about 20 minutes later.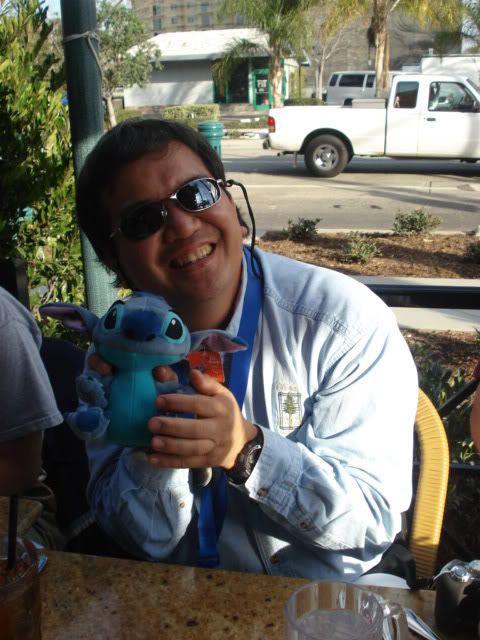 When lunch was finished, we walked back into the park. We were informed that Fishy and Dusty would be joining us.
There, we saw Fishy.
Dusty came running later.
Upon arrival at the parks, we entered DCA to the Animation Building.
There, I saw Snow White again, but she was getting ready to leave. I went up to her and asked her if she would ike to give Stitch a "Dopey' kiss, and she obliged. She did it before, but I didn't a picture of it.
Rex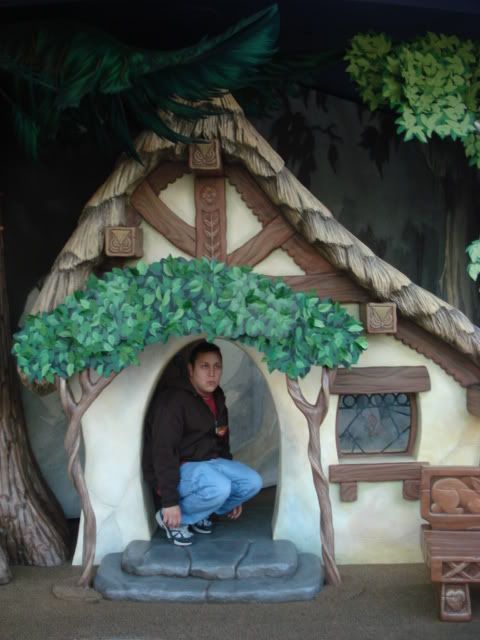 Dopey then came out.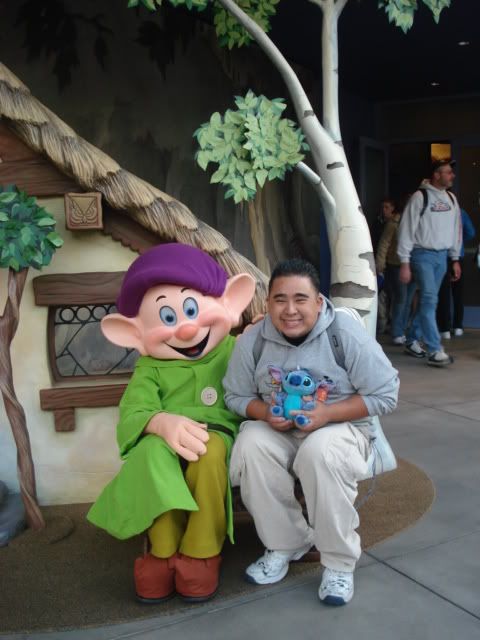 Then, the group made its way to TOT, but I sat out waiting for them to be finished. We then headed to The Golden Winery and went to see "Seasons Of The Wine." It was quite informative.
It was close to 6 PM and most of the group started to go its separated ways. We said our goodbyes and left. I went back into DL and headed towards TL to search for my friend. I found her, we chatted, then she had to go on break. I walked with her towards the Space Mountain exit and I saw Mickey and Minnie.
I decided to use my fast pass for Space.
Then it was a walk on Buzz as the last ride of the night.
Afterwards, I met my friend at the entrance of the monorail to take it to DTD to Rainforest Cafe for dinner. Then, we caught a movie to end the day!!!